5 Clever DIY Lift Top Coffee Table Plans You Can Build Today!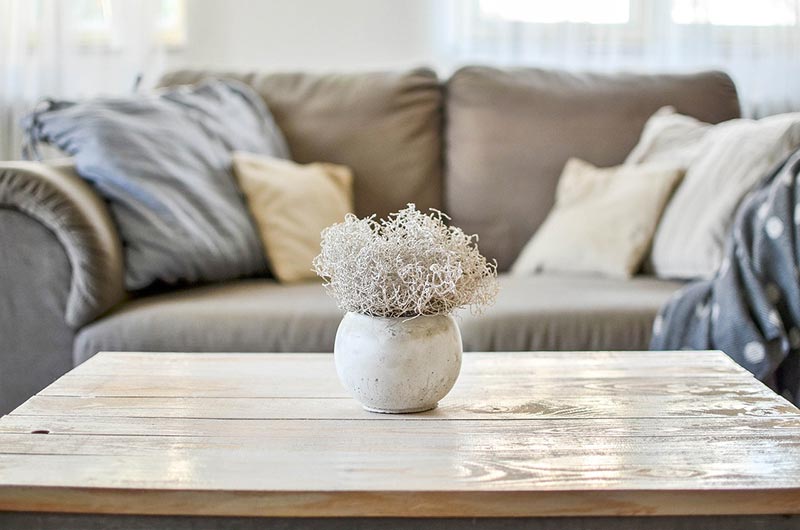 No living room feels complete without a sleek or rustic coffee table to hold our drinks, remotes, snack bowls, and books. But it only takes a laptop or tablet, a console controller or two, or even a couple of magazines before your ordinary coffee table becomes a little too cluttered for comfort. This is where lift top coffee tables come in!
The multifunctional coffee tabletop lifts up and fractionally out, providing you with easy-to-access extra storage for those magazines, controllers, chargers, and more. The extra height of the open tabletop, combined with the decreased distance from the table to the couch, makes it both a more comfortable work surface and a great table for eating at. And, you can build one at home!
From stylish builds to eco-friendly pallet builds, keep reading for a list of 5 creative DIY lift top coffee table plans you can build today.

The Top DIY Lift Top Coffee Table Plans
1.

Hardwood Lift Top Coffee Table by Chisel & Fork
| | |
| --- | --- |
| Materials: | Plywood, ash, wood glue, pocket-hole screws, hairpin legs, lift top table mechanism, stain or paint, polyurethane |
| Tools: | Table saw, miter saw, planer, hand sander and sandpaper, kreg jig, clamps, paint brush |
| Difficulty Level: | Moderate |
This lift top coffee table is both sleek and modern. Built with hardwood and stained, it looks professional and stylish, with a large surface area on top and plenty of storage space beneath. Building something from scratch can seem daunting, but as long as you have all the right tools, you should be able to build this plan with moderate DIY skills.
The hairpin legs and lift top mechanism are available to buy ready-made, taking away a lot of time and hassle from the build.
---
2.

Double Lift Top Coffee Table by Alex from Bevelish Creations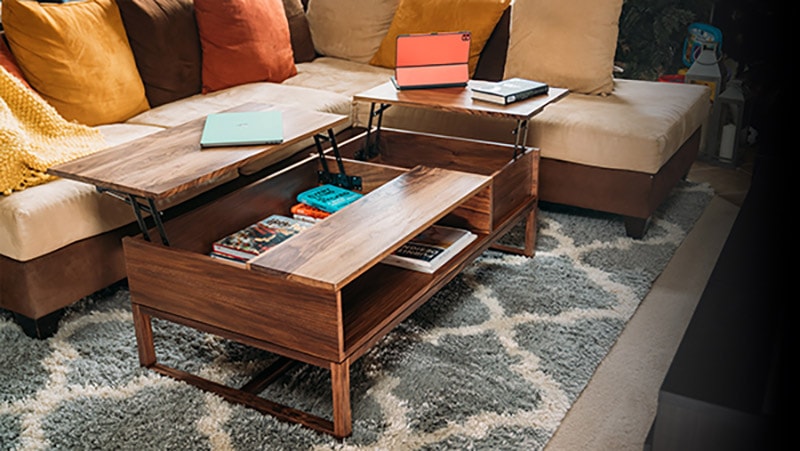 | | |
| --- | --- |
| Tools: | Dowel Jig, one-handed bar clamp, sure-foot bar clamp, clamp-it square, crosscut sled, glue applicator, bandy clamps, bowl and tray router bits, microjig gripper, flush trim saw, lift top mechanism, figure 8 clips, microjig dovetail clamps, 1400 router, tape measure, drill, planer |
| Difficulty Level: | Expert |
This plan for a DIY double lift top coffee table is not for the faint-hearted, but the result is truly stunning. What you'll get is a coffee table with two separate storage spaces and two separate lifting tops that protrude in different directions.
For experienced woodworkers and those of you who've got a workshop full of tools, this build should be a fun challenge. You could even alter this plan to adjust the sizes of the tabletops and the directions they lift in to suit your room and needs.
---
3.

Rustic Lift Top Coffee Table Desk by OBN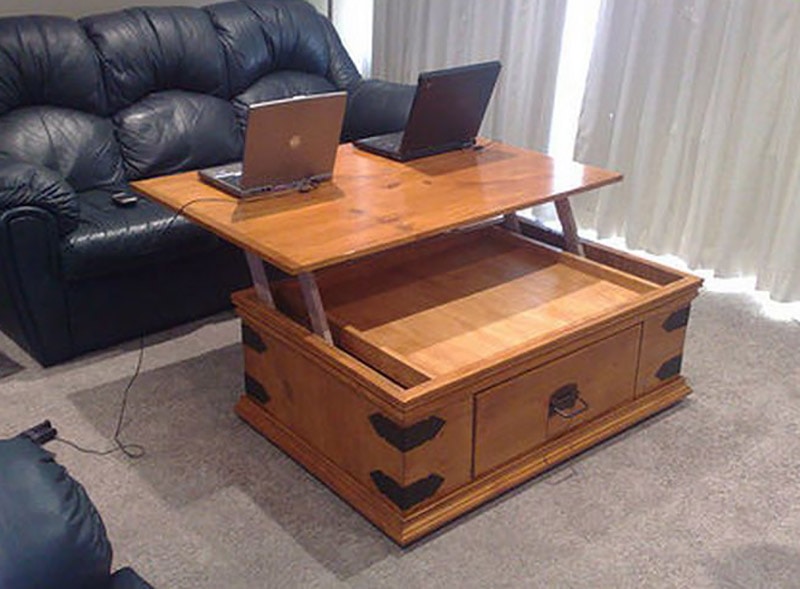 | | |
| --- | --- |
| Tools: | Screw drivers, hammer, paint brush, saw (miter and box or drop saw) |
| Materials: | Ply, MDF, or timber panelling, hardwood, sand paper, wood glue, wood stain, varnish, bolts, nyloc nuts, bullet head nails, screws, drawer handles, drawer slides, corner straps |
| Difficulty Level: | Hard |
This plan for a rustic-looking lift top coffee table desk is ideal for those who want to work from their couch. The large surface area of the tabletop provides ample space for laptops, documents, notepads, and pens. It's a sturdy design that's fairly simple in concept.
Although you can build this plan from scratch, you could also use it to modify or repurpose an old chest or table. Either way, take some time to shop around for corner straps and drawer handles that really suit that design and look you have in mind.
---
4.

Pallet Lift Top Coffee Table by OBN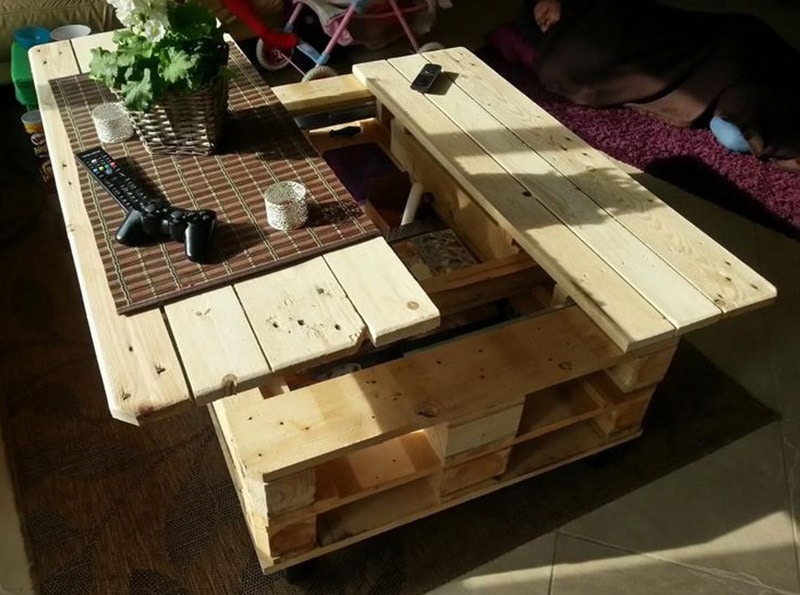 | | |
| --- | --- |
| Tools: | Cordless Screwdriver, saw, belt sander, crowbar, drill |
| Materials: | 2 Pallets, wood slats or a third disassembled pallet, heavy duty casters, heavy duty cantilever hinge, 2 heavy duty slides, screws, thick steel straps, wood glue |
| Difficulty Level: | Medium |
For an eco-friendly option, why not repurpose some old pallets? This pallet lift top coffee table not only looks great, but it's also sturdy and multifunctional. Aside from reusing pallets otherwise destined for burning, with this project, you wouldn't have to worry about buying timber—you'd be saving the planet and saving money!
That said, you'll still need to make sure you have all the necessary tools and materials—such as the heavy-duty slides and cantilever hinges—before you begin.
---
5.

Hemnes Lift Top Coffee Table by IKEA Hackers
| | |
| --- | --- |
| Materials: | Ikea Hemnes table (or other table), lift top mechanism |
| Difficulty Level: | Easy |
We promised creative and clever, and this plan for a repurposed coffee table is both. Perfect for those of you who prefer to carry out upgrades rather than start from scratch, this plan will show you exactly how you can take an existing table and turn it into a lift top coffee table.
This project will suit beginners and experts alike, and the best part is that you won't need many tools or materials to begin with. Just make sure you ask the table owner's permission before you begin taking it apart!

How Tall Should a Coffee Table Be?
Whether you're planning to build or buy a coffee table, it's important to know how tall it should be. Too tall or too low, and a coffee table can easily become unsightly and even impractical.
Generally, coffee tables should be between 14 and 20 inches tall. A good rule is that they should be no more than 1–2 inches lower than the seats on your couch.
Lift top coffee tables are dual purpose, however. When lifted, the table surface can be used as a desk or dining table. So, how tall should the table be when lifted?
Dining tables are between 28 and 32 inches tall, and desks should be between 28 and 30 inches tall. Most lift top tables, when lifted, are 28 inches tall to accommodate both functions.
Can You Get a Round Lift Top Coffee Table?
Round coffee tables are great for smaller rooms and where space is limited. You can buy or build your own round lift top coffee table.
The measurements shouldn't be too difficult to work out. Just remember that there needs to be a square area large enough within the circumference of the table for the lift top mechanism to fit under.

Conclusion
Lift top coffee tables can help to create a tidier environment in your living room, and make working and eating more comfortable in front of your TV. We hope the plans we've put together give you some inspiration for your coffee table project. Remember, DIY is all about creativity, so enjoy planning, and happy building!
---
Featured Image Credit: Martina_zalitobetonem, Pixabay