14 DIY Outdoor Showers You Can Build Today (With Pictures)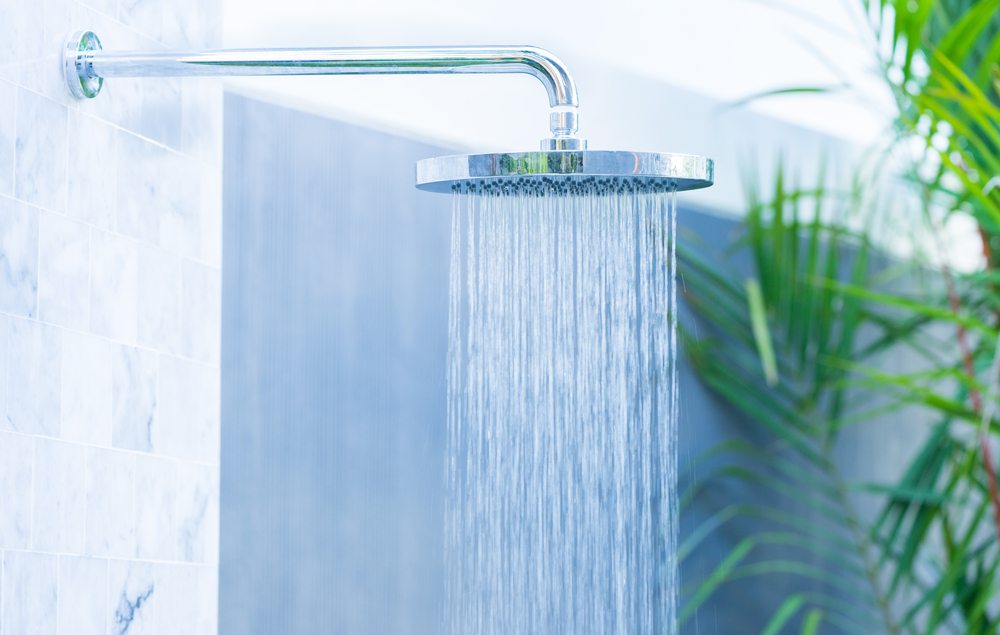 Depending on how much privacy you desire, an outdoor shower can be as simple as a handheld showerhead attached to your hose or as elaborate as a custom-built tiled stall. If you have the space and budget for a more permanent solution, consider adding an outdoor shower to your home's existing plumbing.
With a few tools and some basic plumbing knowledge, you can easily install an outdoor shower that will provide years of service and convenience.

The 14 DIY Outdoor Showers
1.

Simple Outdoor Shower by Sustain My Craft Habit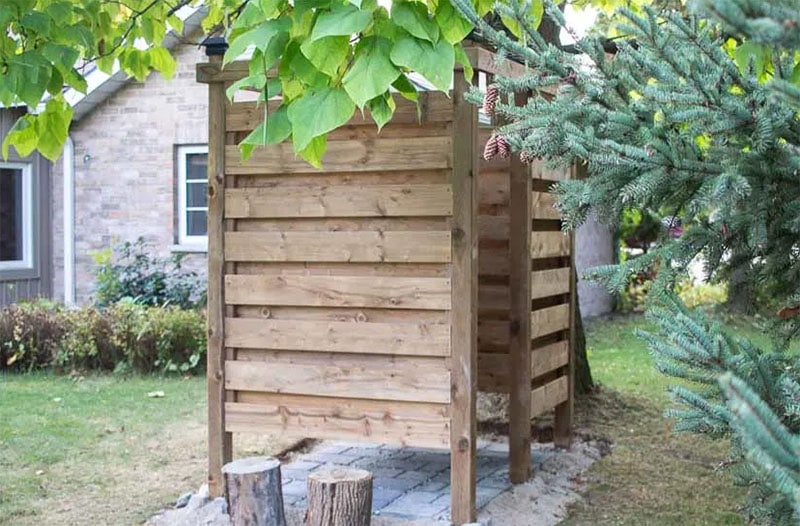 | | |
| --- | --- |
| Materials: | 2×2, 1×6, 4×4, concrete mix |
| Tools: | Saw, drill, mixer, bucket, level |
| Difficulty: | Easy |
Looking for a fun and unique project to add some pizzazz to your backyard? This clever and creative DIY outdoor shower is sure to provide the convenience and uniqueness you're looking for! With just a few supplies and some basic woodworking skills, you can easily build one of these showers in a weekend.
It's one of the easiest plans you'll find, but even in its simplicity, this shower offers plenty of features. The concrete base provides a sturdy and level foundation, while the 4×4 posts give it plenty of support. The 1×6 slats create a privacy barrier around the shower, and the 2×2 framing adds a touch of rustic charm.
This project is perfect for any backyard, and it's sure to meet your needs. Most people can tackle this DIY outdoor shower in a weekend. And best of all, it's budget-friendly!
---
2.

All-Wood Outdoor Shower by Kaija B
| | |
| --- | --- |
| Materials: | 2×4, 1×6, 4×4, 1×2, trim (optional) |
| Tools: | Drill, shovel, saw, level |
| Difficulty: | Easy |
Here's another easy DIY shower that's perfect for summer. This one is made with pressure-treated lumber and has a simple design. It's easy to build, and you can customize it to fit your needs.
While this design is remarkably similar to the previous one, there is one major difference that's sure to appeal to a lot of people. And that is the fact that you don't need concrete!
Rather than mix, pour, and level concrete for the shower's foundation, you use 4x4s and 1x2s. You will need to dig and level the ground, as well as dig a few post holes and set the 4x4s in place. But other than that, this is a straightforward build.
The shower floor is made with pressure-treated 1x2s, and the walls are made with 1x6s. You can add trim to the walls if you want or leave them plain. Either way, this is a great-looking and easy-to-build outdoor shower.
---
3.

Easy Outdoor Shower by DIY for Knuckleheads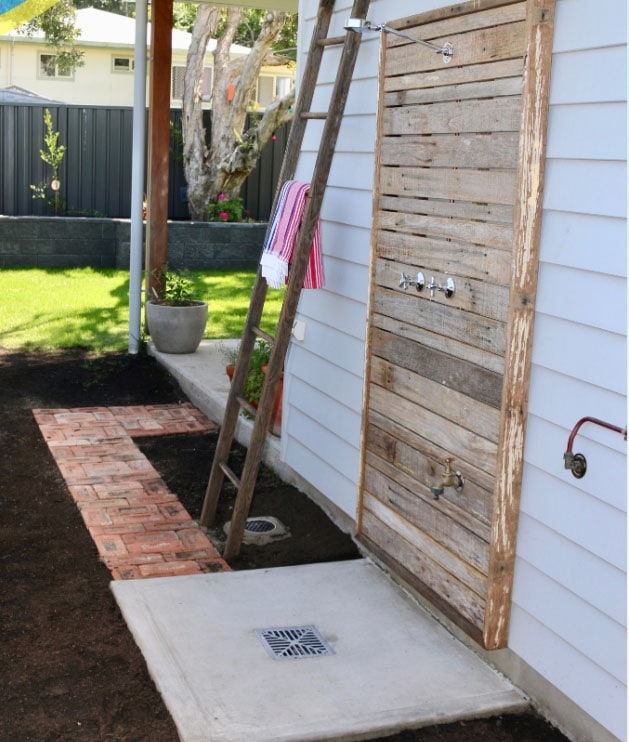 | | |
| --- | --- |
| Materials: | Fence palings, 1.5×1.5, 2×4 or 70mm x 35mm, concrete mix, steel mesh |
| Tools: | Hammer, planer, chisel, sander, saw, nail gun, miter, drill, screws, nails |
| Difficulty: | Easy to intermediate |
If you're looking for an easy way to add an outdoor shower to your home, this DIY project is the perfect solution. Using just a few simple materials, you can build a basic outdoor shower in no time.
Excluding running the plumbing needed, the hardest part of this project is pouring the concrete around the drain installation. Other than that, putting up the fence panels and trim is a pretty straightforward process.
The plans call for 70mm x 35mm hardwood, but feel free to adjust those to standard 2x4s for this project. You can also use pieces from pallets if you wish to complete your outdoor shower on the cheap.
And for an added touch of comfort and convenience, feel free to use brick or tiling to create a walking path from the outdoor shower to your entryway. This particular DIY shower lacks privacy, so it's best suited for a secluded back yard or home in the country.
---
4.

Open Outdoor Shower by Sunset Magazine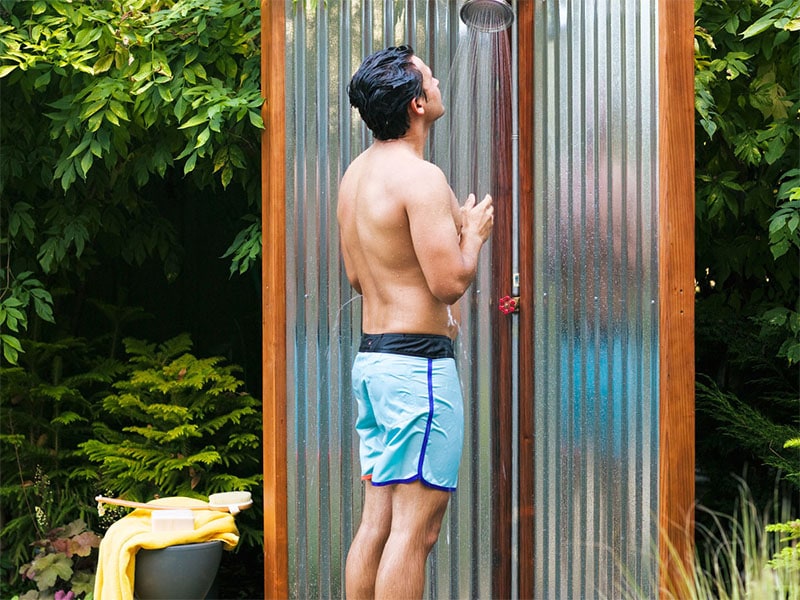 | | |
| --- | --- |
| Materials: | 2×4, log or 4×4, corrugated metal roofing, hinges, waterproof stain |
| Tools: | Drill, saw, level, screws, wood sealer |
| Difficulty: | Easy |
This open outdoor shower is made mostly with corrugated metal roofing and 2x4s. You will also need a support that ties everything together. The plans call for an 8-foot log, but a 4×4 will work just as well.
You're essentially building two walls with the lumber and metal roofing. You then attach those walls to the log or 4×4. Since there are only two walls, you won't have complete privacy. But you should have all that you need if you install this project in a closed-off back yard.
The water supply is straightforward and effortless, as it comes right from your existing outdoor spigot. That means cold water for most, but if you don't need a full-on shower experience, this DIY project should serve you well.
Gravel or concrete pavers are all you need for the flooring. So you don't have to worry about mixing and pouring concrete, which is always a bonus for those who prefer a quick and easy solution.
---
5.

Basic Outdoor Shower by Our Acreage Adventure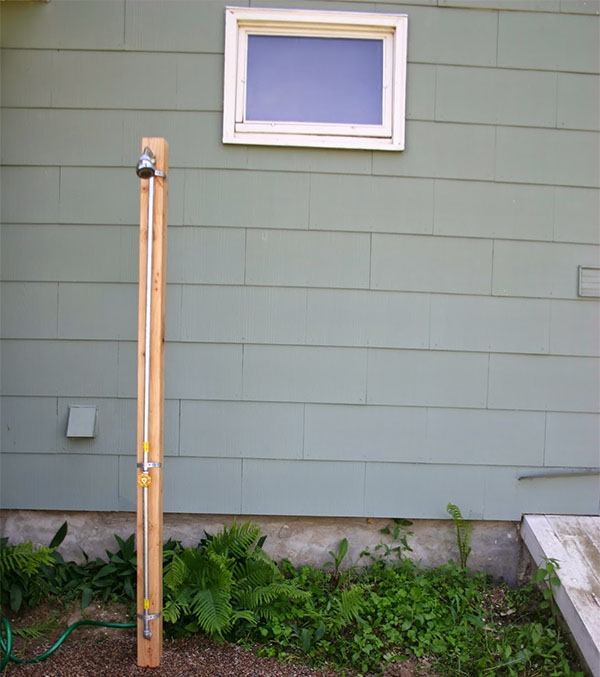 | | |
| --- | --- |
| Materials: | 4″ x 4″ lumber, wood screws, wood sealer, concrete, gravel or stones, shower head, shower arm, galvanized pipes, elbows, nylon plumbing tape, pipe straps, threaded faucet, outdoor spigot, hose |
| Tools: | Post hole digger, electric drill, spade bit |
| Difficulty: | Intermediate |
This Basic Outdoor Shower is a relatively easy tutorial for all DIY lovers, requiring only a few essential tools and materials. The appearance is minimalistic and subtle, making it perfect for any garden. It will be the ideal and quick solution for all those folks out there living near the beach or enjoying their pool without creating a mess inside the house.
---
6.

DIY Outdoor Bath & Shower by Spell Blog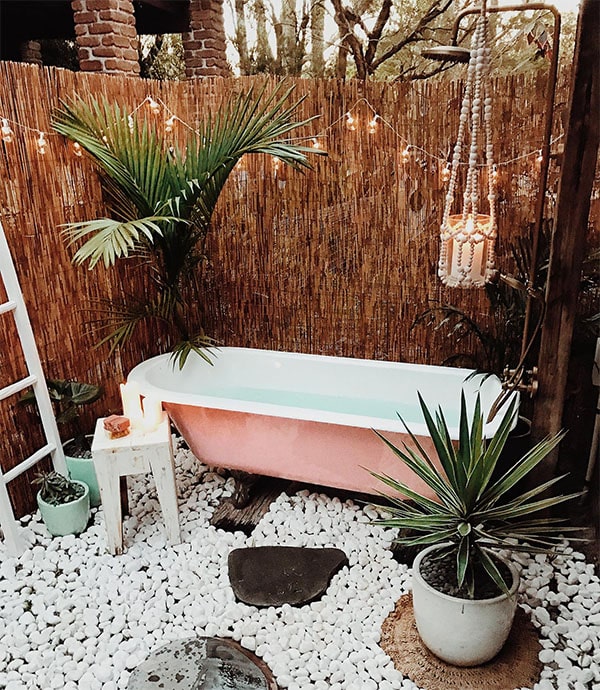 | | |
| --- | --- |
| Materials: | Old bathtub, shower head fixture, screws, old railway sleeper, old hardwood, functional drain and hose, bamboo screen, gravel |
| Tools: | Drill or hammer |
| Difficulty: | Easy |
If you're looking for a truly magical corner to create for yourself where you can enjoy warm summer days, then this DIY Outdoor Bath is perfect for you. This reasonably easy tutorial mainly includes upcycling an old bathtub and creating a peaceful oasis with simple tools and materials. If you don't want to commit to building a permanent outdoor shower but want to feel the luxury of it, then make sure to follow this tutorial.
---
7.

Quick Outdoor Shower DIY by Home Jelly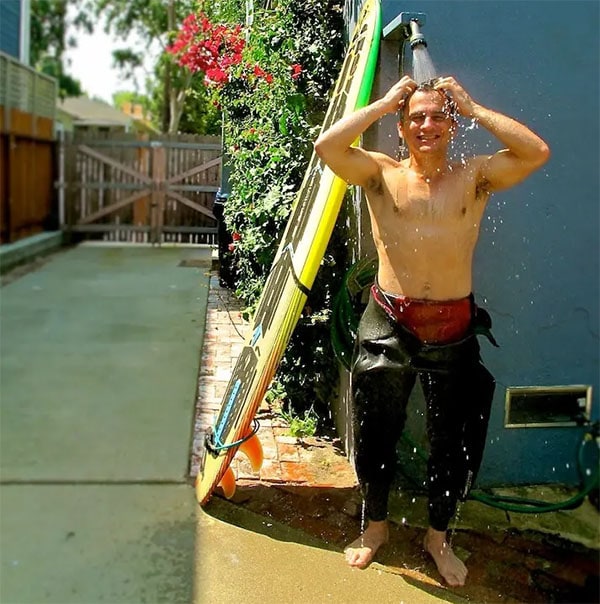 | | |
| --- | --- |
| Materials: | Garden hose, spray nozzle, pipe C clamps, scrap wood, sandpaper, paint |
| Tools: | Drill |
| Difficulty: | Easy |
One extremely simple tutorial is this Quick Outdoor Shower, which includes making an outdoor shower by simply attaching a garden hose to a scrap of wood. It is an ideal tutorial for beginner DIYers and even those looking for a quick but effective solution.
---
8.

DIY Outdoor Shower Wall Installation by Clay Imports
| | |
| --- | --- |
| Materials: | Tiles, grout, tile adhesive, tile spacers, mild detergent, copper fixtures |
| Tools: | Pencil, ruler, wet saw, sponges |
| Difficulty: | Intermediate to difficult |
This DIY Outdoor Shower Wall Installation includes hand-installing gorgeous tiles to match your outdoor decor. These tiles will bring out the uniqueness of your garden and bring more charm and style to it. After attaching all the copper fixtures to match the style, you will get a stunning, luxurious outdoor bathroom. This tutorial is ideal for all those crafters looking for a slight challenge and will give you the proper skills if you ever need to remodel your bathroom.
---
9.

DIY Outdoor Copper Shower by Bunnings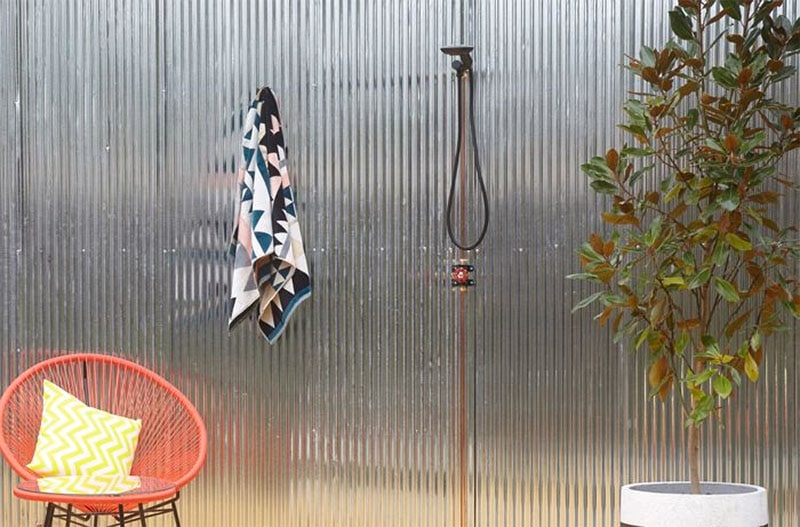 | | |
| --- | --- |
| Materials: | Copper pipe, copper connectors, brass valve tap, garden hose attachment, shower head, pipe hangers, garden hose, waterproof tape, chrome feature wall |
| Tools: | Tape measure, drill, drill bits, spade bit, hacksaw |
| Difficulty: | Easy to intermediate |
Following this DIY Outdoor Copper Shower tutorial will give you an amazing outdoor shower that provides plenty of privacy to the user. Following the tutorial will make putting together all the shower parts easy. If you're comfortable using essential power tools, you can finish this DIY in only a day.
---
10.

Concrete Outdoor Shower by Maker Gray
| | |
| --- | --- |
| Materials: | 2×4 cedar wood, 1×4 trim boards, brad nails, pea gravel, wood post beams, concrete mix, sand, stone pavers and rocks, metal edging, weed barrier cloth, metal landscape staples, water spigot, hose, galvanized steel pipes, coupling, elbow, valve, pipe straps, screws |
| Tools: | Cart, heat gun, circular saw, reciprocating saw, clamps, drill, brad nailer, miter saw, pocket hole jig, level |
| Difficulty: | Difficult |
If you've got a backyard pool, surprise your guests by crafting this fantastic outdoor shower that will make your backyard much more fun and eccentric. This amazing Concrete Outdoors Shower by Maker Gray will give you a true feeling of a boho beach bar. The cedar wood boards will go perfectly with the surroundings and are naturally rot and pest resistant.
---
11.

DIY Brick and Wood Outdoor Shower by DIY Scott
| | |
| --- | --- |
| Materials: | Gravel, cedar posts, PVC pipes, shower drain, concrete bricks, sand, rebar, wooden boards, uncoupling membrane, stone tiles, shower head, copper pipe, thinset, grout |
| Tools: | Tape measure, shovel, cart, tamp, circular saw, drill, level |
| Difficulty: | Difficult |
This DIY Brick and Wood Outdoor Shower might be the most challenging tutorial on our list, but the result will astound you. You can craft this lovely outdoor shower with some time and a pair of diligent hands. This DIY plan is ideal for all those advanced crafters and will make your backyard sparkle with this new upgrade.
---
12.

Outdoor Shower Shed DIY by Coca Jack
| | |
| --- | --- |
| Materials: | Styrofoam, polyurethane foam, fiberglass plaster mesh, plaster, screws, wood boards, door hinges |
| Tools: | Pencil, tape measure, scalpel, hand saw, drill, clamps |
| Difficulty: | Intermediate |
This Outdoor Shower Shed tutorial might seem like a difficult DIY, but once you acquire all the materials and help, it is actually quite simple. The best part about it is that it's entirely versatile and can be used as either a shower, a toilet, or a simple storage unit. You can quickly transform it into anything you need.
---
13.

DIY Modern Outdoor Shower by National Hardware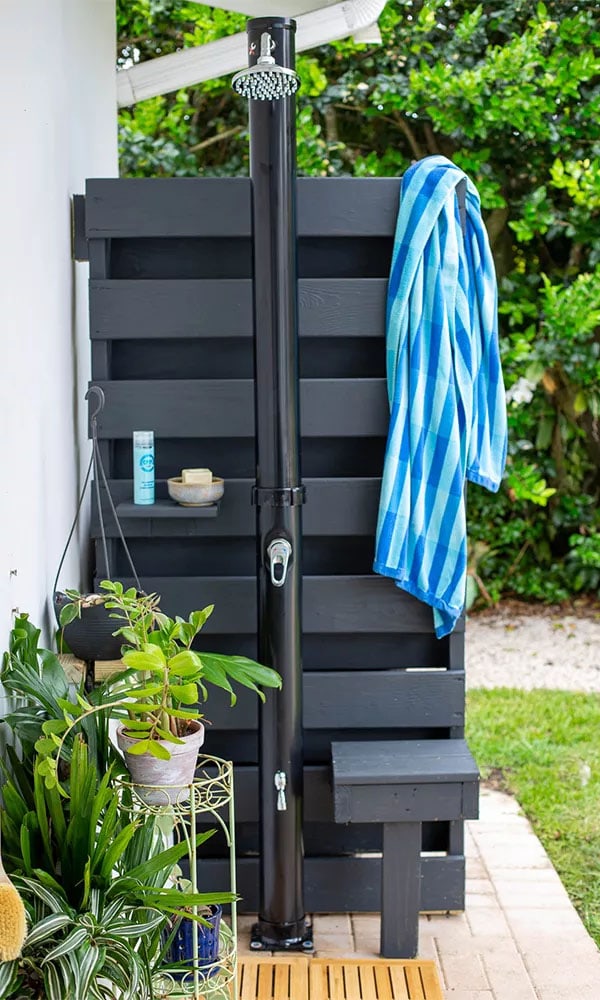 | | |
| --- | --- |
| Materials: | Decking wood, solar heated shower column, bamboo floor mat, deck screws, concrete screws, paint, paintbrush |
| Tools: | Tape measure, pencil, screwdriver, circular saw, chop saw, screw gun, speed square |
| Difficulty: | Intermediate |
Every homeowner will be delighted by this Modern Outdoor Shower, which will make the house's exterior seem much more luxurious and contemporary. It is relatively simple to make, although it requires some skill in handling power tools.
---
14.

Cool Outdoor Shower by Fine Craft Guild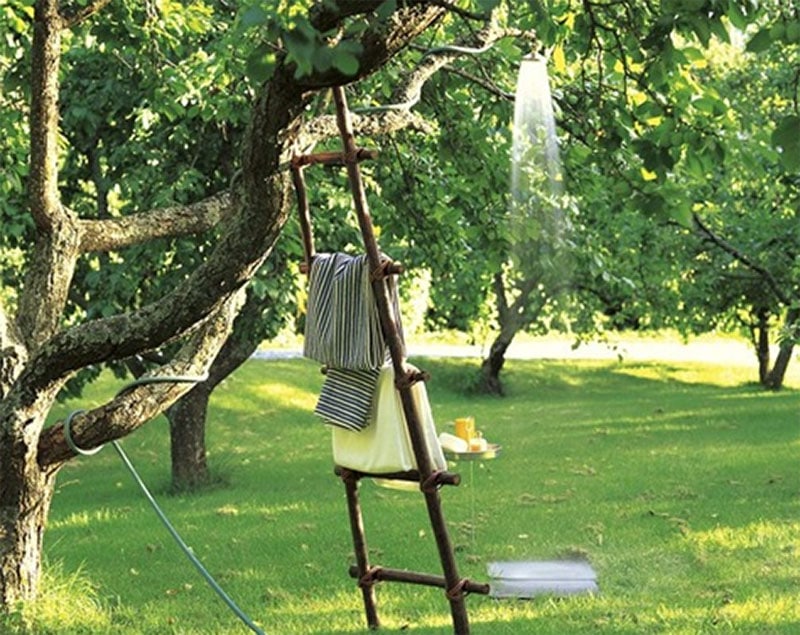 | | |
| --- | --- |
| Materials: | Shower head, garden hose, a large branch, rope or wire |
| Tools: | None |
| Difficulty: | Easy |
If you live out in the countryside and often go for a refreshing swim at the lake, you probably want to be able to wash off before entering the house. All you need to do is find a large and high branch and attach a garden hose with a shower head on it. This simple project will save you much time and money and will be an adorable addition to your farmhouse that all your guests will adore.
Outdoor Shower Tips
Summer is the perfect time to enjoy a refreshing outdoor shower. If you don't have an outdoor shower at your home, consider installing one. It's a great way to enjoy the outdoors and stay cool in the summer heat.
But before you get started, there are some tips for installing a DIY outdoor shower that will make your life a lot easier.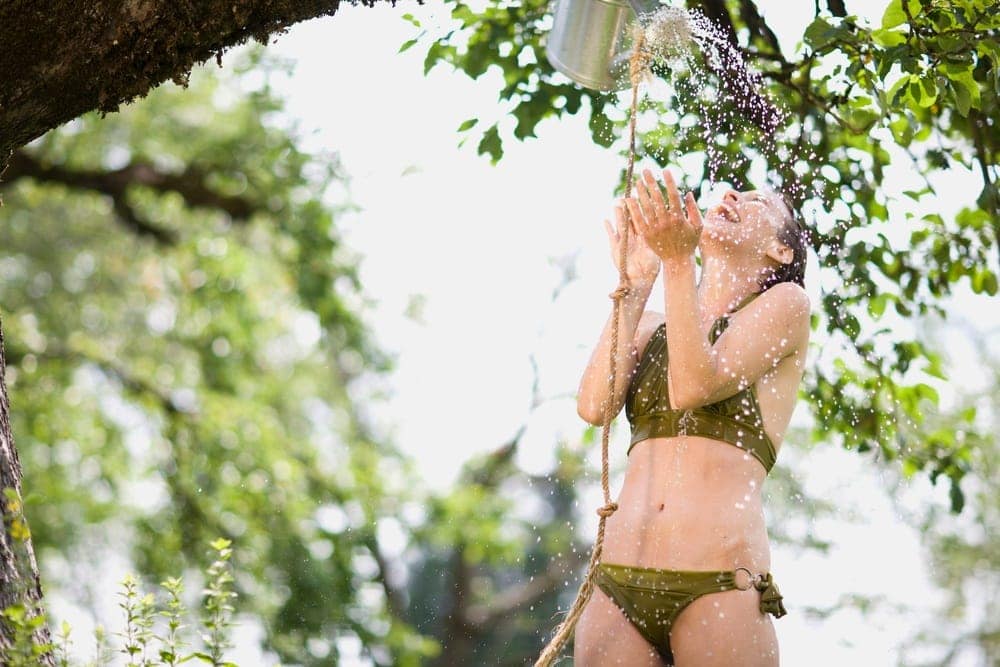 Location, Location, Location
First, consider the location of your outdoor shower. You'll want to make sure it's in a spot that gets plenty of sunlight and has good drainage. Also, be sure to measure the space before you start building, so you know exactly how much material you'll need.
Don't Skimp on Materials
Next, be sure to invest in quality materials for your outdoor shower. This is not the time to skimp on quality. You'll want to make sure the shower is built to last and can withstand the elements.
So, what kind of materials should you use? We recommend using pressure-treated lumber whenever possible.
You'll also want hardware that won't rust, like stainless steel or galvanized steel. And for the shower floor, you might consider using a material that won't get slippery when wet, like concrete pavers (if applicable).
Build to Suit Your Needs
Finally, be sure to build the shower to suit your needs. If you have a small space, don't try building a large shower. Likewise, if you have a large space, you might want to consider adding some extra features, like a changing area or storage space.
Whatever your needs are, be sure to build the shower accordingly. By following these tips, you can be sure that your outdoor shower will be a success.

Conclusion
You should now have a pretty good idea of how to go about making your own outdoor shower. Just remember to take your time, be creative, and most importantly, have fun with it! With a little effort, you can easily create a wonderful addition to your home that you and your family are sure to enjoy.
---
Featured Image Credit: MIA Studio, Shutterstock