23 DIY Pallet Bar Plans You Can Build Today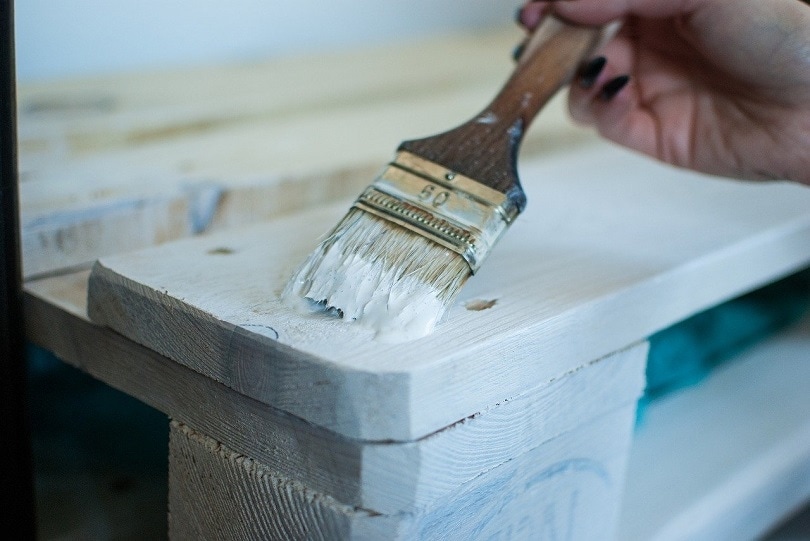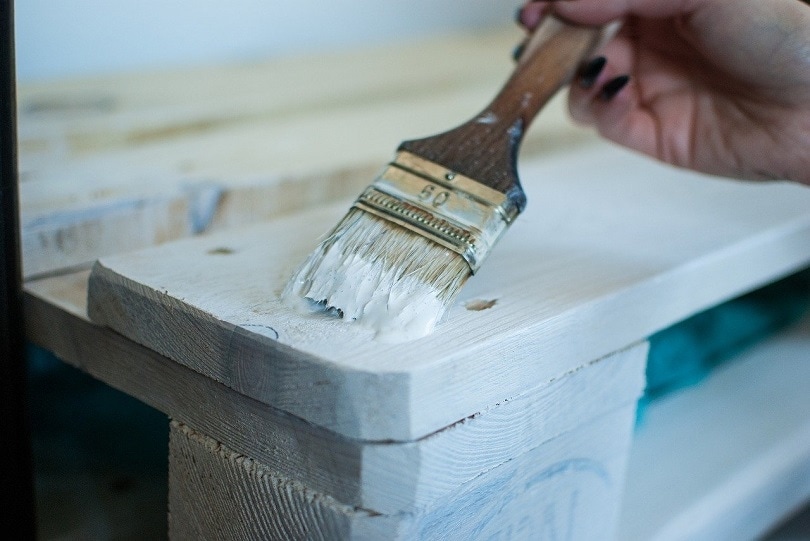 Wooden pallets are easy to find and have a million uses. You can often find them at little or no cost and use them to create many projects. We're going to take a look at different pallet bar plans that you can use to make an attractive and useful space to share with your friends. We've scoured the internet to find as many different plans as we could, each offering instructions on how to build pallet bars. We'll also show you a picture of the finished product and give you a short description to tell you a little more about it.

The 23 DIY Pallet Bar Plans
1.

Garden Bar
We'll kick off this list with this outdoor Garden Bar that isn't too difficult to build. It will require you to disassemble the pallets but is otherwise pretty easy and highly customizable. You can add extra storage space and finish it in many different ways.
---
2.

Wooden Garden Wall Bar
The Wooden Garden Wall Bar is a little more difficult than our first model, but it results in an attractive bar perfect for indoors and outdoors. It even folds up neatly when not in use. There's room for several bottles, and it even provides room for hanging glasses.
---
3.

Hello Elyse
The Hello Elyse plan is huge and will use up several pallets. You will have room for several guests, and it provides space for mixing drinks as well as serving them. The only tricky part about      this plan is that it will require several pallets that are in good shape.
---
4.

Coppedge Brew Bar
=28849772″ target="blank" background="#FF6600″ size="10″ center="yes" rel="nofollow"]Check Details Here
The Coppedge Brew Bar is an impressive-looking rustic style bar that features an iron foot rail for added comfort and will assist you with getting up and down from your stool. The design isn't that difficult to build, and different stains can make the bar look modern or old-fashioned.
---
5.

Simple Pallet Bar
The Simple Pallet Bar, as the name suggests, is very easy to build and doesn't try to hide that it is wooden pallets. It only requires two pallets and a few larger boards for the bar top. You can probably build this with nothing more than a hand saw and some nails.
---
6.

Outdoor Bar
The Outdoor Pallet Bar is similar to the one we saw earlier, but it doesn't require as much disassembling of the pallets and features a shingled roof for additional rain protection. It only requires several pallets and a few pieces of plywood.
---
7.

New England Bar
The New England Bar is another design well suited to outdoors as well as indoors. It only requires a few pallets, and you can make the bar top from additional pallets or use a fancy wood to accent it. It's stable and provides plenty of room for storing supplies.
---
8.

Ariesa Bar Table
The Ariesa Bar Table is a compact bar suitable for a basement or small room. It's easy to build and will only require a few pallets, but it is stable and provides a place for supplies. You can stain it for a natural appearance or paint it any color to match your interior.
---
9.

L-Shaped Bar
The L-Shaped Bar is another larger design that provides you with a mixing counter as well as a serving counter. There is plenty of room for supplies, and it can seat at least five. It's a little more complex to build and will require several pallets, but you can build it with only a few tools and plenty of patience.
---
10.

Millwood Bar
The Millwood Bar is similar to an earlier plan but features a different design on the front that isn't so rusting looking and might be something you prefer. It's easy to build, sturdy, and features an iron foot rail for support.
---
11.

Six Foot Pallet Bar
The Six Foot Pallet Bar is an attractive design that provides you with a serving top and a shelf to mix drinks. It's the perfect size for a basement, and you can finish it in several ways to suit any taste and home decor.
---
12.

Wooden Pallet Bar
The Wooden Pallet Bar is similar to other designs we have looked at and is especially suited for outdoor use. This project uses a heavy waterproofing finish with ultraviolet light resisting properties that can help reduce bleaching of the wood.
---
13.

Tiled Pallet Bar
The Tiled Pallet Bar is a unique design in that it has a tile top. This tiled top not only looks attractive it will help protect the wood in the event of spills and other accidents. It also makes the bar a lot easier to clean, and the hard surface won't allow germs, bacteria, or mildew to grow.
---
14.

Crafty Pallet Bar
The Crafty Pallet Bar is for those with very limited space but still want a place to set their drinks and need to get rid of a few pallets. With the proper decorations, the Crafty Pallet Bar can be quite attractive and useful.
---
15.

High-End Pallet Bar
The High-End Pallet Bar is one of the more complex designs on our list, and you will need several pallets to complete it. The offset wood is extremely attractive, as is the high gloss countertop. Pulling apart multiple pallets will give you several wood colors to choose from to create breathtaking designs.
---
16.

The Gin Bar
The Gin Bar isn't much different from a few earlier designs, but it makes fantastic use of paint and signs to designate your pallet bar, a great place to hang out.
---
17.

Planktop Maggie
The Planktop Maggie is another advanced design that uses wood from different pallets to create an interesting color pattern. A glossy finish helps protect the wood and improves the final appearance. It's a large, heavy bar that's sturdy and will last several years.
---
18.

The Pallet Bar DIY
The Pallet Bar DIY is one of the simplest designs on this list. It doesn't provide much space for storing materials, but it's lightweight, stable, and functional. It's perfect for a man cave or basement bar.
---
19.

Shabby Chic Pallet Bar
The Shabby Chick Pallet Bar is another easy to build project. It uses paint to improve the worn wood's appearance, and a few wide boards make up the bar top. It's two pallets wide, so there is enough room for guests.
---
20.

The Saw Guy Pallet Bar
The Saw Guy Pallet Bar is a 2.5-pallet-wide bar that can comfortably seat several guests. You can finish it or leave the wood raw, and there is enough room for you to add shelves for storing drinks and supplies.
---
21.

Kandi Pallet Bar
The Kandi Pallet Bar uses porch paint to cover the worn pallet wood and protect it from degrading further. The top uses a slotted wood that you can create using a handheld circular saw with a depth stop. These slots can be handy to capture a spill if a glass tips over.
---
22.

Rustic Outdoor Pallet Bar
The Rustic Outdoor Pallet Bar is large enough to accommodate several guests and is perfect for family get-togethers and large parties. You can disassemble it and store it away when you don't need it, and it has shelving for storing supplies.
---
23.

Outrageous Pallet Bar
The Outrageous Pallet bar is one of the largest and most complex projects on this list. It will require 12 or more pallets to build and completely separates the bartender from the crowd. There's plenty of room for storing drinks and other supplies as well as serving them.

Summary
We hope you have enjoyed reading over this list, and one of the plans has taught you how to build a pallet bar of your very own. If you are an inexperienced woodworker, we recommend starting with one of the easier designs to learn about the craft, and as you learn your way around the tools, you can try harder projects. Applying a finish is also something that takes a few tries to perfect, so you might want to start with paint instead of a stain or varnish.
If we have helped you create something useful, please share these 23 pallet bar plans you can build today on Facebook and Twitter.
---
Featured Image Credit: kissu, Pixabay