8 Free DIY Studio Desk Plans You Can Make Today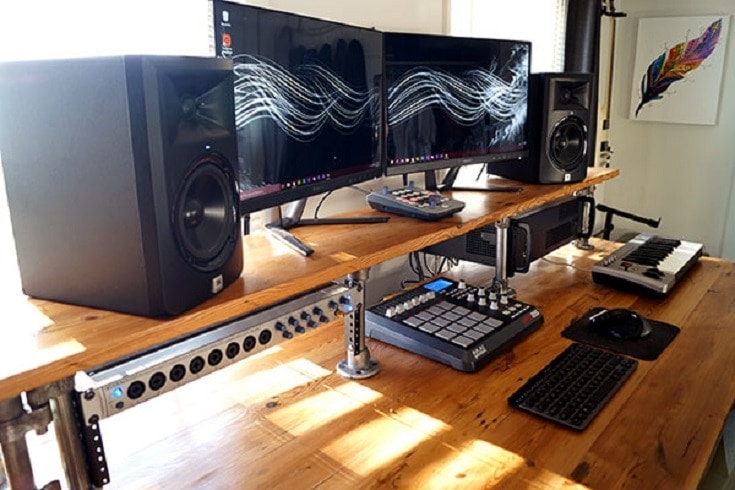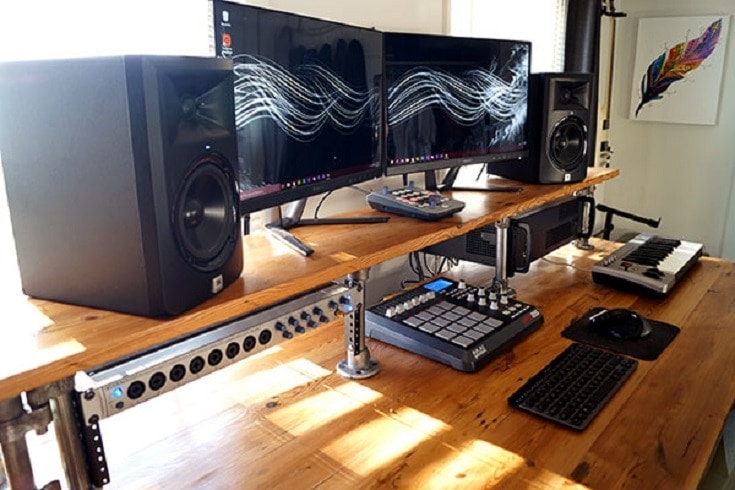 Having a studio desk is incredibly important for any music producer. Desks can be costly, though, and each producer has their needs and preferences. To make awesome music, consider making a studio desk!
When you learn how to build a studio desk, you can customize it to your needs and it will be WAY cheaper than premade options. Here are 8 free studio desk plans you can DIY today.
1. Recording Studio Desk from Marrsrecording.com
This Recording Studio Desk plan is perfect for anyone who is looking for a desk that is capable of holding all of their recording equipment. There are 3 diagrams, one supplies list, and 2 delightful videos to watch on how to build this desk.
Skill Level: Advanced
Materials: Wood, Wood Finish, Polyurethane, Wood Glue, Sliding Shelves, T-Plates, Corner Braces
Tools Needed: Wooden Boards, Nail Gun, Nails, Clamps, Drill, Tape Measure
Tips: You can get your wood cuts done for you by a hardware store. Sometimes they will even do them for free.
2. Simple and Cheap Studio Desk from Instructables.com
This Simple and Cheap Studio Desk plan is for a small studio desk with one central desk and two tiny raised ones to hold speakers. It is a very simple and easy project that is great for woodworking beginners. In spots the instructions can be a bit vague and hard to follow, so be wary of that.
Skill Level: Beginner
Materials: Wood, Screws, Mounting Kit, Wood Stain or Paint
Tools Needed: Wood, Tape Measure, Drill
Tips: This is one of the smaller studio desk plans on the list so if you are looking for a heavy-duty desk, this is not the plan for you.
3. Sleek Studio Desk from Imgur.com
This Sleek Studio Desk plan provides step-by-step photos and instructions. The instructions are vague in parts so this is definitely a project for advanced builders who can read between the lines.
If you have accessories and gadgets other than just the standard desk speakers, this will be a perfect design for you, as there are compartments below the monitor to put an extra electrical strip, a small voltage regulator, or a compact soundbar like the Sonos Beam, for example.
Skill Level: Advanced
Materials: Wood, Wood Stain, Estapol Sealant, Screws, Bracket Mounts
Tools Needed: Sander, Paintbrush, Drill
Tips: To achieve the cable control that he shows try bundling your cables with Velcro cable ties!
4. Two Level Studio Desk from Grayhousestudio.com
This Two Level Studio Desk is awesome for anyone with two monitors, or who needs more desk space without taking up more room in their office. The dark wood is professional, yet elegant, and the whole desk is sturdy and built-to-last.
Skill Level: Intermediate
Materials: Pine Boards, Plywood, Screws, Nails, Woos Gun, Wood Stain, Wood Filler
Tools Needed: Milter Saw, Kreg Pocket Hole Jig, Drill, Table Saw, Clamps, Nail Gun, Framing Square, Straight Edge, Jigsaw, Orbital Sander
Tips: The general instructions for building this desk are provided on the blog page. However, if you need specifics you can buy the plan for $6.
5. Reclaimed Wood Studio Desk from Simplifiedbuilding.com
This Reclaimed Wood Studio Desk plan is a thoughtful, easy-to-follow plan with lots of images and schematics. Don't mistake easy-to-follow with easy though. This plan will take around 40 hours to complete.
Skill Level: Advanced
Materials: Kee Klamp Fittings, Pipe, Reclaimed Wood, Casters, Socket Tee Fittings, Eye Fittings, Pin Fittings, Wood Glue, Clamps, Plywood, Wood Stain, Polycrylic, Perma Blue Liquid Gun, Steel Wool Pads, Wood Screws, Felt Pads
Tools Needed: Drill, Sander, Table Saw, Brush, Screwdriver
Tips: When building your studio desk, consider the height of the chair you want to use with it. In this project the builder had to raise his chair after constructing the desk.
6. Studio Desk with Sizable Racks from Imgur.com
This Studio Desk With Sizable Racks plan is a loose one that not only require just a few tools; it is also fairly inexpensive! This studio desk is capable of holding everything you need to produce music. If you are a perfectionist, however, this may not be the desk for you since the builder doesn't worry about things like gaps.
Skill Level: Intermediate
Materials: Plywood, Wood Glue, Screws, Wood Trim, Wood Stain
Tools Needed: Drill, Nail Gun, Clamp, Level
Tips: Consider placing patches of carpet under this desk to spare your floor!
7. Huge Studio Console from Timsaudiocorner.wordpress.com
This Huge Studio Console plan is the perfect plan for, well, perfectionist. This studio desk is custom fit to the builder's equipment, so if you use this plan, you are going to have to make some of your own measurements.
Skill Level: Advanced
Materials: Wood, Screw, Vinyl, Wood Trim, Primer, Paint
Tools Needed: Saw, Level, Tape Measure, Drill, Sand Paper, Stapler
Tips: Consider pairing your sand paper with a sander since this desk has such a large surface area.
8. Fully Functioning Studio Desk from Imgur.com
This Fully Functioning plan will teach you how to build a studio desk that serves as inspiration for any advanced builders looking for a fully operating studio desk. The plan does lack in specifics, but has written instructions and pictures for each step of the building process.
Skill Level: Intermediate
Materials: Birch Wood, Screws, Wood Fillers, Wood Glue, Wood Stain, T Brackets, Rack Rails
Tools Needed: Circle Saw, Screw Driver, Clamp
Tips: The builder strongly recommends not using Minwax polyshade stain or wood fillers.
Thank you for reading this post and leaving your comments below!
---
Featured Image Credit: Simplified Building