7 Free DIY Murphy Bed & Desk Combo Plans You Can Make Today (with Pictures)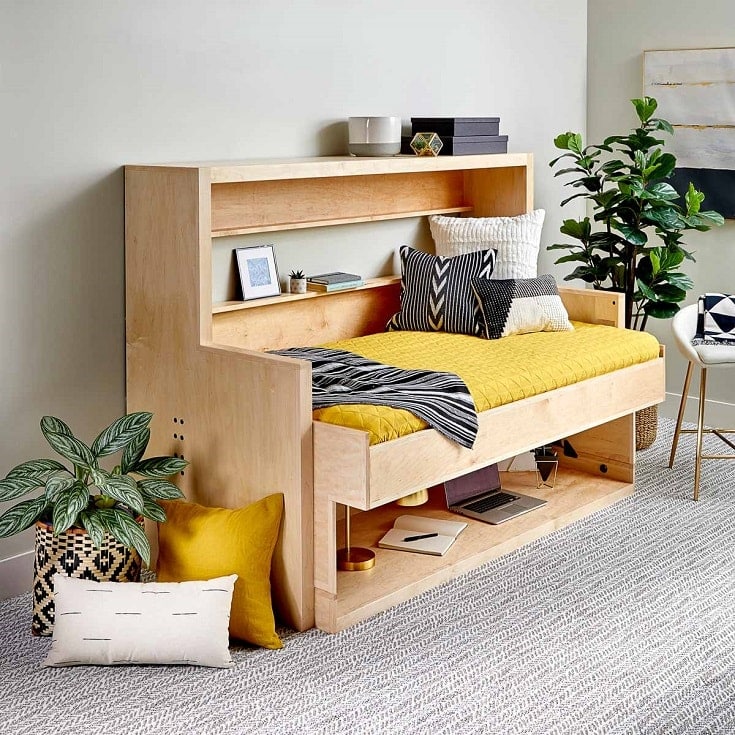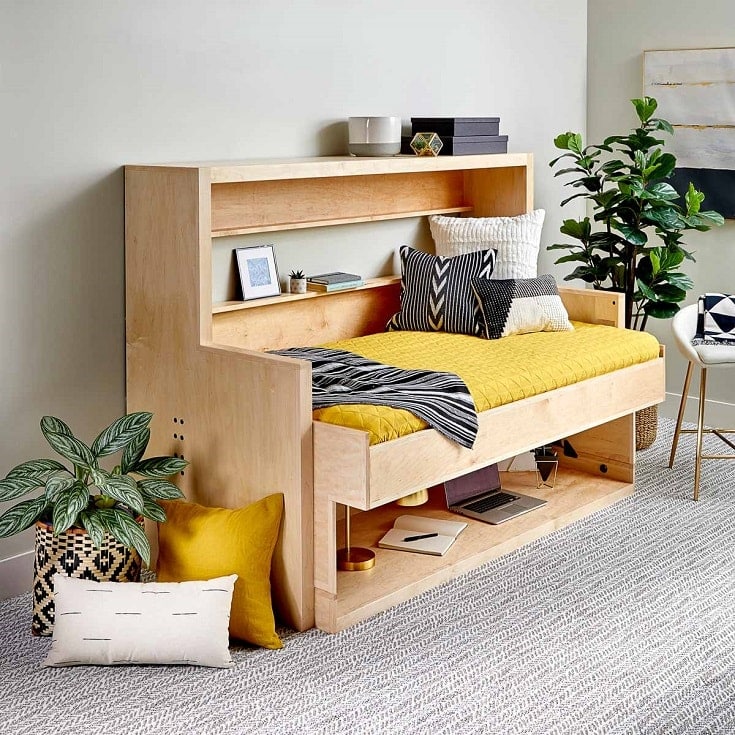 If you're hankering for an efficient way to organize a room, look no further than the murphy bed/desk combo. These beds fold into the wall, and provide a desk for a usable workspace. It's a complicated undertaking to learn how to build a murphy bed and desk combo yourself, but you could save a whole lot of money by doing so. There are a few different kinds, some of them including the desk on the side, others with a complex mechanism that self-levels the desk to fold underneath the bed when it's brought down, without disturbing any of the items on the desk.
We've gathered a small list of murphy bed/desk combos that you can DIY yourself. We hope you'll find one that works for you!
The 7 Free DIY Murphy Bed & Desk Combo Plans
1.

DIY Transforming Murphy Bed and Desk from Family Handyman
Bright and ergonomic, this murphy bed/desk plan is a highly functional self-leveling design. You'll need to obtain the hardware kit for this plan, which comes from. This bed comes in twin, double and queen-sized beds. The main wood materials used are basic plywood and maple lumber.
---
2.

DIY Stay Level Desk from You Can Make This Too
This murphy bed allows for a true multifunctional space, and like the previous model it has a stay level desk feature which means there is no need to clear it off before pulling the bed down! You can flank the bed with cabinets and shelves for lots of storage. This design uses basic plywood and a hardware kit you can purchase that comes with easy to follow DVD instructions and all required working pieces. Learn how to build a murphy bed and desk combo here!
---
3.

DIY Modern Farmhouse Murphy Bed with Bookshelf from Addicted 2 DIY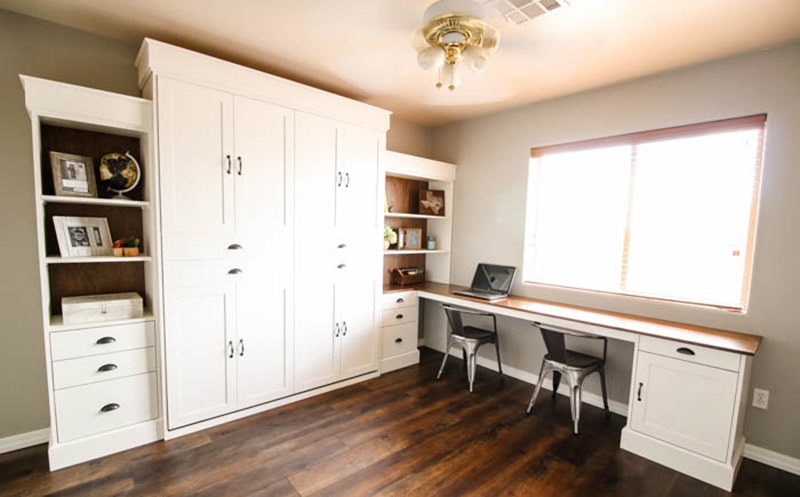 This next murphy bed/desk is from a blogger that takes her own spin off of Rockler's Murphy Bed Kit. This sleek and compact design does not lack storage, space, or charm. The plan is for a queen size bed, and an attached desk.
---
4.

DIY Murphy Bed with Folding Desk from Justin Built
This youtuber combines two separate plans to make this bed/desk (one plan for the murphy bed and one plan for the folding desk). He uses basic plywood and simple/inexpensive hardware to add a desk with a simple folding mechanism, so it can stow away when the bed is in use. Both plans are easy to follow, affordable, and when built as a combination create a simple but extremely functional piece of furniture for any room!
---
5.

Murphy Bed for Studio/Office from Melissa Finn
This youtuber makes a nifty bed/desk combo using a hardware kit from createabed.com. Create-a-bed gives you a 40 minute instructional video with the hardware. The plan is easy to follow, but it is recommended that you order the parts before you go out to cut lumber, so you know exactly what amounts and cuts of lumber you need.
---
6.

DIY Murphy Bed with Desk and Bookcases from Lamberts Lately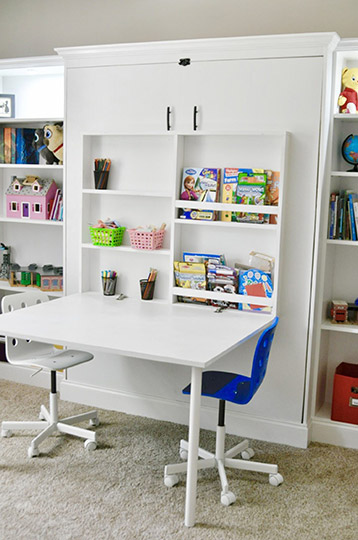 If you want a murphy bed that does it all, this design comes with the bed, desk and a bookshelf! After building the murphy bed, the designer attached IKEA bookshelves to either side, and made a folding desk out of plywood and 1×4 lumber. White spray paint on the shelf makes it match the rest of the build.
---
7.

DIY Desk Bed from Fine Homebuilding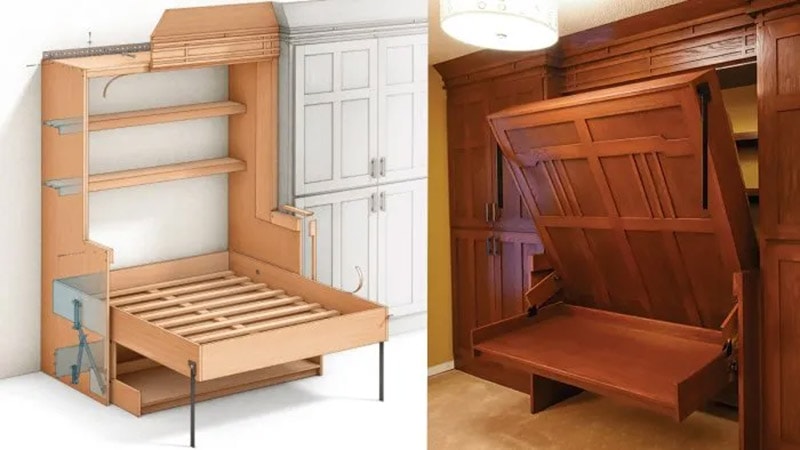 Compact and elegant, this murphy bed is another design that features a self-leveling desk. This particular model is counterbalanced, making it a fast and smooth transformation from bed to desk. Steel legs fold out to make the bed sturdy. It's made of red-oak plywood with a dark finish, giving it a cozy look that looks great in an office or study.
---
Featured Image Credit: Family Handyman