10 DIY Truck Bed Storage Ideas You Can Construct Today (With Pictures)
Trucks are a clear choice when you need a versatile vehicle for everyday transportation and hauling equipment. DIY storage takes that inherent functionality and brings it to an entirely new level.
If you use your truck for work, a storage system will ease accessibility, making it easier and quicker to grab your tools. For camping enthusiasts, it's a great way to pack in all your gear without sacrificing your sleeping surface.
Regardless of how you use it, a storage setup will help you stay organized, maximize your space, and expend less effort in loading and unloading. Get started on your custom system with these ten DIY truck bed storage ideas.

The 10 DIY Truck Bed Storage Ideas
1.

DIY Fishing & Camping Storage by The Frugal Sportsman
| | |
| --- | --- |
| Materials: | ¾" plywood, 2x4s, screws, cabinet pull, spray paint |
| Tools: | Miter saw, router, pocket screw jig, drill |
| Difficulty: | Advanced |
The custom-fit look takes a little extra work and precision, but this fishing and camping storage system is worth the effort. The builder takes a forward-thinking approach to every element. Storage features and construction characteristics consider everything you could need at the lake or on the trail, and access holes simplify assembly and disassembly.
The final product includes a fishing rod rack, a pull-out drawer for supplies, and matching cargo bins. A jet sled and bed ramps give you an easy-in-easy-out device for bulky materials, such as firewood, coolers, or game animals.
---
2.

Truck Bed Storage Drawers by Take The Truck
| | |
| --- | --- |
| Materials: | Plywood, 2x8s, 2x6s, 1x8s, screws, indoor/outdoor carpet, 3/16" UHMW plastic, metal strip, metal rod, spray adhesive, wax, FlexSeal |
| Tools: | Saw, drill, utility knife, clamp, router, sander |
| Difficulty: | Advanced |
While they aren't as feature-laden as the fishing and camping system, these gliding dual truck bed drawers improve the sliding mechanism and drawer build. The attention to detail is impressive, delivering a professional-looking final product with padded drawer interiors, sliding components, and a locking mechanism.
You'll learn how to create everything from scratch in a way that accommodates your toolset. The insights gained may even come in handy on other household projects down the road.
---
3.

Truck Bed Divider by Puggin4Life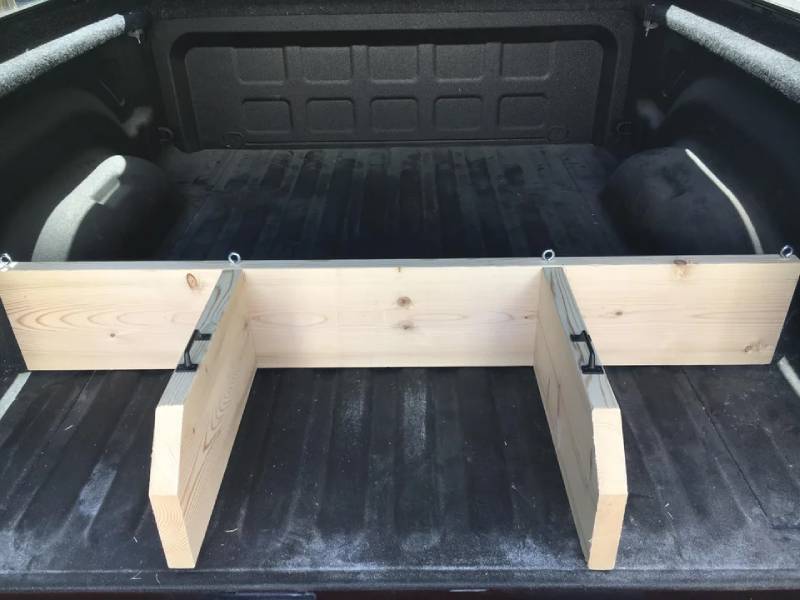 | | |
| --- | --- |
| Materials: | 2×10, screws, eye hooks, handles |
| Tools: | Table saw, drill |
| Difficulty: | Easy |
The one downside to the truck bed is the need for tie-downs when you have only a few small items. As a lasting solution and fun afternoon project, this simple truck bed divider keeps your groceries, coolers, propane tanks, and other gear conveniently tucked toward the tailgate. Give your truck some quick measurements, and with a few cuts of a 2×10 and added eye hooks for tie-downs, you'll be all set for your next excursion.
---
4.

Simple Truck Bed Drawers by Magellan and Greyhound
| | |
| --- | --- |
| Materials: | 1x6s, plywood, screws, drawer handles |
| Tools: | Table saw, drill |
| Difficulty: | Intermediate |
If the first or second storage drawer plans are more involved than you care to be for your truck bed storage project, these straightforward truck bed drawers take it back to basics.
A few 1x6s, plywood, and drawer handles combine to give you functional deep drawers and a platform to use for a bed or extra storage. You don't have to worry about fancy drawer hardware, numerous precise cuts, or using a router. With reclaimed materials and standard power tools, these drawers are cheap and effortless to build.
---
5.

Truck Bed Lawn Tool Rack by Lawn Care Forum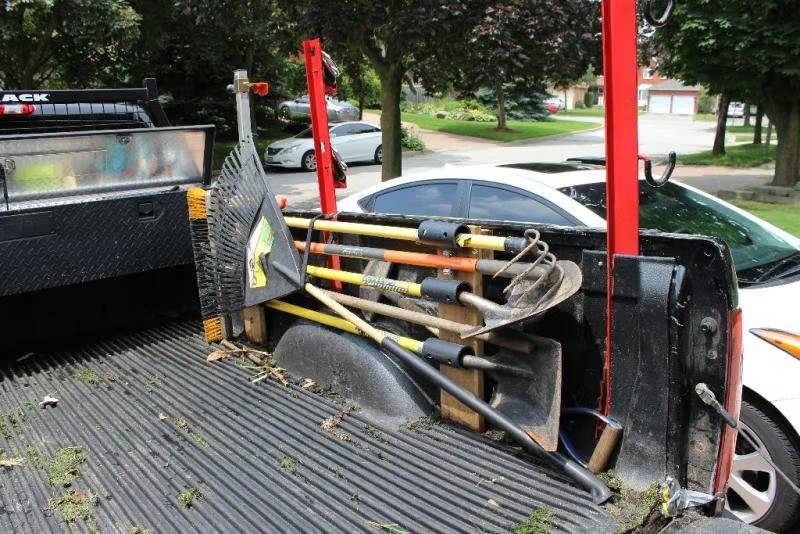 | | |
| --- | --- |
| Materials: | ABS pipe, deck board |
| Tools: | Saw, drill |
| Difficulty: | Easy |
Anyone who's lost a shovel on the highway knows that lawn tools deserve a storage solution. Rakes, shovels, and hoes take up more space than necessary if you don't have a rack, and nobody wants them shifting in the bed anyways.
With this lawn tool carrier, you'll have a secure place to organize your lawn tools while retaining nearly all of the truck bed's free space. The out-of-the-way rack is simple enough to build, requiring nothing more than a few pieces of ABS or PVC pipe fitted to wooden board mounts on the side of the truck bed.
---
6.

Pickup Bed Organizer by Artisan Made
| | |
| --- | --- |
| Materials: | Plywood, wood glue, screws, nails, ball-bearing drawer slides |
| Tools: | Router, brad nailer, drill, pocket screw jig, clamps |
| Difficulty: | Intermediate |
The truck bed organizer in this video tutorial is an exciting project to hone your woodworking skills. Clean rounded edges with precise routering give the design a polished look, while ball-bearing drawer glides enhance the functionality. Installing and removing the system is easy, giving you a portable storage system to take from the shop to the truck in the fewest steps possible.
---
7.

Sleeping Platform with Storage by Nissan Frontier Forum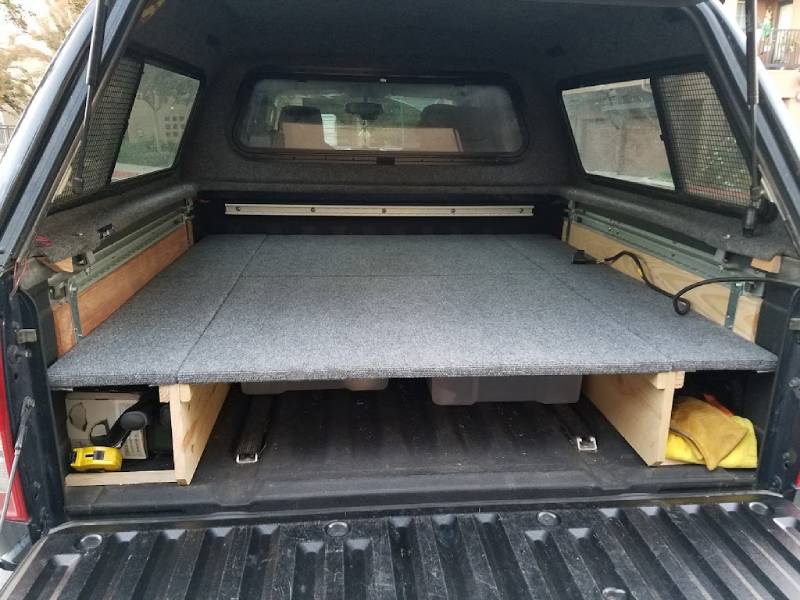 | | |
| --- | --- |
| Materials: | ¾" plywood, outdoor carpet, 2×6, 1×10, 1x2s |
| Tools: | Circular saw, table saw, jig saw, drill, screw gun, paint roller |
| Difficulty: | Intermediate |
Converting your truck into a mobile tent is a convenient option for camping outings, and this truck bed storage platform is the perfect solution! The construction is uncomplicated, utilizing a few straight cuts of plywood and furring strips for the frame and platform.
The frame naturally has three storage compartments for organization, which will also help keep your gear out of sight. The sleeping platform may sag under multiple bodies, but adding cross-bar supports is a straightforward amendment for extra strength.
---
8.

DIY Truck Bed Slide by 480 subscribers by Sean Rady
| | |
| --- | --- |
| Materials: | ¾" plywood, 1x4s, 1x2s, screws, ball-bearing rollers, drawer handles |
| Tools: | Table saw, drill |
| Difficulty: | Intermediate |
A truck bed slide is ideal if you're disabled or have to get in and out of the truck often to retrieve items in the back. The plywood shelf rolls out to make everything accessible from the tailgate without sacrificing space.
Numerous ball-bearing rollers on the truck bed allow the plywood to move smoothly, and as the designer points out, the more, the merrier. The shelf is heavy and will likely break if you try to roll something massive like a washing machine beyond the tailgate. But with careful use, it will add tons of convenience to everyday errands and give your body a chance to relax.
---
9.

Pullout Truck Bed Storage Bin by Toyota Tundra Forum
| | |
| --- | --- |
| Materials: | ⅝" plywood, ¾" plywood, bed liner, ball-bearing rollers, Velcro, screws |
| Tools: | Table saw, drill |
| Difficulty: | Intermediate |
Many truck bed storage ideas focus on the flat part of the truck, but this covered storage bin gets the tailgate involved for enhanced motion. Like the bed slide, these plans use a collection of ball-bearing rollers on the bed for fluid operation, making the rest of the build less stressful. The designer goes one step further and adds rollers on a panel affixed to the tailgate, providing a level surface out to the edge.
---
10.

Rolling Truck Bed Toolbox by Fine Home Building
| | |
| --- | --- |
| Materials: | Plywood, 2x4s, casters, screws |
| Tools: | Table saw, drill, |
| Difficulty: | Intermediate |
If you want an intelligent storage solution with tons of function and space, this rolling truck bed pullout shelf is an excellent project. Smooth-rolling and secure, the high-quality performance is achievable with simple means, namely a line of casters on either side of the drawer. Another upside-down caster locks it into place.
The drawer moves friction-free and can withstand a decent amount of weight, even when it extends past the tailgate. With the rolling surface, you also get a slim storage cavity underneath for holding rakes, shovels, and other low-profile equipment.

Final Thoughts
A DIY project that benefits you every day is the most worthwhile one to try. Truck bed storage can make work and recreation easier, saving you time and effort everywhere you go. Take inspiration from these DIY truck bed storage ideas, and see how you can improve your daily routine.
---
Featured Image Credit: Lake Stream, Shutterstock