19 Free DIY Workbench Plans You Can Build Today (With Pictures)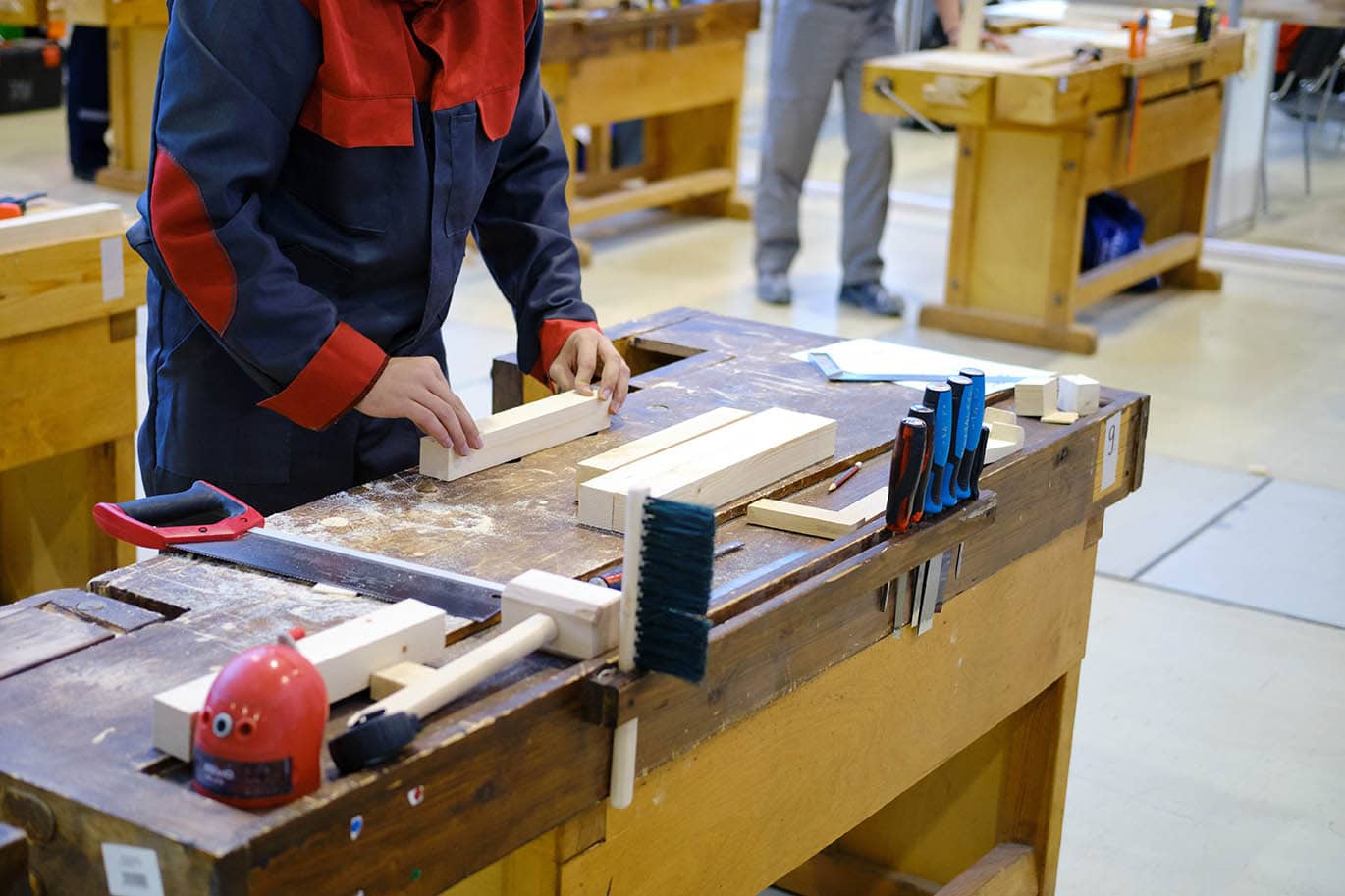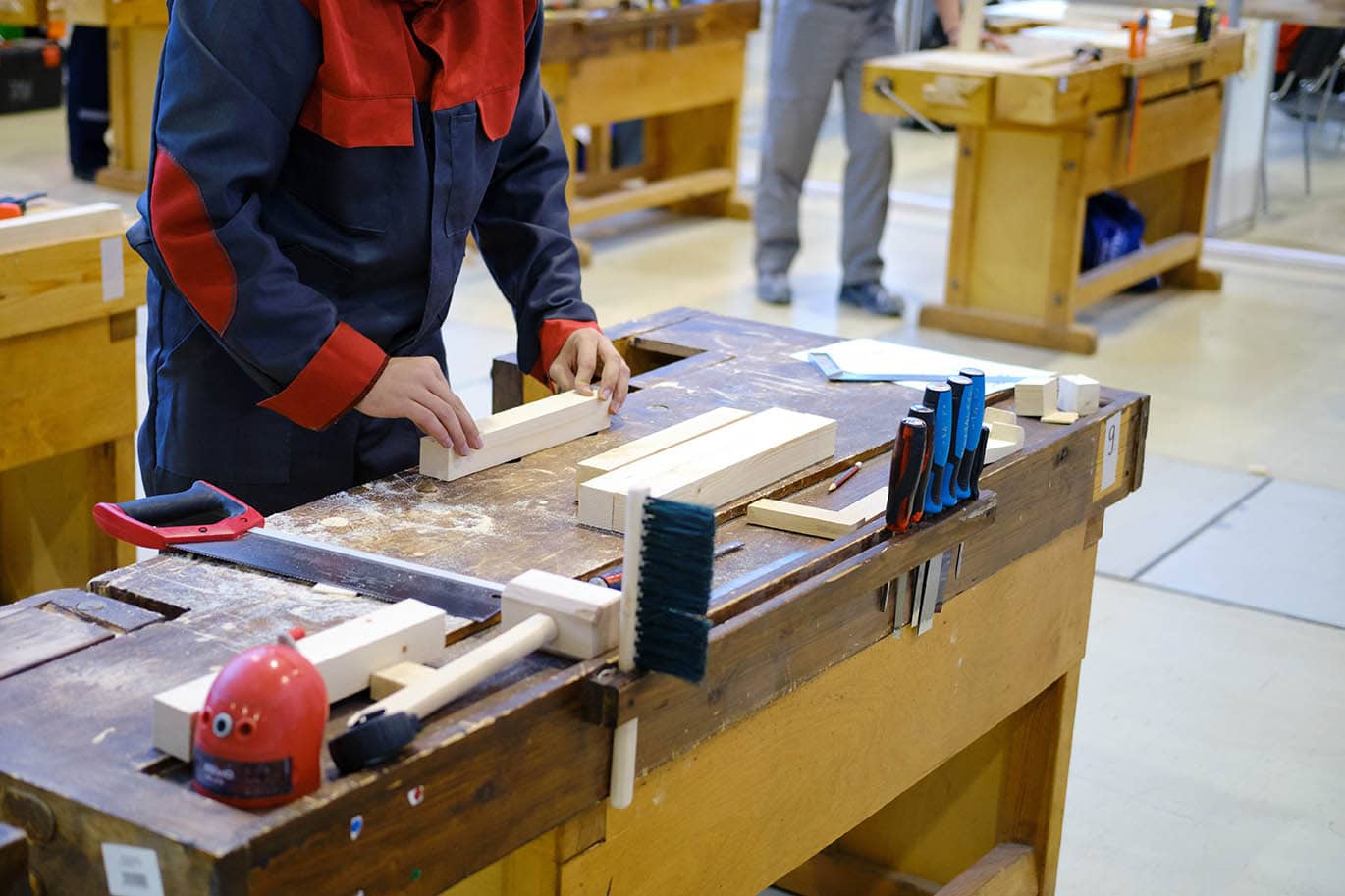 One of the most underappreciated tools in working with wood is the place to do the work. Every woodworker will have their own specific needs, but one thing everyone will need is a flat work-surface. You need a place to lay your tools, hold your wood firmly in place and enough space to work.
If you're making your own workbench, you have the luxury to tailor it to what works best for you. Some people find a lot of storage space on their bench to be helpful. Some people require wheels. Some workshops demand a great economy of space, so they might even prefer a workbench that can collapse into something smaller. Others just need a basic, traditional workbench of some kind. One great thing about the Internet is that you can let your creativity run wild and you can probably find a set of how-to-build plans to provide guidance.
We've got you covered. No matter what your needs are in a woodworking workbench needs are, we found something that can suit your needs and that can inspire you and get you just the right workbench. These come in all sizes, mobile and static plans, and loaded with lots of bells and whistles. Follow the links and the instructions below as they will teach you how to build a workbench in no time at all.

The 19 DIY Workbench Plans
1.

Ultimate Mobile Workbench Plan from Instructables
If you don't need a heavy-duty, static workbench, this DIY mobile workbench is an alternative that is just plain fun and functional. This one comes with a place to mount your cabinet saw and a nice open space for you to put tools and light woodworking like planing, sanding or staining. It's also got a great storage cabinet underneath for all of the tools you'll need when taking this one mobile. One thing to watch: You'll want to watch doing anything too heavy because of the risk of tipping it over.
The plans come with some tips and hints on how to customize this bench if you don't have a cabinet saw. If you've got the skills, you can try freelancing your own design changes. One thing we think would work well is including hinges and folding braces so that you can collapse the shelf for maximum storability.
---
2.

A Woodworker's Bench Plan from Instructables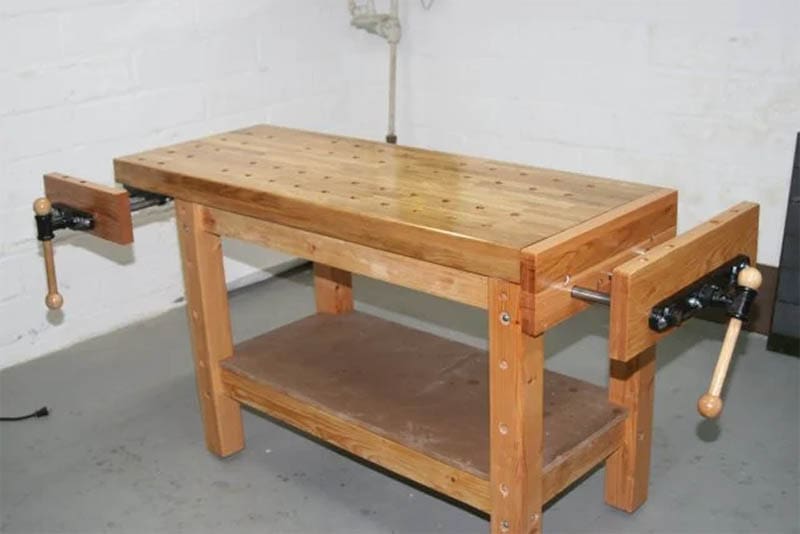 One thing we really like about this design is that while others that we've included can be used for multiple uses, this one is really a dedicated woodworkers workbench. It's touted primarily not as a bench but as a work-holding system. When it comes to working with wood, that's critical. When it comes to these sorts of projects, at some point you will always want to hold them firmly in place to do finishing work.
If you understand proportions, these plans are great because you can customize them depending on the amount of space you have in your workshop. Just make sure that you remember to always leave room to maneuver around the sides.
---
3.

Roll-Away Workbench Plan from Ana White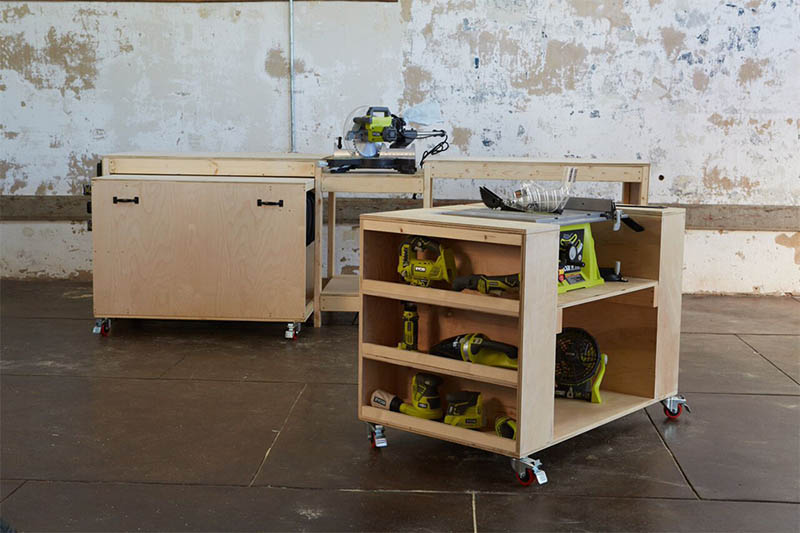 This workbench provides a small working space with lots of storage space for various tools to take with you. If you need to take it someplace where there is reliable power, you can carry around power tools. If not, it's plenty of shelf space for hand tools and stains and brushes. It's not the most powerful, stable workbench, but it is versatile for just about everything else.
These plans provide you everything you need to build this woodworking workbench. Because it's on wheels, while you can freelance the design you'll want to make sure that you have your dimensions spot on.
---
4.

Rolling Woodworking Cabinet Plan from Woodsmith Tips
Most people think of rolling cabinets as something that auto mechanics use, but this one is designed for woodworking. The working space isn't huge, so you'll want to check your ambitions if you make it, but it's got plenty of storage for tools if you do a lot of carving, shaping, polishing, and staining. That is, this one is perfect for precision work.
The plans for this model are available here. Like all cabinets, you'll want to pay careful attention to the dimensions of this workbench, because getting them wrong means that you've got an unbalanced, misshapen workbench. That could make you feel like you should have just purchased one.
---
5.

Heavy-Duty Workbench Plan from My Outdoor Plans
If you're looking for a good, strong, stable workbench for heavy-duty woodworking, this is one of the best. It's built with treated lumber to help it withstand warping from getting wet and breaking down from use. There's not a lot of finesse to it. It doesn't have a lot of bells and whistles, but if the kind of woodworking you do needs you to just work then it's all you need.
Although this workbench looks simple enough, closely follow the instructions these plans lay out. This one requires a little more care than just banging together a handful of 2x4s cut roughly to the same size. To get the most out of it, you want to get it right.
---
6.

Super Simple $50 Workbench Plan from Family Handyman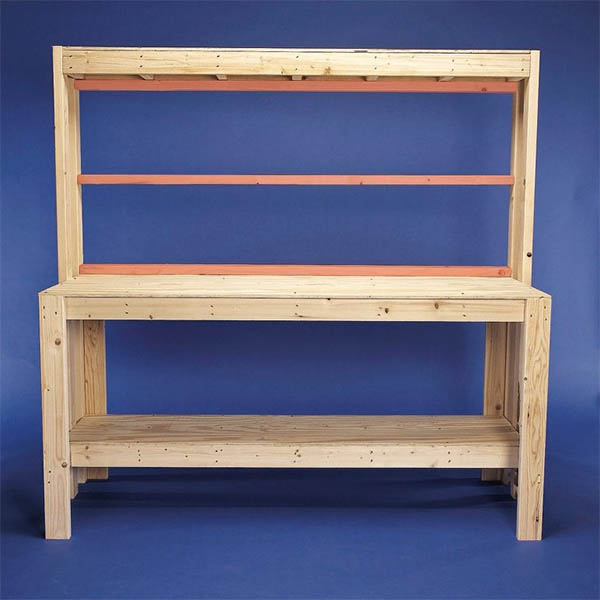 We are suckers for a workbench that has plenty of room to hold your hardware and materials. That means you can work yourself into a groove and not interrupt it by having to stop and go hunt up the right screw or glue gun before getting back to it. Build this one near a set of quality outlets and this is all the workbench you'll ever need. The best part is that the materials for this one are inexpensive.
The plans for this one are available here. It calls for a cheap light to mount to it, but you can upgrade that if you have precise, detailed work to do. It doesn't include instructions on applying stain, which can make it look better and give it a longer life.
---
7.

Rolling Workbench Plan from A Crafted Passion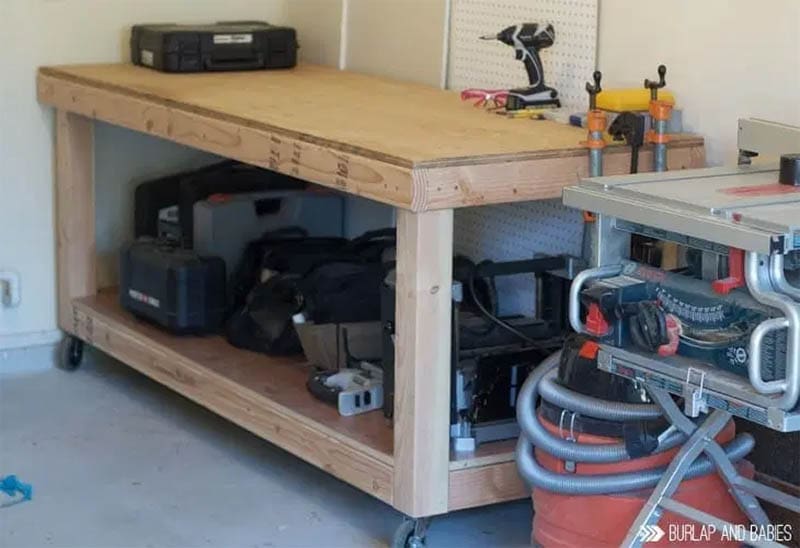 This workbench is a heavier duty rolling workbench. These are great because if you have a spot that is working out right for a certain project, you can just roll your bench over to it. It's like always being able to put a circular peg into a round hole. The bottom bench means it's got plenty of storage to bring your tools with you.
This bench is simple enough that if you can understand these plans that you can adjust them to suit your personal needs. It's also plain enough that you can add things as you need them to the frame. Just leave yourself enough space to keep doing the work.
---
8.

Garage Workbench Plan from Family Handyman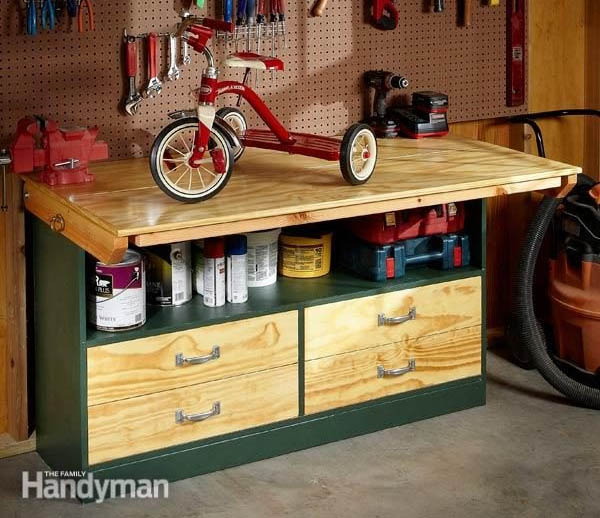 Intended to address the problems of limited space and a desire to have something set in place in your garage, this workbench offers a folding work area that allows you to work on a variety of projects, but storage space for the tools you need for them. That includes the stains, paints, and brushes necessary to properly finish them.
The instructions for this project are great because they not provide information on how to build it, but guidance on the skill level, cost of materials and general skill level required. Although it looks like a complicated project, in reality, it's simple enough that novices can build it.
---
9.

2×4 Workbench Plan from My Outdoor Plans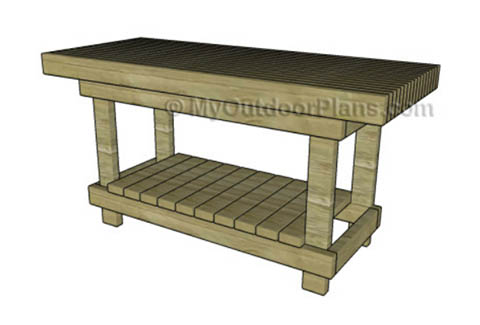 There isn't anything subtle about this workbench. It's built entirely out of 2x4s, which means that the wood is super cheap to come by but that it's also really, really sturdy. Combine those two together, and you've got a woodworking workbench that you can beat on and abuse without breaking it.
For a workbench built out of such crude materials, this workbench has a certain aesthetic to it. Follow the plans to make it right, or you can just hammer a bunch of wood together to make something less pretty and less sturdy.
---
10.

Simple Workbench Plan from Family Handyman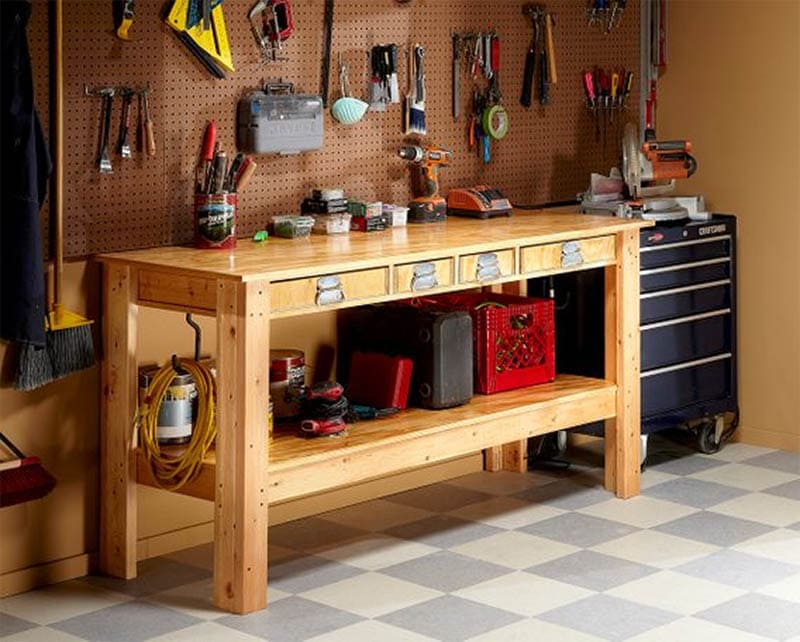 This is a simple, sturdy and basic workbench. It won't take you a long time and won't require a heavy investment of money to make happen. But, it's got some little extras like storage drawers to make it a time-saver. Keep your hardware on the bench and you won't have to spend time hunting it up while working.
You can find the plans here. Because the plans are simple, they shouldn't be hard to freelance if you want to customize. These plans call for finely-finished wood, but you don't need to do that. This is a simple workbench. You can stay simple and crude.
---
11.

Kids DIY Workbench from Fix This Build That
Not every woodworking project needs to be serious. Sometimes, you want to build one that helps your kids learn how to build things. If your kids are getting into tools, they can use their own workbench to fiddle around themselves. Put this one in the corner and let your kids start to feel like they're on their way to becoming adults who can work with adult toys.
The plans for this bench are simple enough that your kids can help build it and start to feel some ownership for it. The pegboard on the back is perfect to create tool storage that you can keep changing up as they add to their inventory.
---
12.

Simple Workbench Plan from DIY Pete
This is just a basic woodworking workbench. It's just there for you to do work. A simple beneath shelf allows you to store tools and stains and brushes, but that's about it. It's got wheels that allow you to move it around. Make no mistake about it. This bench is all about giving you space to work, and it's simple enough to get you up and running on that quickly.
You can find the plans here. They aren't complicated, which means you can modify them if need be.
---
13.

Easy Portable Workbench Plan from Rogue Engineer
Simple but effective. Let's face it, you aren't into woodworking because you want to actually spend a lot of time making a workspace. You're into woodworking because you want to work with wood. This sort of bench will let you get right to what you want to do without spending a lot of time dealing with peripheries.
The plans are simple. The best part is that you can modify them if you really need something a little more complicated. Just don't overload this design with a lot of extras because it's designed to be a workspace, not a workbench.
---
14.

Dave Flanagan's Collapsible Workbench plan from Woodworker's Gazette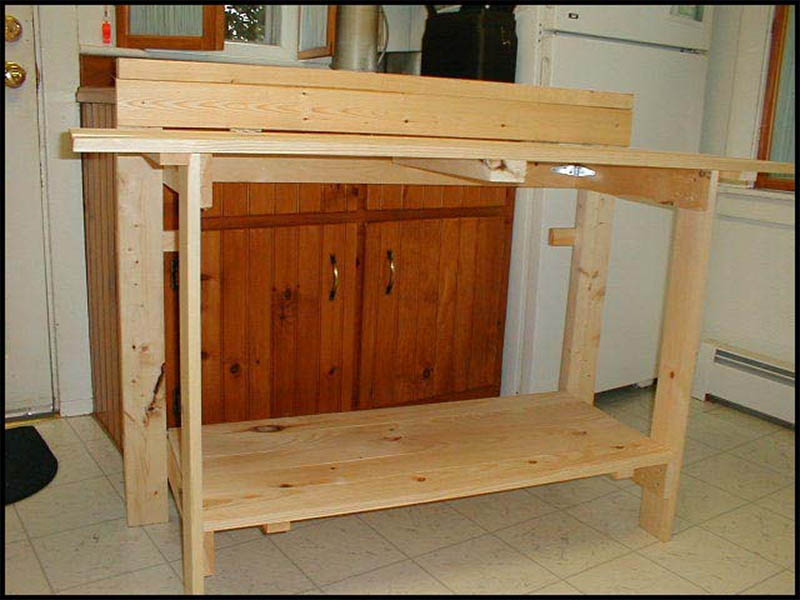 This simple workbench comes with the advantage that you can break it down for simple, slim storage. Its efficient use of space comes with the sacrifice of utility. You won't find a lot of extras with this. It's a place for you to put your work to finish up, but not someplace for you to settle in for hours.
Go here for the plans. There are some options in it for freelance, but keep in mind that this bench is what it is. It's just here to give you a place to work for a short time.
---
15.

Quick & Sturdy Afternoon Workbench
Building this Quick and Sturdy Afternoon Workbench is a delight, as it's easy to assemble, cost-effective, and forgiving of novice carpenter mistakes. With solid 4×4 posts, this 42-inch high, 60-inch long, and 27.5-inch deep bench is exceptionally stable. The height is ideal for dexterous tasks, like rebuilding carburetors, but may be slightly high for hammering.
If space allows, consider extending the length to 6 to 8 feet using standard-sized lumber. The depth, comprising five 2x6s, suits most gearhead jobs but can be increased by adding more 2x6s or creating a backstop for added convenience.
---
16.

Multipurpose Assembly Table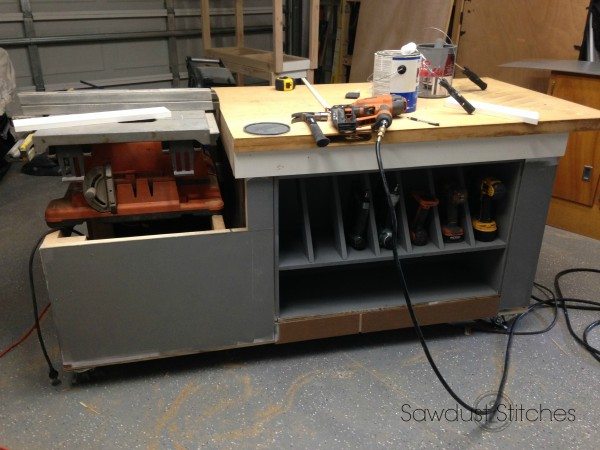 Transforming a frustrating workshop setup into an efficient workspace, this Multipurpose Assembly Table offers a practical and budget-friendly solution. The table combines an assembly area, table saw, air compressor, and air hose/reel, utilizing limited space effectively.
The creator used affordable materials, such as reclaimed 2x4s, castors from an old table, and a solid door found for free on Craigslist. This assembly table is not only cheap but also significantly improves the workflow in the shop. It serves as an inspiration for those looking to optimize their workspace and spark creative ideas.
---
17.

Space-Saving Fold-Down Workbench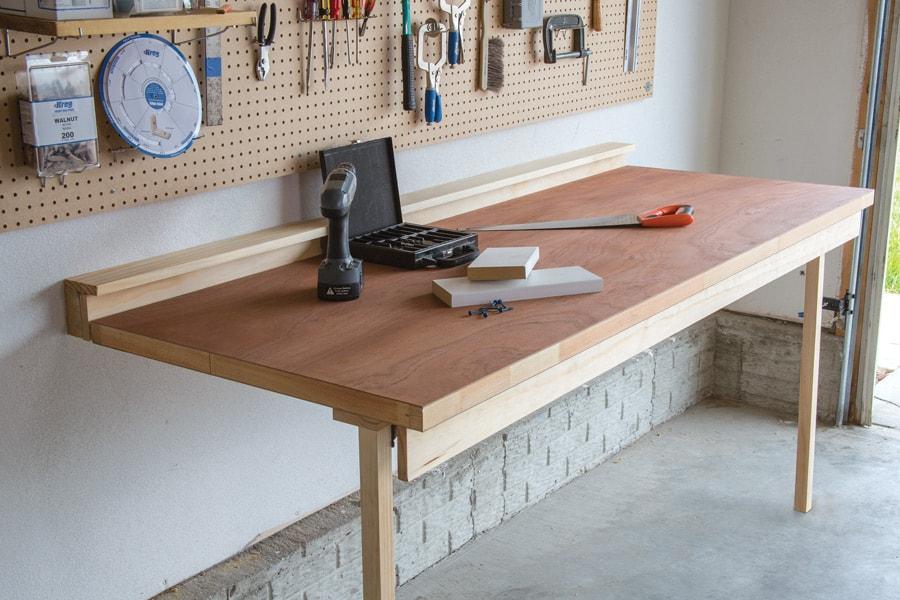 The Space-Saving Fold-Down Workbench offers a sturdy workspace for various shop tasks without sacrificing valuable space. This bench easily folds flat against the wall when not in use, making it perfect for small workshops.
Built using a solid-core door, 1×4, 2×4, and 2×2 boards, the bench provides ample surface area for your projects. The shelf and mounting cleat add convenience, while the front rail and legs ensure stability. With moderate difficulty, this workbench can be assembled using a range of common tools, including a circular saw, miter saw, drill, sander, and pocket-hole jig.
---
18.

Nicholson Knockdown Workbench
The Nicholson Knockdown Workbench is a versatile and sturdy option for any workshop. This workbench features a moveable plan stop, allowing for easy hand planning, and an optional metal support plate to protect the plan stop opening.
The bench has a simple design with 1½-inch thick boards and detailed instructions for creating the top, legs, side panels, and shelf. The workbench can be customized to suit your needs, with options for hole placement and holdfasts.
---
19.

Compact & Efficient Fold-Out Workbench for Small Spaces
This small-space workbench offers a practical solution for those with limited workshop areas, such as garages. The design includes a fold-out work table, saw stand, and table for your miter box. It also boasts ample storage options with cabinets, shelves, and drawers, and even a pegboard.
Built with affordability and ease in mind, this workbench can be created using basic tools such as a circular saw, drill/driver, framing square, miter saw, and tape measure. The compact and efficient fold-out workbench is perfect for optimizing your limited shop space while providing a functional workspace for your woodworking projects.

Conclusion
We hope you enjoyed learning how to build a workbench with one of these plans. If you'd rather go the more boring (but faster) way, then we've compiled our top 5 woodworking bench picks here.
And for an overview of our favorite portable options, click here.
---
Featured Image Credit: Zhuravlev Andrey, Shutterstock