16 Useful DIY Garage Workbench Plans You Can Build Today (with Pictures)
As somebody serious about DIY, you probably already heard the phrase, "Your workbench is the heart of a workshop." While it's true that a solid bench is essential, it is equally important that the bench you build is practical and a good fit for your available space. There are many sizes and types of workbenches, and the number of possible customizations is only limited by your imagination.
One of the plans we gathered below will teach you how to build a garage workbench that suits your needs. Before jumping in and building your bench, you may find it helpful to study all the plans and make a list of your favorites. Each of the benches can be completed with the instructions provided, but likewise, they can all be modified or slightly tweaked to suit your needs better.

The 16 Useful DIY Garage Workbench Plans
1.

Folding Mobile Workbench from Family Handyman
If a space-saving mobile workbench is what you are looking for, we recommend checking out this excellent folding workbench from Family Handyman.
It can be put together in about 2 hours and should cost no more than $100 in materials. It provides a good-sized work area and can be folded up to just 7 inches. If you wish, you can build this workbench in any size by adjusting the frame dimensions.
---
2.

Inexpensive Sturdy Workbench from Instructables
Sometimes simple is best, and this inexpensive, sturdy workbench from Instructables is just that. Your workbench should be able to handle several projects, and you need it to be solidly built and capable of taking a pounding.
At 80 inches long, 36 inches wide, and 34 inches tall, this massive workbench can support any heavy-duty task. As a bonus, building it won't break the bank, and it can be put together in just a few hours.
---
3.

A Rolling Workbench from A Crafted Passion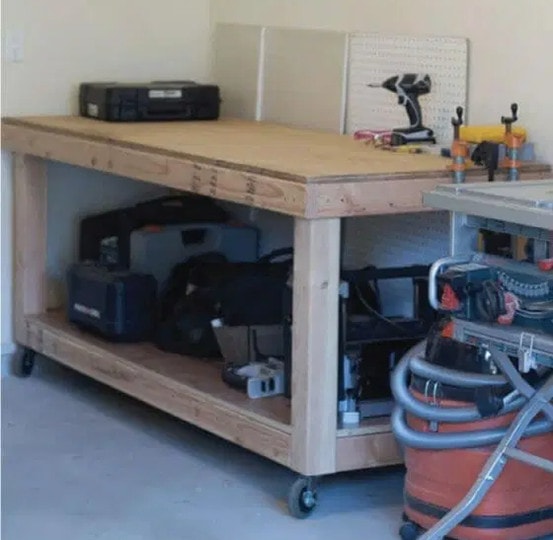 If you need a big, solid workbench that can be rolled away and put in a corner when not in use, this model from A Crafted Passion could be the answer.
With a large work area and a sturdy storage shelf underneath, this bench is practical and robust. It's quick to build and will cost less than $100 in materials.
---
4.

The 4hr $70 Workbench from Instructables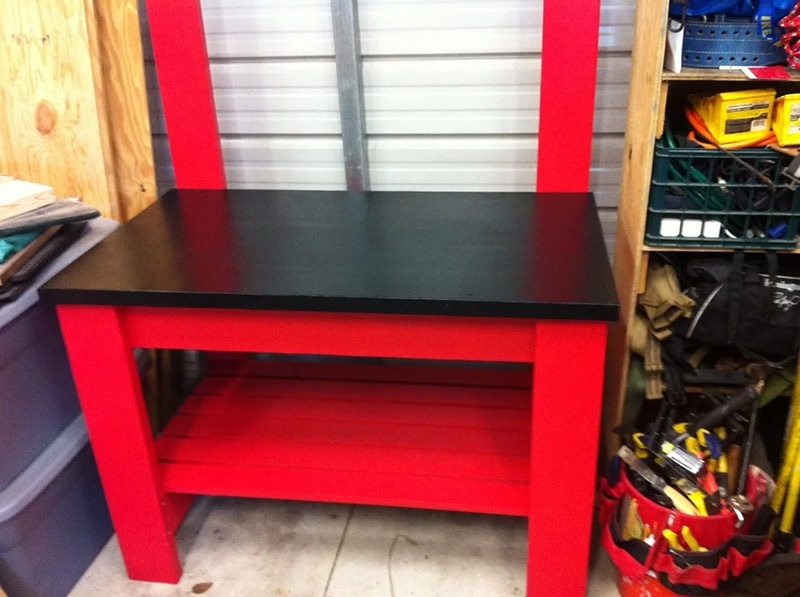 This Instructables workbench is another one from the school of thought that says, "Keep it simple and build it strong." The plans provided are for a workbench that is 46.5 inches long and 28 inches wide, but they could easily be modified to build a bench that will fit any space available in your workshop.
---
5.

The Sturdy Workbench from Wayne of the Woods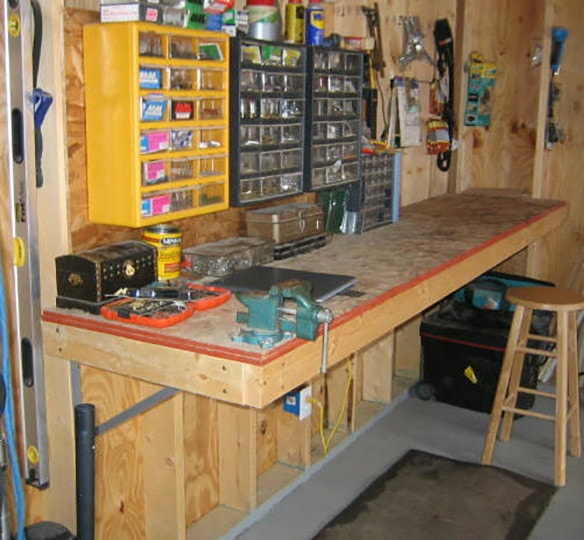 This wall-mounted workbench from Wayne of the Woods is simple to construct and modify.
It provides a stable work surface that won't slide about while you're working and keeps the floor space underneath clear, making it easy to keep your workshop clean and allowing space below to be used for storage when the bench isn't in use.
---
6.

The Garage Workbench from Family Handyman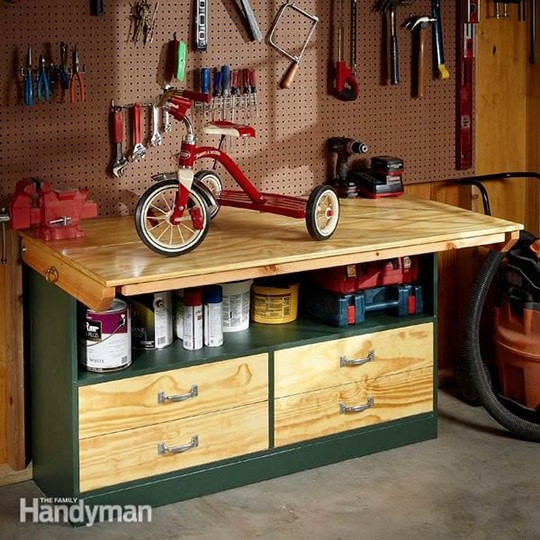 This stylish workbench from
The Family Handyman
has a fold-down benchtop that gives you an extra work surface when you need it and additional floor space when you don't.
This workbench will be a great choice if you need something to install in a small garage with limited space between the end of your parked cars and the wall.  It also has handy storage options built-in underneath.
---
7.

The Ultimate Mobile Workbench from Instructables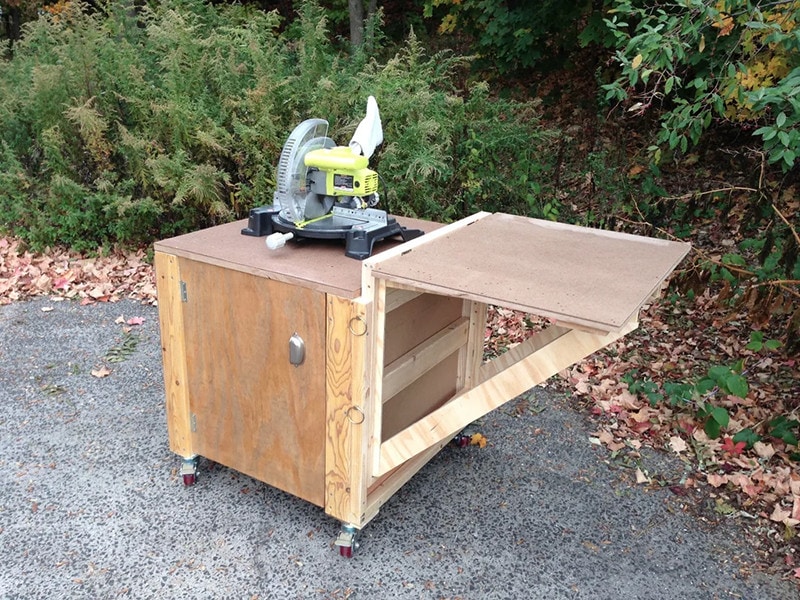 This workbench from Instructables is a perfect solution for anyone with a small workshop who doesn't have the space to install a fixed bench.
This workbench has a practical design and incorporates a vertically adjustable and expandable workbench top that can be used with large power tools. It also has interior storage shelves and a pegboard wall within a stable and movable structure that allows you to work almost anywhere.
---
8.

Workbench with Outfeed Table from Jen Woodhouse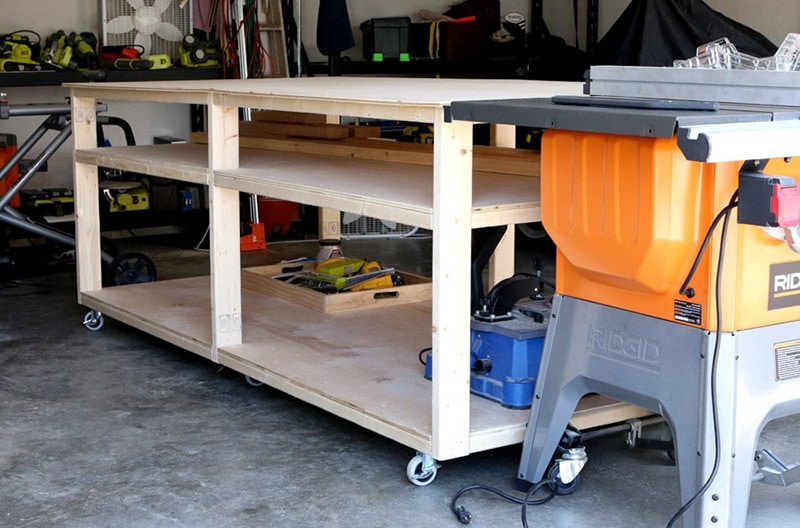 This workbench by Jen Woodhouse is easy to build, comes with a couple of excellent features, and can be put together for less than $150.
Workbenches should be sturdy and practical; on that front, this one ticks all the boxes.  We particularly like the shallow, second-level shelf that is a great place for the tools you use on your projects.
---
9.

Portable Workbench with Storage by Rogue Engineer
This portable workbench from Rogue Engineer is another clever design if you're short on space and need a workbench that can be tucked away and double as a storage unit when not in use.
This unit is a little more complicated to build than some and features large and small shelves; however, it can still easily be put together in a day. The design also includes a simple built-in rosin paper dispenser, allowing you always to have a roll handy to protect your work surface.
---
10.

Solid Timber Workbench from Instructables Workshop
Instructables Workshop claims that this beauty is the "manliest workbench ever built," and after you take one look at this design, we think you'll agree.
Built from two large pine logs, this DIY job isn't for the faint of heart. However, if you're into your DIY and willing to put in the effort, you'll end up with a fantastic rustic timber bench that will be the centerpiece of your workshop for years to come.
---
11.

All-Purpose Workbench from The Art of Manliness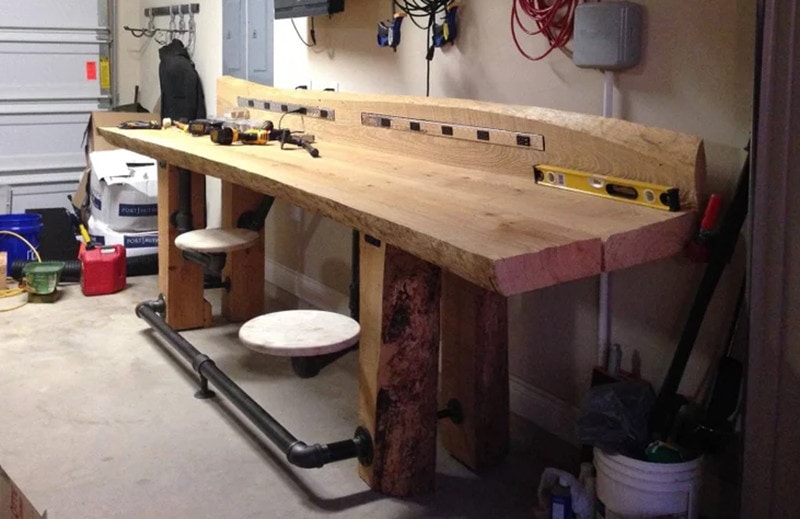 With their take on the classic timber workbench, the Art of Manliness has developed a design that uses rigid Simpson tie connectors to hold the bench together. The beauty of this design lies in the use of rigid tie connectors, which do a great job of holding the component parts together.
This design won't win any woodworking competitions, but it will allow you to assemble a robust and highly functional workbench in just a few hours.
---
12.

Dave Flanagan's Collapsible Workbench from The Woodworker's Gazette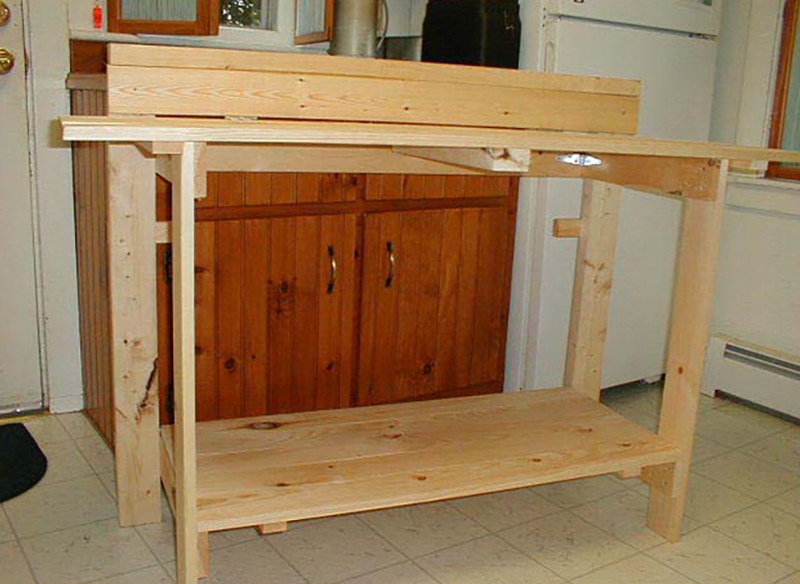 This collapsible workbench from The Woodworkers Gazette is a great space saver and should be a contender for anyone who needs a stable work platform that can be packed away when not in use.
With the aid of a few well-placed hinges, the design of the Dave Flanagan Collapsible Workbench is such that when it isn't in use, it can be folded down to just a few inches deep. This one isn't as solidly built as the others we featured, but it more than compensates for that with its sheer practicality.
---
13.

Simple Workbench Plans from The Family Handyman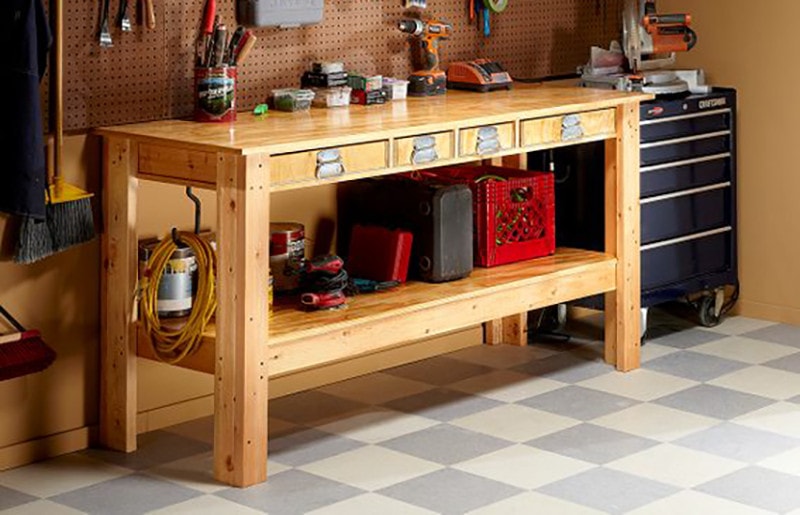 The Family Handyman has come up with an incredible bench with this one. It may be called the simple workbench, but we think that's just the folks at the Family Handyman being funny. While the bench isn't that different from some of the others on our list, it includes a set of four drawers, which makes the build a little more complicated.
Don't let that scare you. The instructions you'll need are included, and once you're done, you'll have a nice bench and the satisfaction of knowing you did the job yourself. According to these plans that teach you how to build a garage workbench, you should be able to create one in a single day. However, unless you're an experienced woodworker, it will probably take 2 days or more to complete.
---
14.

Tool Cabinet Upgrade Bench from Woodsmith
This workbench from Woodsmith is the most simple of the builds that we've included in this list. It's the kind of job you could DIY in just a couple of hours, and it will only take that long if you need to go out and buy your supplies.
Don't let the simplicity of this workbench fool you. It may be easy to construct, but if you already have a rolling metal tool cabinet and only need a small workbench, this design may be all you need.
---
15.

Simple Workbench from DIY Pete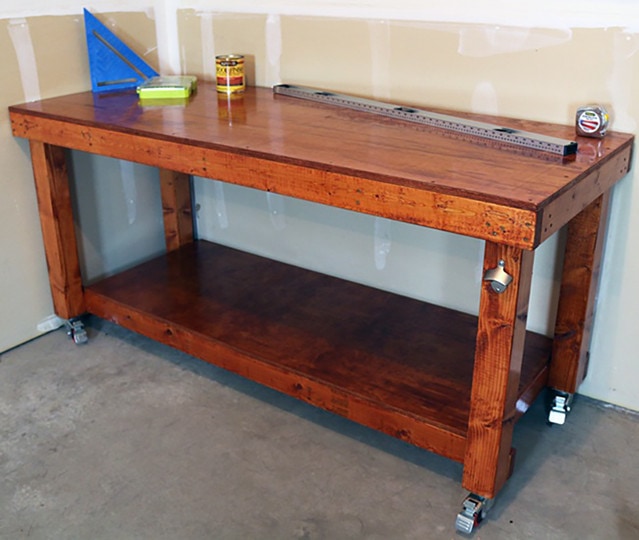 This simple workbench from DIY Pete is another classic example of a bench that can be put together in a day. It will cost about $175 to build, but as pointed out in the plans, you may be able to make a few minor changes to the design that will reduce the cost.
---
16.

Basic DIY Workbench from Shanty-2-Chic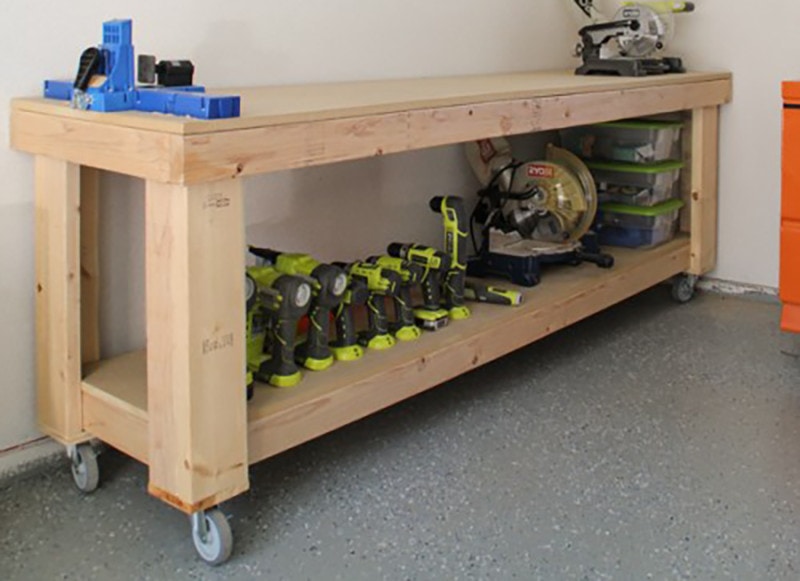 Shanty-2-Chic's DIY Workbench is quick and easy to put together, and its instructions come with a free set of printable plans that are well laid out and easy to follow.  Their bench uses a pretty standard design, but it is noticeably narrower than some, which may benefit you if you are short on space.
Conclusion
Although some of the plans we discussed require advanced construction skills, most are relatively easy to construct and can be completed in a day or less. The authors of the DIY workbenches provide clear instructions, but you can alter them if the design doesn't seem suitable for your garage. We hope you enjoyed the DIY designs we featured and have fun building your workbench!
See also:
---
Featured Image Credit: Thijs van der Weide, Pexels