Harbor Freight Portland 1750 Pressure Washer Review 2023 – Pros, Cons & Final Verdict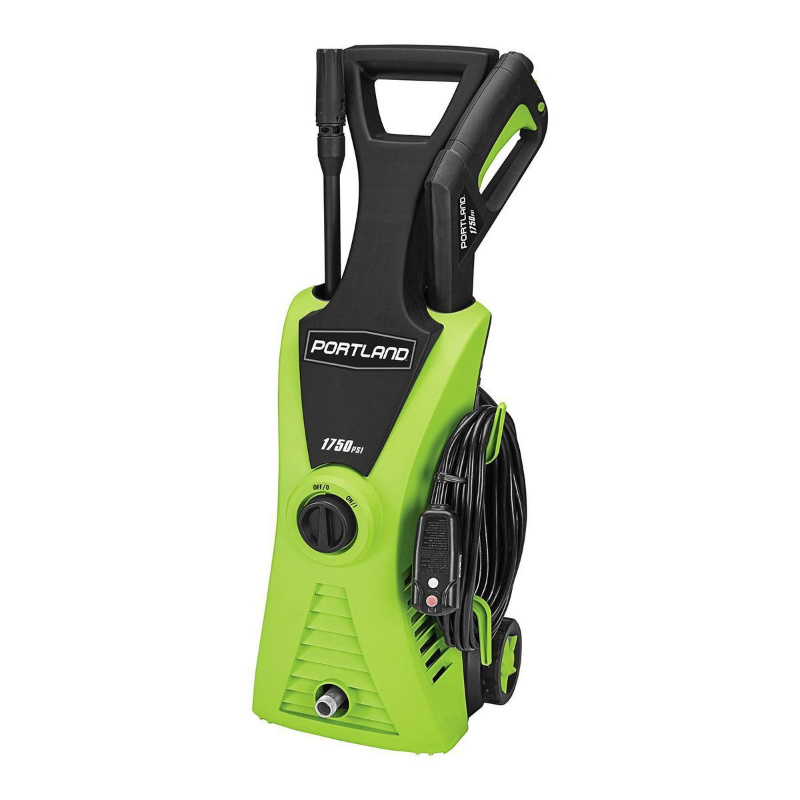 Review Summary
Our Final Verdict
We give Harbor Freight Portland 1750 Pressure Washer a rating of 4.3 out of 5 stars.
Build Quality: 3/5
Power: 4.5/5
Features: 5/5
Warranty: 2/5
Price: 5/5

Portland 1750 PSI 1.3 GPM Pressure Washer – A Quick Look
Specifications
| | |
| --- | --- |
| Brand Name: | Portland |
| Height: | 31 inches |
| Length: | 10 inches |
| Width: | 10.5 inches |
| Weight: | 21.85 pounds |
| Cord Length: | 35 feet |
| Hose Length: | 20 feet |
| Maximum Pressure: | 1750 PSI |
| Maximum Speed: | 18,700 RPM |
| Flow Rate: | 1.3 GPM |
| AC Volts: | 120 V |
The Portland pressure washer from Harbor Freight is a popular pressure washer model. It has many features that make it practical and easy to use, and its strong power provides the user with maximum efficiency in cleaning various surfaces. Its adjustable nozzle is excellent for reaching certain areas and cleaning dirt, accumulated debris, mold, or mildew. While the outer layer is made of plastic, which doesn't provide the model with great durability, it gives it a unique, lightweight design. It is lightweight and easy to maneuver for both beginners and professionals.
While the Portland provides strong pressure and comes at an affordable price, the GPM flow could be better compared to other pressure washer models on the market. Still, the Portland has many additional accessories that make it a valuable and practical investment.
Pros
Strong pressure of 1750 PSI
Ergonomic and portable design
Versatile and adjustable nozzle
Electric operation
Affordable price
Great value for the money
Lightweight and easy to maneuver
Cons
Short 90-day warranty
Low GPM compared to other models
Plastic design is not as durable
It cannot reach very high or far
Portland 1750 PSI 1.3 GPM Pressure Washer – The Details
Power
The Portland pressure washer is electric, with a practical and easy way to start its 13 amp motor—a simple push of a button. It can deliver a respectable amount of pressure, up to 1750 PSI, which is around 29 times more than a traditional garden hose. This amount of power allows the user to effortlessly clean walls, vehicles, equipment, and many other items around the house. Its flow can reach up to 1.3 gallons per minute (GPM), making it highly effective at cleaning in a short amount of time.
---
Value for Money
The Portland 1750 PSI 1.3 GPM pressure washer provides a lot of functionality for the reasonable price it comes at. It is affordable compared to other pressure washers on the market and is a powerful and practical unit. Its motor reaches 18,700 RPM allowing it to provide the user with an effortless and quick clean. While this unit is quite efficient at cleaning away debris, it does come with an average pressure range. Although the amount of pressure and flow is moderate, the Portland pressure washer is an excellent, budget-friendly buy.
---
Design and Accessories
The Portland pressure washer is made to provide the user with maximum functionality and a portable, lightweight design. Its outer layer is made from plastic which makes it lightweight and it's effortless to move due to the 4-inch wheels. It has a 35-feet long power cord making it practical to move around the yard and an easy-to-use 20-feet long hose. You can store the hose quickly thanks to a convenient set of hooks mounted on the unit.
This pressure washer comes with many additional accessories, such as a detergent bottle and a spray gun. The spray gun comes with a versatile wand, which allows the user to adjust the spraying pattern and its intensity. The package also includes an extension nozzle, a nozzle cleaner, and a detergent bottle.
---
Warranty
The Portland pressure washer is equipped with a 90-day warranty, which is much shorter than other similar units on the market. The warranty is the biggest downside of this particular pressure washer, and without a good warranty, any faults or malfunctions will be a challenge.

FAQ
What is the Harbor Freight Portland pressure washer good for?
This Portland pressure washer is powerful enough for cleaning cars, bikes, and other vehicles, driveways, walls, concrete and brick pavements, garden equipment, and many other items.
What can the Harbor Freight Portland pressure washer clean?
This pressure washer cleans any stubborn debris, mold, mildew, dirt, and sticky grime.
Is a Portland pressure washer better than a standard gas pressure washer?
The Portland pressure washer is considered better than a regular gas pressure washer, mainly because it is electric and doesn't add to carbon emissions and pollution. Of course, a gas pressure washer will give you far more power and may be a better option if you need to clean large, difficult areas on a regular basis. For occasional home use, this pressure washer is ideal.
What the Users Say
Users are generally pleased with this pressure washer model, which seems to be one of the most popular models in its price range. The power of the washer is what users consider to be an advantage, especially since it comes with an adjustable spray nozzle.
It is versatile, and most homeowners and gardeners love using it for cleaning their vehicles, fences, decks, and driveways. This pressure washer is enough for a thorough annual clean. Most users choose this product for residential areas instead of commercial areas. Users report it as unsuitable for larger areas and facilities, although it can handle any job around your house.
One fault that users report is the lack of durability due to its plastic design, and the short 90-day doesn't inspire much confidence.
While the pressure washer has a low GPM, it is reasonable considering its affordable price, and most users were happy with this flow rate for the money being spent.

Conclusion
After learning all the details behind the build of the Portland pressure washer, you should be able to decide whether this model is ideal for your household. For a reasonable price, you will have an excellent, high-quality pressure washer tailored to your specific needs. This model is perfect for basic annual cleaning jobs and can provide many hours of efficient cleaning. Your tools, vehicles, and supplies will be polished and much cleaner once you use the Portland pressure washer.