How Much Does It Cost To Install Sod In 2023?
If you ever wonder how some neighbors have grass that always looks lush, green, and better than your own, the answer could be sod. Sod is a surefire way to turn an ailing lawn into a gardener's paradise. Professional sod takes an old beat-up lawn and replaces it entirely with new healthy grass. The results can be truly incredible.
But how much does sod cost? Is it affordable? What can you expect for your own lawn? We will dive into the costs of sod installation and cover every avenue, including general costs, extra costs to expect, costs for different grasses, and costs based on lawn size. By the end, you should have a good idea of how much it will cost to sod your lawn, plus the upsides and downsides of sod.
The Benefits of Sod vs Grass Seed
There are many benefits to installing sod over grass seed. First, sod is fast. Sod installation can take as little as one day. The grass comes in green and keeps growing. There is no waiting around for your seed to sprout and hoping that it will spread adequately.
Sod is also uniform. Sod lawns are not patchy or brown or uneven. Sod is put down in one continuous section, so there are no breaks or mismatches. This is great for aesthetic purposes.
Lastly, sod is a sure thing. As long as you water it properly and follow the specific care instructions, you are almost guaranteed to end the season with a lush green lawn. Grass seed is not a sure thing. Drought, birds, bugs, and other factors can quickly derail a grass seed job and put homeowners back at square one.
If that all sounds great, that is because it is. But for all of its benefits, the sod comes at a cost. Sod can be quite expensive. Depending on the type of grass and the size of your lawn, sod jobs can easily cost thousands of dollars. Here are the current estimated sod installation prices for this year.
Sod Installation Costs
The cost to install sod varies based on a variety of factors. Since sod is generally priced per square foot, the more area you are covering the more expensive the job will be. That being said, data compiled by Thumb Tack suggests that the national average price for a typical sod installation job is $850. That number takes into account the fact that most people do not sod their entire yards and usually only stick to the visible portions of their front yard.
Average Sod Installation Costs
| | |
| --- | --- |
| National Average | $850 |
| Typical Range | $600–$1,300 |
| Low-End Average | $190 |
| High-End Average | $4,200 |
Source: Thumb Tack
The type of grass can also greatly affect the price of sod installation. For example, bluegrass is generally the cheapest type of grass to have installed, averaging around $0.38 per square foot. That is about half as expensive as Bermuda and St. Augustine grass which can be as much as $0.75 or even $1 per square foot for the material alone. If you find that your sod estimate is too high, try seeing if there are cheaper grass options available. The savings could be huge.
Average Sod Installation Costs By Grass Type
| | |
| --- | --- |
| Type of Grass | Cost Per Square Foot |
| Bermuda | $0.57–$0.84 |
| St. Augustine | $0.57–$1.14 |
| Fescue | $0.39–$0.46 |
| Bluegrass | $0.34–$0.41 |
| Zoysia | $0.62–$0.85 |
Source: Home Guide
Lastly, the size of the area being sodded plays a big role in the price. The average cost to sod a lawn is roughly $500 per 1000 square feet. That number can add up quickly. The average size of a yard in the United States is roughly 10,000 square feet. But some states have much smaller average yard sizes than others. Most people won't sod their entire yard either, mainly due to the steep cost of doing so.
Getting a ballpark estimate of the area you are trying to cover in sod will go a long way to helping you narrow down a price for your individual project.
Average Sod Installation Costs By Yard Size
| | |
| --- | --- |
| Yard Size (Square Feet) | Average Cost |
| 0–1000 | $1,217 |
| 1000–5000 | $1,912 |
| 5000–10000 | $3,474 |
| 10000+ | $5,210 |
Source: Thumb Tack
Additional Costs
Water
Sod needs a lot of water to stay happy. This is especially true in areas where sod gets installed in the hot summer months when the sun beats down and bakes the grass. If you are on city water and pay a monthly water bill you need to consider the fact that your new sod lawn is going to take a lot of liquid to stay happy.
HGTV suggests watering new sod for a total of forty minutes per day for sixty days. A typical garden hose discharges around 17 gallons of water per minute. That means that your new lawn is going to take 680 gallons of water per day. That adds up to 40,800 gallons in 2 months' time. That is a lot of water. Depending on the cost of your city's water, that many gallons can quickly total up to hundreds of dollars.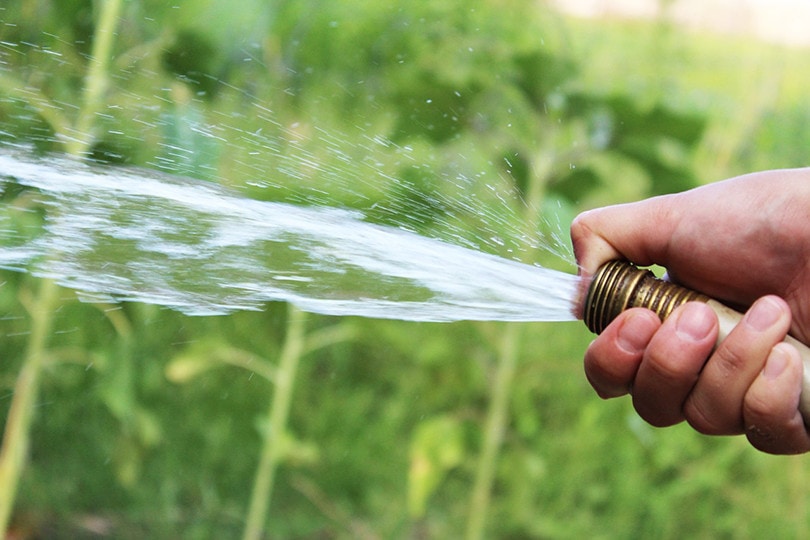 Irrigation System
People who invest the money to put in sod are not likely to let it dry out and die. One of the best ways to ensure that your lawn always stays green is to install an irrigation system that will keep the grass watered year-round. Irrigation systems should be installed before sod is put down, which means if you are planning on putting in an irrigation system for your new grass, you should do it before the sod arrives. That means that the cost of an irrigation system must come before the cost of the sod. That makes irrigation an additional cost you have to consider upfront.
After the sod is installed, it becomes difficult and risky to install the irrigation. You do not want an irrigation contractor ripping up your beautiful lawn after it was already put down.
Landscaping
Many people want to redo their entire landscaping design when sod is being put in. Sod is the perfect excuse to add some new trees, planters, and other foliage to your home. But sometimes, landscaping is not an option. Installing sod can really wear down other parts of your yard and cause a lot of mud, dirt, and debris to be pushed to the edges of your garden. It might become necessary to give the yard a little bit of attention during and after sod installation.
A full landscaping redesign based on your new sod can cost thousands, but even some touch-ups and plant replacements can cost a couple of hundred dollars. There is a chance that the sod installers accidentally kill your favorite bush in the process, and those things have to be taken into consideration.
The Downsides of Sod
Sod is expensive. There is no way around it. Installing sod costs a lot of money when compared to grass seed or naturally letting your lawn regenerate. That is the biggest downside to choosing sod over other grass propagation methods.
The other downsides are that sod takes a lot of water to maintain, especially in the beginning. Sod delivery and installation can also be hard on your existing lawn and yard. Installing sod might only take a couple of days, but the impacts will last far longer. Many of those impacts will be good, but the constant watering, presence of mud and dirt, and potential for accidents during the installation cannot be ignored.
When Is The Best Time To Install Sod?
In most growing zones, the best time to install sod is during the spring and summer months. The grass will need a lot of sunlight, water, and humidity to thrive. Planting the sod during the rainy season or when the sun is the brightest often gives you the best chance of success.
If you are having your sod professionally installed, ask them what the best time frame for grass growth is in your area. You can also consult your local growing zone that is maintained by the USDA and see when the government suggests that sod be installed based on your area.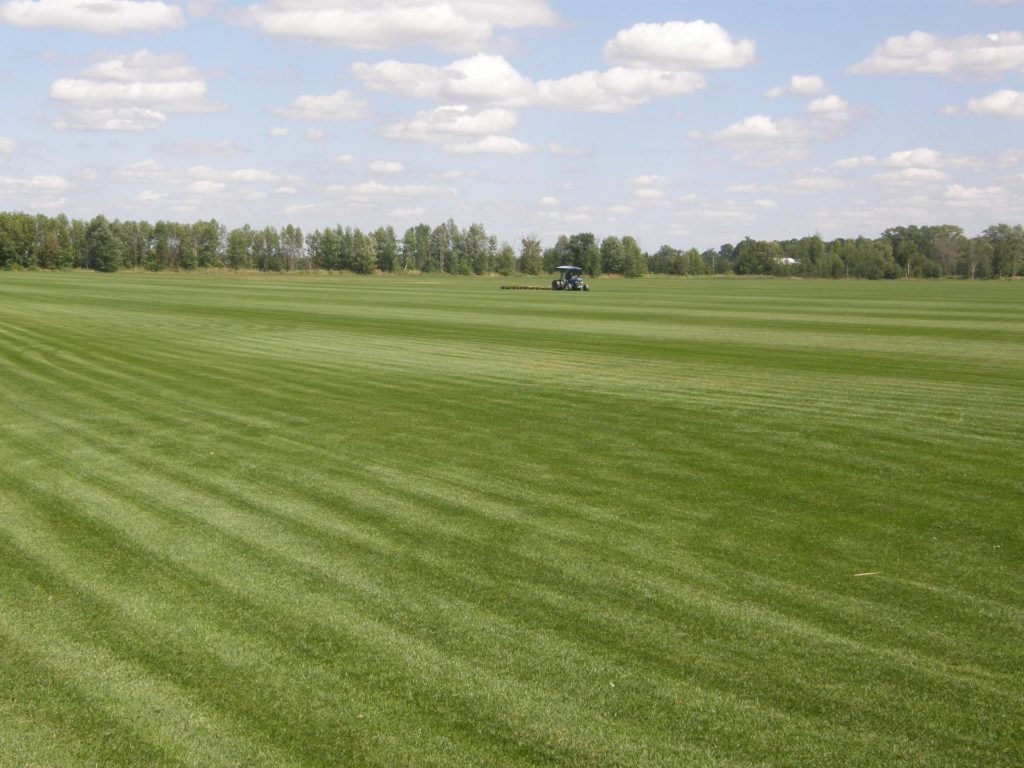 Sod Delivery Considerations
Unless you are doing a very small patch of grass and have a truck of your own, the sod must be delivered. Sod delivery usually comes on the back of a flatbed and is unloaded with a forklift. Delivery sometimes costs a lot of extra money. You also have to consider the fact that a tractor trailer might be pulling down your street or even onto your property. The delivery and unloading process can cause rivets in your existing grass or disrupt your daily routine.
While most deliveries go off without a hitch, you do need to consider the delivery options when choosing your sod. If you have a tight property or fragile landscaping near your lawn, you have to note that before ordering a semi-truck to stop by. Many people had shrugged off delivery concerns only to run into trouble when they were not prepared to receive a semi-truck full of goods at their front door.
Conclusion
Sod looks beautiful when it is installed. A good sod job can take a house and put it over the edge. When done properly, a sod lawn can last for years and provide a lot of personal benefits and add value to a home. Sod can be expensive. Depending on your yard size and type of grass, the jobs can really balloon in price. It is good to know the potential costs upfront before you decide to have your lawn finished with sod. But for many, the cost pales in comparison to the enjoyment of having a pristine-looking lawn for years to come.
---
Featured Image Credit: Pixabay