How to Choose the Best Kitchen Backsplash (5 Useful Tips)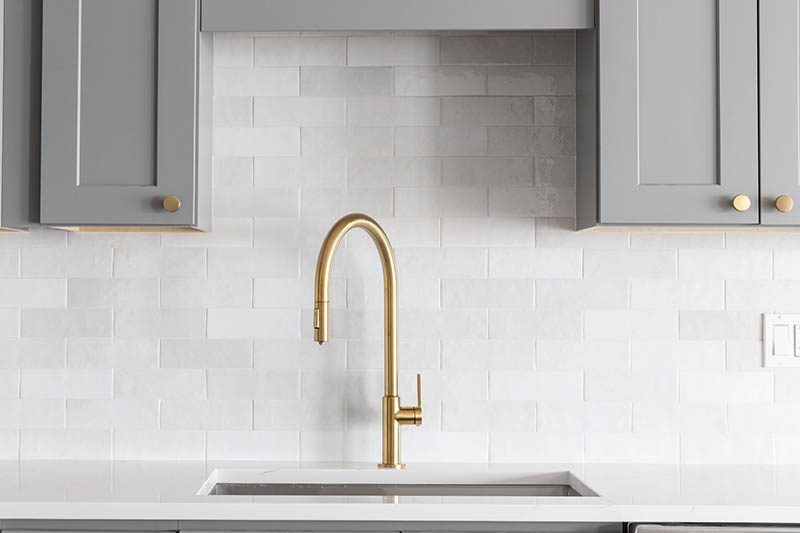 Choosing a perfect backsplash for your kitchen can be a challenging project. Your kitchen is already a stylish and unique space filled with various colors, textures, and decor, and a backsplash is meant to fit in nicely without standing out too much. There are many possible options to choose from and many factors to consider before knowing which option is suitable for your kitchen. You will have to consider the budget, your kitchen's general style, and the preferred materials you'd like to use.
Backsplashes come in many different materials, patterns, and textures, and picking one design out of thousands can be tricky. In the article below, you can read some helpful tips on choosing the perfect backsplash to fit in with the rest of your kitchen.

How to Choose the Best Kitchen Backsplash
1.

Find Your Style
Finding your ideal kitchen style isn't as complicated as it may sound. It would help if you gathered some inspiration and references to know where to begin. Choose the cabinets and countertops first, which will be your starting point in determining the type of backsplash. The ideal match would be having a colorful and unique cabinet and pairing them with a simple and minimalistic backsplash.
On the other hand, if your countertops are simple, in neutral colors such as white, gray, or black, you may have some room for going over the top with an eccentric backsplash.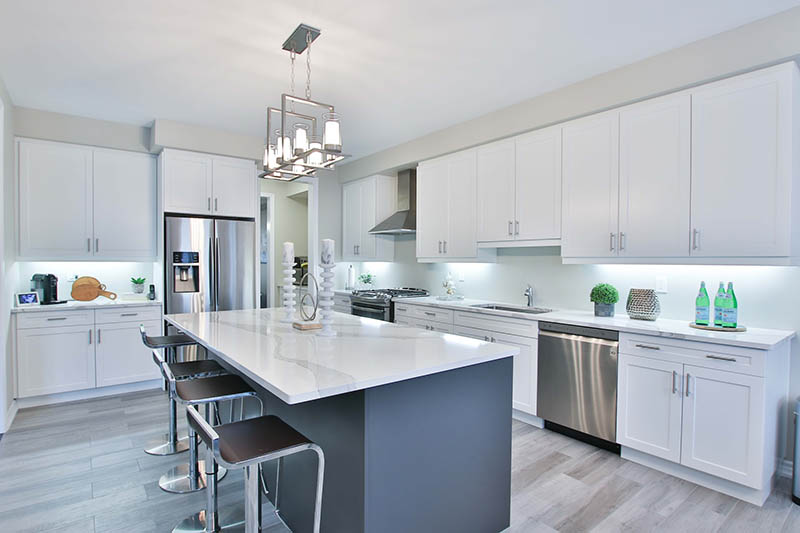 ---
2.

Think About the Materials
Another crucial factor to consider immediately is the material you want your backsplash to be. Deciding on the material will depend mainly on the type of kitchen you maintain and your cooking habits. If you tend to use your kitchen more frequently and cook meals that often end up on the wall, it may be wiser to go for backsplashes without white grout and with a glossy finish. Backsplash, such as a glossy subway tile, will be perfect for messier people because they are effortless to clean and maintain.
For those homeowners that don't spend as much time in the kitchen, you are free to choose any type of material for your backsplash without worrying about maintenance.
---
3.

Choose a Type of Backsplash
The good thing about backsplashes is that there are limitless options, and each person can find the perfect backsplash to match the rest of their home. Below, you can find some of the most popular options for kitchen backsplashes that can make any space seem trendy and modern.
Mosaic Tiles – Mosaic backsplashes are tiny tiles, usually clay, porcelain, or ceramic. They come in many different patterns, each unique and tailored to a specific requirement. Since these tiles are so small—1 to 2 inches wide—they are easy to lay out in various interesting patterns. Since these tiles are so unique, they create a fun area and are best paired with neutral cabinets and countertops.
Subway Tiles – One of the most popular kitchen backsplashes is the subway tiles. Their simple yet effective design is easy to match with the rest of the kitchen while creating an elegant look. They offer a minimalistic and modern appearance and a soothing atmosphere. They come with glossy or matte finishes, each offering a different aesthetic. Subway tiles can be arranged in various patterns, depending on the style you are trying to achieve.
Glass Tiles – While glass tile is an unconventional choice for a kitchen backsplash, it is very useful, especially if you are dealing with a lot of splashing and moisture. Glass backsplash creates an effect like no other with its glossy and dazzling appearance. They are convenient and durable and are usually scratch-resistant. The only thing to remember when choosing a glass backsplash is that it needs to be installed professionally because any minor flaw may be visible through the glass.
Stone Backsplash – If you are not very fond of classical ceramic or glass tile, what you are looking for is probably a stone backsplash. These timeless and elegant backsplashes come in various materials, such as granite, marble, and quartz. They usually seem like an extension of the countertop and may even come in the same material, especially if the countertop is made of marble which is a popular choice. A granite or stone backsplash is an excellent choice for modern spaces, while the rest of the kitchen is simple and neutral.
Stainless Steel – Stainless steel backsplashes are not a traditional choice, unlike other types. While they don't provide an elegant and classy look, they are durable and practical. They are used mostly in professional kitchens, although they recently became a popular choice for residential use as well. They are excellent for kitchens with a lot of traffic, especially those with plenty of splashing and humidity. They mostly come in the shape of large steel sheets installed above stoves and cooking areas, although they come in various designs and patterns.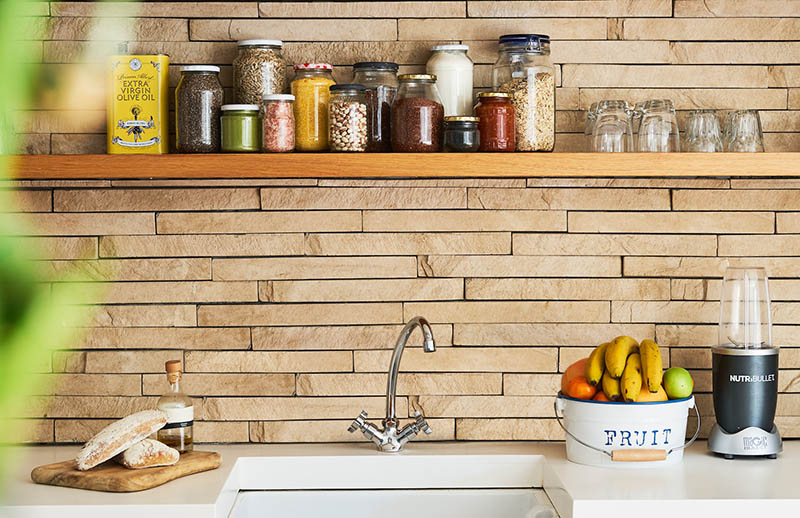 ---
4.

Consider an Accent Backsplash
Another thing to consider when finding the perfect backsplash is choosing a different look for the area above the stove. These kitchens usually seem much more unique and eccentric, with two different designs fitting into one. If you choose a simple backsplash, you can decorate the area above your stove with a quirky tile of a different style or pattern. This way, you add more charm and spirit to your kitchen, making it personalized and characteristic of your style.
---
5.

Plan Your Budget
Planning your budget is a crucial and significant step. It is necessary to consider the money you are willing to spend on your new backsplash and find the right type of backsplash accordingly. This will help you prepare for unexpected costs and gather the right material. If you are doing a DIY project of adding a backsplash, you will need to calculate the exact amount of tiles, grout, and adhesive required.
Once you add everything up, it is time to calculate your budget. Some tiles are more expensive, so if you are looking to save resources, it might be best to search for an alternative or even peel-and-stick tiles as a temporary solution.

Do's and Don'ts When Choosing the Perfect Backsplash
When finding the ideal backsplash for your particular kitchen, there are some do's and don'ts you'll have to keep in mind. This advice will come in handy when picking out the tiles, knowing what to look for and what to avoid.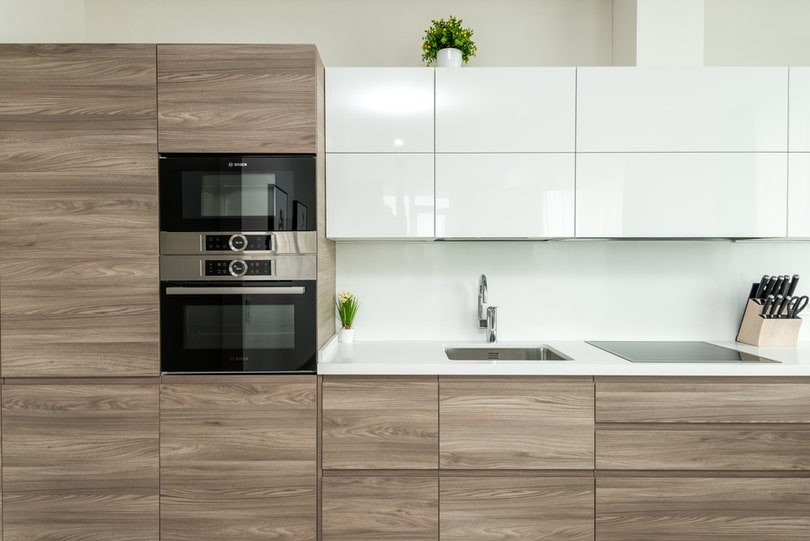 If you spend a lot of time cooking messy food, avoid using white grout for your backsplash. It is much harder to clean, and even the water stains are more visible.
Keep in mind the trim pieces of tile you'll need for corners. If doing this project on your own, you'll need to calculate this upfront in order to have them tailored to the rest of the tiles.
Consider using eco-friendly backsplashes from recycled glass, bamboo, or cork mosaic tiles. These are pretty durable, stylish, and affordable.
Peel-and-stick tiles are an ideal solution for renters and homeowners looking for a quick solution. These are straightforward to install and can be replaced at any time.
Avoid using stone tiles or matte subway tiles if your kitchen sometimes becomes messy. Cleaning greasy stains off these backsplashes is very hard and requires special techniques for regular maintenance.
Final Thoughts
This article is meant to inspire you and give you the motivation and the means to find your perfect backsplash. Since there are many options to choose from, you may need to narrow your choice. With the help of this article, find the type of backsplash that suits your needs and fits in with your style and design.
---
Featured Image Credit: Hendrickson Photography, Shutterstock