How to Organize Under a Bathroom Sink: 7 Tips & Tricks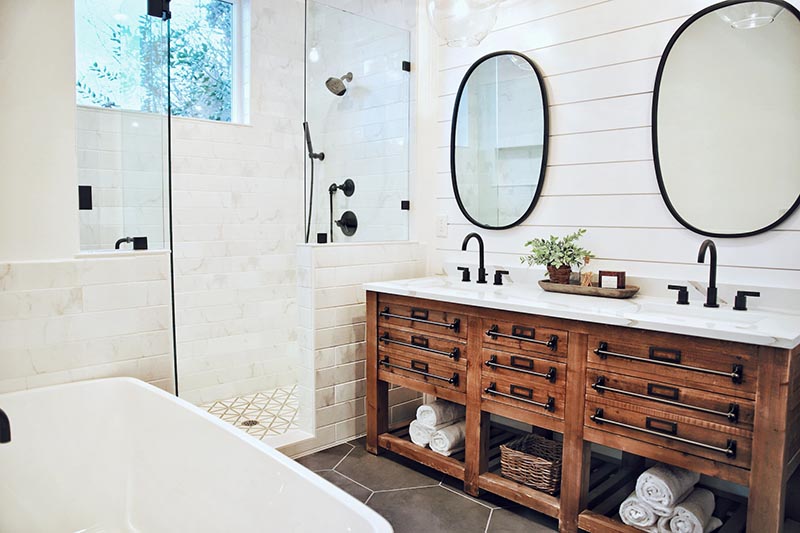 One of the best ways to feel like a new person is to declutter your space and make it reflect you. It's especially true for your bathroom space. With so many toiletries, bathrooms can quickly become a mess if you don't organize them well.
Besides, the area under the bathroom sink is often a messy and disorganized clutter trap, but it doesn't have to be! You want to make sure everything is organized and accessible. Organizing is the solution.
It takes about 10 to 15 minutes to clean and streamline the under-the-bathroom sink area, ready for use and easy on the eyes. Let's take a look at some DIY tips and tricks to get this area organized.

The 7 Tips & Tricks for Organizing Under a Bathroom Sink
1.

DIY Under Bathroom Sink Storage With Premade Shelves
| | |
| --- | --- |
| Materials Needed: | Premade shelves, brackets, drawer liner, screws, and acrylic organizers |
| Tools Needed: | Screwdriver |
| Difficulty Level: | Easy |
If you're looking for a fast, inexpensive, and easy way to organize your under-the-bathroom sink area, this DIY tip will do the trick. All you need are premade, easy-to-install shelves you can buy at any home improvement store. These premade shelves are also easy to install.
The premade shelves come with instructions on how to install them under the bathroom sink. They also come in different sizes and shapes, so you can choose what will work best for your space. You can even stain them if they don't match your decor.
The shelves work great, taking up little space while creating the illusion of more room by creating more storage. You will easily store and access all your everyday beauty products and other items, such as lotions and toothpastes.
---
2.

Lazy Susans
| | |
| --- | --- |
| Materials Needed: | Lazy Susans |
| Tools Needed: | None |
| Difficulty Level: | Easy |
Do you have many family members sharing the same bathroom? If yes, having a Lazy Susan under the sink can help keep things organized and accessible for everyone (it also looks nice!). They make it easier to reach everything under your bathroom sink without moving things around or bending over. Plus, it is easier to clean under the bathroom sink! They are ideal if you don't want to buy new cabinets for your bathroom but still want easy access. However, don't put anything too heavy on it, or it may topple over!
They are inexpensive and easy to install. Simply start by measuring under your bathroom sink. This way, you'll determine what size and type of Lazy Susans to buy. After that, position them well under the bathroom sink leaving enough space for the door to close and open without obstructions.
---
3.

Using Stackable Drawers or Bins With Lids
| | |
| --- | --- |
| Materials Needed: | Drawers or bins with lids |
| Tools Needed: | None |
| Difficulty Level: | Easy |
If you have a small bathroom with limited storage, you will want to use every inch of your bathroom to make it functional and comfortable. The easiest way to get organized under your bathroom sink is using stackable drawers or bins with lids. You can place these containers in the cabinet next to your sink and store all your beauty products.
The best part about using stackable containers is that they are portable. Besides, you'll maximize the vertical space under your bathroom sink. Using lids keeps your stuff dust-free. If you don't have enough room under your bathroom sink, move the containers to another location in your home where they will fit better.
Stackable drawers also allow each family member to keep their items separate. You can label the stackable drawers so that you remember where you put each item.
---
4.

Two-Tier Under the Bathroom Sink Storage Drawers
| | |
| --- | --- |
| Materials Needed: | Two-tier storage drawers |
| Tools Needed: | None |
| Difficulty Level: | Easy |
If you don't have room for a cabinet under your bathroom sink, consider adding a two-tiered storage drawers. These items come in all shapes and sizes. Most of them will fit in the space between the bottom of your sink and the floor. You can use them to store cleaning supplies, towels or linens, or toiletries such as toothpaste and shampoo bottles. They're also great because they can fit all the smaller items you might have in your bathroom drawers!
A two-tier under-the-bathroom sink storage drawer provides more room for storage. Besides, you can use the two tiers separately or together depending on the space available under your bathroom sink.
Once you purchase the drawer, you can fit it under your bathroom sink on your own easily, and it doesn't take too much time.
---
5.

Using Sterlite Bins or Containers and an Acrylic Tiered Spice Rack
| | |
| --- | --- |
| Materials Needed: | Large picture-hanging strips, acrylic tiered spice rack, and IKEA containers. |
| Tools Needed: | None |
| Difficulty Level: | Moderate |
You can organize your bathroom products using Sterlite bins and an acrylic tiered spice rack. Fill them with commonly used items such as makeup, hair products, Q-tips, cotton balls, perfume bottles or lotions, toothbrushes and toothpaste tubes, and more. It allows for easy access while keeping items out of sight.
The Sterlite bins are affordable and come in various sizes. Since they're clear, you can see what's inside without opening them.
---
6.

DIY Pocket Organizer
| | |
| --- | --- |
| Materials Needed: | Sturdy fabric piece, plastic strips, pins, and mesh material. |
| Tools Needed: | A pair of scissors, a pencil, and a tape measure. |
| Difficulty Level: | Moderate |
One of the best ways to maximize storage under a bathroom sink is using a DIY pocket organizer. Pocket organizers are easy to install—you only need to install them on your cabinet door, and you can customize them to fit any space. This way, you won't have to hunt through all those bottles and tubes every time you need something!
It's one of the most preferred under-the-bathroom sink organization ideas because it has many pockets perfect for holding small items like Q-tips, Band-Aids, and other small objects that tend to get lost in larger containers or baskets.
If you enjoy DIY work and have excellent sewing skills, this is the perfect project for you. Start by measuring the sturdy fabric. Mark where the pockets will be with a pencil. Cut out the mesh material according to the size of each pocket. Make sure each pocket has a loose plastic strip. The loose plastic strip gives you space to slide your items into the pocket.
---
7.

Over the Cabinet Bar
| | |
| --- | --- |
| Materials Needed: | Over-the-cabinet bar and screws |
| Tools Needed: | A screwdriver |
| Difficulty Level: | Easy |
An over-the-cabinet bar organizer hangs above the cabinet door. The best part is that it is an easy DIY project, and you can do it in just minutes! Besides, it's perfect if you have a lot of easy-to-hang items that need storing! You can hang bottles, makeup brushes, towels, or bathrobes if there isn't enough room elsewhere in your bathroom.
It's one of the preferred ways to organize under the bathroom sink because it doesn't take much room. You only need to buy this bar at a local home improvement store. Then, measure your bathroom cabinet door. Make holes for the screws and mount your over-the-cabinet bar.

What to Store in the Space Under the Bathroom Sink
We often forget about the space under the bathroom sink, but it can be one of your most valuable storage spaces. It can also be a storage nightmare if you're not careful. But, if you use the tips we've discussed, you'll have a clutter-free, well-organized under-the-bathroom sink space.
Here are some items you can store effectively in this space:
Toiletries: You can store toiletries like toothpaste, toothbrushes, floss, shaving cream, shampoo and conditioner, body wash, and lotion.
First Aid Kit: First aid kits are essential to any household. They can help you dress minor injuries, soothe burns, and relieve pain. If you have one in your bathroom, it's a good idea to keep it close at hand at all times. Keep it under the bathroom sink, where you can access it easily.
Toilet Paper: Keep it tucked away in a basket or bin under your bathroom sink. This way, you don't have to fish for it when nature calls.
Cleaning Supplies: Cleaning products like disinfectant wipes or sprays and hand soap, should be stored under the bathroom sink. You may also want to keep some basic tools, such as scrub brushes or sponges to help with cleaning tasks in the bathroom.
Towels: If you have room under your bathroom sink, keep bath towels and hand towels. This way, they're easy to access after a bath. You can also use this space to keep washcloths.
Flat Iron, Hairdryer, and Curler: The space under the bathroom sink is an ideal place to keep your hair styling tools including hair dryers, curlers, and straighteners. You can keep these items in the cabinet easily, without taking up much space. You can also hang them on an over-the-cabinet bar. Besides, they will be protected from dust and humidity.

Conclusion
The key to keeping your bathroom clutter-free is to be realistic about how much stuff you can store beneath your sink.
As we've seen in these tips and tricks, it's possible to organize the space under your bathroom sink without taking everything out. Start by putting things away as they accumulate. Then, move on to more complicated steps like cleaning off shelves or investing in some drawer organizers to help keep the space organized.
You may not have a ton of extra space under there, but by keeping the items discussed above in mind, you can maximize the space you have while keeping it free from clutter.
---
Featured Image Credit: Taylor Beach, Unsplash