16 Japanese Interior Design Ideas (with Pictures)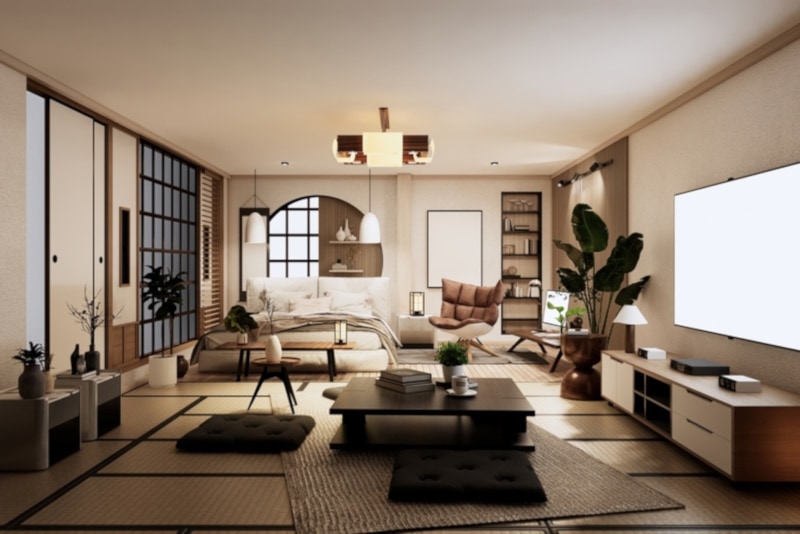 Simplicity, the prevalence of organic shapes, and strong ties with nature are the staples of wabi-sabi, traditional Japanese design. It's about finding balance and harmony in imperfection. As for Japandi, it's a mix between Scandinavian tenets and Japanese minimalism. Characterized by clean lines, neutral colors, and symmetry, Japandi puts functionality above everything else.
Every single element (furniture, décor, shape, and color) has a purpose. In many ways, wabi-sabi and Japandi are similar, but they do have their differences. So, which one should you choose? We've got your back! To help you find the perfect vibes, our experts put together a list of the best Japanese interior design ideas, each with a unique take on tones, materials, and forms. Check them out!

The 16 Japanese Interior Design Ideas
1.

Beige Tones, Wallpaper, and Wood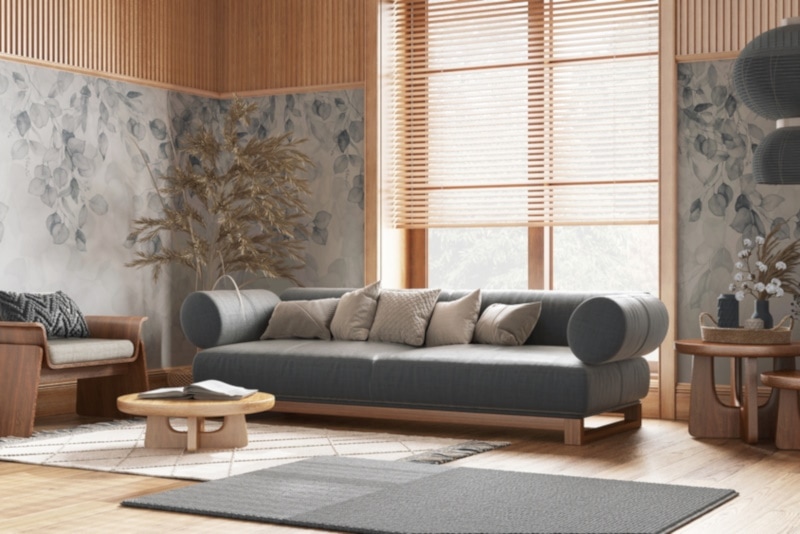 Wood looks stunning in any environment, but when paired with soft tones, round shapes, and natural light, it takes the design to a whole other level. In Japanese interior design, the chairs, tables, and even the floors are mostly crafted from dark-toned wood. And you can complement that with neutral colors (white, creamy, and beige) and traditional carpets.
In this example, the gray chandelier, fabric couch, pillows, rugs, and wallpaper make the wooden elements "pop" instead of stealing attention. You can always go for other tones and hues, of course, but always remember that the emphasis should be on the wood.
---
2.

Hanging Armchair and Color Accents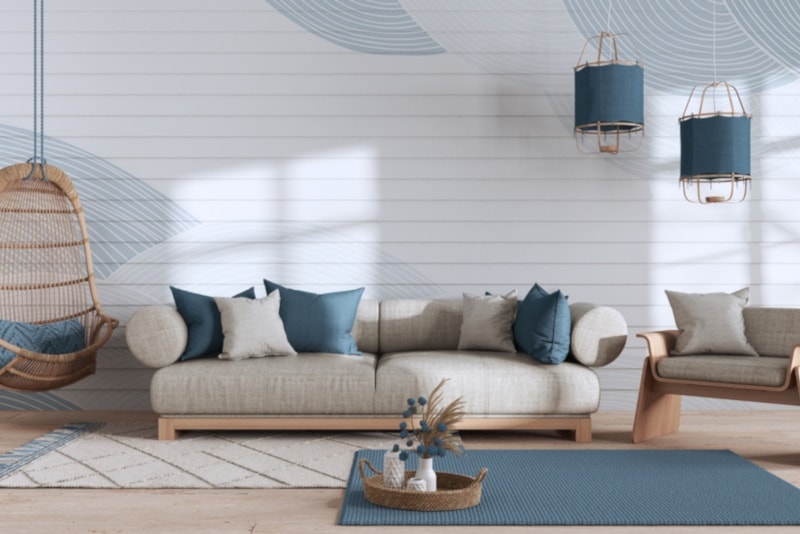 Next up, we have a classic Japandi layout, characterized by smooth, relaxing colors and minimalism. White and blue are a tried-and-true combination in any interior design, as they both work toward creating a warm, inviting atmosphere. And it's safe to say that without the blue accents (mostly the pillows and lights), this room would've been a bit boring.
In the right hands, color accents can easily turn a so-so interior into a work of art. As for the hanging armchair, it falls a bit out of the picture yet creates a beautiful contrast with the regular chair. If you'd like the setup to be a bit more conservative, don't hesitate to remove or replace it.
---
3.

Natural Wood and Beams for a Rustic Flair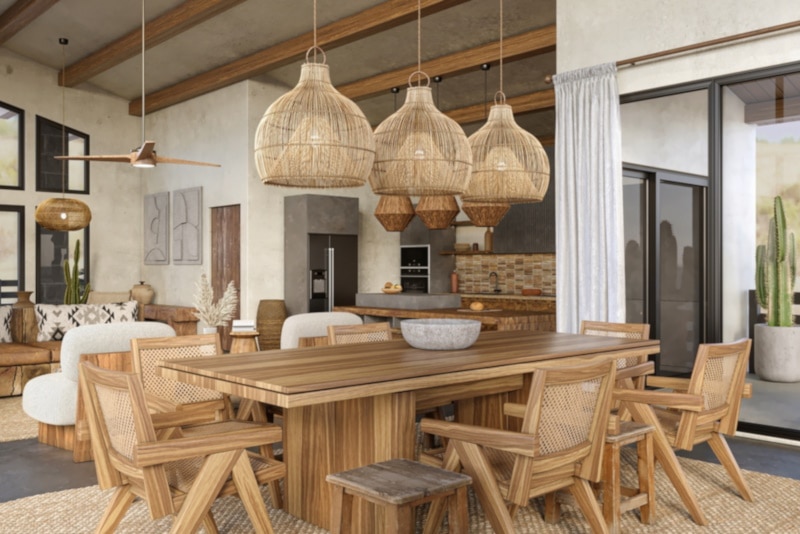 Terms like rustic, rural, and farmhouse are often used interchangeably, and they're mostly associated with American or European décor. However, these elements play a crucial role in Japanese designs as well. Again, it's up to you to decide how much of it you want to see in the living/dining room. Sometimes, exposing the beams and using exotic light fixtures gets the job done.
In other cases, the room only "works" when the table, chairs, and stools are all made of wood. So, you might have to experiment a bit until you find the perfect balance.
---
4.

Large Window and Tall Plants in the Bathroom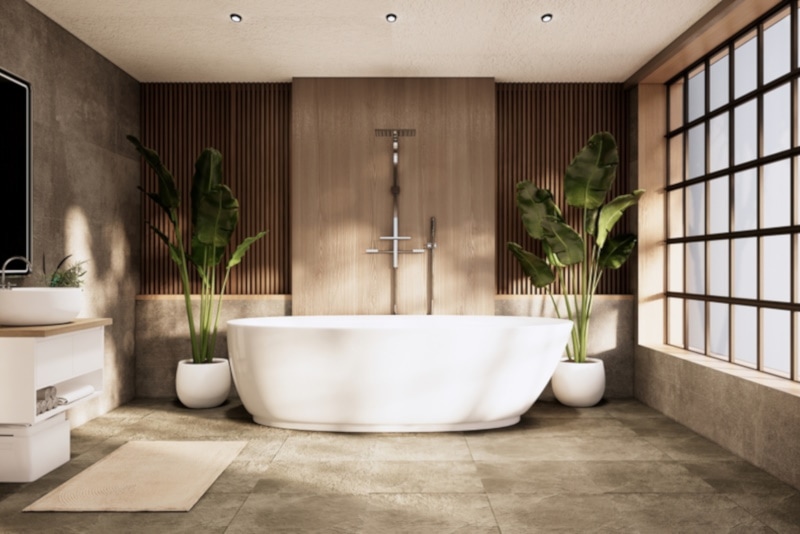 Moving on to the bathroom, it can be Japandi, wabi-sabi, or a little bit of both. Here, the bathtub is in the center of attention, surrounded by two tall plants that symbolize purity and being one with nature. The white sink, carpet, pots, and cabinets bring a little bit of excitement and balance into the bathroom. They serve as a visual counterweight to the gray/beige walls.
The gigantic window helps with that as well: it lets plenty of natural light in, making the overall cold tone a bit warmer.
---
5.

Embracing Imperfection With Wabi Sabi
If you can't stand it when the room lacks symmetry, the proportions are all wrong, and there's no balance, you probably won't like wabi-sabi designs. At the same time, it lets you be more creative and spontaneous instead of sticking to strict rules and regulations. You can combine a poster frame with a modular couch, opt for an exotic table, and adorn the living room with vases, statues, and antiques.
In wabi-sabi, the rug doesn't have to match the couch perfectly, but there will still be order and beauty in the arrangement. And that's what makes this artistic view so unique!
---
6.

Light Tones in a Spacious Living Room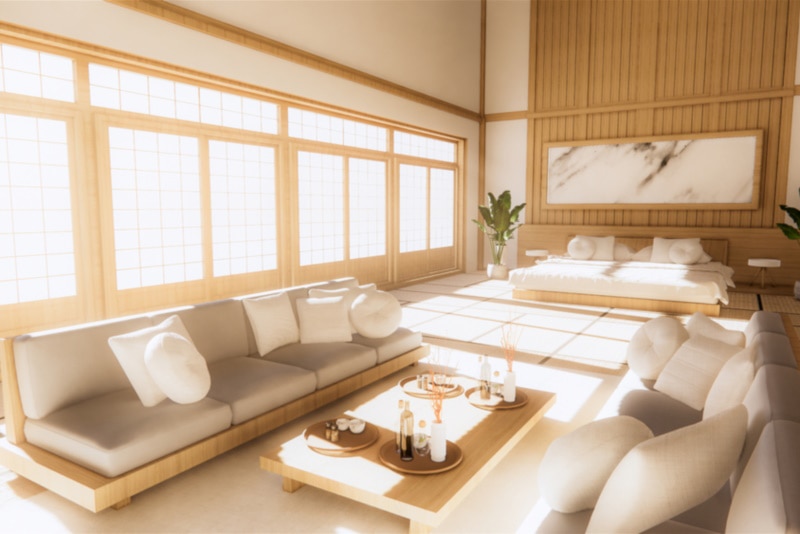 Earlier, we talked about how light is capable of "flipping" an uninspired bathroom. Well, it also makes the space look bigger, and this rule applies to every single room in the house. So, go ahead and remove the curtains and make the windows a bit taller. Also, avoid dark colors and tones, as they will visually shrink the room without adding any perks to it.
The layout matters as well, of course. Think everything ahead and make sure the couch and chairs provide ample seating while not taking up too much space.
---
7.

Classic Japanese Dining Room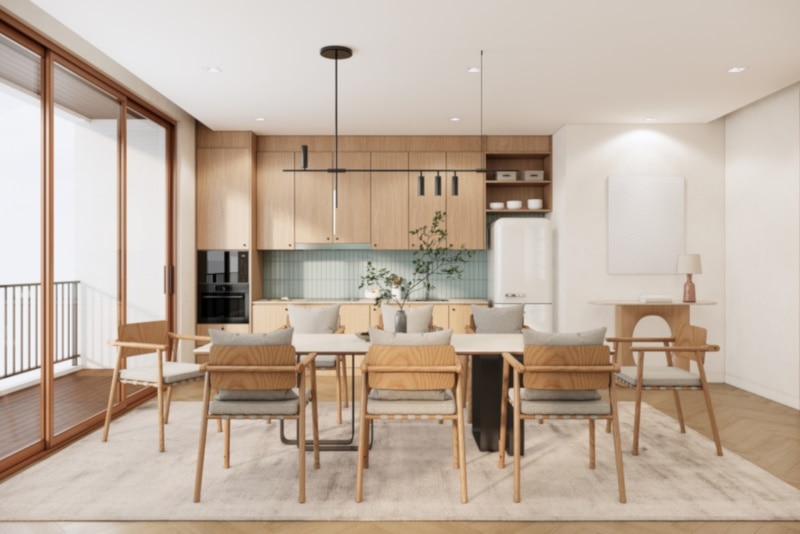 Japandi, a mixture of Scandinavian and Japanese design ideas, does a wonderful job of creating minimalistic yet highly functional and cozy environments. In other words, it helps make the most of the available space. One great example of that is using built-in counters and cabinets in the kitchen. Traditional Japanese dining rooms rely heavily on wooden furniture, tables, and chairs, as they go well with white walls, ceilings, and rugs.
---
8.

Retro Commode and Accessories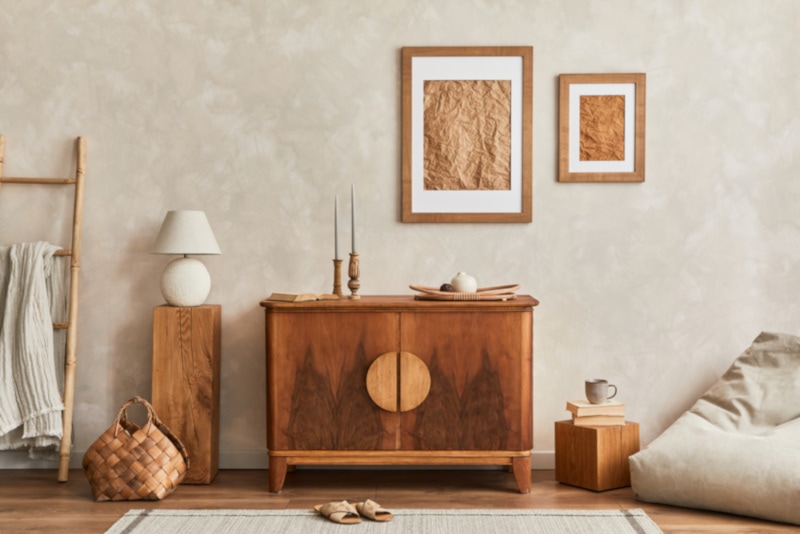 Ditching the old design and opting for something brand-new (and exotic) can be scary. But there's always the option of only "upgrading" one of the walls in the living room and seeing how it goes. A woven rug, some poster frames, neutral tones, and a vintage commode should be enough for that. To take the idea a step further, consider adding a table lamp, nightstand, and furniture crafted from natural materials.
Happy with how things are going so far? Then it might be time to apply the original concept to the rest of the room.
---
9.

Japandi Kitchen/Living Room in White and Gray
Japanese interior design doesn't necessarily have to include trademark features like woven chairs, bamboo walls, stone vases, or paper screens. It's more about creating the right environment that's equally relaxing and practical. In this example, we've got white and gray walls and wooden furniture in the dining and leisure areas. To make each zone stand out more, try using rugs and monochrome colors.
---
10.

Bringing Nature in With Potted Plants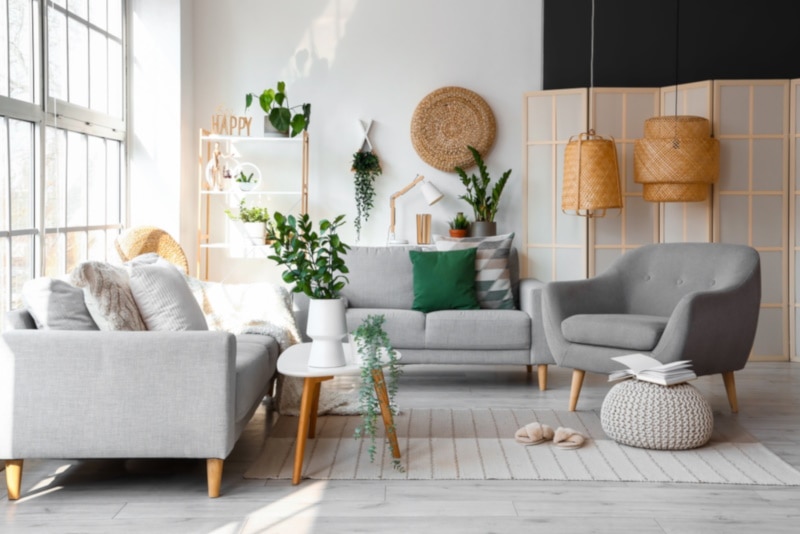 To connect with nature, Japanese designers use wood, stone, various fabrics, and plants. Organics make any room feel more alive and help take your mind off things. Ideally, it should be Azaleas, hostas, or Japanese ferns, but you're free to opt for whatever type of greenery you've got in mind. Now, we wouldn't recommend buying more than two or three pots, as it's not that easy to take care of exotic plants!
---
11.

Round Shapes and Organic Materials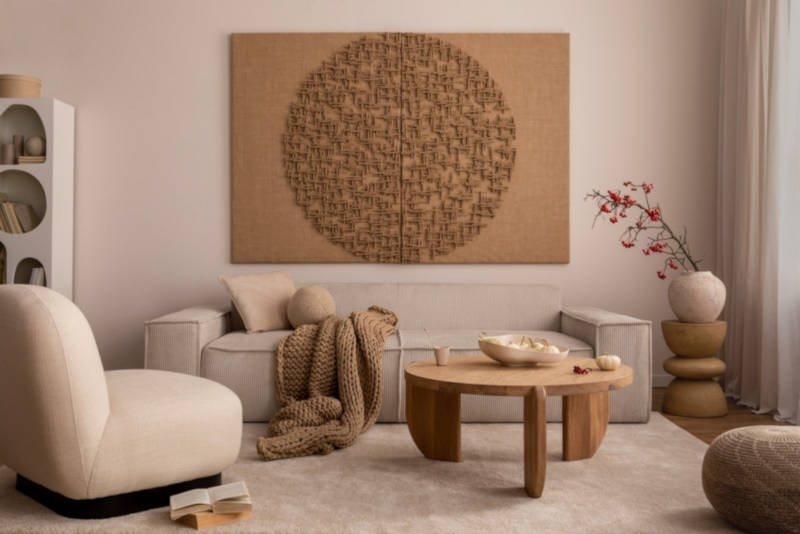 Not sure about the direction for your Japanese interior design? Organic shapes and materials will be a great place to start. This applies to your favorite couch, cozy armchair, and coffee table. Rough edges aren't very popular in Japanese décor, so by replacing them with round forms, you'll be one step closer to putting together a proper design. As always, beige and white colors, natural wood, and accessories should be in the picture.
---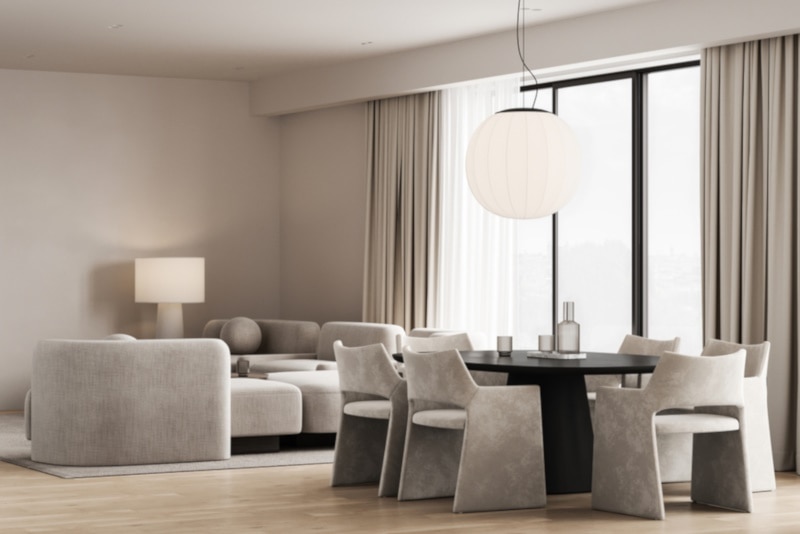 Let's not forget about the second half of the oh-so-popular Japandi style: Scandinavian flavor. We're talking about clean lines and minimalism every step of the way. That means no ornaments, antiques, or pictures on the walls. To spice things up a bit, add retro elements like a chair, custom-made lamp, or thick curtains.
The dining table with the parquet floor is designed using only two colors, beige and soft gray, but that doesn't make it any less exciting. In this particular composition, the goal was to ensure that nothing stands out, yet everything has its purpose and function.
---
13.

Earth Tones and Oak Furniture in the Kitchen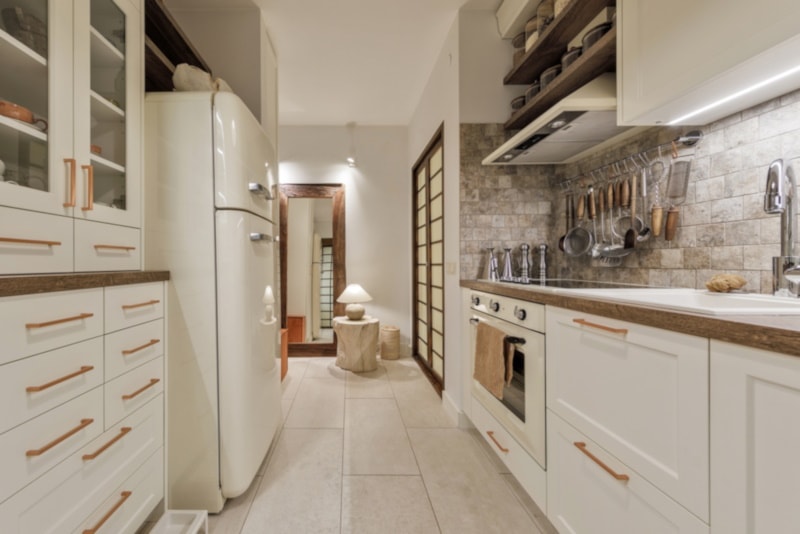 This Japanese kitchen design looks like it came from the '60s thanks to the round refrigerator, white drawers with brown handles, and cutlery right above the counter. The furniture is crafted from solid oak, and it's a great match for the earth tones (mostly beige). The kitchen is relatively small, but the skillful use of the available space makes it equally efficient and easy to use.
If you're suddenly running out of room in your own kitchen, this design could help tidy things up.
---
14.

Wabi-Sabi With a Strong Focal Point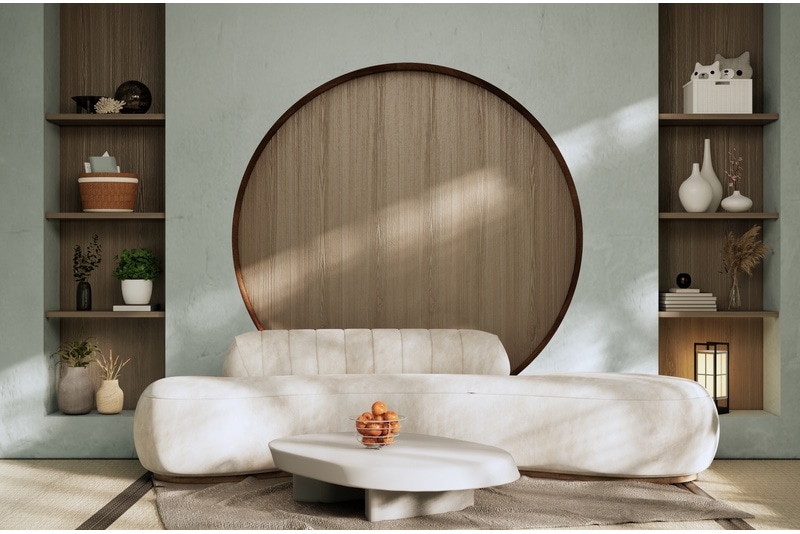 The first thing that's going to grab your attention in this layout is, of course, the huge wooden circle that occupies half of the wall. In Zen, circles symbolize integrity and infinity. That's why ring-shaped windows are often found in both traditional and contemporary Japanese houses. It's used as a decorative item as well. The wooden shelves on both sides create a nice contrast with the monochromic walls.
And then there's the round-shaped couch and the table sitting upfront and messing up the harmony a bit in a true wabi-sabi manner.
---
15.

Low-Sitting Furniture and Extra Traffic Flow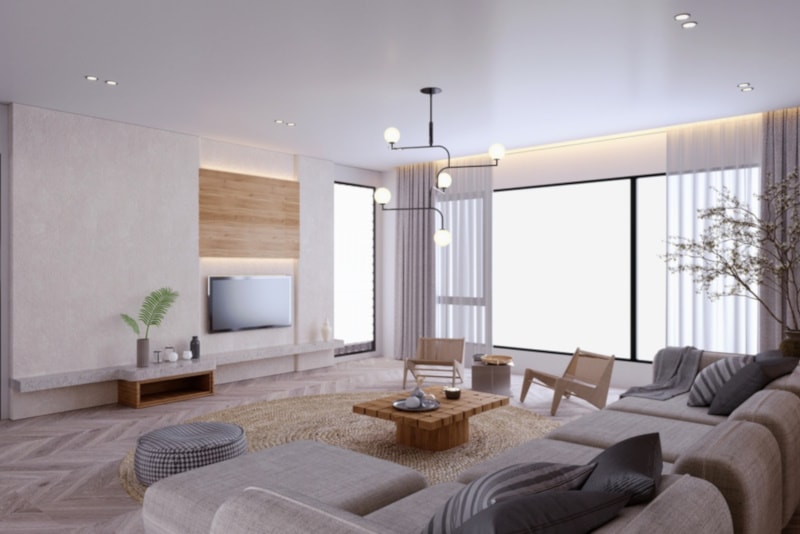 For thousands of years, the Japanese have been sleeping and eating on the (tatami) floor. Today, sitting upright and enjoying a meal or a cup of tea is still a very popular leisure in Japan. But to be fair, it will take time for a person from the West to get used to this tradition. So, if you're not ready to take that leap just yet, low-sitting couches, beds, armchairs, and benches will be the right decision.
First, they make the room look bigger. Secondly, when cleverly arranged, the furniture will leave more room for traffic flow. It's a win-win!
---
16.

Going All-In With the Japanese Style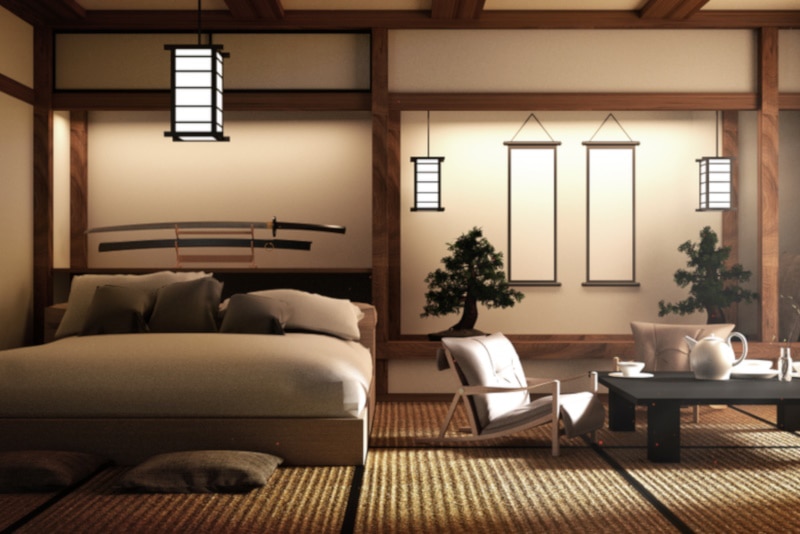 Shoji lanterns, tatami mats on the floor, and exposed wall beams help recreate a traditional design without spending too much time or money on it. A low-sitting armchair and a large table with a kettle on it will make the setup even more authentic. As you can see, there isn't that much decoration going on in this bedroom except for a couple of scrolls and a sword.

What Makes Japanese Interior Designs Unique?
In contrast to Art Deco, Neo-Industrial, and other (relatively) recent trends, Japanese traditions in designs have been around for centuries. And, while they did, of course, change over the years, at the very core, they're still very much the same. You'll rarely see any steel, bronze, gold, or concrete in wabi-sabi or Japandi. Instead, the environment will be dominated by wood, bamboo, stone, and glass.
Most Japanese interior design ideas are built around sustainability, neutral colors, harmonic tones, natural/earthy materials, and textures. Other key elements include sliding doors, room dividers, symbolic décor, and intolerance toward clutter. The furnishings and ornaments are simple yet aesthetically pleasing. And let's not forget about the beautiful flowers and plants!
Establishing Zen in a Modern Environment: A Quick Guide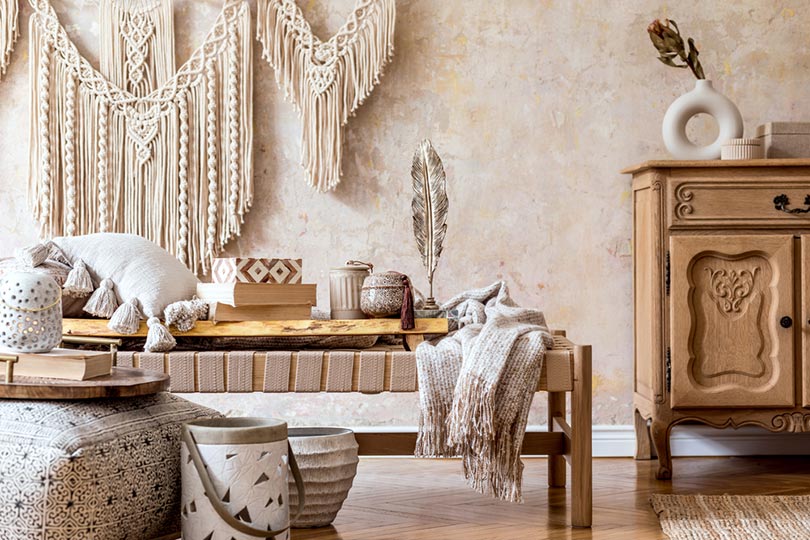 In Japan, minimalism is more than just an interior design style—it's a way of life. So, the first thing you should do is bring order and discipline into the room. Japanese bedrooms, living rooms, and kitchens might not be particularly huge, but they never feel cramped up or overcrowded. There's always enough seating and traffic flow, thanks to a clever balance between space and functionality.
Also, see that the room gets enough natural light, as that will make it look bigger and brighter. As for the furniture, opt for organic, eco-friendly materials like wicker, bamboo, rattan, and wood. Luxury has very little place in Japanese homes, no matter how rich the owners are. Follow that rule when picking antiques, art pieces, and other decorative elements. A bonsai tree on the shelf won't hurt, either.
Common Traditions and Elements in Japanese Interiors
In the West, many homeowners like to be eclectic and prefer to "hand-pick" specific elements from different styles. And that can work, of course, especially if you're tired of following strict rules in design. At the same time, if you're ready to fully embrace Japandi and wabi-sabi vibes, here's how you can do that:
Use shoji sheets (paper screens) to let natural light in yet ensure privacy
Put a tatami mat or two on the floor to bring authenticity into the setup
Consider buying a futon (low-sitting) bed for the bedroom or the living room
Look for functionality and efficient storage in kitchen cabinets and shelves
The oven, cooktop, microwave, and other appliances should be relatively small
Try to mask doors, cabinets, drawers, and devices with sliding sheets/screens
Opt for ambient lighting and neutral colors to create a warm, fuzzy aura
Don't overdo it with the pictures, photos, and vases: keep it to a minimum

Conclusion
Japan is an ancient civilization with its own customs, philosophy, and, of course, culture that's slowly taking over the West. Today, Japanese interior design is more popular than ever and is renowned for its unorthodox use of shapes, forms, colors, and layouts. Now, if you have always been a fan of maximalist or industrial designs, wabi-sabi/Japandi ways might seem foreign.
However, once you truly open up to them, you might just fall in love! Japanese interior design has so much to offer and can bring peace, order, and harmony into a chaotic environment. And we're confident that you'll find the perfect design for your heart, mind, and wallet on our list. Time to take your pick!
Related reads:
---
Featured Image Credit: apan_room, Shutterstock