15 Types of Small Flowers for Your Garden (With Pictures)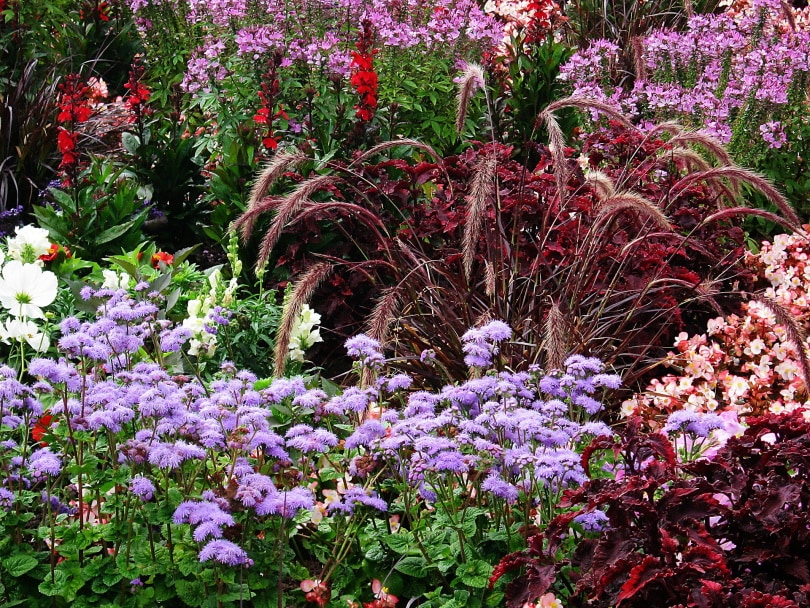 Small flowers bring a welcome dainty quality to a garden. Whether the blooms or the plants are petite, you can make a big statement with some carefully chosen species. Our list covers 15 small flowers that can add color and pollinators to any garden. Of course, you'll find many cultivars of flowers on our list. Often, the variations include different colors or forms. Our round-up points out some of the more popular ones.
We suggest matching the type with the conditions of your yard, particularly the amount of light it gets and the drainage. Some species are fussier about these characteristics than others. Fortunately, many are easy to raise if they get what they need. We've grouped the flowers into annual and perennial plants.

The 15 Types of Small Flowers for Your Garden:
1.

Lobelia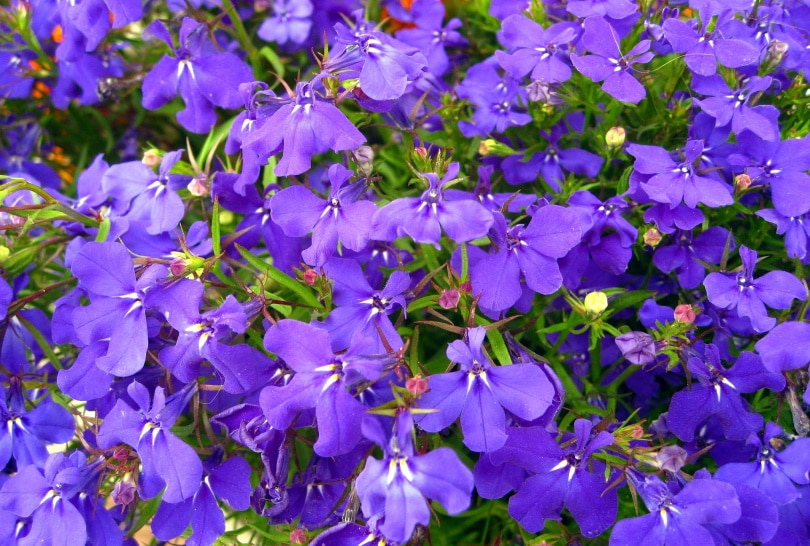 | | |
| --- | --- |
| USDA Hardiness Region | 3–11 |
| Sun | Full sun |
| Soil Type | Well-drained |
Lobelia comes in several cultivars with varying sizes. If you want a specific size, make sure to check the specs before planting this flower. Some of the smaller varieties have a limited hardiness range. They are true beach bunnies that like it warm. However, cold-tolerant ones also exist. Lobelias are fast-growing and require little maintenance once established.
You can also plant Lobelia in containers. It'll make an attractive display with the blooms cascading over the edge. You'll find cultivars in white, red, and blue shades.
Pros
Heat-tolerant
Excellent container plant
Adaptable
---
2.

Pansy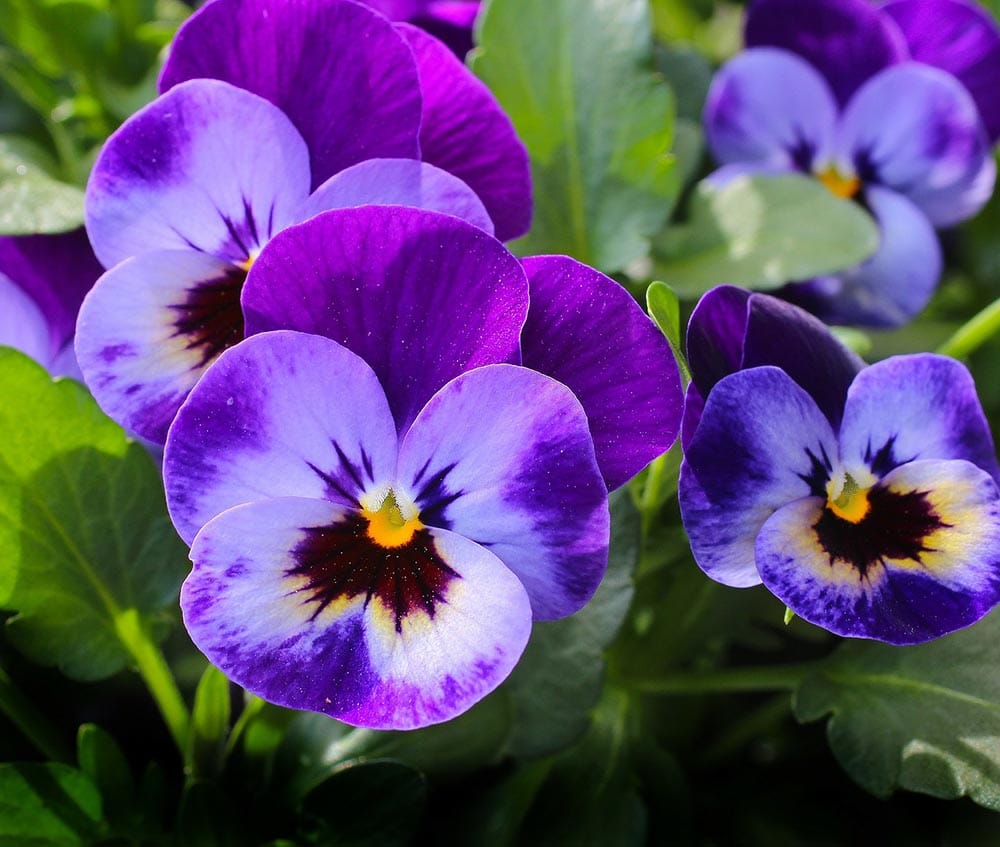 | | |
| --- | --- |
| USDA Hardiness Region | Perennial 6–10 |
| Sun | Full sun/partial shade |
| Soil Type | Well-drained soil |
The pansy sometimes gets a bum rap because people don't appreciate the small flower for what it is. It can put on a gorgeous display of colors because of the many cultivars available. Look no further if you want to add some color to your garden.
It's usually planted as an annual addition since it can't tolerate cold temperatures or drought. The pansy is easy to grow, which probably explains why several varieties exist. Most grow under 10 inches tall. Their colors attract pollinators, particularly butterflies.
Pros
Butterfly-friendly
Wide variety of colors
Cons
Annual plant
Not drought-tolerant
---
3.

Sweet Alyssum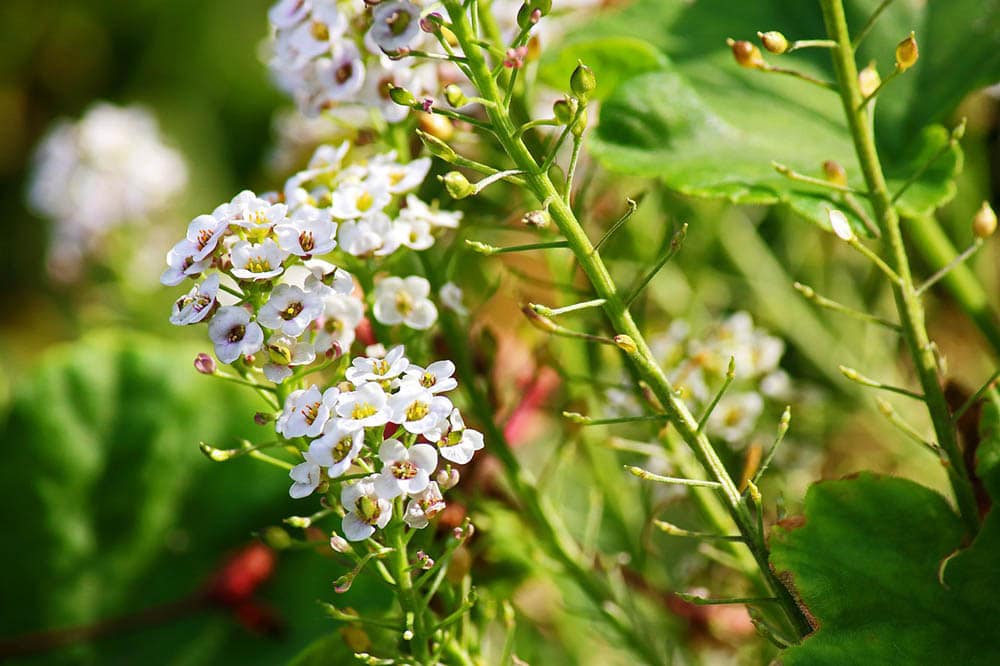 | | |
| --- | --- |
| USDA Hardiness Region | 7–11 |
| Sun | Full sun/partial shade |
| Soil Type | Rich soils |
Just as its name implies, you're dealing with something special with the Sweet Alyssum. It is pollinator-friendly, and its fragrance is delightful and not overpowering. However, it's enough to turn the deer away from your garden. You'll find it in various colors, from white to red. Sweet Alyssums are also early bloomers that you can even start from seed.
We're partial to perennials. Unfortunately, Sweet Alyssum is an annual. However, that'll just give you another excuse to visit the nursery for more things to add to your garden.
Pros
Fragrant
Pollinator-friendly
Deer-resistant
---
4.

Begonia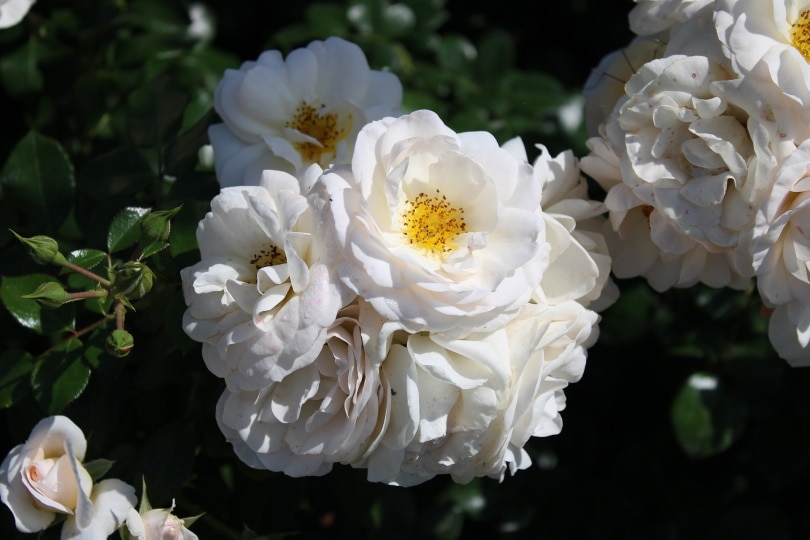 | | |
| --- | --- |
| USDA Hardiness Region | 3–11 as an annual |
| Sun | Full sun/partial shade |
| Soil Type | Well-drained |
The Begonia is a fast-growing plant that will steal the show with its brilliant colors. While it's not fragrant, it'll still attract pollinators. The blooms are large, resembling roses. You find various cultivars in varying shades, from white to apricot to fiery red.
Even though it's an annual, the Begonia will make its presence known. It'll do well in containers or window boxes. However, it's not deer-resistant. The flowers don't get very tall and are usually under 12 inches high. They are relatively heat-tolerant and easy to grow.
Pros
Vibrant color selection
Pollinator-friendly
Cons
Not deer-resistant
Annual plant
---
5.

Thyme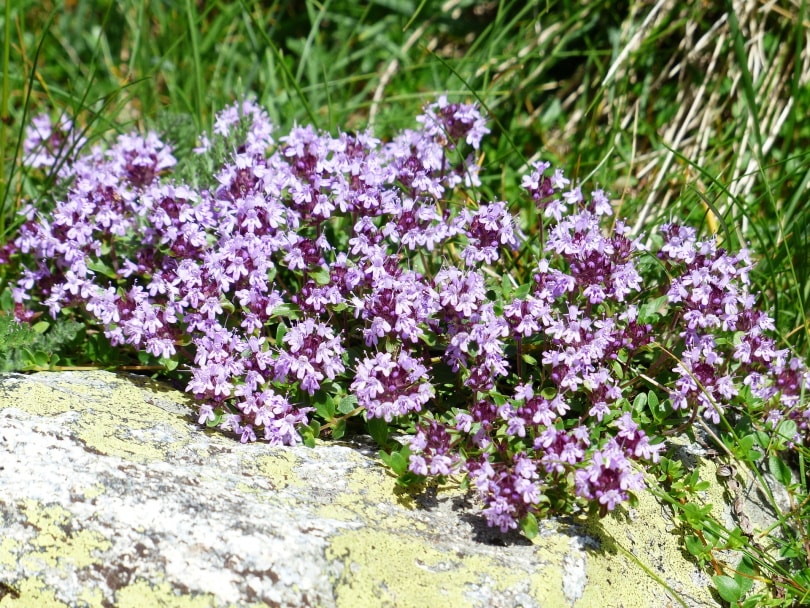 | | |
| --- | --- |
| USDA Hardiness Region | 3–9, depending on the variety |
| Sun | Full sun/partial shade |
| Soil Type | Well-drained |
Thyme is a flower that does double duty. It provides a gorgeous groundcover that can quickly fill in bare patches. It is also fragrant, making it a good choice for walkways. Of course, it's also an herb you can use for cooking. It's hard to beat the convenience of stepping outside to snip a few sprigs.
English Thyme (Thymus vulgaris) is one of the most popular varieties for zones 5–8. Another plant to look for is Creeping Thyme (Thymus praecox 'Coccineus'). It is more tolerant of less-than-ideal conditions. It also can tolerate a broader range of zones from 3–9. The flowers are showier than English Thyme.
Pros
Easy to grow
Fragrant
Drought-tolerant
Cons
Unsuitable for poorly drained soils
---
6.

Tulip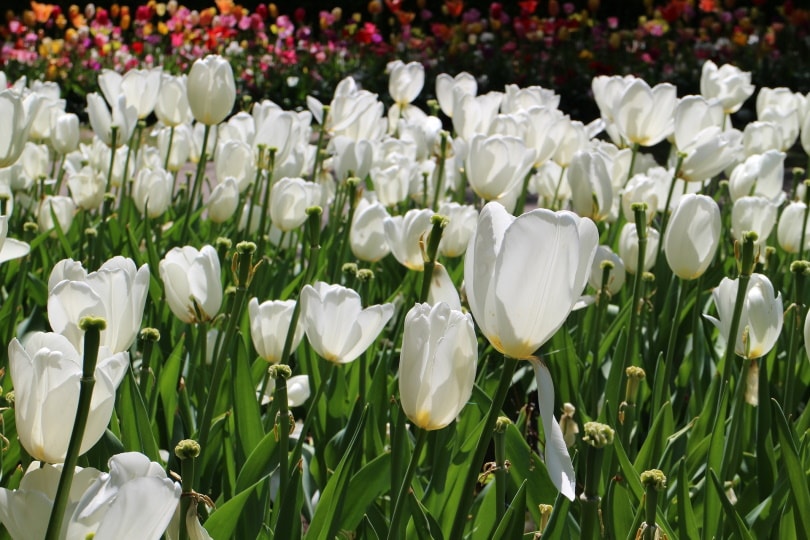 | | |
| --- | --- |
| USDA Hardiness Region | 3–8 |
| Sun | Full sun |
| Soil Type | Well-drained |
Several tulip varieties can get large, but you'll also find smaller and less attractive cultivars. The great thing about these flowers is the broad range of colors and forms you'll find with them. You're sure to find the right plant to fit your landscaping theme. Pay attention to the specs with these varieties; some cultivars may have differences in zones and conditions.
We love that tulips bloom early, welcoming spring with a burst of color. The flowers require extra care, especially when blooming. Regular watering and pest management are necessary.
Pros
Pollinator-friendly
Wide range of color and form choices
Early bloomer
---
7.

Periwinkle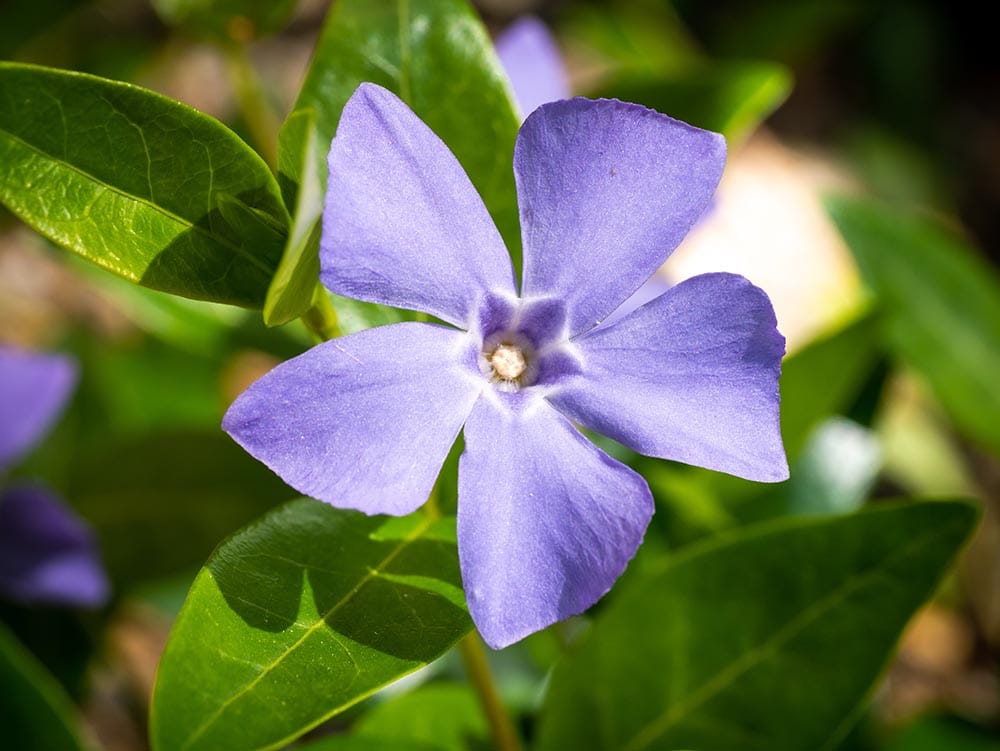 | | |
| --- | --- |
| USDA Hardiness Region | 4–9 |
| Sun | Full sun/partial shade |
| Soil Type | Well-drained |
Periwinkles have delightful tiny flowers, and even their name is fun to say. Most come in varying shades of blue and violet, but some may also have variegated leaves. This plant is relatively tolerant of harsh conditions, and some cultivars form dense mats that act as an effective weed barrier. Periwinkles also grow quickly and don't get very tall.
Periwinkles are an excellent choice if rabbits and deer have your garden in their sights since the plants are resistant to both animals. You can also use the flowers to anchor the soil in a place where erosion is an issue.
Pros
Pollinator-friendly
Deer-resistant
Weed control
---
8.

Crocus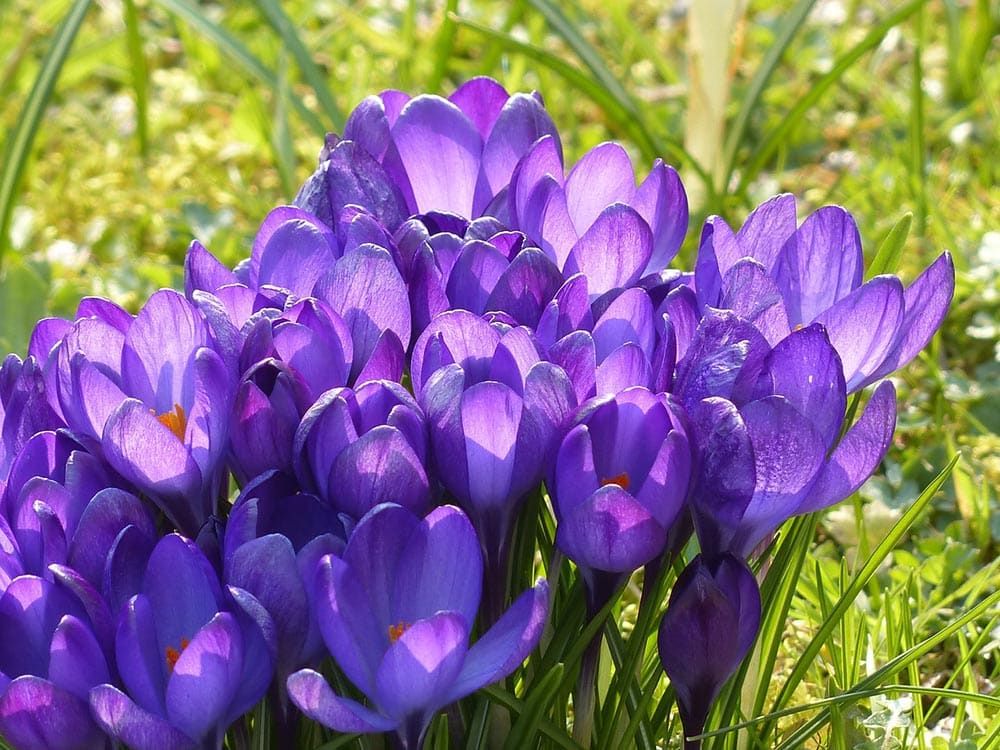 | | |
| --- | --- |
| USDA Hardiness Region | 4–8 |
| Sun | Full sun/partial shade |
| Soil Type | Well-drained |
The crocus is another early bloomer that may peek out from under the snow in the right conditions. You'll find these plants in various colors, including white, yellow, and shades of blue-violet. It's a small flower that usually gets less than 6 inches tall. However, that takes nothing away from its beauty. It'll still take center stage in the spring.
You can grow crocuses in containers if you keep the soil moist. They're best planted in large groups because of their small size. Some varieties are more deer-resistant than others, and the Autumn Crocus (Colchicum sp.) is an excellent example.
Pros
Brilliant color varieties
Excellent for cut flowers
Attractive shape
Cons
Best planted in larger groups
---
9.

Forget-Me-Not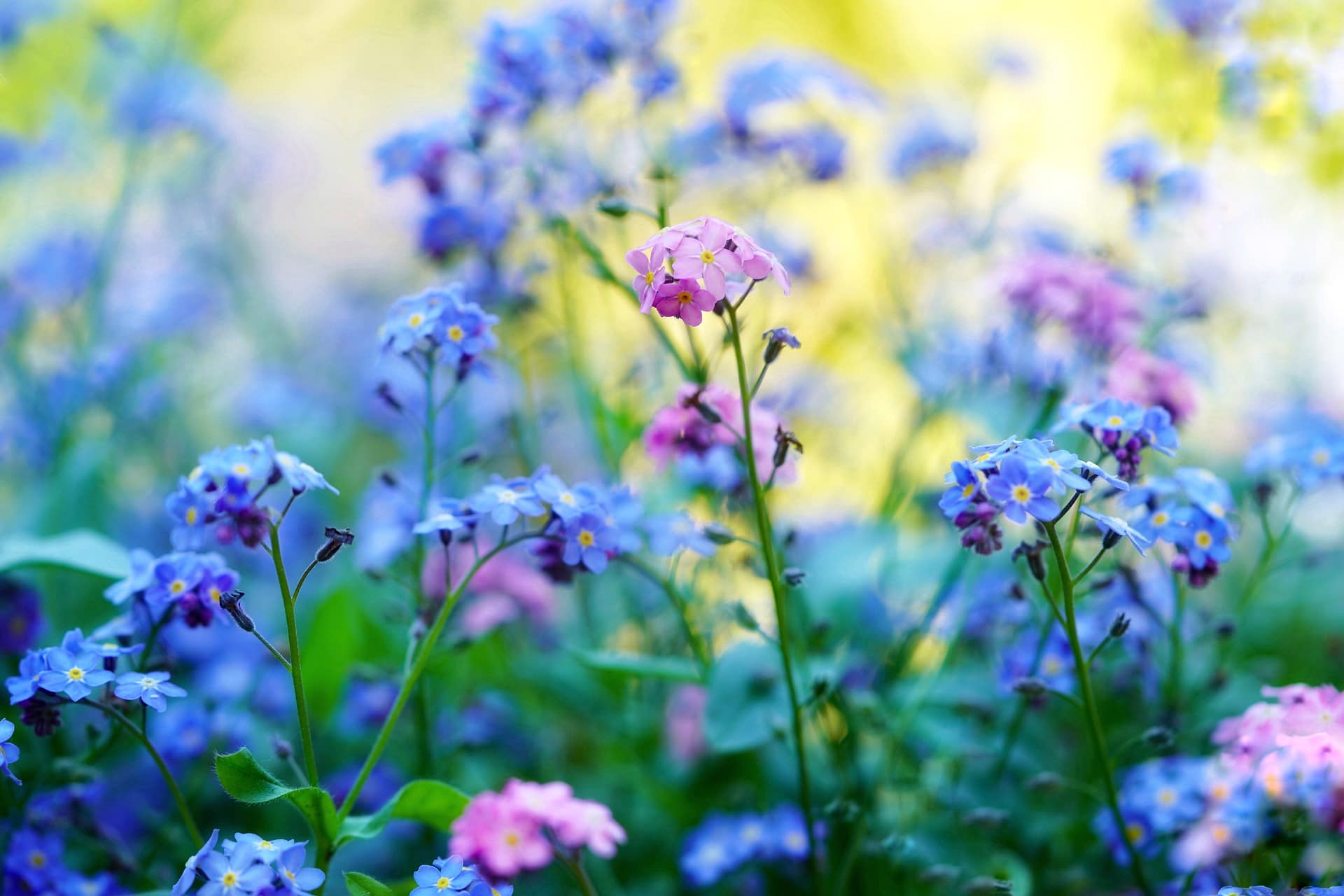 | | |
| --- | --- |
| USDA Hardiness Region | 3–8 |
| Sun | Full sun/partial shade |
| Soil Type | Well-drained |
The Forget-Me-Not is, well, unforgettable. It's an adorable little flower that screams for attention. It usually grows less than 12 inches high. You'll find it in shades of white, yellow, pink, and blue. You can use it as an attractive ground cover that is rabbit and deer-resistant. You can grow it in containers or make it the centerpiece of your rock garden.
On the downside, the Forget-Me-Not isn't a long-lived plant. Instead, it self-seeds, making it somewhat weedy and invasive. It'll likely spread to the rest of your garden if you don't keep it under control.
Pros
Deer-resistant
Broad color range
Attractive flowers
Cons
Short-lived for a perennial
Sometimes invasive
---
10.

Sedum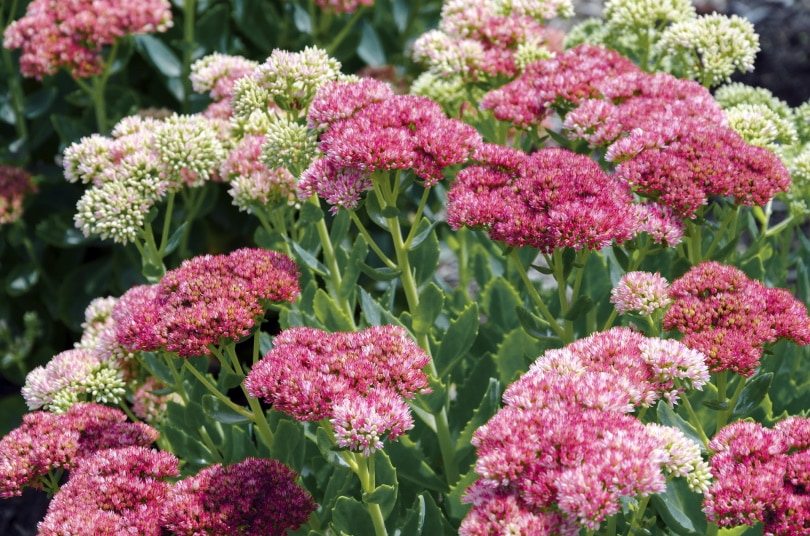 | | |
| --- | --- |
| USDA Hardiness Region | 3–8 |
| Sun | Full sun |
| Soil Type | Well-drained |
The sedum isn't as showy as some plants on our list. You'll find it in bright colors that are somewhat muted compared to others we've considered. It's a low-growing plant that typically stays less than 6 inches high. It's remarkably cold-tolerant and low maintenance once it's established.
It's an adaptable species that can handle almost any condition. Sedum produces seed heads that can provide an excellent source of winter food for birds. Unfortunately, deer also like it and will likely nibble on your plants.
Pros
Cold-tolerant
Attractive, muted colors
Winter color
---
11.

Catmint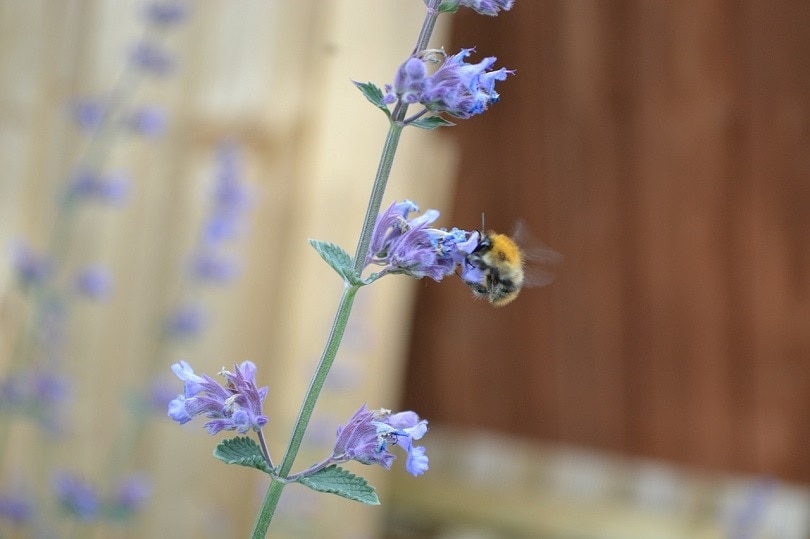 | | |
| --- | --- |
| USDA Hardiness Region | 4–9 |
| Sun | Full sun/partial shade |
| Soil Type | Adaptable |
It's essential not to confuse the wild catnip plant with catmint. Like most in its family, the former is a pungent species that is often invasive. Catminte is the cultivated variety that will behave and not become weedy. The plant is quite adaptable and can tolerate various conditions, including drought. It's also rabbit and deer-resistant.
Catmint has a scent like its wild counterpart. You can collect the leaves and flowers and give your kitty a treat. Bear in mind that it will attract bees, making its location near your house worth considering.
Pros
Rabbit and deer-resistant
Attractive flowers
Pollinator-friendly
---
12.

Coral Bells
| | |
| --- | --- |
| USDA Hardiness Region | 4–8 |
| Sun | Full sun/partial shade |
| Soil Type | Well-drained |
The beauty of Coral Bells cultivars is in the foliage. It's gorgeous and is only made more attractive by its color and flowers. It's a versatile plant that you can keep in containers, a garden, or window boxes.
If it has well-draining soil, it will stay happy, and there are many cultivars with varying zone requirements. You'll find various color variations, from muted greens to vibrant reds. Most plants will stay under 12 inches tall.
Pros
Evergreen
Versatile plant
Beautiful foliage
---
13.

Phlox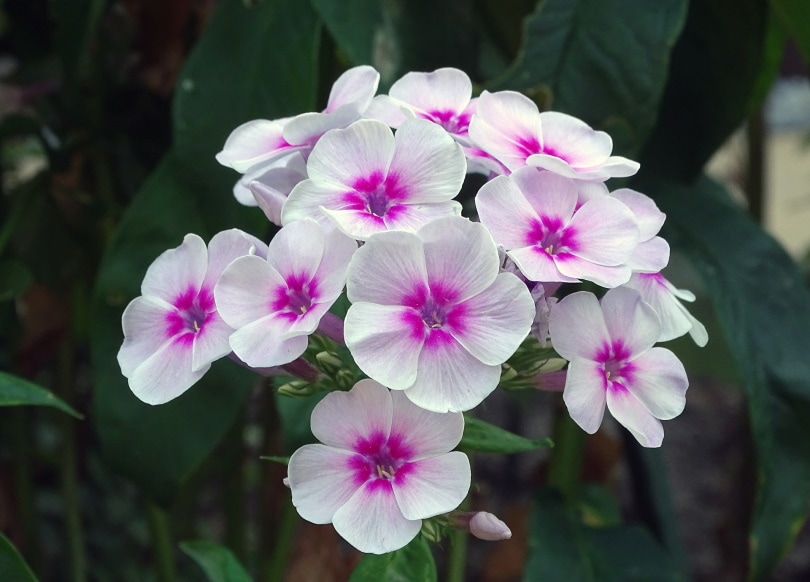 | | |
| --- | --- |
| USDA Hardiness Region | 3–8 |
| Sun | Full sun |
| Soil Type | Well-drained |
Phlox may seem like a dainty plant, but it packs a punch with its color and sweet fragrance. That's probably one reason that deer like it, too. You'll find it in varying shades of white, pink, violet, and blue. They can make an eye-catching display in a stand of plants, or you can use phlox as a ground cover or put it in a vertical container.
Phlox is a low-maintenance variety that will also fare well in a rock garden to provide a splash of color. Some varieties put on a fall display with gold shades.
Pros
Low maintenance
Cold-tolerant
---
14.

Foamflower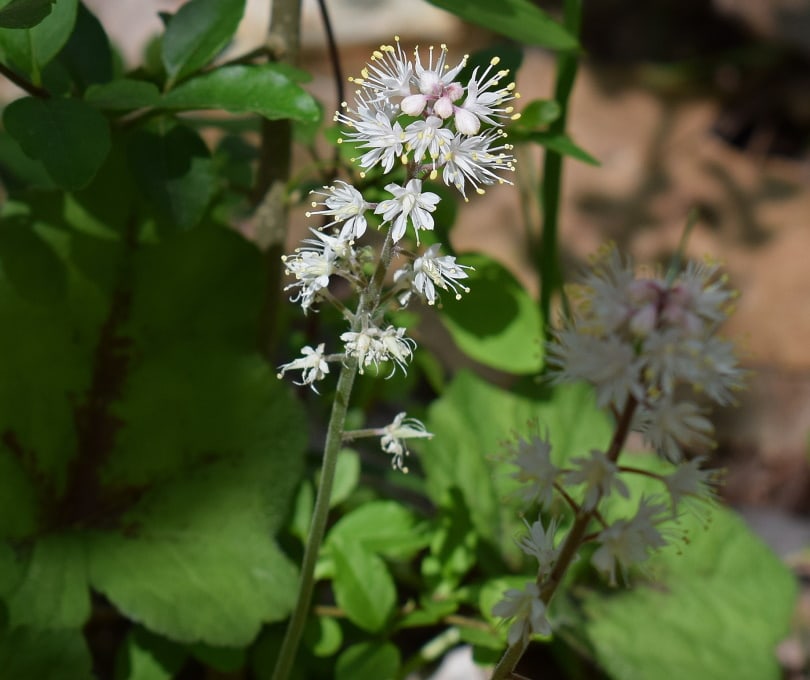 | | |
| --- | --- |
| USDA Hardiness Region | 4–9 |
| Sun | Full sun/partial shade |
| Soil Type | Well-drained |
Foamflower is a fitting name for this plant with its delicate flowers. It almost looks as if someone sprayed foam on their stems. Many cultivars have equally attractive foliage for creating a stunning display in your garden.
They usually get less than 10 inches high with a moderate spread. They'll do well as a border or in containers. While they look like phlox, the foamflower is not fragrant. Nevertheless, it is pollinator-friendly. This plant is also shade-tolerant if you need a ground cover someplace that receives indirect sunlight.
Pros
Butterfly-friendly
Small footprint
Attractive flowers
---
15.

Dianthus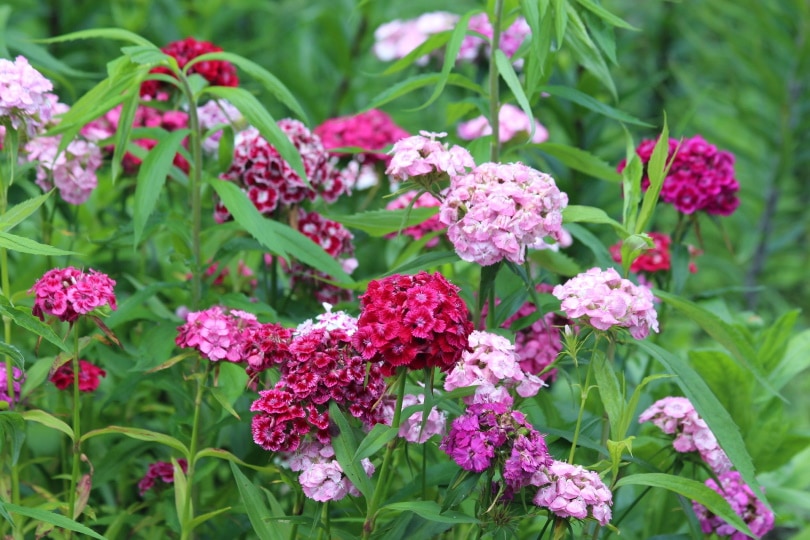 | | |
| --- | --- |
| USDA Hardiness Region | 4–8 |
| Sun | Full sun |
| Soil Type | Well-drained |
Dianthus has many colorful cultivars if you're looking for a focal point for your garden. It's also quite tolerant if you're a beginner at landscaping. It stays under 12 inches high but must have full sun to thrive. It has a relatively long flowering season, so you can get the most out of this beautiful plant. It is fragrant and deer-resistant, too.
You'll find dianthus in a range of white, red, pink, and maroon shades. You can grow them in containers or use them as cut flowers to brighten a room.
Pros
Gorgeous colors
Low maintenance
Drought-tolerant

Conclusion
As our list shows, looking for small flowers doesn't limit your choices. You can find the full gamut of colors, forms, and maintenance needs. The plants we selected are pollinator-friendly if you want to attract butterflies, bees, or hummingbirds to your home. Whatever your theme, you're sure to find something that won't take up a lot of space. Happy gardening!
See also: How and When to Plant Pansies – What You Need To Know!
---
Featured Image Credit: Pixabay