Milwaukee M18 String Trimmer Review 2023 – Pros, Cons & Final Verdict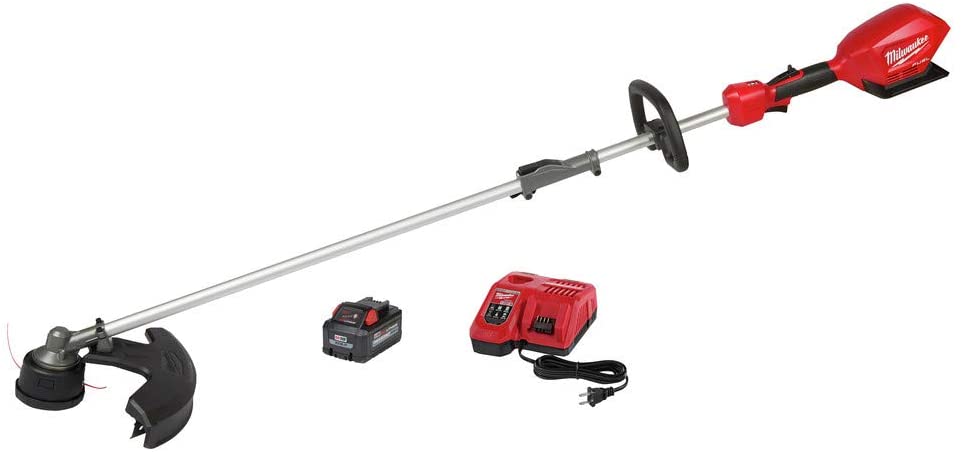 Review Summary
Our Final Verdict
We give Milwaukee M18 String Trimmer a rating of 4.7 out of 5 stars.
Build Quality: 4.8/5
Power: 4.8/5
Features: 4.7/5
Price: 4.6/5
Milwaukee M18 String Trimmer – A Quick Look

Specifications
Brand name: Milwaukee
Model: 2725-21HD
Voltage: 18V
RPM: 4,600–4,800 RPM
Cutting diameter: 14"–16"
Feed type: Bump
Battery: Milwaukee M18 9.0Ah
Fuel type: Battery
Length: 73.6"
Height: 8.5"
Width: 8.8"
Weight: 12.3lbs
Milwaukee, first established in 1924, is a well-respected power tool manufacturer. Its M18 range of power tools are especially popular, and can all be run using any of the M18 batteries that are available and including its high capacity packs.
The Milwaukee M18 string trimmer is a battery-powered string trimmer targeted at professionals and regular users. It can run using any Milwaukee M18 battery and includes a 9.0-amp hour battery when you buy the unit. Because this is targeted at professional users, it does fall on the expensive side for a string trimmer, but it has multiple (two) speed settings, has a reasonably comfortable grip, and users can choose between two cutting diameter settings.
There are some downsides. Adjustments are made using Torx and hex wrenches so need to be set before you start working. And, although the grip does a good job of dampening vibrations, it is still quite hard and uncomfortable for a full day's use: considering the Milwaukee M18 is aimed at professionals, this is likely to matter to its buyers.
Read on for our full Milwaukee weed eater review and to see whether it is the right battery-powered string trimmer for your needs.
Pros
Runs using any Milwaukee M18 batteries
Dual speed options
16-inch cutting diameter covers a lot of ground, quickly
Cons
Handle is uncomfortable after prolonged use
Tool-operated adjustments are inconvenient

Milwaukee M18 String Trimmer Details
The M18 Battery System
The Milwaukee M18 string trimmer is part of the company's M18 range of power tools. All tools in the range run on Milwaukee's M18 battery packs, of which there are several models available. The string trimmer comes with a 9.0-amp hour M18 battery but it will run on any other M18s you happen to have laying around.
The M18 is designed for heavy-duty tools, which means that it weighs more than the M12 range. However, because the battery is at the back of the device, behind the supporting hand, the extra weight actually lends to the ergonomics of the design and makes this a well-weighted device that offers users an intuitive sweeping motion.
The included battery has a decent capacity, and you should get about an hour of strimming time from a single charge. A charge takes between one and two hours. Different M18 batteries can offer longer strimming times or faster charging, and if you do have a second and additional batteries, you can interchange them and avoid having to break.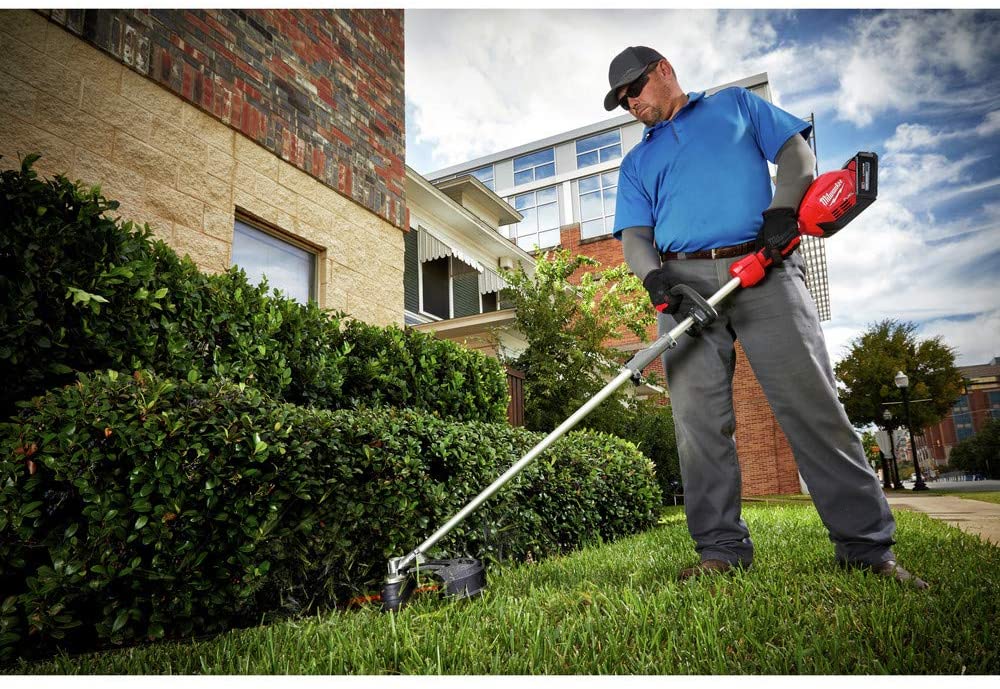 Dual Speed And Other Settings
The M18 has two speed settings: 4,600RPM and 5,800RPM. You can't make adjustments while working, though, so you will need to stop strimming before adjusting the settings. That's not too big a deal because it only takes a second. The lower power setting adequately handles maintenance cuts and easy work, while extending the battery life, but you will need the higher speed setting for big jobs or to make even quicker work of small jobs.
The M18 string trimmer can be used with either 0.08" or 0.095" line and comes with a reel of the thinner line already installed.
The cutting diameter can also be changed with options of a 14" or 16" diameter.
Handle Comfort
Strimming can be painful and hard work on the hands. The battery-powered motor does vibrate and if the handle isn't designed well, some users will struggle to cut for long periods of time. The Milwaukee M18 has a textured grip handle. This does a good job of dampening vibrations, but the texture is hard and it will cause calluses after several hours of use. As the battery only lasts about an hour before it needs charging, this shouldn't prove to be a problem in most cases and the handle does a better job of dampening than most other similar models.
Tools Required
Although the trimmer string works with a reinforced bump feed system, other adjustments made to the M18 are not tool-free. Changing the line cutter requires the use of a hex wrench, while handle adjustments need a Torx wrench. You will have to set the trimmer up exactly how you want it before you head out to start work, especially because there is no onboard tool storage feature. This won't prove a problem for the well-prepared trimmer operator, but it can be a pain if you forget to adjust the settings to your preferences before you start work.

FAQ
How Long Does A Milwaukee Trimmer Last?
The Milwaukee is aimed at professional users and as a means to supplement gas-powered trimmers. The cordless, portable device will strim for approximately one hour before the battery needs recharging. Because it runs using any M18 battery, it is possible to have a secondary battery and to cycle the two with one recharging while the other is in use. Higher capacity M18 batteries are also available, and these will last longer than the included battery.
Does The Milwaukee String Trimmer Come With String?
The trimmer works with either of two different thicknesses of string: 0.08" or 0.095". It comes with a roll of 0.08" trimmer string already installed, so it can be used straight away.
Is The Milwaukee String Trimmer Bump Feed?
The string trimmer is bump feed. A metal ring is used in preference to a plastic ring because this increases durability and Milwaukee has made several other changes that help ensure the bump system is durable and offers trouble-free alterations
What Is The Warranty Like?
The trimmer comes with a 5-year tool warranty, which covers the trimmer itself, and the included 9.0Ah battery has a 3 year warranty. As is typical, the warranties do not cover general wear and tear or accidents.

What the Users Say
To provide a comprehensive review, we checked out forums and read reviews of the product.
Milwaukee itself has a very strong reputation with users especially praising of its cordless power tool range. They offer good warranties, too, and the devices are known for their longevity. Although not a feature that is strictly unique to Milwaukee tools, the use of M18 batteries across different tools is also lauded.
The Milwaukee M18 string trimmer wins praise for being battery powered and therefore negating the need to pull cords. It is also popular for its reduced vibrations. However, the weight of the battery does come in for some criticism.
Conclusion
Milwaukee is well-known and well-respected for its range of power tools and the Milwaukee M18 string trimmer is a solid addition to a range of tools that will all work using the same M18 batteries. The battery is quite heavy, although the device is weighted well, and the ergonomic handle design means that vibrations are minimal.
However, the same handle means that gloves are essential for extended use and to avoid blisters on the hands, which means that even though this device is targeted at professional users, it is perhaps better suited to the power home user: somebody that has a lot of weeds to whack and grass to trim, but doesn't need to use the trimmer all day long. Thankfully, although the price is a little high for a home trimmer, it is very good quality and will last for several years.
Related Reviews on the M18 Product Line: