Milwaukee M18 Cordless Heat Gun Review 2023 – Pros, Cons & Final Verdict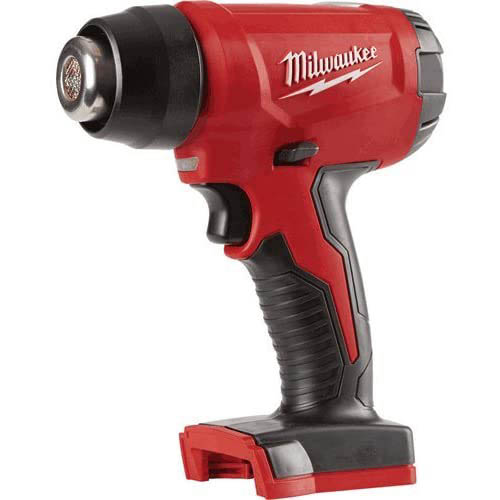 Review Summary
Our Final Verdict
We give Milwaukee M18 Cordless Heat Gun a rating of 4.7 out of 5 stars.
Build Quality: 5/5
Power: 4/5
Features: 5/5
Price: 4/5

Milwaukee M18 Cordless Heat Gun – A Quick Look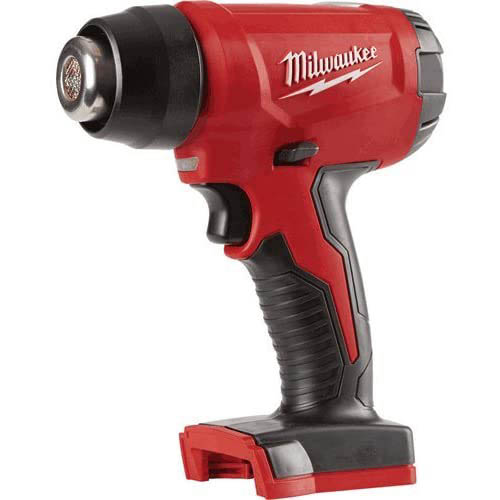 Specifications
Amps: 5
Battery Type: Lithium-Ion
Battery Size: 18-volt
BTU Heat Rating: 914
Corded or Cordless: Cordless
Charger Included? No
Batteries Included: 0
The Milwaukee M18 Cordless Heat Gun makes heat shrink connections, which makes it a bit of a niche tool. You'll only need it in very specific applications. However, this gun will be absolutely ready when you need it to be.
It has a decent battery life and is pretty good at its job. The only potential problem may be its price point, which is a bit high for such a niche tool. However, if you find yourself needing a heat gun a lot, this is likely your best option.
The no cord and no butane requirements set this cordless heat gun above much of the competition. It makes quick work of most heat shrink connections.
Pros
No cord or butane required
Compact design for small spaces
Heats up quickly
Hang hook to prevent drops and falls
Cons
Battery life is only about 18 minutes
Expensive
Milwaukee M18 Cordless Heat Gun Details
Heat Production
The point of the Milwaukee M18 Heat Gun is to create heat, and, for the most part, it does a pretty good job at this. To create this heat, it uses a ceramic coil along with a battery. Together, this allows it to get up to 875 degrees Fahrenheit, which is much less than most of the competition.
While corded heat guns can get quite a bit hotter, for a cordless heat gun, this device gets quite hot.
With that said, this tool does have some limitations. For instance, it is great for most day-to-day connections. It is often a great option for those that need to make heat shrink connections daily. However, you can't really utilize the heat for other reasons. For example, it will not thaw out frozen pipes. The heat is much too concentrated.
Furthermore, this heat gun heats up very quickly. The company claims that it is operational in about 7 seconds, and it appears that this is pretty accurate. However, "operational" is different from "peal temperature."
---
Compact
This little heat gun is only 6.4". Therefore, it can fit inside control panels extremely easily. You should be able to fit it inside most small spaces without any difficulties. For those that commonly work on control panels and in tight quarters, this feature alone may be enough to convince you to purchase it.
Furthermore, because it is cordless, it is much more practical in these smaller spaces too. You can easily work inside walls and panels without needing to fight with a cord.
---
Extra Features
On top of all the basic stuff that a heat gun must come with, this nifty heat gun has a lot of extra features that set it above much of the competition. However, this gun is also missing a few features that other guns have, so we'll talk about those, too.
Firstly, this gun has a great hang hook. When you're working with a heat gun like this, a hook is vital to prevent it from getting knocked over or hit (which could cause burns). The hook can easily attach to most tables and other surfaces. In fact, this is easily one of the best heat guns on the market.
Secondly, this gun comes with two different nozzles: a reducer and a guarded nozzle. For the most part, these nozzles are all you'll need for most projects. If you do need more, Milwaukee makes a compatible accessory kit that you can purchase as well.
We also liked that this gun included an LED light, which may be useful for darker situations. It absolutely beats carrying around a different light and frees up one of your hands. However, you likely won't use it all that much.
With all that said, this gun only has a single setting. You cannot pick between different heat options, which may be a problem for some people. In the end, it all depends on the type of projects you plan on doing.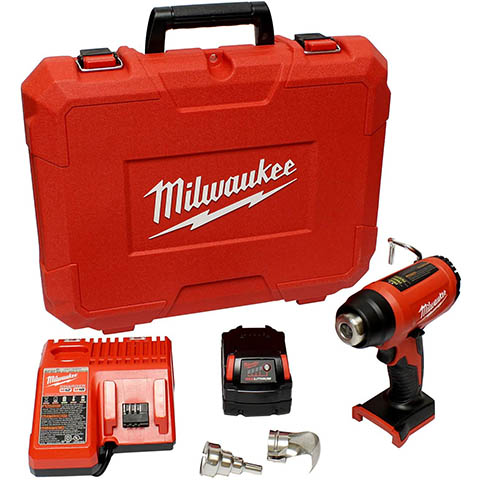 Runtime
The runtime on this model is a bit disappointing. Of course, creating lots of heat is very difficult as it requires a lot of energy and power. Therefore, it isn't a surprise that the runtime is one of the big disappointments on this machine.
With a 5.0Ah battery, you're looking at only 18 minutes of continuous heat. Of course, you probably aren't going to hold down the trigger for 18 minutes straight. Very few people need continuous heat like that. However, you won't be using this tool all day without recharging it.
If you're doing tons of connections, you'll probably want two batteries at the very least. In some cases, you may be able to charge it up quickly while you're on break. Luckily, the batteries are compatible with other tools, so it may be best to have a backup just in case.
If you stick a more powerful battery on the heat gun, you're going to get more runtime. However, you will make it heavier (by quite a lot) and lose some of the compactness that makes the heat gun so nice.
---
Price
The Milwaukee M18 Heat Gun is quite a bit expensive, especially if you buy it as a kit with the battery, nozzles, and charger included. We highly recommend that you go with the kit, even if it is more expensive, as it is necessary to make the most out of the heat gun.
With that said, this gun doesn't really have a direct competitor. There are other cordless heat guns, but they generally require butane. Therefore, there isn't anything to directly compare the price to.
Still, if you don't use a heat gun a lot, you may find that the price is a bit higher than you're willing to pay. However, for those that do a lot of heat connections, you may find the price worth it. It all depends on your budget and what you do.

FAQ
How Long Does It Run on a Full 5.0Ah Battery?
Generally, you can expect it to last about 18 minutes of continuous use on one of these batteries. However, you aren't going to be using it continuously in this manner—you're probably going to be using it off and on throughout the day.
When used like this, it can last for quite a long time.
Can I Use This to Heat Up a Sandwich in Foil?
You could, though this isn't the intended use. It is recommended that you use a reduction nozzle to concentrate the heat onto the sandwich. However, while this absolutely could work, it wouldn't be as effective as other methods. Plus, it would be quite costly to purchase the gun just for this purpose!
Does It Have a Lock-On Position?
No, you would need to hold the trigger down continuously for it to work properly. There is no "always-on" position.
Does It Come with a Battery?
You can purchase it with a battery and without the battery. Because the battery itself is quite expensive, purchasing it with the battery will raise your price considerably.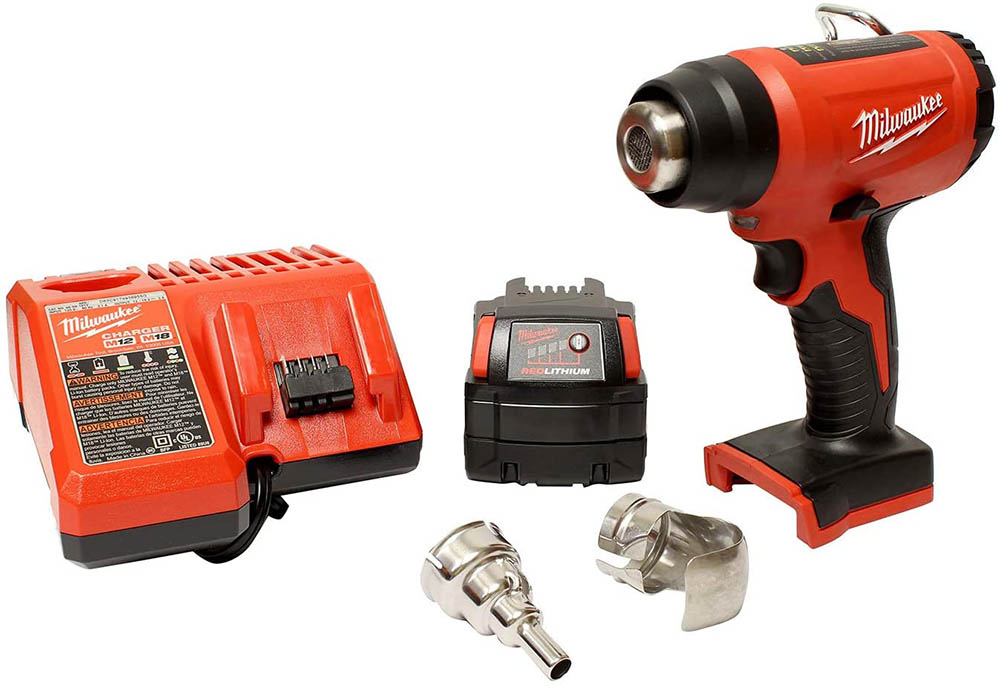 What the Users Say
Most people were very pleased with this gun—as long as they understand its limitations. This heat gun will not replace a corded option for bigger jobs. It just isn't as powerful and doesn't get as hot. However, for things like shrink tubing, this gun is a great option. It provides mobility that corded guns just don't offer.
Some were a bit disappointed that it didn't have any blowing force and doesn't get super-hot. Therefore, you'll probably find yourself unable to perform a few different jobs with this tool. In some cases, you'll just need a corded model.
Creating heat takes a lot of power, and many customers could tell with this tool.

Conclusion
This heat gun is a great option for those that need a compact heat gun to fit into smaller places. It is much more maneuverable than other options since it doesn't have a cord for you to fight with. Furthermore, it does provide adequate heat for most circumstances.
However, it does not get quite as hot as corded models. It just can't with a battery.
If you understand its limitations, though, then this tool is a great option.