9 Most Expensive Homes in Florida (with Pictures)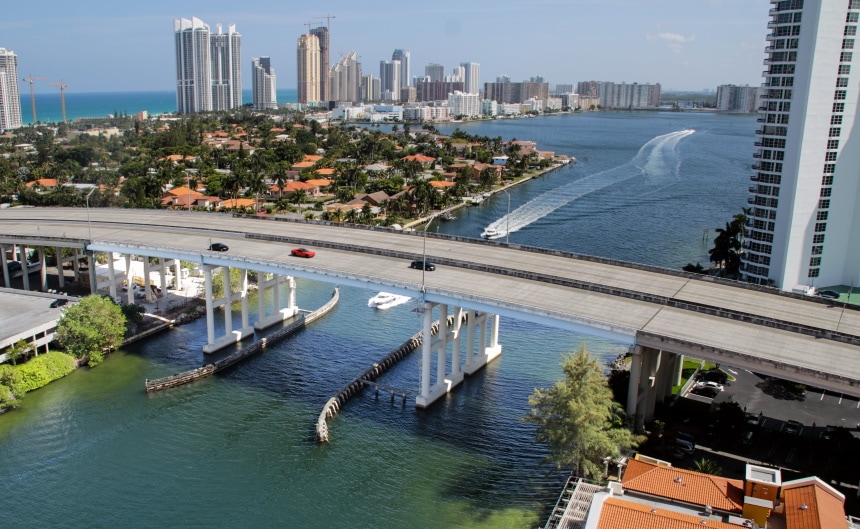 As a year-round vacation destination, it's no surprise that Florida hosts some of the world's wealthiest individuals. You'll find homes all across the state as grand as their surroundings, featuring towering windows, lofty verandas, and impeccable landscaping that takes full advantage of the coastal setting's unmatched beauty.
With their tradition of Spanish and Mediterranean influences, many Florida mansions are among the country's most intriguing and unique residences. Let's check out how the Sunshine State defines luxury in this rundown of the most expensive homes in Florida.

The 9 Most Expensive Homes in Florida
1.

2000 S Ocean Blvd, Manalapan, FL 33462
| | |
| --- | --- |
| Sold Price | $94,173,300 |
| Size (Sq. Ft.) | 62,200 |
| Year Built | 2002 |
With 33 bedrooms and 39 bathrooms, it's crazy to think that this Spanish/Mediterranean-style home is a single-family residence. The 15-acre estate that sold for nearly $95 million in 2021 sits between Lake Worth and the Atlantic, providing over 1,200 feet of private ocean beach and over 1,300 feet of Lake Worth property. Although S Ocean Boulevard separates the main residence from Lake Worth, a series of tunnels under the road seamlessly connect the two.
The amenities leave nothing to be desired. A private pool sits within an enormous patio area outside the 62,000-square-foot-home. Residents also enjoy extensive botanical gardens, a private tennis court, a half basketball court, and a PGA standard golf area.
---
2.

901 N Ocean Blvd, Palm Beach, FL 33480
| | |
| --- | --- |
| Sold Price | $85,977,000 |
| Size (Sq. Ft.) | 15,306 |
| Year Built | 2021 |
The bright white and modern Bermuda-style mansion at 901 N Ocean Blvd is a brilliant blend of styles, a tribute to the region's architectural roots and a bold step forward in fashion and function. Built in 2021, the home sold for nearly $86 million in June 2022.
Over 15,000 square feet provide all the amenities one could desire in a luxury estate. Along with seven bedrooms, 13 bathrooms, and two gourmet kitchens, residents enjoy a 4,000-bottle wine cellar, home theater with a bar, billiard room, and fitness center. Outside, 175 feet of private beach property sits beyond the gorgeous patio area and inground pool.
---
3.

12525 Seminole Beach Rd, North Palm Beach FL, 33408
| | |
| --- | --- |
| Sold Price | $80,000,0000 |
| Size (Sq. Ft.) | 15,514 |
| Year Built | 1998 |
The property at 12525 Seminole Beach Road is the third-largest beachfront compound in Palm Beach County. The gated estate sits on nearly 8 acres in the wealthy Seminole Landing neighborhood. Larry Ellison, the co-founder of Oracle, purchased the 7-bedroom home in April 2021 for $80 million.
Inside the richly detailed traditional mansion, you'll find a massive chef's kitchen, wine room, and home theater. Around the beautifully landscaped exterior, the property features a tennis court, guest suite, swimming pool, and private beach stretching over 520 feet.
---
4.

8 Star Island Dr, Miami Beach, FL 33139
| | |
| --- | --- |
| Sold Price | $75,000,000 |
| Size (Sq. Ft.) | 14,785 |
| Year Built | 1993 |
The 8 Star Island Drive mansion sits on two acres on Miami Beach's Star Island. The 9-bedroom house offers a generous 14,000 square feet of livable space. Ken Griffin, the CEO of hedge fund Citadel, paid a whopping $75 million for the home in December 2021.
Sitting on the water, the home features unobstructed views of the waterfront and the city skyline. It includes a private pool and spa alongside a dock and direct ocean access.
---
5.

102 Jungle Rd, Palm Beach, FL 33480
| | |
| --- | --- |
| Sold Price | $72,850,000 |
| Size (Sq. Ft.) | 12,352 |
| Year Built | 1926 |
Covering over 12,000 square feet, this gorgeous home in Palm Beach takes up nearly all the space on its 0.77-acre beachfront lot. The residence is teeming with elaborate details and refined appointments, from the magnificent tile floors to the vaulted hardwood ceilings. The home wraps around a central courtyard containing a patio and inground pool.
The estate, built in 1926, was once home to Ivana Trump, who bought it in 1994 for a meager $4.4 million. Its most recent resident, fashion designer Tomas Maier, sold it for nearly $70 million more in May 2022.
---
6.

8 S Lake Trl, Palm Beach, FL 33480
| | |
| --- | --- |
| Sold Price | $71,850,000 |
| Size (Sq. Ft.) | 9,918 |
| Year Built | 1937 |
The home at 8 S Lake Trail is a landmarked property designed by famed Austrian architect John L. Volk in 1937. The 6-bedroom home sits on two acres of land that provides 180 feet of waterfront property.
The home still sports its traditional Mediterranean stylings despite sweeping renovations in 2017. The upgrades allowed businessman Robb E. Turner, who initially paid $27 million for the home, to increase the selling price three years later to nearly $72 million.
---
7.

916 S Ocean Blvd, Palm Beach, FL 33480
| | |
| --- | --- |
| Sold Price | $57,000,000 |
| Size (Sq. Ft.) | 12,427 |
| Year Built | 2021 |
The oceanfront estate at 916 S Ocean Boulevard in Palm Beach is another exquisite blend of modern refinement and classic Spanish/Mediterranean style. While only built in 2021, the property proved too attractive to pass up, selling for $57 million before the construction was complete.
The expansive mansion features eight bedrooms, a second-floor guest apartment, a wine room and lounge, and a chef's kitchen. The impressive outdoor arena includes two loggias with fireplaces and an inground pool.
Following a hidden tunnel under the street, you'll emerge in an enclosed private pool area that puts you next to the beach. An incredible pool-side cabana includes a kitchenette, family room, and full bath.
---
8.

174 Via Del Lago, Palm Beach, FL 33480
| | |
| --- | --- |
| Sold Price | $57,000,000 |
| Size (Sq. Ft.) | 18,554 |
| Year Built | 1934 |
This estate, constructed in 1934, has received all the necessary care to keep it contemporary without losing its authenticity. The gargantuan 9-bedroom waterfront compound sold for $57 million in 2021.
The 18,000-square-foot mansion accounts for every possible luxury. Indoor highlights include a library, movie theater, gym, spa, and sauna.
Outdoor landscaping and hardscaping are as magnificent as you can find among Florida's most expensive homes. Numerous terraces, gorgeous koi ponds, bridges, and an inground pool facing the beach are only a few of the astonishing details that complete the 3-acre beachfront property.
---
9.

382 S Beach Rd, Hobe Sound, FL 33455
| | |
| --- | --- |
| Sold Price | $55,095,000 |
| Size (Sq. Ft.) | 26,234 |
| Year Built | 2020 |
Dubbed "Tranquility," this gigantic 26,000-square-foot mansion sitting on over 8 acres of land has every amenity one could need for ultimate relaxation. Pro golfer Greg Norman purchased the home in 1991 for $4.9 million. He rebuilt the main structures and renovated the rest of the property in 2020, allowing him to sell it for over $55 million the following year.
The 10-bedroom mansion boasts a fitness center, movie theater, bar, gourmet kitchen, lounge, and wine cellar. Among the gorgeously manicured landscaping, the property features an inground pool, 12-space garage, tennis court, and, of course, the obligatory private beach.

Conclusion
A seemingly endless offering of personal paradises is the main draw of Florida and the primary reason its real estate commands such high prices. The homes themselves are pure magnificence. Whether it's an ultra-modern new build or a classic early 1900s mansion, the most expensive homes in Florida are some of the finest you can find in the U.S. and beyond.
---
Featured Image Credit: Piqsels