Nest Floodlight Camera Review 2023 – Pros, Cons & Final Verdict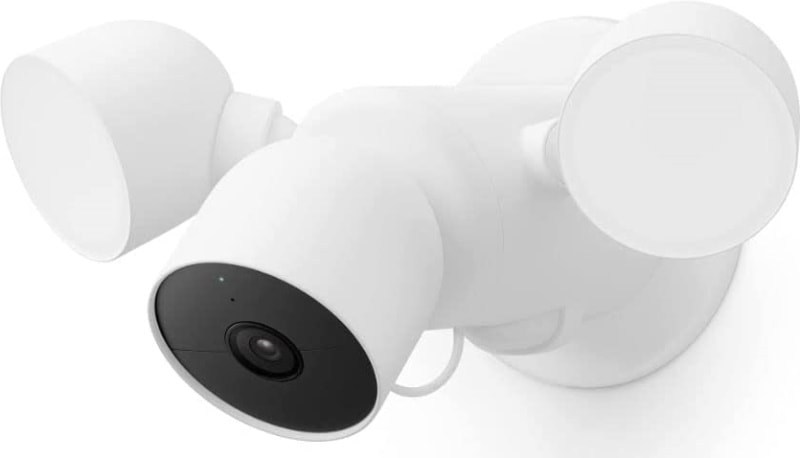 Review Summary
Our Final Verdict
We give Nest Floodlight Camera a rating of 4.1 out of 5 stars.
Price: 1/5
Software: 4/5
Camera Quality: 5/5
Floodlight: 5/5
The Nest Floodlight Camera is a lot like its competitors. It's simply an outdoor camera with a light attached that automatically comes on when the camera senses movement. Simply put, it's an outdoor camera and a floodlight put together. This sort of camera isn't hard to find these days, as just about every big-name security camera company has one.
The Nest Floodlight Camera stands out from the pack for a few different reasons, though. It has a minimalistic modern design and decent picture quality. It also has most of the features you'd expect from one of these cameras. The floodlight works extremely well.
However, the camera also stands out because it is extremely expensive. There are other cameras like it on the market and most of them are significantly cheaper. Plus, many of this camera's features require a subscription to Nest. If you don't already have a subscription, this can push up the price considerably.
Furthermore, the camera requires wired installation. Therefore, you often have to have a professional install it unless you already have a floodlight outside.

Nest Floodlight Camera – A Quick Look
Specifications
| | |
| --- | --- |
| Placement: | Outdoors |
| Power: | Wired |
| Subscription Required: | Yes |
| Weight: | 3.45 pounds |
| Batteries: | 2 Lithium-Ion batteries |
Pros
Modern design
Decent picture quality
Great features
Fully functioning floodlight
Simple to use
Cons
Expensive
Requires wired installation
Many features require a subscription

Nest Floodlight Camera – The Details
Camera Quality
The camera on this floodlight is basically a base Nest Cam. Luckily, these cameras perform fairly well and have great reviews. The smart alerts are able to distinguish between people, animals, and vehicles with pretty good accuracy. You can set up activity zones, and everything is processed on the camera (not on a server somewhere, allowing it to work without connectivity).
However, the whole Nest system is quite expensive, and the Nest Floodlight is no different. While this camera is high-quality, you can get the same thing for cheaper from other brands.
Price
This camera is expensive. There is no getting around it. While the camera has great features, the price is high for what it is. You can purchase a small, $10 floodlight clip-on for outdoor cameras. While they aren't as good, they are far less expensive.
Furthermore, you have to purchase a subscription to make the most out of this camera. This subscription is pretty cheap, but it still requires a monthly payment that can add up over time. Therefore, keep this in mind when determining the true cost of this camera.
Plus, if you aren't a DIYer or have a functioning floodlight already, you'll have to have a professional take care of this installation project. The camera requires being directly wired into your home. Sometimes, you can do this through an existing floodlight with minimum difficulty. However, even this isn't often a walk in the park. You'll also have to permanently alter the outside of your home in some cases.
Aesthetics
The aesthetics of this camera are a bit strange. It is obviously made to look a bit more modern than other cameras out there. It also comes in a pretty unoffensive white. However, the modern aesthetics can easily stick out in older homes in the wrong way. Therefore, the camera really only works well on homes that are already designed to be a bit modern.
FAQ's on the Nest Floodlight Camera
What is the length of the power cable provided with the Nest Floodlight camera?
The power cable is 25 feet long. Remember, this device must be wired directly into your home, which can be a bit complicated.
What size drill bit is needed to feed the power wire through the well?
Currently, the camera required a 7/8" hole for the wires.
Does this record locally or do I have to subscribe to a cloud account?
For anything to be recorded, you must subscribe to a cloud account. Otherwise, you can only log in and view it in real time. Therefore, while the subscription isn't technically necessary, it is needed if you want much functionality out of the camera.
What is the max temperature rating?
Currently, the max temperature rating is 104 degrees Fahrenheit. Therefore, the camera is able to withstand the heat in most areas. However, if the sun is directly on the camera, you can imagine that it may get pretty hot. Plus, in the summer, it may get hotter than this maximum in some areas.

What the Users Say
Nest is a very popular camera system. Therefore, there are plenty of reviews to look at. Most of the time, the reviews are fairly positive to very positive, with few downsides mentioned. However, the most obvious downside is that this camera is extremely expensive. Many people mentioned that the value just isn't there. For the price, it should be much better than the competition, and it really isn't. Many people are disappointed that each camera requires a separate subscription, which only adds to the price.
There were also some disappointments with the software. For instance, the Nest cameras can detect people with facial recognition. However, you cannot turn off alerts for certain people (like yourself). Some others were disappointed specifically with the app, which has some hiccups with each update.

Conclusion
The Nest Floodlight Camera is pretty high-quality and it works. It spots people, animals, and vehicles when they pop up, and it turns on the floodlight when these alerts occur. However, it is fairly expensive for what it does, and you need a subscription to get the most functionality out of it. The cost is this camera's main downside, though the fact that it needs to be wired into the home is often cited as an issue too.
Either way, this device works great if you can get around the cost.
---
Featured Image Credit: Nest Cam, Amazon