Ring Floodlight Camera Review 2023 – Pros, Cons & Final Verdict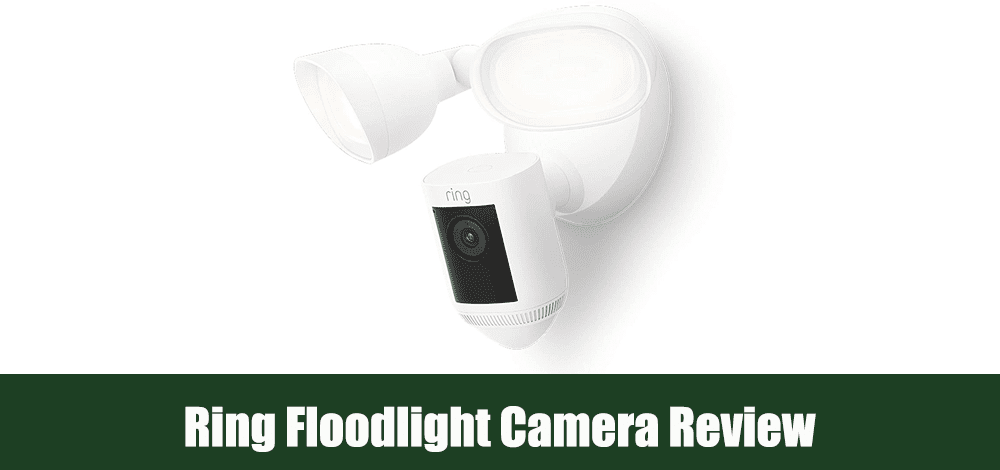 Review Summary
Our Final Verdict
We give Ring Floodlight Camera a rating of 4.7 out of 5 stars.
Editor Rating: 4.7/5
Price: 4/5
Ease of Use: 4.5/5
Camera Quality: 4.9/5
Feature: 4.8/5
Ring has taken the security camera market by storm. Most people know them for their innovative doorbell cameras that provide peace of mind and viral videos on a regular basis. However, Ring also makes other types of outdoor security lighting. The Ring Floodlight Camera is a robust and versatile security camera that comes loaded with a ton of neat features. The Ring Floodlight Camera can be swapped with any existing outdoor lighting fixture as long as it contains a junction box. Once installed, this camera provides HD quality video, audio, night vision, and floodlight protection. If you can come to terms with the price and feel comfortable installing this type of camera yourself, you can get an excellent deal.
However, there are some niggles that might get in the way of some people's satisfaction. It does require installation utilizing hard-wired fixtures. It also requires a monthly (or yearly) subscription to get the most functionality out of the unit. Paying a monthly fee and struggling with installation might be enough to turn some people off of the Ring Floodlight Camera. But if you can get it installed and are looking for one of the sharpest floodlight cameras around, there is a lot to love here.

Ring Floodlight Camera – A Quick Look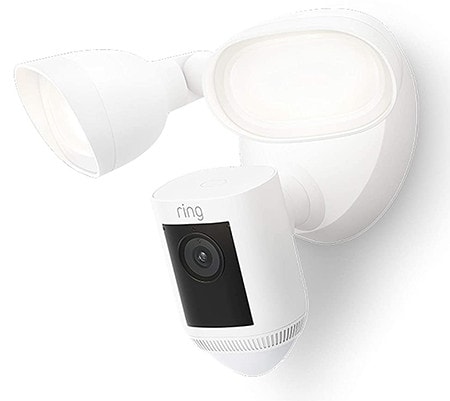 Specifications
| | |
| --- | --- |
| Video Resolution: | 1080p |
| Field of View: | 140 Degrees Horizontal, 80 Degrees Vertical |
| Motion Detection: | 3D, 270-degree radius |
| Floodlight Brightness: | 2000 lumens |
| Siren Volume: | 110db |
| Power: | (100-240V) |
| Wi-Fi Connectivity: | Yes |
| Temperature Range: | -5°F to 118°F |
| Weather Resistant: | Yes |
| Dimensions: 1 | 12.82 in x 7.77 in x 8.5 in |
| Warranty: | 1-year limited |
Pros
Excellent camera quality
Bright floodlights
Alexa capability, siren, two-way talk, and motion detection are all included
Fairly easy to install
Check your camera on the go
Cons
No battery backup
Some features locked behind a subscription

Ring Floodlight Camera – The Details
Excellent Camera Quality and Light Level
One of the best features of this floodlight camera is the camera quality. The camera provides high quality images in 1080p, which is considered high definition. Images are sharp and clear. Details like faces, license plates, and vehicle models are easily discerned at a glance. The camera works extremely well during the daytime and during the darkest hours of the night.
At night, the motion detector in this unit will kick on the floodlights. The floodlights provide ample amounts of light. The light works to help the camera pick up details of what is going on. The light can also help you see with your own eyes what is happening outside. The bright light is also excellent at deterring criminals or animals from coming too close to your home. Together, the camera and the floodlights provide tons of protection, deterrent power, and details to help you keep your home as safe as possible.
Plenty of Extra Features Included
Some floodlight cameras just include a light and a camera. That works for some people, but it leaves a lot to be desired. The Ring Floodlight Camera includes an HD camera and bright floodlights, but it also includes a whole lot more. This camera also includes a siren that you can activate from your phone if you see something happening that you do not like. The siren is loud and piercing and will quickly scare off criminals and animals. It includes a two-way voice system which allows you to talk to people on the other end and hear what they are saying. This can be good for talking to visitors, delivery drivers, or people who might be lost. It also has motion detection capabilities, wireless connectivity, and the option to be integrated into multiple devices.
These features are all excellent, add a lot of value, and work well. Many cameras on the market do not have all of these additional features.
Alexa Integrated
You can integrate your Ring Floodlight Camera with your Alexa system. You can connect your in-home Alexa or the Alexa on your phone or even in your car to your Ring camera. This allows you to get access to your camera with the press of a button. Alexa can give you alerts on your phone, Amazon Echo, Echo Show, FireTV, and more. That means even if you do not have your phone nearby, you can still get alerts from your security camera. Alexa integration will work well for anyone who likes to use Amazon's key features on a regular basis. It can also help with ease of use and peace of mind for families or people with kids who might not have a phone to get alerts about what is going on outside.
Safety On a Subscription
One of the downsides is that some of the best safety features are locked behind a paywall. In order to get access to databases, old footage, and police response, you need to pay for a Ring Protection Plan. On the one hand, many security systems have a subscription service attached to them. On the other hand, it is frustrating to have some key features locked behind a subscription service.
No Backup Battery
Another problem with this product is the fact that it does not include a battery backup system. That means if the power is out, your camera is not running. Sometimes thieves like to take advantage of a power outage or blackout, and if that is the case, you will not have any evidence on your camera because your camera will be off like everything else.
FAQ on the Ring Floodlight Camera
Is the Ring Floodlight Camera Easy to Install?
Yes. For a hardwired piece of equipment, the Ring Floodlight Camera is easy to install. You should have a basic understanding of low voltage wiring to attempt to install it yourself. This camera requires a junction box and two wires for installation. If you are not comfortable installing a live wire unit, you can have a local electrician install it. Since the mechanism is simple, the installation cost should be affordable if you opt to have a professional do it for you.
Can You Use the Ring Floodlight Camera Without the Subscription?
Yes. You can use the camera without a subscription. However, you will not get the added benefits that the subscription offers. Without the subscription, you will still be able to view your camera's live feed, use the two-way communicator and get the benefits of the motion detector and flood light. You will not be able to use all of Alexa's functionality, and you will not be able to save months of backup footage without the subscription.
You can read more about Ring Protect Plans here.
Does This Camera Have Useful Night Vision?
Yes, this camera has night vision. Most of the time, if your floodlights are on, your camera will pick up movement in regular light thanks to the brightness of the floodlights. The night vision quality is good, and the images are easy to make out. Like all night vision, not all details are as sharp as they are during daylight hours. If you are worried about not being able to see at night, you will be able to.
How Bright Are the Floodlights?
There are two lights on this unit, and each light puts out 2000 lumens. That is double the brightness of a typical light bulb. The total light output is 4000 lumens. That is more than enough light to brighten up a dark driveway or deter people from coming too close to your house.
What Users Say
Users absolutely love the Ring Floodlight Camera. This is one of the most highly rated floodlight cameras on the Internet. Most users praise the image quality, motion sensors, and durability of this floodlight camera. It does everything that it advertises and is easy to use.
The biggest gripe that people had was the installation. This unit requires a junction box. If you try to install it in a spot without an existing junction box, you are going to run into trouble. The Ring Floodlight Camera is also a little pricey compared to similar products online.
The vast majority of reviews are either 4-star or 5-star reviews filled with effusive praise for this product.
Conclusion
The Ring Floodlight Camera takes camera quality, bright security lights, and deterrent features and merges them all into one. The resulting product is fantastic. It provides peace of mind and sharp images and can be used in a variety of ways. Whether you are deterring crime, deterring animals, or want to keep an eye on your packages and deliveries, this camera will work. All it takes is a little installation and some planning, and before you know it you will be on your way to greater security and peace of mind.
See also: How to Install Ring Floodlight Cam — 6 Simple Steps