13 Clever and Creative RV Organization Ideas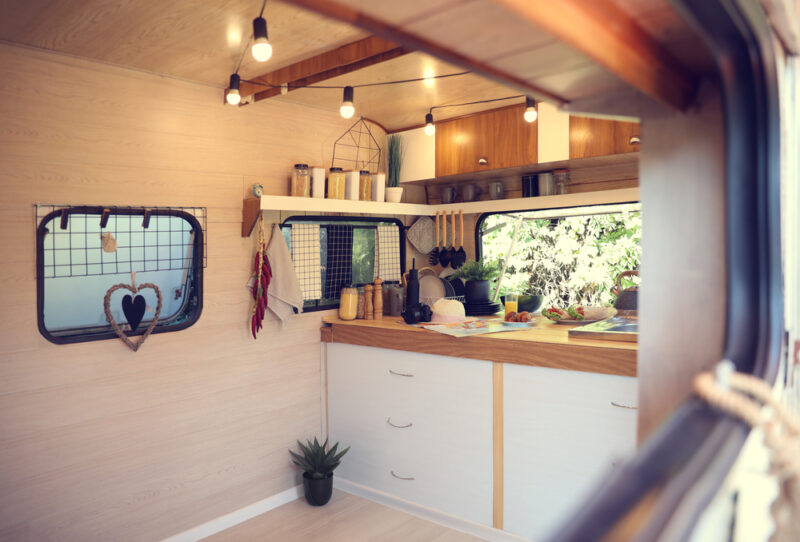 RVs are mobile, freeing, and convenient. They can also be cramped, and the key to an enjoyable and successful RV vacation is ensuring that you use every bit of space available. You may be limited as to where you can screw and hammer because you typically won't be able to screw directly into the RV walls, but everything needs to be securely fastened so it doesn't fly around your living space while you're on the move.
You may have to adapt a few items, and even get handy with the power tools and suction hooks, but, below, we have included 13 clever and creative RV organization ideas to help you make the most of the space you have.

The 13 Clever and Creative RV Organization Ideas
1.

Stovetop Counter by The Southern Glamper by Southern Glamper
| | |
| --- | --- |
| Needed: | Wood boards, handles, screws, drill, sandpaper |
| Difficulty: | Moderate |
Kitchen space really comes at a premium in an RV. In a small area, you have to fit counters, cupboards, a cooker, and a fridge, at least. If you also have a microwave and kettle, it quickly takes up valuable countertop workspace. But this stovetop counter, which can be modified and adjusted according to the exact measurements of your kitchen, means that you can use the stovetop for cutting and preparation before you start the cooking. It's relatively easy to make and the wood will withstand regular use.
---
2.

DIY Over Door Storage by A Daily Something
| | |
| --- | --- |
| Needed: | Pegboard, wire baskets, rope, over-the-door hooks |
| Difficulty: | Moderate |
RV organization really is about making the most of every inch of space you have, and the backs of doors are a prime example of under-utilized storage space. This DIY over-door storage unit can be customized according to what you need to store and will hang over any standard door. Add more pegboards to hang tools or more baskets for other items. The over-door storage unit is easy to make, and you can have them in every room.
---
3.

Under Cabinet Storage Trays by Wood Magazine
| | |
| --- | --- |
| Needed: | Plywood, dowel, latches, hinges, screws |
| Difficulty: | Moderate |
There really aren't too many surfaces you can screw into or fasten to, in an RV, but you should be able to make and install these under-cabinet storage trays in your kitchen area. Add them under the cupboards to store light and awkward items like spices and you can enjoy order while also saving cupboard or worktop space that would normally be taken up by countless spice jars.
---
4.

Under Cabinet Drawers by Family Handy Man
| | |
| --- | --- |
| Needed: | Saw, drill, nail gun, 1 x 4 pine, drawer slides, 1 x 6 maple, plywood |
| Difficulty: | Moderate |
Alternatively, if you have a lot of clearance under the bottom units or any cupboards in your RV, these toe-kick drawers sit under the base cabinet. They're easier to make than you might expect, and they let you turn otherwise useless space into somewhere that can be used to stow shoes, tools, bedding, or virtually any other item. They also mean that you won't need to clean under the cupboards anymore.
---
5.

Macrame Kitchen Hammock by Corries Collection
| | |
| --- | --- |
| Needed: | Wooden dowel, rope, hooks |
| Difficulty: | Moderate |
If you don't want or need drawers or trays under your kitchen units, an alternative is this macrame kitchen hammock. It is especially ideal for fruit storage but could hold coffee and tea or other items. You do need some macrame skills, of course, but otherwise, the only DIY skills you need are general hook screwing abilities.
---
6.

Bathroom Shower and Tub Storage by Crazy DIY Mom
| | |
| --- | --- |
| Needed: | Show curtain rod, shower curtain rings, baskets |
| Difficulty: | Easy |
Tension rods are a convenient way to hang shower curtains, but they can also be used to add storage to your shower area. You won't have to look at the bottles of shampoo and conditioner on the floor of the shower tray anymore. The most difficult aspect of this bathroom shower storage project is likely to be finding appropriate baskets with metal hooks to hang them on the rod.
---
7.

DIY Shower Organizer by An Exercise In Frugality
| | |
| --- | --- |
| Needed: | Ikea spice racks, screws, caulk |
| Difficulty: | Easy |
Ikea has a lot of space-saving appliances and fittings, and there is a whole community of people that have found hacks and ways to use their products for purposes other than originally intended. Using Ikea spice racks, you can even create your own DIY shower organizer shelves to hold bottles, soap, cloths, and more.
---
8.

2 x 4 Scrap Wood Shower Organizer by Ana-White
| | |
| --- | --- |
| Needed: | 2 x 4 scrap wood, waterproof stain, screws |
| Difficulty: | Moderate |
This 2 x 4 scrap wood shower organizer uses scrap pieces of 2 x 4 wood, although you can pick up new 2 x 4 wood for relatively little money. Because it's a corner piece, it takes up very little room and doesn't detract from the space you have in the shower, but the wood does need treatment to ensure that it is waterproof and won't warp or become moldy.
---
9.

DIY Shower Caddy by DIY Dunn
| | |
| --- | --- |
| Needed: | 1 x 2 wood, screws, glue, stain |
| Difficulty: | Moderate |
The DIY shower caddy is even smaller than the organizer above but still big enough to hold the shower essentials. You can carry it into and out of the shower as needed, but it will need to be treated if it is going to get wet. The caddy is pretty easy to make but is a little fussier than some of the other projects, so you will benefit from using clamps to hold the wood while the glue sets.
---
10.

DIY Sliding Wood Crate Storage by Fix This Build That
| | |
| --- | --- |
| Needed: | Pallets, screws |
| Difficulty: | Moderate |
Pallets are a great source of wood. They can be picked up relatively cheap, or even for free, and as long as you are careful about the pallets you choose, the wood can still have a lot of life left in it. If you have problems with a small closet in your RV, this DIY sliding wood crate storage plan will help you better utilize the space and provide more storage for clothes and essentials.
---
11.

Bathroom Vanity Sliding Shelf by Interior Frugalista
| | |
| --- | --- |
| Needed: | Particle board, 2 x 2 wood, drawer slides, screws |
| Difficulty: | Moderate |
The cupboard under the sink is, at best, a black hole that is nigh impossible to keep in good order and, at worst, a potential health hazard. If you keep a lot of stuff under the sink and want easier access to it, then building your own storage solution is ideal. You can customize the plans according to the space you have and the types of items you store under there, and by using this bathroom vanity sliding shelf plan as a guide, you can have storage that conveniently slides in and out so that you can easily access everything.
---
12.

Wine Bottle Rack Towel Holder by Buzzfeed
| | |
| --- | --- |
| Needed: | Wine bottle rack, screws |
| Difficulty: | Easy |
Wine bottle racks are, generally, used to hold bottles of wine, but they are essentially just racks with convenient dividers and sections. Those sections can just as easily hold rolled up or folded towels, as one example, and because towels are so much lighter than wine bottles, something like this wine bottle rack towel holder provides ample storage for your needs.
---
13.

Tension Bar Shelf
| | |
| --- | --- |
| Needed: | Show rail tension bars, light baskets |
| Difficulty: | Easy |
Shower rail tension bars really are handy, and they can negate the need to have to screw into walls and other surfaces when hanging them. This tension bar shelf benefits from that feature and is a great way to add more organization to a wardrobe or cupboard in your RV.

Conclusion
There are a lot of benefits to owning an RV, but to enjoy the mobility and freedom that they offer, you do usually have to sacrifice a little space and living convenience. However, by making the most of the space you do have in your mobile home and using a few creative design tips, you can get better organized and enjoy more space. Whether you need more kitchen storage or bathroom organization, the tips above should help.
---
Featured Image Credit: New Africa, Shutterstock