Thermacell Mosquito Repellent Review (2023 Update): Pros, Cons, FAQ & Verdict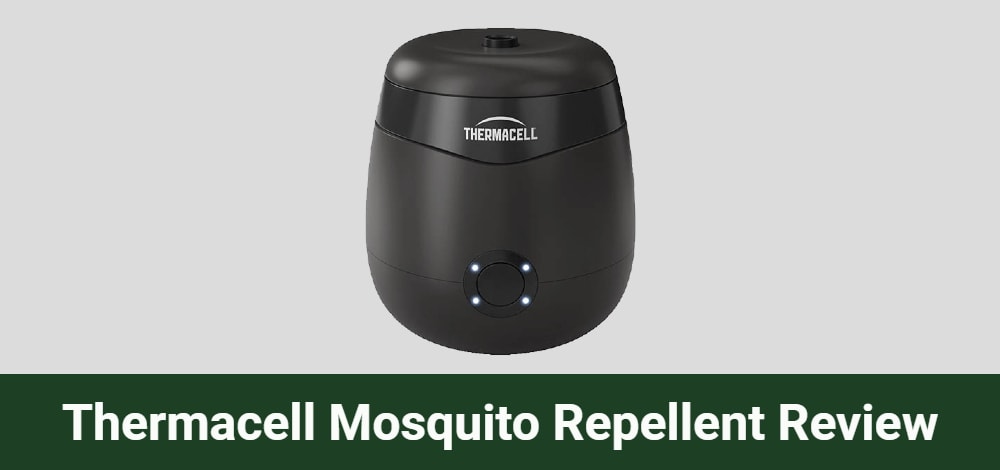 Review Summary
Our Final Verdict
We give Thermacell Mosquito Repellent Review a rating of 4.5 out of 5 stars. 
Build Quality: 4.8/5
Effectiveness: 4.7/5
Battery Power: 4.0/5
Features: 4.4/5
Price: 4.3/5
What's your preferred method for handling mosquitoes around the pool and patio? Regardless of what you choose, it always seems you have to accept some discomfort to get rid of these persistent biters. Between the sticky stink of DEET-filled sprays and the odorous burn of citronella candles, it doesn't seem like any option gives you an incredible experience.
Then there's the Thermacell E55, a modern solution from the brand re-writing the book on effective mosquito control. The small rechargeable appliance is roughly the size of a portable speaker with a similarly sleek design. Place it nearby, turn it on, and the pack starts repelling mosquitoes within a radius of up to 20 feet wide.
There's no uncomfortable spray, smoky fumes, or smelly candles. And unlike gimmicky pseudo-solutions like bug zappers and ultrasonic emitters, there's plenty of scientific support for its effectiveness. Let's explore the E55 to see if it's the fix for your backyard mosquito problem.

Thermacell Mosquito Repellent – A Quick Look
Pros
Scent-free and smoke-free for complete comfort
Rechargeable battery lets you take it anywhere
Lightweight and small for easy transport
Fan-less design offers ultra-quiet operation
2-year warranty, upgradable to 3 years
Cons
Effectiveness decreases with wind
Instruction manual can be unclear
Refills can be pricey
Specifications
| | |
| --- | --- |
| Brand name: | Thermacell |
| Model: | E55 |
| Dimensions: | 4" x 4" x 6" |
| Weight: | 0.8 lbs. |
| Colors: | Black, blue, royal blue |
| Power Source: | Rechargeable lithium-ion battery (micro USB charging) |
| Active Ingredient: | Metofluthrin |
Effective Range
Thermacell advertises the E55's protection zone as 20 feet, but it's unlikely to offer that range in most cases. After warming up for several minutes, the heated packet releases the repellent into the air. The LED light configuration around the power button will light up in sequence and then stay lit, indicating it's ready.
The problem is that the slightest breeze can carry the repellent. Outside air is almost always on the move, so the range will likely be closer to 10–15 feet. You can't expect to venture too far from the patio, but it's still a much broader range than most other mosquito repellent options.
Battery
The E55 is one of the more short-lived rechargeable Thermacell systems. The advertised 5.5-hour battery life is sufficient for a night on the back deck, but it will likely need recharges daily. You can also upgrade to the E90, a similar unit with a 9-hour battery life.
While in use, the unit gives you audio and LED cues to let you know that it's working or if it's low on battery. The alerts are vital in most cases because the machine is pleasantly silent, making you forget it's there sometimes.
Unfortunately, the charge time is roughly the same as the longevity. If it's dead, you'll need to give it 4–5 hours to charge completely, so plan its use well in advance. For camping, charge the E55 before you go, and bring a power bank along on the trip. The included micro-USB cord lets you plug it into an outlet adapter or another portable power source.
Repellent Packs
The E55 comes with a 12-hour repellent refill cartridge. Setting it up couldn't be easier, taking all of 30 seconds to complete. Take the cap off of the refill, open the magnetic top of the unit, drop the refill in, close the lid, and turn it on. After 15 minutes of operating, the mosquito-free area will be ready for people.
While the packs outlast the battery, they aren't rechargeable, so you'll need to stay on top of your supply. The price of refills is a common complaint about the E55, but you stand to save by buying larger packs or buying in bulk. Thermacell offers single packs with up to 40 hours of repellency built in, so buying a single three-piece value pack (120 hours of protection) could conceivably last an entire season, depending on your habits.

FAQ
Is Metofluthrin Hazardous to Your Health?
Metofluthrin is a pyrethroid, a synthetic insecticidal compound based on pyrethrum. Pyrethrum is an organic compound in Chrysanthemum flowers. With low toxicity, the metofluthrin in the Thermacell E55 will not present any risk to people, pets, or the environment when used correctly. Only use the product outdoors and follow the manufacturer's use instructions.
What is the Product Warranty?
The E55 may be low-priced, but Thermacell stands by it with a 2-year warranty. If you register the product, you can even tack on an extra year of coverage. The support offers peace of mind, and if the unit fizzles early and only lasts as long as the warranty, you can still say you got your money's worth.
What the Users Say
Customers love Thermacell's systems as the long-awaited solution to their mosquito woes.
Regarding the E55, many people noticed the effect of a breeze, even remarking it's useless when it's extra windy. Many find the range inadequate for large patios and recommend adding additional overlapping units. But when they're in the effective zone, customers are amazed at how powerful the product is at repelling mosquitoes without affecting their comfort.
Along with its effectiveness, customers give solid marks for ease of use and customer service. Many users find Thermacell manages defective products and warranty claims with urgency and understanding in a hassle-free process.

Conclusion
The Thermacell E55 is an affordable, portable, and, most importantly, highly effective mosquito repeller. It creates a wide protection zone without irritating the senses. It's so discreet that you'd likely forget it was even there if it didn't give you helpful audio reminders. If you're tired of the feeling of sprays on your skin or the nerve-inducing flame of a candle or torch, the E55 could be the perfect solution, and with Thermacell's exceptional customer service, the purchase is as low-risk as possible.