Toyota Rav4 vs Subaru Forester: Pros, Cons, & Differences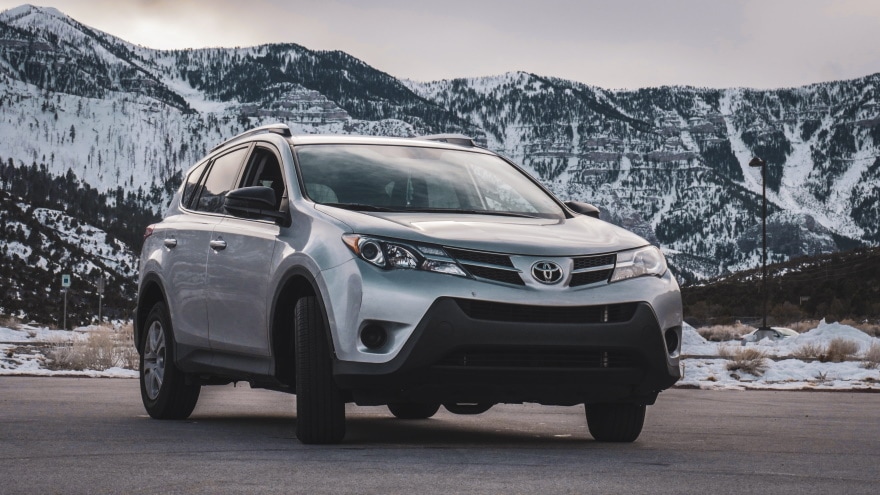 The compact SUV is one of the most versatile vehicles for small families, ticking off crucial criteria in spaciousness, cargo area, and fuel economy. Bolstered by Toyota and Subaru's trademarks of safety and reliability, the RAV4 and Forester have been essential players in the compact category for nearly three decades.
The lineups bring something new to both SUVs, and each one takes distinct design directions. The RAV4 tries to please everyone with its vast selection of gas and hybrid models built for eco-conscious parents, off-road explorers, and anyone wanting something efficient and dependable. The Forester follows the same reliability trend but digs its heels deeper into off-road control and safety. Find out which SUV makes sense for your next fuel-efficient family vehicle.

At a Glance
Toyota RAV4
Engine: 2.5L 4-cylinder
HP/Torque: 203/184 ft-lb
Transmission: 8-speed automatic; Hybrid eCVT
MPG: 27 city/35 highway; Hybrid 41 city/38 highway
Tow rating: 1,500–3,500 lbs.
Subaru Forester
Engine: 2.5L 4-cylinder
HP/Torque: 182/176 ft-lb
Transmission: CVT
MPG: 26 city/33 highway
Tow rating: 1,500 lbs.

Toyota RAV4 Overview
As with many Toyota lines, the array of choices is a massive benefit when you're considering the RAV4. It's roomy and smooth, a pleasure to drive whether you're taking the LE model through town or the Adventure model off-road. A broad array of hybrids to match gas models means you can get incredible fuel efficiency with any number of features.
Toyota Highlander Models
LE
Hybrid LE
XLE
Hybrid XLE
Adventure
Hybrid SE
XLE Premium
Hybrid XLE Premium
TRD Off-Road
Hybrid XSE
Limited
Hybrid Limited
Prime SE
Prime XSE
Comfort and Entertainment
A family of four will find the RAV4 is spacious in any seat. The driver's seat is comfortable, but taller individuals may find the adjustability range inadequate. Passengers have limited adjustability on their side as well. Those seats tend to sit high, although upgrading to the Limited gives you power adjustability. There's no leather option with the RAV4, but the SofTex upgrade starting with the Adventure model is a worthy substitute.
Backseats give you more legroom than the previous RAV4s, but the basic package offers very few perks. The LE gives you lackluster materials in the seating and steering wheel, and the single-zone climate control steals A/C and heat from backseat passengers. All trims offer ample cubby space, and the fold-down seats and low cargo area provide maxed-out storage space.
The control layout is intuitive and features a smart blend of digital and traditional controls. The interface is dated and uninspiring, but the functionality is up-to-speed with today's technology. Base models offer a 7-inch touchscreen, while the XLE models and above offer a 9-inch upgrade.
Every model comes standard with a wi-fi hotspot and compatibility with Amazon Alexa, Android Auto, and Apple CarPlay. Although the LE only features one USB port, every subsequent model includes not only five additional USBs but also an optional wireless phone charging station.
Safety
New RAV4s come with a 1-year subscription to SafetyConnect, a service that delivers roadside assistance, stolen vehicle location, and automatic collision notification.
Every RAV4 also comes with Toyota Safety Sense 2.5+, which includes:
Adaptive cruise control
Lane departure warning and lane-keep assist
Automatic high beams
Pre-collision system with pedestrian detection
Road sign assist
Blind-spot monitoring with rear cross-traffic alert is optional on LE models, but it comes standard with all others.
Performance and Fuel Economy
There's something for everyone in Toyota's RAV4 lineup, whether you're keeping to the road or adventuring off of it. The RAV4's sportiest editions in the Adventure and TRD Off-Road may not keep up with the Wrangler or 4Runner, but upgraded traction control and downhill assist options make driving a snap in adverse conditions. With an 8-speed transmission, the ride is smooth and even quiet despite the occasionally loud 4-cylinder.
The gas versions of the LE, XLE, and Limited models all come standard with front-wheel drive and have a roughly $1,400 AWD upgrade, which is well worth it for the added performance. Fuel economy slips from 30 mpg combined to 28 mpg combined when you make the upgrade. Going with the hybrid, there is no compromise, as you get 40 mpg combined with standard AWD.
Pros
Quiet and comfortable ride
Generous standard safety and driver-assist features
Excellent cubby and cargo storage
Roomier passenger seating than previous iterations
Good fuel economy
Federal and state tax credits available for RAV4 Prime
Cons
Underwhelming base model
Poor acceleration

Subaru Forester Overview
The Subaru Forester takes a different direction than the RAV4, opting for more off-road performance, but it suffers from the same setbacks as its Toyota rival. A rugged exterior, especially on the new Wilderness model, and standard AWD make it clear who Subaru is trying to entice. It has nice features and superior stylings in some regards, but limited power is a substantial drawback.
Subaru Forester Models
Forester (base)
Premium
Sport
Limited
Wilderness
Touring
Comfort and Entertainment
Seating is spacious in the front and back of the Forester, and the high driver seat height should please people who like the traditional SUV driving sensation. Like the RAV4, the best features on the Forester start popping up after the base model, including rear seat ventilation, reclining rear seatbacks, power-adjustable and heated front seats, and a power moonroof.
Entertainment options include a 6.5" infotainment screen, Apple CarPlay, and Android Auto with a 4-speaker sound system and dual front USB inputs. Standard upgrades starting with the Premium include six speakers, onboard wi-fi, and dual rear USBs, and you have an optional Harmon Kardon system on the Sport on up. The Sport also offers an optional 8" screen, which is standard on every subsequent upgrade.
Safety
Subaru includes its EyeSight 4.0 features on all Forester models.
The package includes advanced driver assistance systems, such as:
Pre-collision braking system and throttle management
Lane departure warning and lane-keep assist
Adaptive cruise control
Lane centering
Automatic high beams
All Foresters come standard with a rear-seat reminder as well. Blind-spot warning with lane-change assist and rear-cross traffic monitoring is optional on the Premium and standard on all upgrades. Reverse automatic braking is an available upgrade on the Sport and Limited and standard on the Wilderness and Touring. The Touring also includes a DriverFocus monitoring system, which alerts distracted or fatigued drivers to pay attention to the road.
Performance and Fuel Economy
The Forester uses a continuously variable transmission for improved fuel efficiency (29 mpg combined), and it pairs with a naturally aspirated engine for a comfortable and reliable ride. The acceleration, while smooth, is a weak point, with most models taking well over 8 seconds to reach 60 mph.
All Subarus come with hill descent control and X-Mode, which is supposed to optimize engine output, reduce wheelspin, and improve AWD engagement to aid with traction control in varying terrain and challenging weather conditions. The Sport adds deep snow and mud settings, and the Wilderness goes even further with low speed/low ratio gradient control. Although it can be sluggish and lacking in power, a series of standard automatic traction control, steering assist, and braking functions make the Forester agile and responsive to drive nevertheless.
Pros
Smooth handling
Standard AWD
Great fuel economy
Roomy passenger and cargo space
Excellent driver-assist, safety, and traction-control features
Cons
Poor acceleration
Limited infotainment options
Low maximum tow rating

How Do They Compare?
Performance
The front-wheel-drive RAV4 offers the best combined mpg among the gas-powered Toyota and Subaru models, and the AWD upgrades hold their own compared to the Forester. It has a higher towing potential than the Forester and a similar driving feel, making the RAV4 a better value for everyday performance. Rugged terrain seekers still have an option in Toyota's offering as well, with the Adventure and Off-Road trims supplying adequate terrain management and rear-axle torque vectoring for improved control in harsh conditions.
Price and Value
The best values come in once you move past the base models in both the Forester and RAV4 lineups. With an edge in features, the Forester Sport has a justifiably higher starting price than the RAV4 XLE. But comparing the Forester Sport to the RAV4 Hybrid XLE or XLE Premium, paying a little more for the Toyota can offer either much better fuel economy and performance or improved comfort features. Either way, you'll likely find the best value for you hovering around the $30,000 mark.
Safety
The RAV4 has a 5-star NHTSA safety rating and generally positive IIHS safety marks, with the only downsides being in the IIHS side-impact rating and seat belt reminder. Interestingly, the Forester had similarly high grades, and its sole drawback was also in the side-impact ratings. The Forester takes the slight edge because of its superior NHTSA front driver crash test ratings.
Entertainment
Its display might be in desperate need of a facelift, but the infotainment packages in the RAV4 are still impressive. The Forester also supports convenient features, including NFC pairing and voice control, but the RAV4 offers Amazon Alexa, a larger upgraded display, and wireless charging.
Comfort and Storage
The Forester takes the edge in seating when you upgrade from the base model, particularly when it comes to the back seats. Meanwhile, the RAV4 takes the cargo battle when the seats are up, and with plenty of legroom to spare in the back, it offers the best blend of storage and comfort. The RAV4 has 37.6 cubic feet of cargo room when the back seats are up, a massive upgrade from Forester's 26.9 cubic feet.

What the Users Say
RAV4 drivers enjoy the roominess their SUVs offer, and many appreciate the power despite its relatively poor reviews. Comfort can be an issue, particularly for taller individuals and those driving on extended commutes. Seats have decent structures that cradle the body, but flat-feeling seat bottoms have given some people a sore back after long drives.
Taller drivers appreciate the Forester, which many say is roomier and offers excellent visibility. Although several consumers admire the smoothness of the CVT, the acceleration is a sore point, and the limited tow capacity has been noted as sufficient for a light trailer and little else.

Conclusion
Compact SUVs hit all the right high notes for parents needing ample storage space, comfort, and gas mileage for long family trips. The RAV4 and Forester may not have the best acceleration or be the most exciting rides in their class, but the intelligent array of safety and infotainment features make them both high-value options. Whichever one you choose, you'll have a dependable, safety-focused vehicle full of features to keep you and your passengers comfortable from point A to point B.
---
Featured Image Credit: Piqsels