10 Types of LED Light Bulbs (Efficiency, Pros & Cons)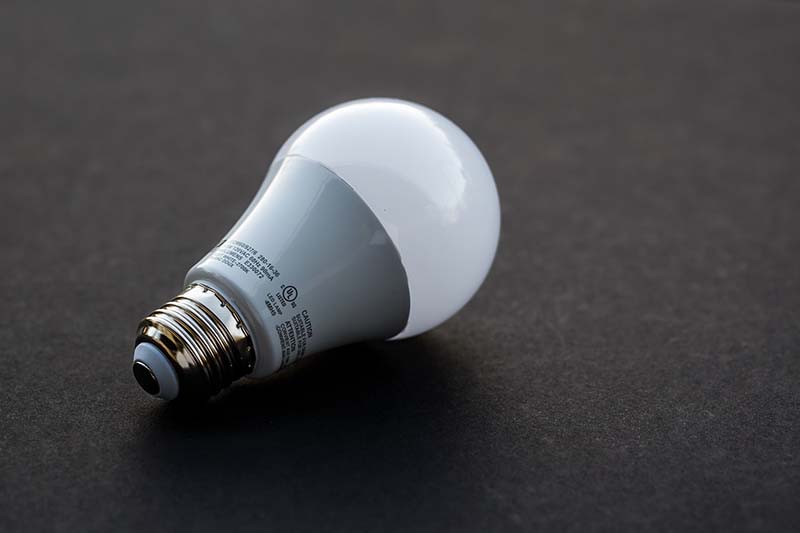 LED bulbs are everywhere these days. We have them in our night lamps, kitchen lights, and pendant fixtures. LEDs have also taken over street lights, outdoor area lighting, and car headlights. Incredibly efficient, reliable, and long-lasting, Light Emitting Diodes are practically unmatched by halogens, CFLs, and other bulbs. Yes, they are, indeed, that good.
So, how many types of LED light bulbs are out there? And which ones deserve your attention? We have the answer right here! Now, there are quite a few LED light bulb varieties available on the market. And today, we want to introduce you to the 10 most commonly used ones. Read on to learn about each in great detail and find the bulbs that suit you best.
Click below to jump ahead:

LED Light Bulb Efficiency Chart
| | |
| --- | --- |
| Average Lifespan | 20,000–50,000 hours/10–25 years |
| Common Color Temperatures | 2,000–6,000/warm–daylight |
| Luminous Efficacy | 75–100 lumens/watts |
| Energy Efficiency | Very high |
| Radiant Heat Level | Below average |
| Environmental Impact | Next to none |
The 10 Types of LED Light Bulbs
1.

Standard-Issue LED Bulbs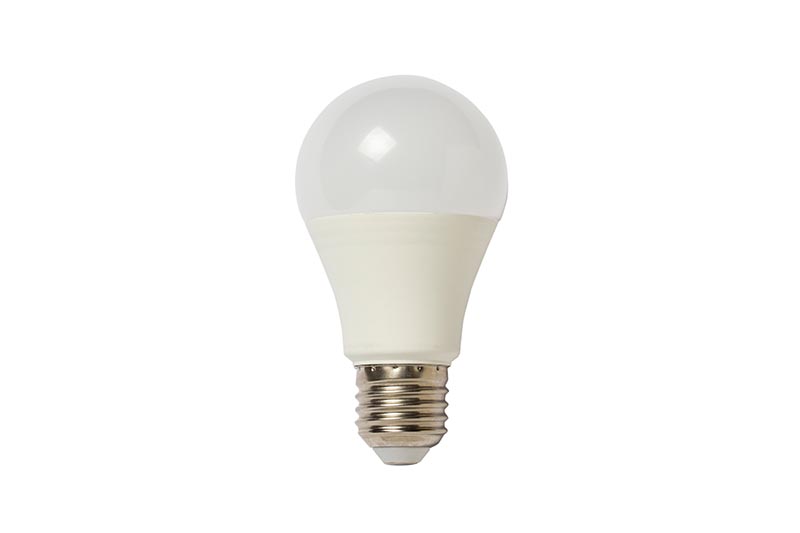 💡 Best For: Replacing CFL/Incandescent Bulbs
Back in the day, incandescent lights used to run the show. Today, they are largely replaced by LEDs. If you're looking for a set of durable, long-lasting, and, above all, highly efficient lights for your home or office, a pack of standard LED bulbs will be the best pick. Turn the power off, put the bulb into a socket, turn it clockwise, and it will do the rest!
Don't expect any extras with these LEDs, though, like color patterns, remote control, or smart home integration. Standard Light Emitting Diode light bulbs appeal to the average homeowner with ease of use and strong performance. True, incandescent or fluorescent bulbs will cost less, but they won't be nearly as efficient or last as long.
---
2.

Can/Recessed Light Bulbs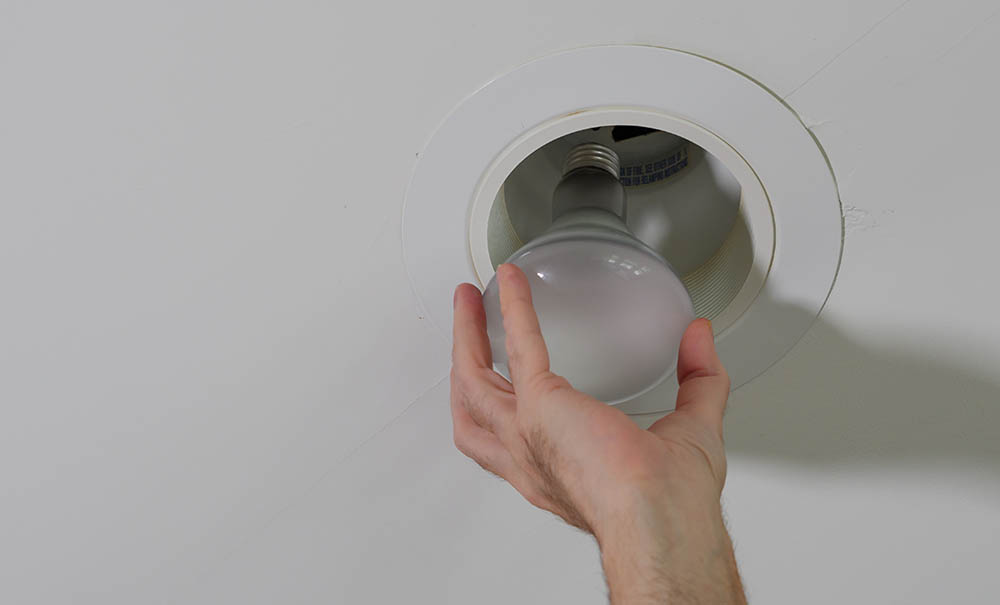 💡 Best For: Seamless Ceiling Lights
These LED bulbs are specifically designed for ceiling-mounted fixtures. We're talking about the recessed lighting sockets that are found in many modern-day homes. Recessed lights do a great job of providing direct lighting, which is perfect for kitchens and living rooms. This is achieved thanks to the reflectors built into each can LED bulb that ensure wider coverage and farther reach.
More good news: recessed lights don't "steal" the attention from the décor; instead, they complement it. Next, LED bulbs come in various shapes and sizes. They can be RGB, dimmable, and remote-controlled. Add a color temperature regulation switch (with a typical range of 2,700–5,000, warm to cool), and you'll see why recessed lights are gaining in popularity.
---
3.

Miniature LED Bulbs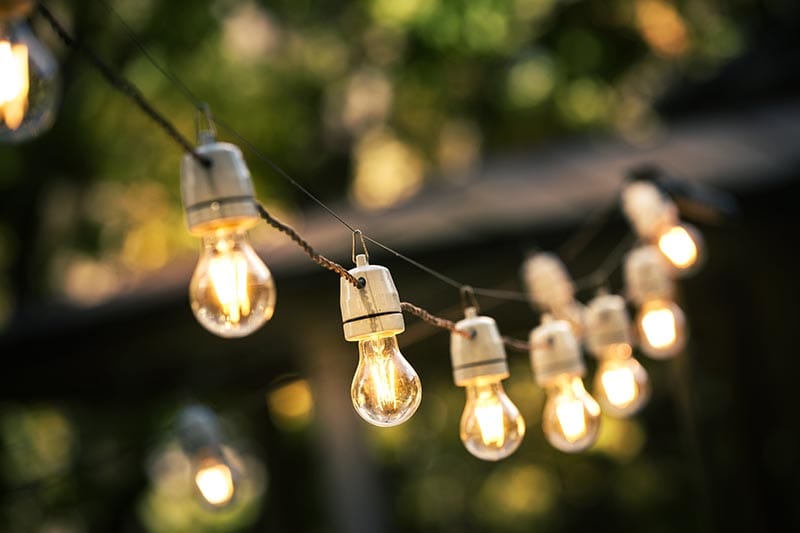 💡 Best For: Holiday Decorations
As the name suggests, miniature LED lights are the smaller version of regular-size bulbs. Common uses for these tiny lights include Smartphones, remote controls, and various audio and video devices that have a LED indicator. More importantly, miniature LEDs bulbs are perfect for decoration. Since they're mostly sold as fairy/string lights, folks often put them around the Christmas tree.
And you can use these LED bulbs to light up your kids' room, adorn the outside walls, or deck out the roof to summon the holiday spirit. Miniature lights are available in many different styles, so take a moment to scroll through them all to find the ones that fit your needs best. Red, green, and blue go especially well with Christmas decorations.
---
4.

Edison/Filament LED Bulbs
💡 Best For: Creating Vintage Vibes
If you're a big fan of vintage stuff, we bet you'll find the appeal in filament LED lights. In many ways, they are the same as the standard Light Emitting Diode bulbs. They do, however, look different and resemble the iconic Edison bulbs (yes, hence the name). When in use, filament LEDs leave off a lovely golden glow. It's much warmer than the blue, cold vibes that we're used to in modern-day lights.
And, much like most LED lights, the Edison bulbs are sold in different sizes, shapes, and designs. You can opt for golf balls, candles, or any other style that goes well with your décor. No matter which LED bulbs you pick, they'll be equally bright, efficient, and environmentally friendly.
---
5.

Globe Light Bulbs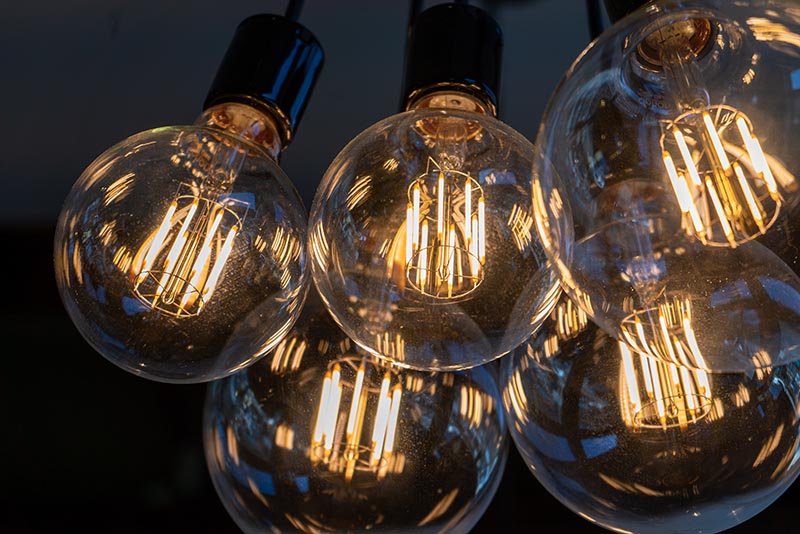 💡 Best For: Open Outdoor Areas
Not yet ready to go all-retro with the lights? Well, why don't you give the globe bulbs a try? They feature all the benefits of LED technology but are much larger and look great when put inside bare pendant lamps. It's safe to say that if you don't like how most LED bulbs are designed but do appreciate their performance, globe lights will be exactly what the doc ordered.
Globe lights are a popular choice for home offices and bathrooms. That's because they are bright enough to light up the room yet won't blind you. Plus, there's a wide range of colors and shapes to choose from, including bayonet caps, Edison screw caps, and more.
---
6.

Golf Ball LED Bulbs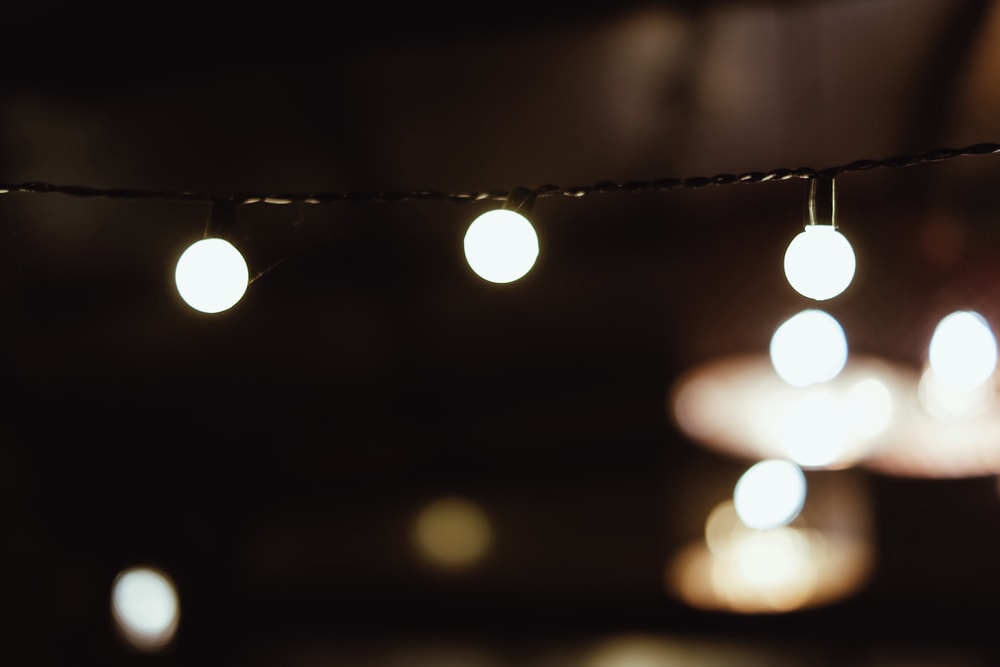 💡 Best For:  Parties and Decorations
To the naked eye, golf ball lights look identical to globe bulbs. So, what's the difference between the two? It's the size that sets golf balls apart. They're significantly smaller (globe bulbs are almost two times larger) and come at a more affordable price. On average, golf LEDs serve for 30,000–50,000 hours. That makes them an ideal replacement for old, worn-out, and dimmed halogens and fluorescent lamps.
Now, most golf bulbs on the market look pretty much the same. But you're free to pick between various finishes and color temperatures. And what are the best uses here? Showrooms, bars, and parties—golf bulbs are used to create a laid-back mood for a celebration, holiday, or show/exhibition.
---
7.

Smart LED Light Bulbs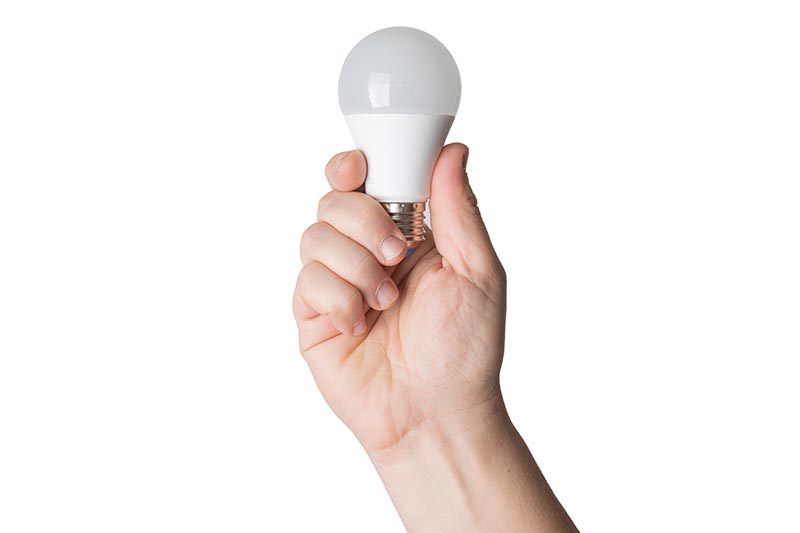 💡 Best For: Remote Control
Don't like the idea of having to leave your cozy chair or couch to turn the light on or off? Well, there's a solution for that, and it's called a Smart LED bulb. All you have to do is install a dedicated app (which comes for free) and control every single LED light in the house via a Smartphone or tablet. Just don't forget to leave the switches on 24/7.
Depending on how advanced the app is, it will allow setting timers and schedules for various LED bulbs, switching between different light colors and patterns, and more. Voice commands will also be a part of the deal. You won't have to pay a fortune for a Smart LED light bulb, by the way. On average, they cost $15–25 each and take little effort to install.
---
8.

RGB/Full-Spectrum Bulbs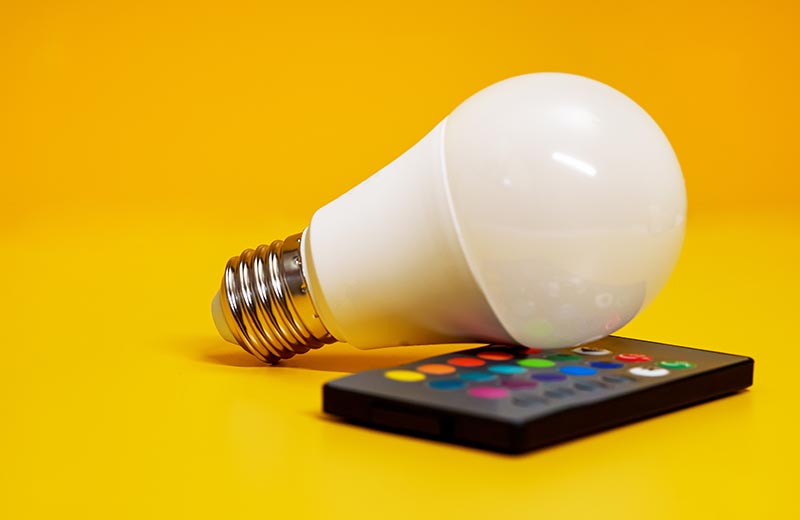 💡 Best For: Setting a Romantic Mood
In some ways, RGB LED bulbs are like the less expensive version of Smart lights. They can't be controlled via voice or joined into a group. On the bright side, full-spectrum bulbs have a wide range of colors and temperatures. Smartphone compatibility is common, but you'll also get a cheap yet useful RC.
RGB bulbs are mostly used for mood lighting and are put around TVs, doors, and windows and turned on when it gets dark. Full-spectrum lights aren't only available as bulbs, though. Light strips and panels are sold as well. The panels are usually a bit pricier, while the strips are cheaper.
---
9.

Candelabra LED Bulbs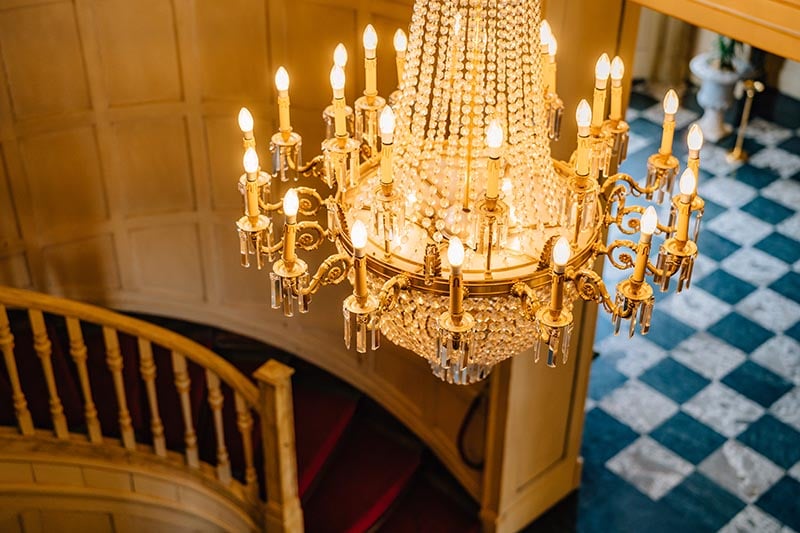 💡 Best For: Lighting up Large Rooms
For decades, incandescent lights used to be the go-to choice for chandeliers. But now that we have LEDs, nothing's stopping you from replacing them with a set of Light Emitting Diode bulbs. They will last longer, consume less energy, make the room brighter, and look just as great, if not better, up there.
And just like all the other LEDs from the list, these lights are available in different styles and designs. If you're used to the glow and warm tones of incandescent lights, you can stick with it by buying a set of dimmable bulbs. They'll cost more, but the steep initial investment will eventually pay for itself.
---
10.

Security/Motion Sensor Bulbs
💡 Best For: Safety and Security
Security lights have been around for quite some time now. With LEDs, you get a longer service life and improved performance. These bulbs are a great choice for illuminating your patio, porch, and the rest of the property. We recommend buying LED security lights that automatically switch on when it gets dark outside.
A motion sensor will be worth the extra bucks as well. This is especially true if you live in a not-so-safe neighborhood. The sensors send a signal to the LED bulbs and catch the intruders red-handed. Security lights also keep wild animals and critters at bay. Do keep in mind, though, that the sensors will be triggered by your movements as well.

The Biggest Pros of LED Light Bulbs
Ok, now that we went over commonly used types of LED bulbs, it's time to talk about the most significant advantages of Light Emitting Diodes:
Incredible lifespan. No regular light bulbs can even come close to LEDs in terms of service life. On average, they serve for 25,000–50,000 hours or up to 15–25 years (given you keep them on for 4–5 hours per day)! So, if you're looking for a set of light bulbs for the next couple of decades, Light Emitting Diodes will be a great investment.
Impressive efficiency. Compared to incandescent lights, LED bulbs consume 85% less energy. In the long run, that means big bucks saved on the electricity bill. And this doesn't mean you'll get a dimmed light. On the contrary: LEDs are brighter than any other light source available on the market.
Environmentally-friendly. LED bulbs are mercury-free; plus, their aluminum heat sinks can be easily recycled and reused. On top of that, LED lights are relatively easy to manufacture and don't need a lot of energy to light up the room. Overall, these factors make LED light the most eco-friendly option on the table.
Weather-resistant construction. Reliability is what makes Light Emitting Diodes a fan favorite. They are well protected against extreme cold, high humidity levels, rain/snow, dust, and other environmental factors. By using semiconductor material instead of filament, LEDs become sturdier than CFLs and fluorescent lights.
Flexible, color-rich design. When it comes to the choice of colors, the sky's the limit. As mentioned, RGB LED lights are quite popular, and you are free to navigate through dozens of colors with the push of a button. Besides, you can customize the patterns and program the lights to adjust to the environment.
Low radiant heat. When compared to incandescent bulbs, LEDs release 90% less energy in the form of heat; the difference reaches 80% with CFLs. So, does that mean LED lights don't get hot? Well, not quite: they do get warmer over time, but not nearly as much as their less efficient counterparts.
No warm-up time. LED lights don't need a moment to "come to life" and illuminate the room/area. They kick in the second you turn the switch on. The minimal warm-up time makes them a great choice for outdoor spaces, warehouses, and parking lots, to name a few.
The Biggest Cons of LED Light Bulbs
Slightly on the expensive side. Light Emitting Diodes aren't particularly cheap. They're pricier than incandescent, fluorescent, halogen, and HID lights. However, since LEDs have a dramatically higher life expectancy, that makes them a worthy investment, especially in the long run.
Low resistance to overheating. LEDs don't get very hot, but when they do, that leads to a reduced lifespan. To avoid that, consider putting a sconce or a lampshade around each LED bulb in the house. And if the bulbs start flickering, that means they're not 100% in sync with the transformer.
Not always dimmer-compatible. While there are, of course, dimmers that work with LED lights, you'll still have to double-check to make sure the fixture, bulb, and dimmer switch can be paired. Before paying for anything, take a moment to look for a dimmer-compatible, low-flicker bulb.

Conclusion
And there you have it—an in-depth breakdown of the best LED light bulbs. While they vary in size, power consumption, common uses, and other aspects, at the core, all LED lights are equally safe, long-lasting, and harmless for the environment. So, essentially, it all comes down to what kind of lights you need at the moment. If you're into lounge lights, miniature LED bulbs are the obvious pick.
Candelabra bulbs, in turn, are perfect for chandeliers. As for the fans of controlling everything through their Smartphones, they'll definitely appreciate Smart LED bulbs. There's more than enough to choose from, and that's what makes LEDs so popular. So, take your pick and enjoy the bright lights!
See also: How Are Light Bulbs Made? The Fascinating Answer!
---
Featured Image Credit: Karol Olson, Pixabay