11 Wildflowers That Grow in Virginia (Identification Guide With Pictures)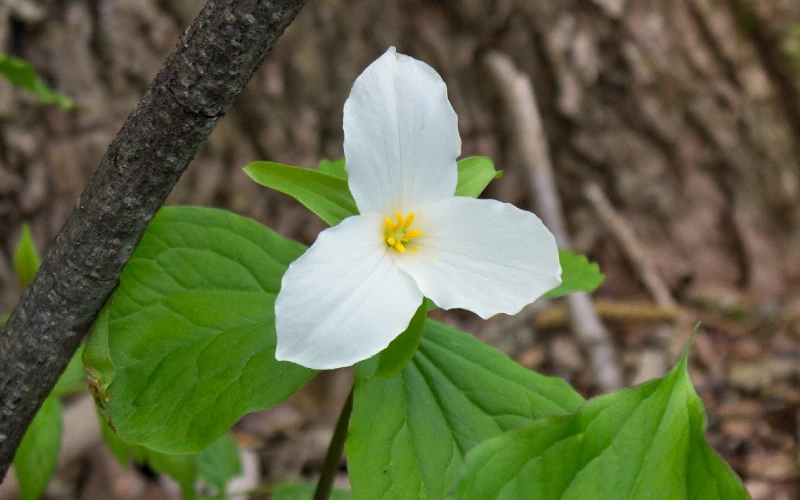 A diverse landscape spanning mountains to coast leaves no shortage of natural wonder in Virginia. Being home to the start of the famous Blue Ridge Parkway, spectacular vistas are a year-round affair, as visitors delight in fantastic fall foliage and colorful spring and summer blooms.
Wildflowers define an idyllic countryside through the state's warmest months. Learn what's in store during your next summertime outing as we identify 11 unique wildflowers that grow in Virginia.

The 11 Wildflowers That Grow in Virginia
1.

Buttonbush (Cephalanthus occidentalis)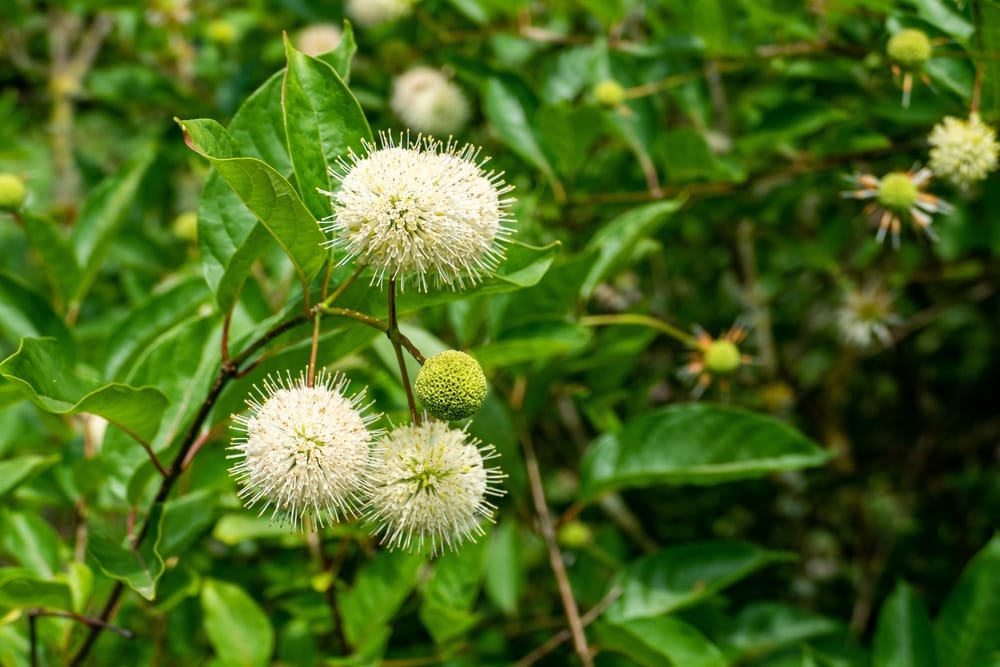 | | |
| --- | --- |
| Family: | Rubieaceae |
| Height: | 6–12' |
| Color: | White, pale pink |
Buttonbush has a distinct pincushion-like look when it's in full bloom during mid to late summer. Extra-long pistils capped in yellow extend past inch-wide spherical clusters of tiny, scented white flowers.
Flowers grow on multi-stemmed shrubs or small trees rising as high as 12 feet. Large glossy leaves are opposite or arranged in whorls of three as they move up the stem. In the fall, flowers give way to reddish-brown nutlet clusters that add further interest throughout the year.
---
2.

Eastern Redbud (Cercis canadensis)
| | |
| --- | --- |
| Family: | Fabaceae |
| Height: | 20–30' |
| Color: | Pink |
The Eastern redbud's 30-foot height and matching spread are an enormous visual benefit during early spring when an expansive explosion of hot pink flowers emerge across the tree. The flowers, each about ½-inch wide, grow in tight clusters along the branches.
The redbud's leaves have a vague heart shape and typically transition in color through the year, beginning with reddish tones in the spring before changing to dark green and eventually yellow during the fall. Pea pod-like growths arrive in the summer after flowering, often hanging around until winter.
---
3.

Foxglove Beardtongue (Penstemon digitalis)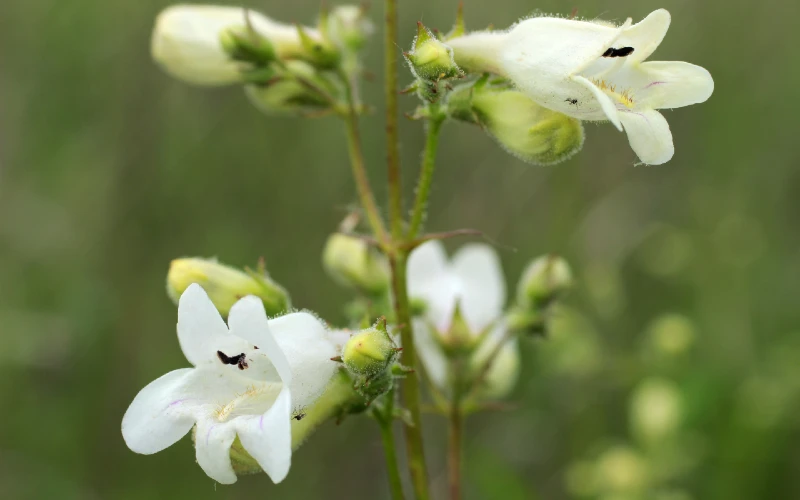 | | |
| --- | --- |
| Family: | Plantaginaceae |
| Height: | 30–48" |
| Color: | White |
Foxglove beardtongue is a perennial semi-evergreen that grows up to 5 feet tall. Long, lanceolate leaves sit at the base of the plant, with inch-long blooms growing in clusters up the stem above them in May–July.
The tubular flowers attract bumble bees, hummingbirds, and other assorted pollinators to their natural wetland and open forest environments. As you get close to the bright white petals, you'll notice the fine hairs that give the beardtongue its name.
---
4.

Virginia Bluebells (Mertensia virginica)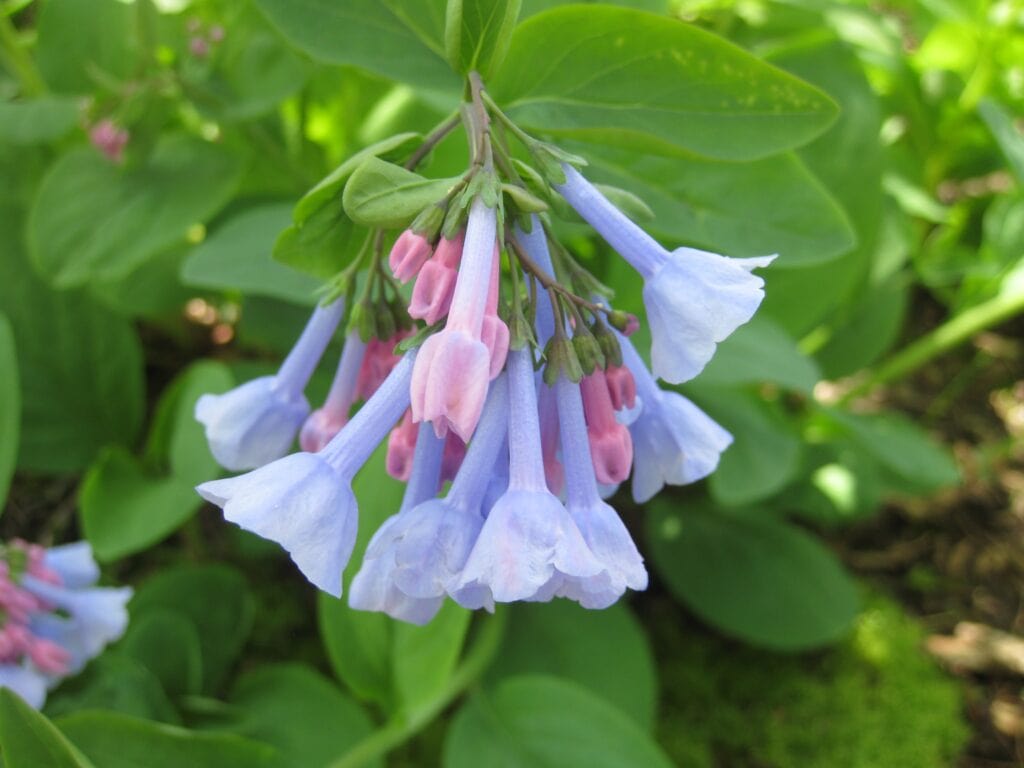 | | |
| --- | --- |
| Family: | Boraginaceae |
| Height: | 12–24" |
| Color: | Blue, pink, white |
The aptly named Virginia bluebells offer stunning blue flowers in March–April, arriving as pink buds in early spring before blooming into their trumpet-shaped forms. Plants grow 1–2 feet tall, featuring soft green oval-shaped leaves running up the stem.
The Virginia bluebell grows naturally in shaded woodlands and low, moist areas such as stream banks and floodplains. When its rhizomes can spread to create vast colonies, this Virginia wildflower puts on a magnificent display during its roughly 3-week-long flowering period.
---
5.

American Wisteria (Wisteria frutescens)
| | |
| --- | --- |
| Family: | Fabaceae |
| Height: | 25–30' (length) |
| Color: | Lavender |
The climbing wisteria vine is an attractive landscaping feature and native Virginia plant, appearing naturally in wet forest areas and riverbanks. Flowers take roughly 6 years to emerge and only appear on wood that grew the prior year, making pruning a must in home gardens. The gorgeous lavender blue flowers grow in clusters up to 9 inches long.
Up to 15 glossy pinnate leaflets grow on compound leaves along the American wisteria's stem. Flowers show in the early summer months following the foliage growth, with the pea-like pods familiar to Fabaceae plants arriving in late summer.
---
6.

Flowering Dogwood (Cornus florida)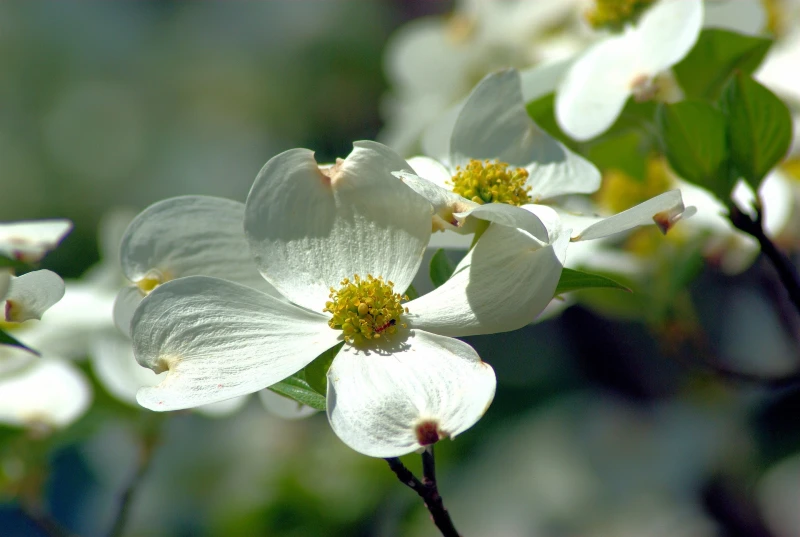 | | |
| --- | --- |
| Family: | Cornaceae |
| Height: | 15–30' |
| Color: | White |
The flowering dogwood has been Virginia's official flower for over a century, earning its title with beautiful presentations of flowers in forests across the state. The tree typically grows to around 15 feet tall with a spread-out crown formed from elegant horizontal branching.
The showy "flowers" that appear in mid to late spring include four dazzling white or pink bracts around a cluster of minute yellow flowers. Green ovate leaves take over in the summer, turning scarlet in the fall when the tree grows bright red fruits.
---
7.

Coral Honeysuckle (Lonicera sempervirens)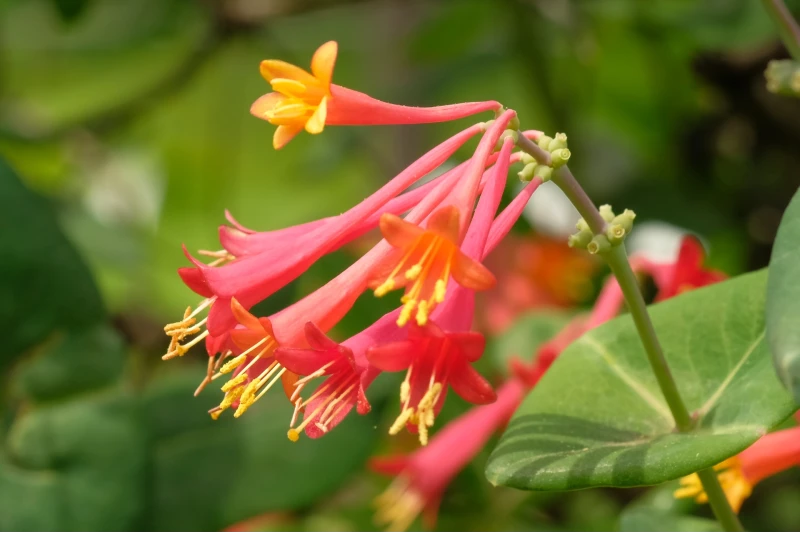 | | |
| --- | --- |
| Family: | Caprifoliaceae |
| Height: | 3–20' (length) |
| Color: | Red, yellow |
The coral honeysuckle's extra-slender flowers seem tailor-made for the long-beaked hummingbirds they serve, enticing them with a bounty of sweet-tasting nectar at the end of their bright red, tubular flowers.
You can catch these attractive blooms in mid-spring across various forest settings in Virginia, though random flower productions may occur through the summer. Flowers give way to deep red fruits in late summer, which attract a range of songbirds.
The climbing coral honeysuckle develops flowers in clusters at the end of its vines while shiny evergreen leaves climb up them in alternating patterns. Although the leaf pairings are simple, shapes can vary significantly depending on when the leaves grew.
---
8.

New England Aster (Symphyotrichum novae-angliae)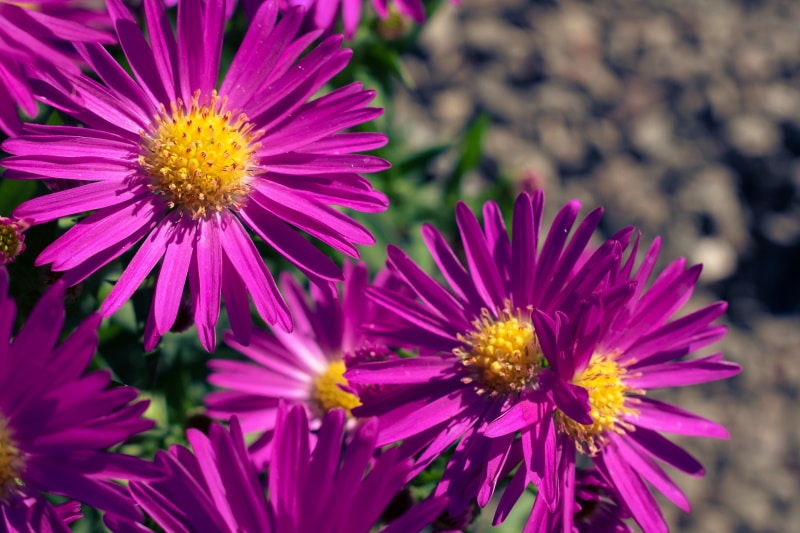 | | |
| --- | --- |
| Family: | Asteraceae |
| Height: | 3–6' |
| Color: | Purple, pink, blue, white |
The New England aster is one of Virginia's most beautiful and abundant late-blooming plants. The showy inch-wide flowers, typically appearing between August and October, consist of over 40 purple ray florets surrounding a yellow center.
The flowers grow at the ends of sturdy, hairy stalks reaching up to 6 feet high. Lanceolate leaves cover the stem in dense alternate arrangements. You may spot New England asters alongside Virginia's roadsides or in open wooded areas, stream banks, and meadows, where they attract assorted pollinators, including the migrating monarch butterflies.
---
9.

Snakemouth Orchid (Pogonia ophioglossoides)
| | |
| --- | --- |
| Family: | Orchidaceae |
| Height: | 24" |
| Color: | Pink |
The delicately aromatic snakemouth orchid is an easily identifiable aspect of Virginia's swamps, bogs, and low-lying meadows during its late spring–early summer blooming period. The wildflower grows up to 2 feet tall, with a lone large, leathery leaf sitting halfway up its stem and an inch-wide bloom growing at the tip.
Blooms consist of six pink tepals arranged in two whorls, with the lower petal including yellow or pink hairs that create the defining bearded look. Late summer months bring erect capsule-shaped fruits that change from green to brown as they mature.
---
10.

Butterfly Weed (Asclepias tuberosa)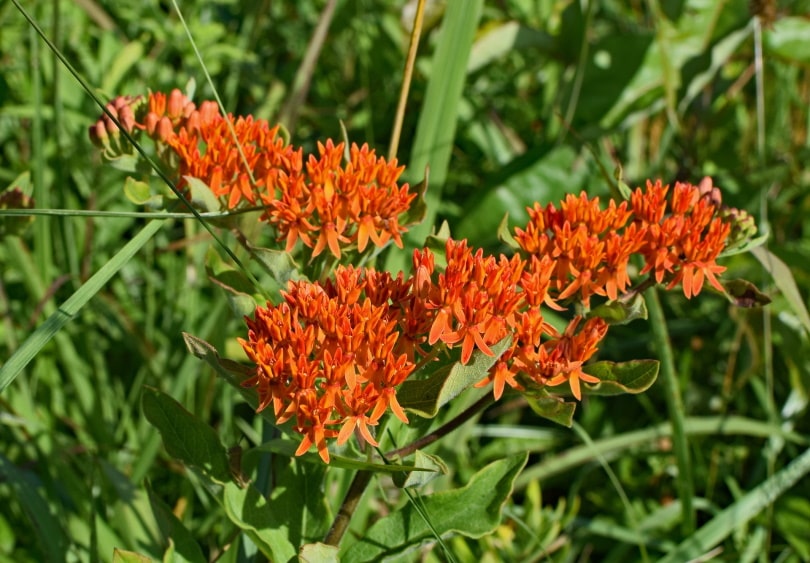 | | |
| --- | --- |
| Family: | Apocynaceae |
| Height: | 18–24" |
| Color: | Orange |
Dark green lance-shaped leaves create a contrasting backdrop to enhance the butterfly weed's flowering beauty. The bushy perennial produces grand displays of blazing orange blooms from early summer through early autumn, attracting pollinators during peak bloom season to various Virginia settings, including prairies, forest edges, and roadsides.
The butterfly weed's corolla includes five reflexed lobes, each roughly ¼ inch long. Flowers arrange themselves in dense umbrella-shaped clusters at the end of the milkweed's stalk. Long pods grow about 4–5 inches long, dispersing the silk-tailed seeds in the fall.
---
11.

White Trillium (Trillium grandiflorum)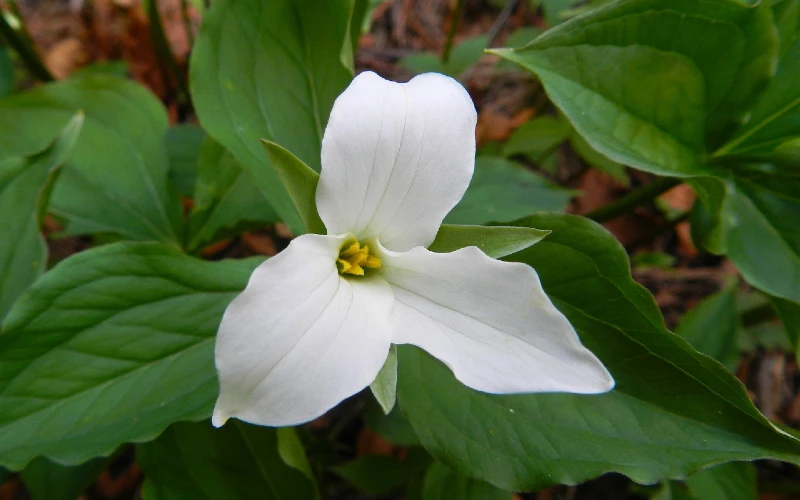 | | |
| --- | --- |
| Family: | Liliaceae |
| Height: | 12–24" |
| Color: | White |
The perennial white trillium grows in mixed forested areas with moist, fertile soil. Stems extend up to 2 feet tall, with a whorl of three large, wavy green leaves sitting towards the top. The crisp white three-petaled flower that gives the trillium its name appears at the end of the plant in late March to early May. The three white flower petals, each measuring about 2 inches long, alternate with three skinnier green sepals.

Conclusion
Every trip through the Virginia countryside and forests greets visitors with once-in-a-lifetime sights and sounds, thanks to a bevy of distinct wildflowers brightening the landscape through most of the year. It will take an adventure to catch a glimpse of some of the more elusive sides of the state's natural attractions, but the reward of wondrous floral displays will make you glad you put in the effort.
---
Featured Image Credit: photosbymoira, Pixabay