Aquagear Water Filter Pitcher Review 2023 – Pros, Cons & Verdict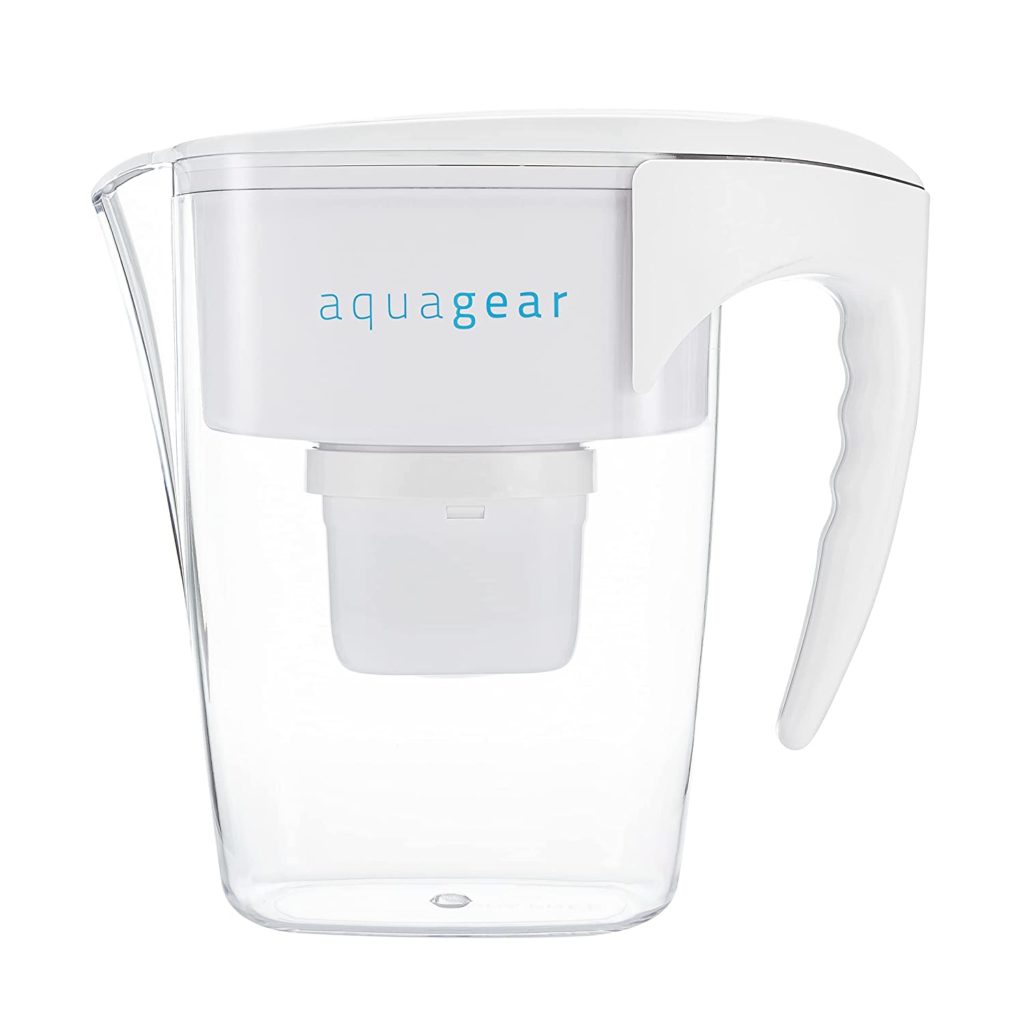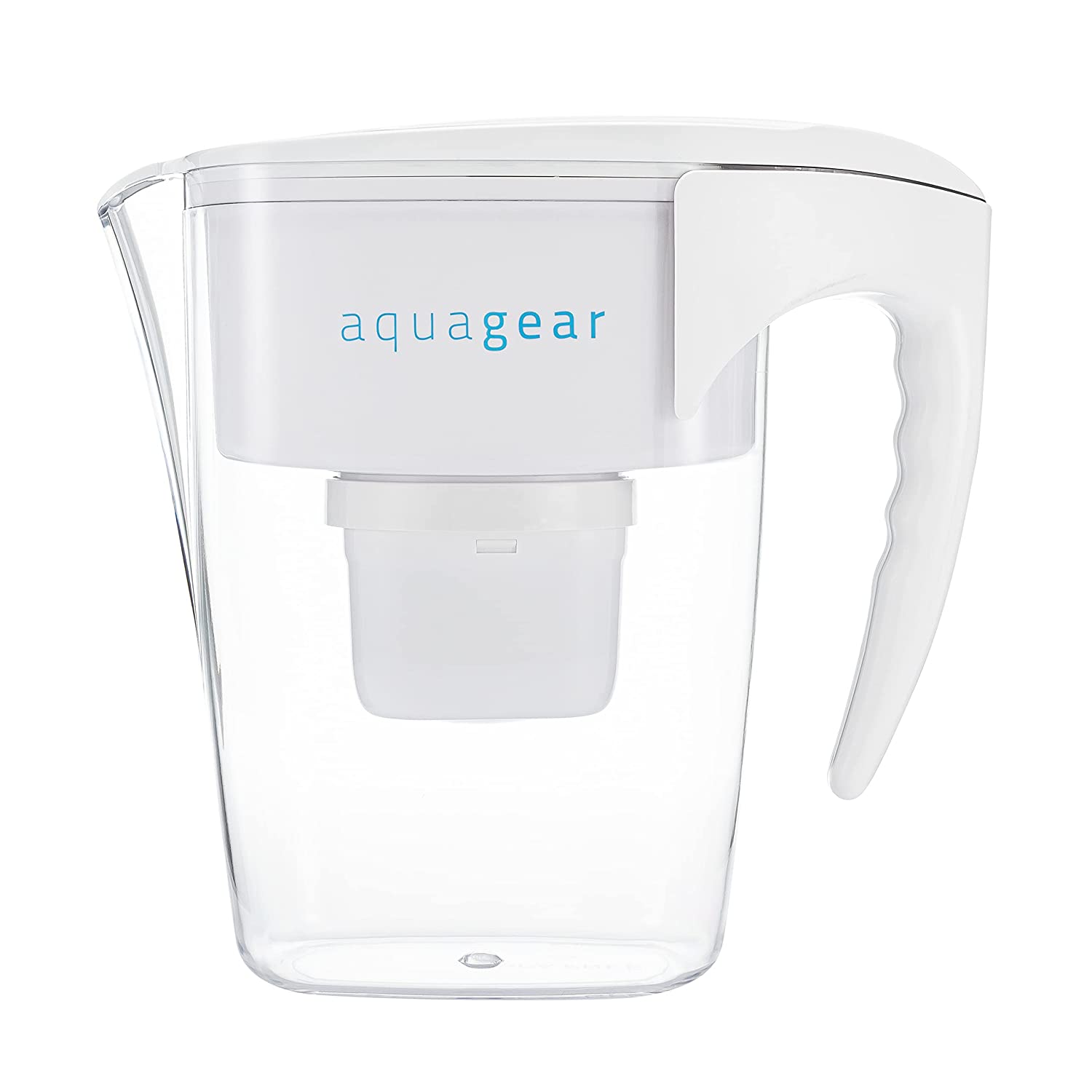 We give the Aquagear Water Filter Pitcher a rating of 4.2 out of 5 stars. 
Build Quality: 4.5/5
Filtration: 4.8/5
Filter Lifespan: 4.8/5
Price: 3.5/5
Review Summary
A premium pitcher filter with a high price tag, the Aquagear water filter pitcher offers superior filtration compared to other top names like Brita or PUR. This filter removes fluoride, lead, chlorine, more than 50 VOCs, and a whole lot more. Filter cartridges last for an impressive 150 gallons between replacements, and the water that this pitcher filters is delicious. Though your water will be devoid of contaminants, this pitcher doesn't strip essential minerals, ensuring that your drinking water is always aiding in proper health.
With so many filter pitchers on the market, the Aquagear pitcher has to be special to carve its own place in the market; especially with such a high price tag. We think it nailed the mark, offering some great features like a lifetime guarantee and a filter reservoir large enough to fill the whole pitcher in just one refill. In this review, we'll take a more detailed look at the filtration and features of the Aquagear water filter pitcher, to help you determine if it's the right filter pitcher for your needs.

Aquagear Water Filter Pitcher – A Quick Look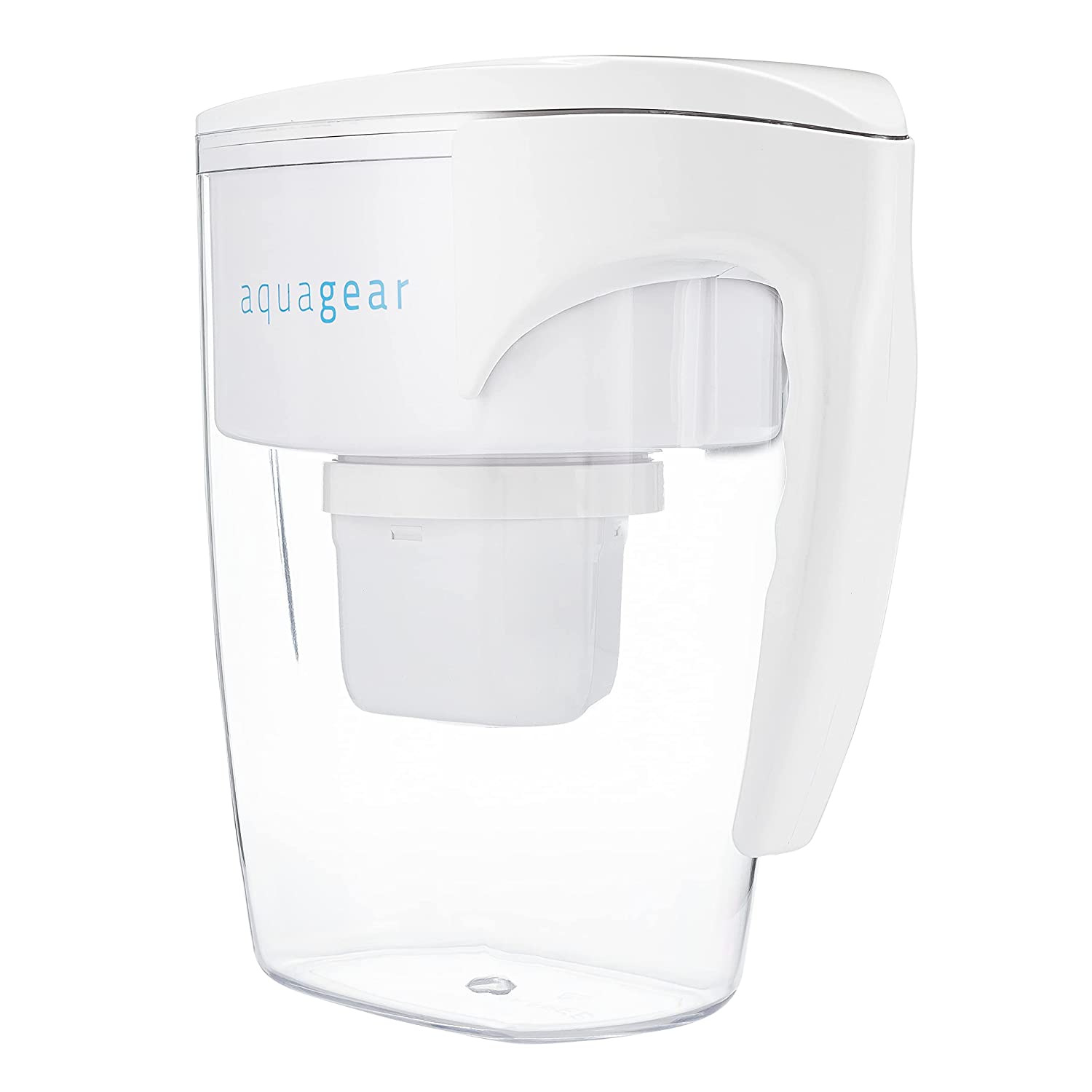 Pros
Cartridges last for 150 gallons
Covered by a lifetime guarantee
Meets standards for NSF 42 and 53
BPA-free plastic
One refill fills the pitcher
Specifications
Brand: Aquagear
Model: Water filter pitcher
Material: BPA-free plastic
Capacity: 8 cups or 0.5 gallons
Warranty: Lifetime
Removes Many Contaminants
One of the biggest complaints we have regarding many of the pitcher filters from some of the biggest names in water filtration is that they don't remove enough contaminants. While they often remove 99% of pollutants in the water, important contaminants often get through, such as fluoride, mercury, and VOCs.
But the Aquagear water filter pitcher offers more thorough filtration. In fact, it removes 20 times more contaminants than leading competitors. This includes impactful pollutants such as lead, copper, fluoride, chlorine, mercury, and over 50 VOCs. The Aquagear pitcher filter even meets NSF standards 53 and 42 for the reduction of contaminants.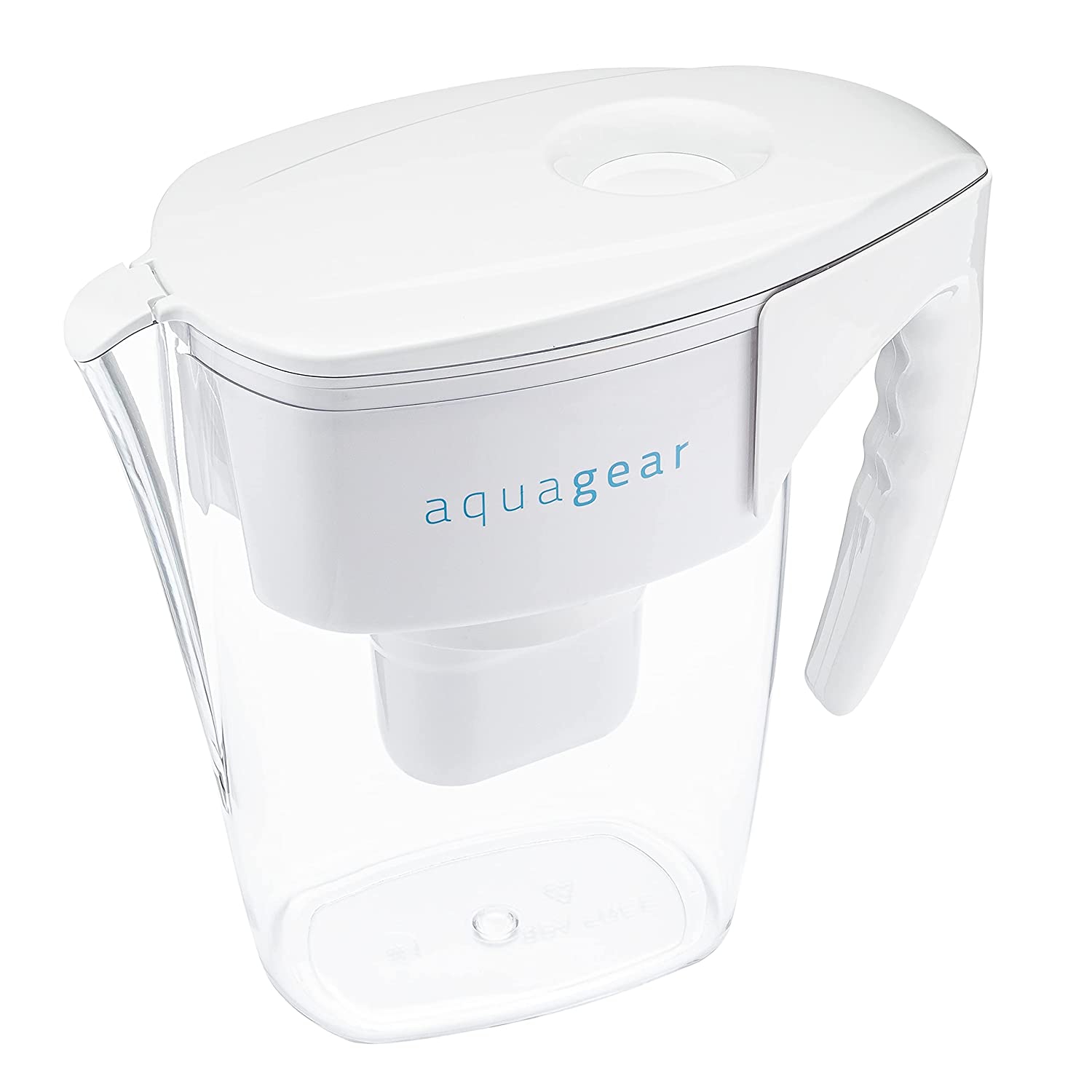 Doesn't Strip Healthy Minerals
While this filter pitcher does a great job of removing all of the impurities you don't want to drink, it doesn't remove everything from your water. Rather, it leaves in the essential minerals that are vital for your health, such as calcium and phosphorous. This ensures that the water you're drinking is actually good for you, not just delicious and refreshing water with no nutrients to offer.
150-Gallon Filter Lifespan
Replacing filters too often becomes an annoyance. Many popular filter pitchers use cartridges that have a lifespan of just 40 gallons. The Aquagear pitcher puts that number to shame, filtering an impressive 150 gallons with each cartridge. That means you'll only have to replace filter cartridges once or twice a year.
Delicious Flavor
No matter how healthy your water is, if it doesn't taste good, you won't want to drink it. Luckily, this filter pitcher makes your water taste delicious. The water from this pitcher is refreshing, crisp, and definitely healthy as well.
A Hefty Investment
Along with that premium-level filtration comes a premium price tag. This filter pitcher is expensive; especially when compared to some of the more affordable options offered by some big-name brands. Similarly, the replacement filter cartridges are far pricier than cartridges from competing brands.
But these filters last a lot longer, so they require far fewer replacements. But your health is something you can't put a price on. This filter pitcher clears certain contaminants from your water that you'd be drinking in otherwise, and for many people, avoiding those impurities is worth the high cost of this pitcher filter.

FAQ
How much fluoride will this filter pitcher remove from tap water?
The Aquagear water filter pitcher contains activated carbon filters that are tested to remove 90% of fluoride from water.
How long does a filter last in this pitcher?
Each filter cartridge is good for about 150 gallons of filtered water. For the average user, this represents six months to a year worth of regular use.
Does this filter pitcher remove bad tastes and smells from water?
Absolutely. The Aquagear water filter pitcher removes chemicals and pollutants that cause foul odors and flavors, neutralizing both to create a refreshing drinking experience.

What the Users Say
Since thousands of people have used this pitcher filter, we thought it might be pertinent to hear what they have to say. So, in an effort to bring you the full picture regarding this pitcher, we searched to find the opinions of real-world users who have first-hand experience with the Aquagear water filter pitcher.
One of the most common praises we saw was that people loved the taste of the water from this pitcher. Lots of users said it tasted phenomenal, and many similar words were used to describe the flavor. Quite a few people even said they purchased a spare or bought one for a friend or family member because they were so impressed with the taste of the water that had been filtered through this pitcher.
Another thing we read multiple times was users who said this was the best water filter pitcher they'd ever owned. Users cited ease of use and quality construction as significant reasons for this praise. Often, they were pleased that the lid stayed on and water didn't spill when pouring, which are common complaints about other pitcher filters.
People who used this pitcher also seemed pleased with the long lifespan of the filters. Many said it lasted them nearly a year, though there were still some complaints about the price of replacement filters, which are rather expensive.

Conclusion
It's certainly not the cheapest water filter pitcher, but the Aquagear pitcher filter offers quality and performance you won't find in most competing products. It removes more impurities than most filter pitchers from other brands, including fluoride, lead, mercury, copper, chlorine, and more, using filter cartridges that last for 150 gallons each. Best of all, the water that comes through this filter pitcher tastes delicious; pure and crisp. And with a lifetime warranty protecting your investment, it could be the last pitcher filter you ever purchase.
Looking for More Filter Pitcher Reviews? Try: