Brita Longlast Water Filter Pitcher Review 2023 – Pro's, Con's & Verdict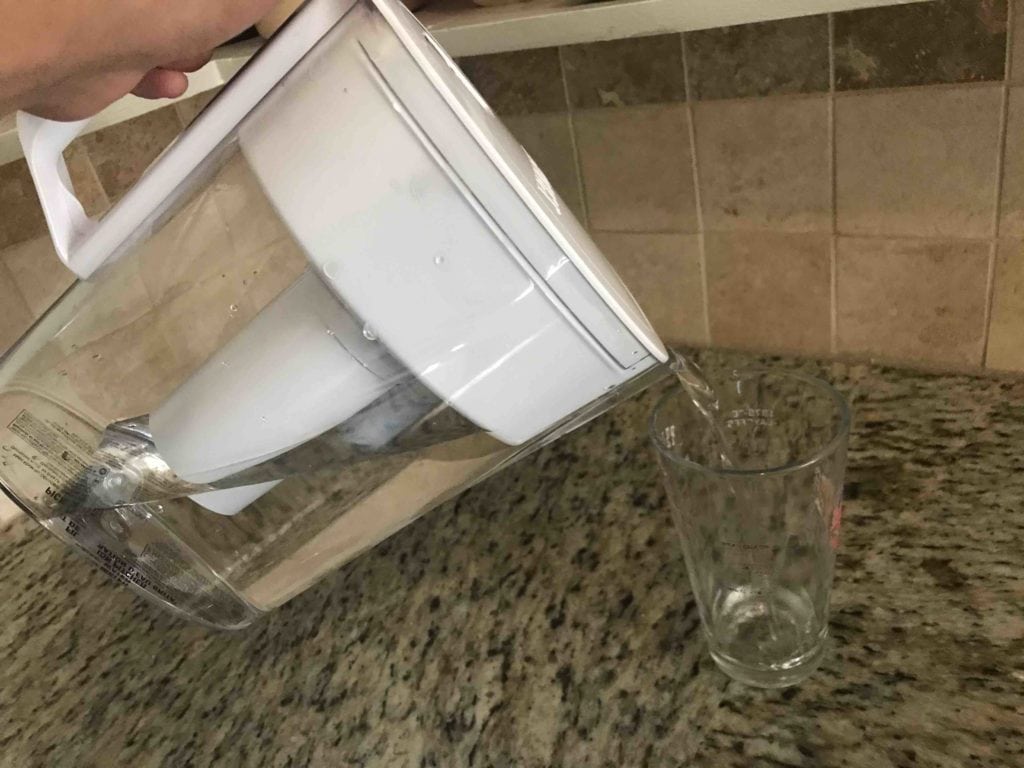 We give the Brita Longlast Water Filter Pitcher a rating of 4.1 out of 5 stars. 
Brita filter pitchers are some of the most popular and useful filters on the market. We've always appreciated how easy they make it to get delicious filtered water in the comfort of our home, but the constant changing of filters gets annoying. With the Longlast filter, Brita has fixed this problem by tripling the lifespan of their original filter. When you only have to replace the filter twice a year, it's not such a hassle.
The Longlast filters remove all the unwanted contaminants from your water, like chlorine and lead; they just last for longer between changes. We loved the taste of the water. It was refreshing and kept us wanting more of its crisp flavor.
The pitcher is well-made and looks good, but there were still aspects we didn't like. There's no way to close the spout, and the capacity is just 6 cups. But besides that, it's a very affordable pitcher that works well and keeps working for 6 months before the filter needs to be changed. We like the pitcher's simplicity, which is why the Brita Longlast Water Filter Pitcher gets the thumbs up from us.

The Brita Longlast Water Filter Pitcher – A Quick Look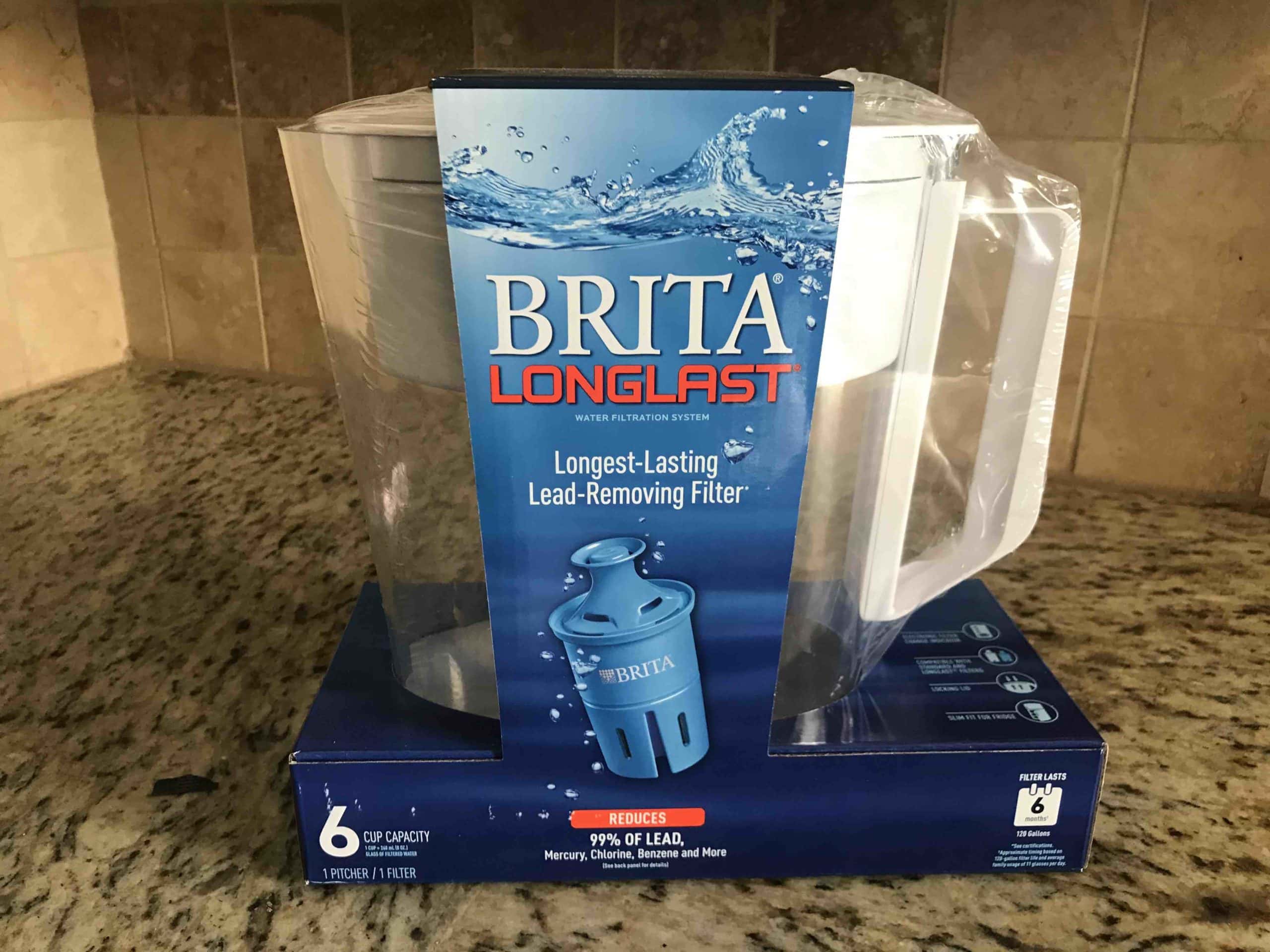 Pros
Long filter lifespan of 6 months
Removes chlorine, lead, mercury, and many more
Replacement filters are easy to find
Easy to use
Cons
Only holds 6 cups of water
No way to close the spout
---
Specifications
Specifications
Brand: Brita
Product Name: Longlast Water Filter Pitcher
Filter Lifespan: 6 months or 120 gallons
Height: 4.12"
Depth: 2.31"
Width: 2.31"
Warranty: 1 year
---
Six-Month Lifespan
Our biggest complaint about the original Brita pitcher filters was that they didn't last long enough. With a lifespan of just 40 gallons, they needed to be replaced every two months. But the Longlast filters aim to remedy that issue with a 6-month lifespan. That's 120 gallons of water you can filter with a single cartridge, the equivalent of 900 water bottles. And since the Longlast filter cartridges aren't three times as expensive as the regular filters, you're saving even more money in the long run.
Removes Lead, Mercury, Chlorine, and Copper
You'll be using the Brita Longlast water filter pitcher to filter tap water for drinking, so it makes sense for it to remove the contaminants that are commonly found in tap water. Luckily, the Brita Longlast filter was engineered for precisely that.
Chlorine gets introduced into the water during treatment, but it leaves odors and tastes behind, and it's not a chemical you want to ingest. Copper and lead make their way into our water through corroding pipes, and mercury joins the foray when our water gets tainted with agricultural or industrial runoff or even sewage. But the Brita Longlast filter removes over 99% of all those contaminants, providing a safe and sound drinking experience.
Affordable and Easy to Find
Brita filters are one of the original pitcher filters on the market and are still one of the most affordable. Moreover, they're the easiest to find, with pitchers and replacement filters lining the shelves of your local stores and online suppliers. Since it's so cost-effective and replacement filters are easy to find, the Brita Longlast pitcher is one of the most convenient water filtration options.
Doesn't Filter Bacteria and the Spout Doesn't Close
Though we have plenty of good things to say about the Brita Longlast water filter pitcher, it's not perfect, and we have some complaints. Our biggest complaint isn't about something it does wrong, it's what it doesn't do. This filter doesn't remove bacteria, so it won't work with water that hasn't been treated. Also, there's no way to close the pouring spout. Many pitchers have a lid flap that closes after pouring, but this one stays open.
---
FAQ
How can you clean this Brita pitcher? Does it come apart?
Yes. The Brita Longlast pitcher comes apart for easy cleaning. You can remove the large filtering reservoir if you pull it out from closer to the handle instead of near the spout.
How do you check the status of the filter in this pitcher?
If you press the button on the lid, it will indicate whether the filter needs to be changed or not.
Can this pitcher take standard replacement filters?
Yes, it will work with standard Brita pitcher filter replacements. However, you won't get the same long lifespan from them. Regular Brita filters only last for 40 gallons, while the Longlast filters have triple the lifespan and are good for 120 gallons. 
---
What the Users Say
A common remark from customers was that the water filtered through this pitcher was delicious. Several users even said they were drinking more water than ever because of how good it tasted. Other users were also pleased with the overall quality of the pitcher, stating that the lid fits well and didn't fall out when pouring.
Many people were pleased with the long filter life. Similarly, they liked the LED indicator that alerted them when a filter change was necessary since so much time passed between changes, and they would forget.
Another feature that many people liked was the slim design of the pitcher, which made it easier to fit inside of a crowded fridge. But some people were displeased with the lack of a closing spout. There were also complaints about the small six-cup capacity of the pitcher.

Conclusion
Overall, most users were very pleased with the long lifespan of the Longlast filters compared to the regular Brita filters. However. most customers said they would prefer a larger pitcher with a flap on the spout. Our thoughts are similar.  The water it filters is delicious and free of dangerous contaminants we'd rather not ingest. Altogether, we think it's a great filter pitcher and recommend it to anyone looking for a low-maintenance approach to filtered water.