Clearly Filtered Water Filter Pitcher Review 2023 – Pros, Cons, & Verdict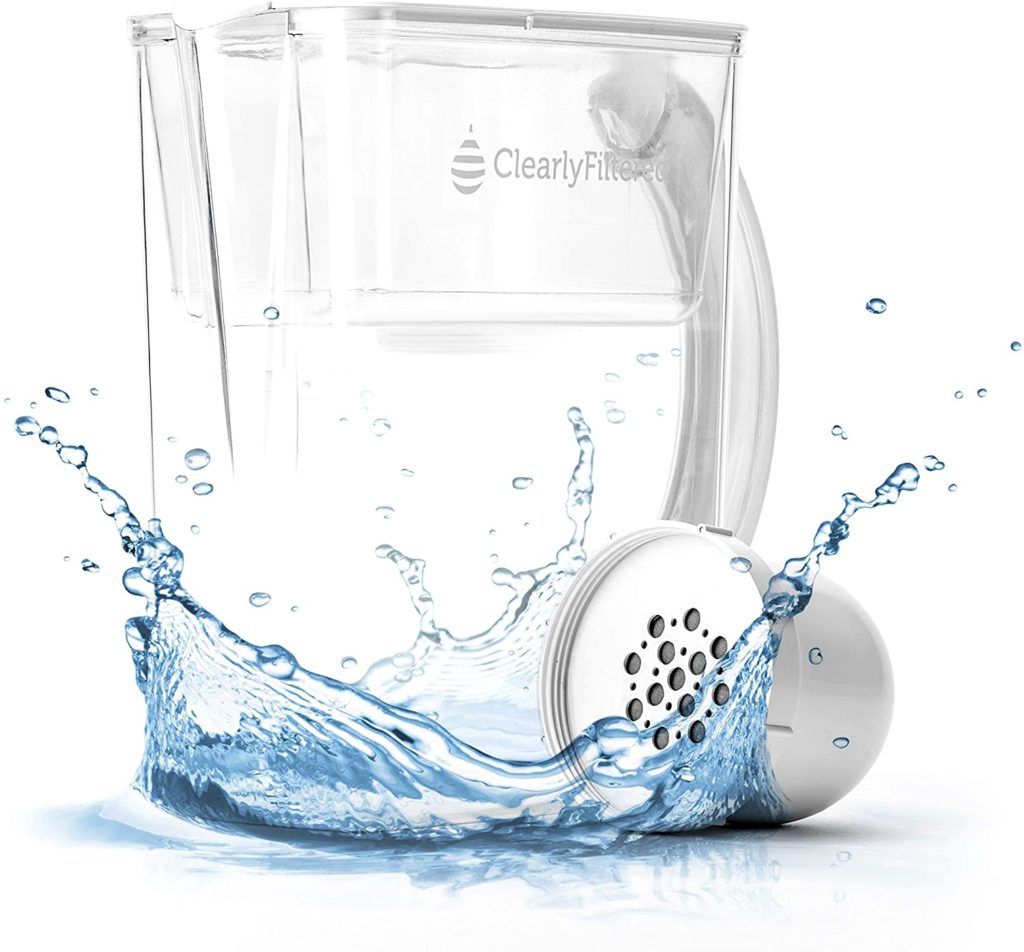 We give the Clearly Filtered Water Filter Pitcher a rating of 4.3 out of 5 stars. 
Filtration: 5/5
Filter Lifespan: 4.5/5
Features: 3.8/5
Price: 3.8/5
Some people will drink just about any water they find. Others are quite snobbish in their choice of water, refusing to drink anything but the purest and most refreshing sources of H20. Either is fine, but for the water snob in everyone, the Clearly Filtered water filter pitcher is here to help you enjoy perfect drinking water whenever you're thirsty.
This pitcher has an incredible filter that can remove more than 230 contaminants from your water. This long list of impurities filtered by this pitcher includes fluoride, bacteria, pesticides, and cysts. Because of that, it's a great choice for anyone on well water. On the downside, it's a bit pricey. Granted, you're getting an excellent product for the price, but a few other filter pitchers on the market are far more affordable with similar levels of filtration.
Is the Clearly Filtered pitcher right for you? Despite the high price tag, it's a pitcher we like, with incredible filtration abilities and a lifetime warranty. Read on to find out if this filter is a good fit for you or if you might be better served by another filter pitcher.

Clearly Filtered Water Filter Pitcher – A Quick Look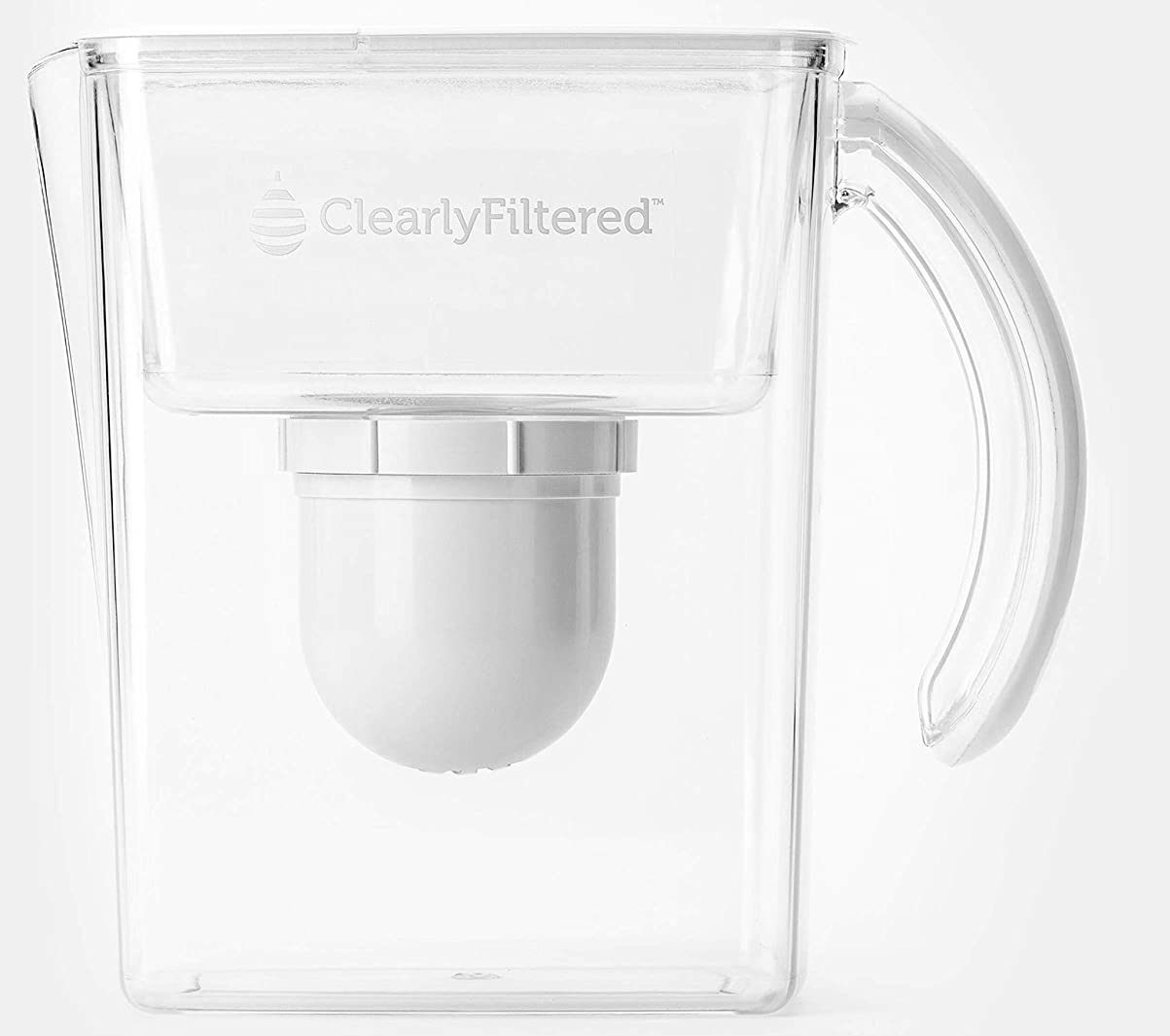 Pros
100-gallon filter lifespan
Removes more than 230 contaminants
Warrantied for life
Filters out fluoride, pesticides, bacteria, and cysts
Cons
No filter life indicator
It's more expensive than other filter pitchers
Specifications
Specifications
Brand: Clearly Filtered
Model: Filtered water filter pitcher
Filter lifespan: 100 gallons
Pitcher capacity: 10 cups
Contaminants removed: 230+
Warranty: Lifetime
Next-Level Filtration
The big draw of this filter pitcher is its filter. This filter is superior to the filter cartridges used in many filter pitchers, even from much better-known manufacturers. While many of those filters only remove a few contaminants, the filter in the Clearly Filtered pitcher will remove more than 230 contaminants from your water.
Of those 230 impurities, you'll find many that aren't removed by most competing filters. Fluoride, pesticides, pharmaceuticals, and bacteria will all be stripped from your water when using this filter pitcher, though only a few filters on the market offer such filtration.
Large Capacity for Less Frequent Fills
With a 10-cup capacity, this filter pitcher is a bit bigger than many competing products. This makes it more convenient since you won't have to refill the reservoir quite as frequently with this pitcher as you would with filter pitchers from other brands.
Lifetime Warranty with Free Replacement
This is a pretty expensive filter pitcher, but one thing that makes it worth the higher cost is the lifetime warranty that protects it. Included with that warranty is a free replacement, so if your Clearly Filtered pitcher breaks a few years down the line, you'll get a new one for free. That's a pretty decent deal! If you purchase most other filter pitchers and the same thing happens, you'll have to pay for a new one.
No Filter Life Indicator
Aside from the high price tag accompanying this pitcher, our biggest complaint is the lack of a filter life indicator. You cannot determine when the filter is ready to be changed unless it clogs up on you.
Instead, you're supposed to estimate your water usage and replace the cartridge after 100 gallons, but that's an antiquated way of doing things and too much work for most consumers. We'd love to see a filter life indicator added, as this has become a standard feature on most competing filter pitchers.

FAQ
How often do you have to replace the filter in this pitcher?
The filter cartridge in the Clearly Filtered water filter pitcher is good for 100 gallons. In the average household, it should last 3-9 months, depending on how much use it sees.
How can you tell when the filter needs to be replaced?
The best way to know when to replace the filter is to estimate your water usage and replace it when you've filtered 100 gallons. If you're drinking a gallon daily, you'd want to replace the filter every 100 days or about 3-4 months.
Can this filter pitcher remove pesticides?
Yes! This pitcher filters out 99.9% of more than 50 pesticides!
Will this pitcher filter out fluoride?
Yes. The Clearly Filtered water pitcher removes 98% of fluoride.

What Users Say
Our main goal is to bring you a clear picture of what you can expect with the Clearly Filtered water filter pitcher. So, we thought it might be helpful to let you know what other real-world users of this pitcher thought after spending some time with it. To that end, we searched through reviews and comments to find out what people thought so we could share their thoughts with you.
The most common praise of this filter pitcher is how thorough the filtration is. Many people said they tested the water that came through the pitcher for fluoride, and none was remaining. This thoroughness is one of the most quoted reasons for purchasing the Clearly Filtered pitcher over others. Users were pleased that it filters out fluoride, bacteria, pharmaceuticals, and other harmful impurities that many other filter pitchers miss.
People seemed less pleased with the pitcher's design than the filtration it offers. There were some complaints about the pitcher pouring poorly. Others added that it's not ergonomic, with some claiming there's no way to pour the pitcher when full because it's so off-balance. Of course, not everyone felt this way, and many people expressed opinions that the pitcher performed just fine.
However, quite a few mentioned that the pitcher started to warp where the handle meets the pitcher because it only connects at the top, making the handle connection a weak point.
Related Read: 10 Best Water Pitcher Filter for Well Waters – Reviews & Top Picks

Conclusion
There's a lot to like about the Clearly Filtered water filter pitcher, but for us, the real star of the show is the filter. The filter inside this pitcher is excellent, removing more than 230 contaminants. This includes potentially harmful substances like pesticides, fluoride, bacteria, pharmaceuticals, and much more.
Each filter lasts a respectable 100 gallons, but there's no way to tell when to change filters. Thankfully, the pitcher is protected by a lifetime warranty. So, even though it's pretty expensive, you'll get free replacements for life, offering plenty of value to back up the higher cost.