17 Audi Facts and Statistics – 2022 Update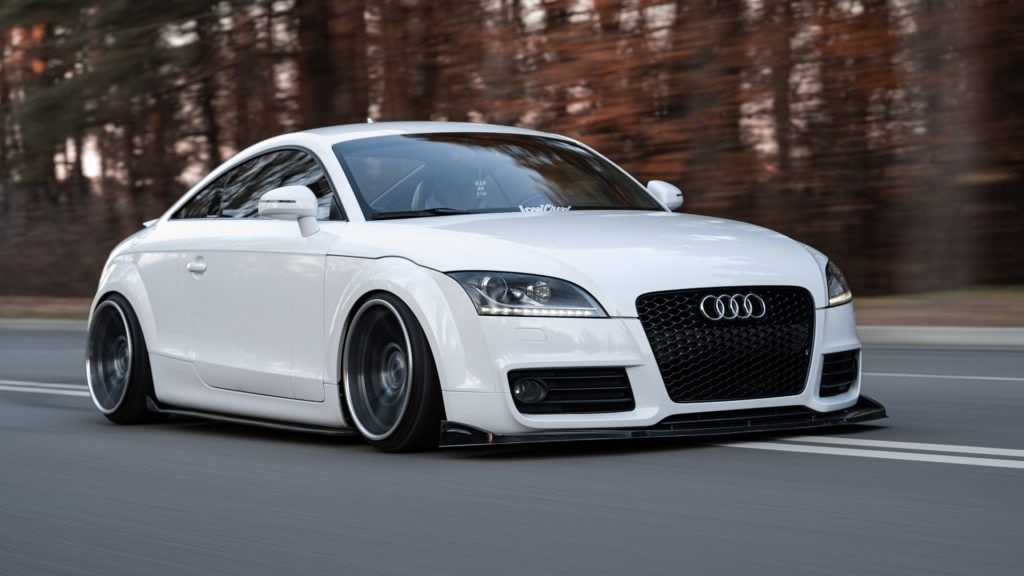 Note: This article's statistics come from third-party sources and do not represent the opinions of this website.
When it comes to luxury car manufacturing, few renowned names instantly come to mind—Audi being one of them. A forerunner in the game for over 100 years, Audi as we know it today emerged from humble beginnings in Zwickau, Germany dating back to 1909, and has come a long way to be the big name that it is today.
Despite Audi's rich heritage in motorsports in which it had overwhelming success in both endurance racing and rallying, it wasn't until semi-recently—as in the early 2000's—that the company began to formulate ideations of design for its first true sports car.
Up until then, Audi had mainly developed premium coupes and sedans, with its main focus being on creating high-performance versions of its cars. Although much less flashy and more road-oriented than the cars of their main competitors like Mercedes and BMW, Audi's cars did possess impressive all-wheel drive technology and turbocharged engines.
That being said, we're excited to take a closer look at the brand's first supercar, the classy-meets-flashy Audi R8. But first, we'll uncover some interesting history and prime facts about the German luxury automaker that you may or may not already know.
A Quick Look at The Top 17 Audi Facts and Statistics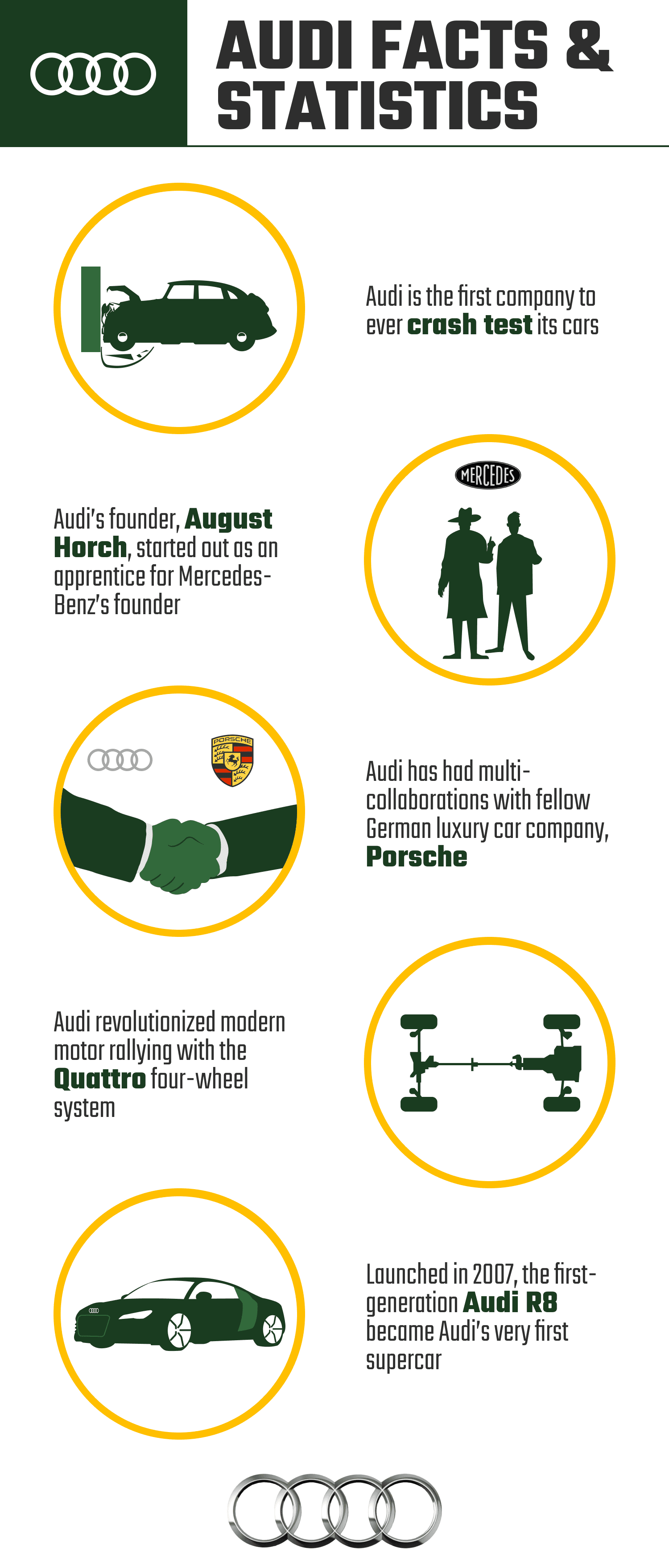 History of Audi
1.

Audi's founder first started off as an apprentice for Mercedes-Benz's founder.
(The Fact File: 50 Interesting Facts About Audi)
Before starting his own venture that would eventually lead to the birth of Audi, its founder, August Horch, came from humble beginnings working as a blacksmith while working on his engineering degree. Upon receiving his degree, Horch began working under Karl Benz, founder of Mercedes-Benz—another luxury car manufacturer that would later be one of Audi's biggest competitors.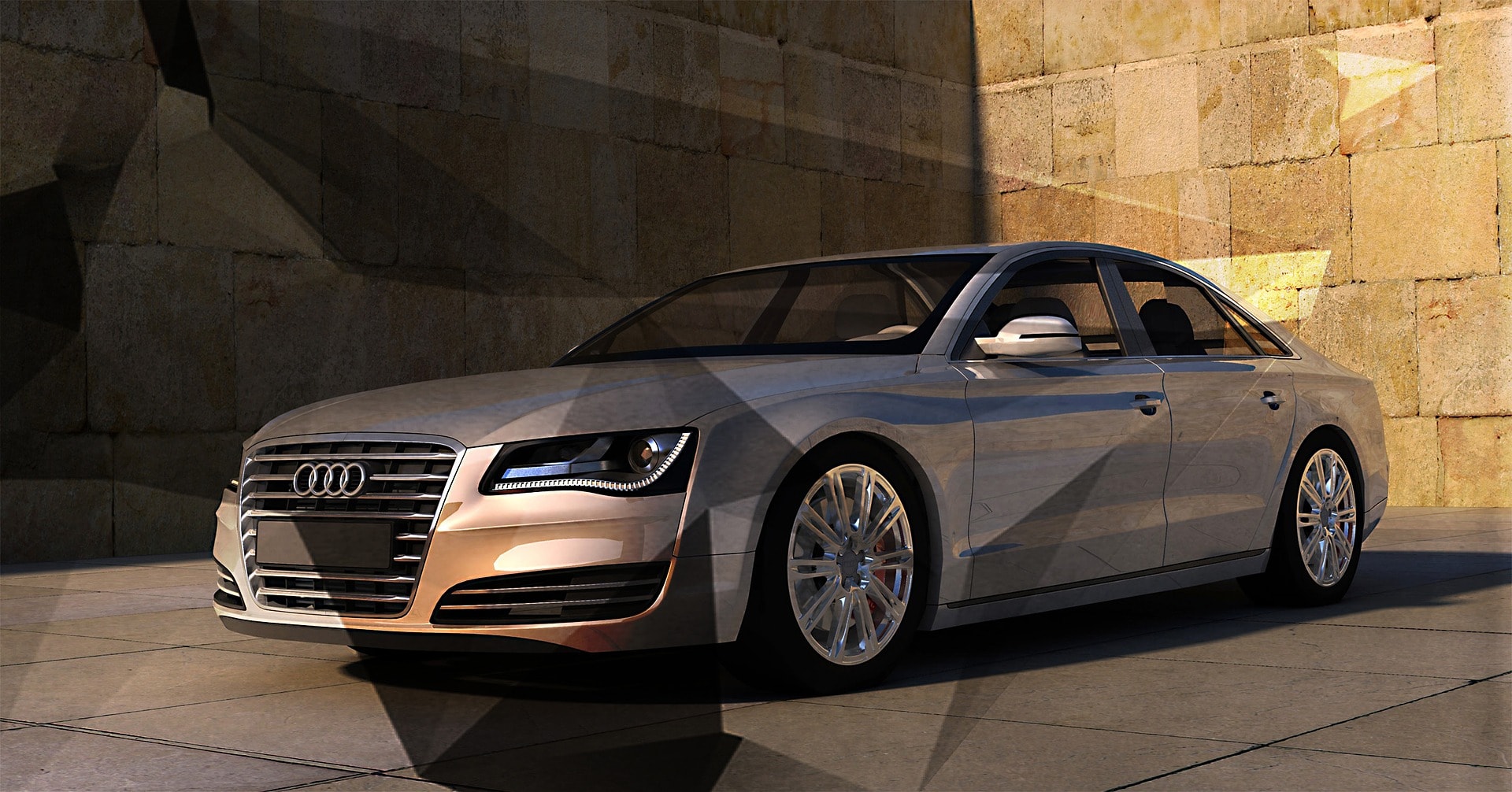 ---
2.

Before Audi, came A. Horch and Cie.
(The Fact File: 50 Interesting Facts About Audi; Auto Portal: Top 10 Facts You Didn't Know About Audi)
Prior to starting Audi, Horch first founded his first car manufacturing company by the name of A. Horch and Cie in 1899. For his first solo venture, Horch ran a highly successful car manufacturing company that even won many awards and accolades in Europe. Ten years later, Horch decided to branch off from A. Horch and Cie and start a new company due to experiencing some differences and disagreements with investors. And, thus, Audi was born in 1909.
---
3.

Audi's now-famous name came as a result of legal and copyright infringement issues.
(The Fact File: 50 Interesting Facts About Audi; Auto Portal: Top 10 Facts You Didn't Know About Audi)
Before officially landing on the name, Audi, Horch's created his new company under the original moniker of August Horch Automobilwerke GmbH (say that 10 times fast). Due to both legal issues and copyright infringement issues, Horch was forced to drop "Horch" from the name. Ironically, his own name. Ultimately, he decided on "Audi" as a new name, which is the Latinized form of Horch and means "to listen" in the same language.

Collaborations and Acquisitions
4.

Audi's logo of four interwoven rings symbolizes the four companies that make up the Auto Union AG, also known as the Audi Company.
(The Fact File: 50 Interesting Facts About Audi; Auto Portal: Top 10 Facts You Didn't Know About Audi)
In 1932, Audi decided to form the Auto Union in conjunction with fellow automobile companies, DKW, Wandered, and the Horch company from which Audi's founder, Horch, had parted ways on the wrong foot more than 20 years prior. Not only did this new collaboration mark the reconciliation of Horch with his former company, but it also marked the joining of forces of four great German automobile manufacturers—hence, the representation of the four interwoven rings. Each company dominated their own market segment: Audi for deluxe cars, Horch for high-end luxury cars, DKW for small cars and motorcycles, and Wanderer for standard mid-size cars. The Auto Union AG, or the Audi Company, is the immediate predecessor of Audi as we know it today.
---
5.

Audi has had multi-collaborations with fellow German luxury car company, Porsche.
(The Fact File: 50 Interesting Facts About Audi)
Audi's first collaboration with Porsche dates to 1933 when Porsche's founder, Ferdinand Porsche, assisted the Auto Union in building their first racecars for the Grand Prix. Later, in 1976, another collaboration between both companies resulted in the creation of the Porsche 924 entry-level sports car, which was built with the same fuel-injected VW 2.0-liter engine from the Audi 100. The Audi RS is yet another collaboration between Audi and Porsche, which is evident from the Porsche logo adorning the model's grill, tailgate, and brakes.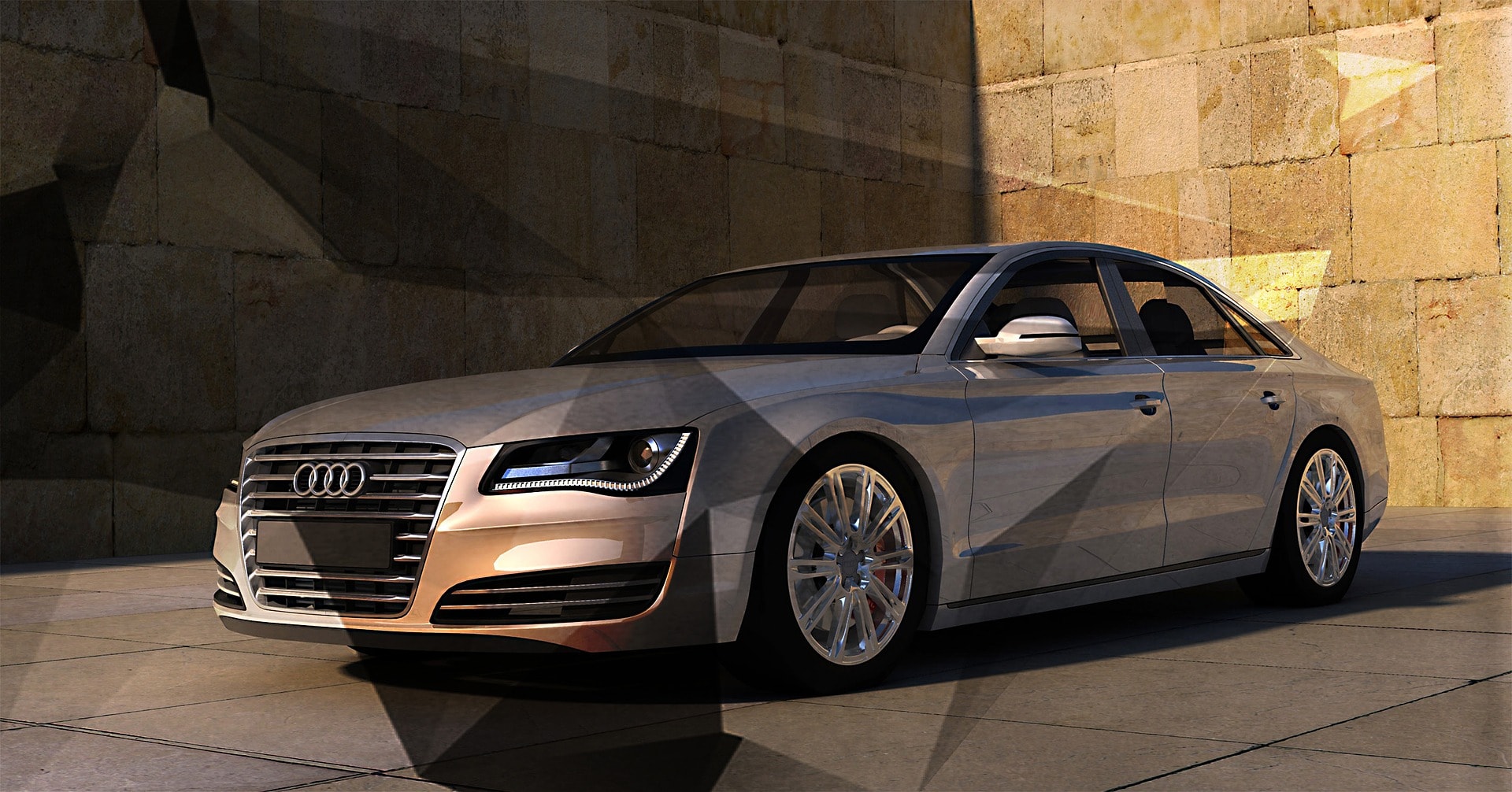 ---
6.

Volkswagen AG acquired the Auto Union in 1964 – marking a major turning point for Audi as well.
(The Fact File: 50 Interesting Facts About Audi; Daimler-Benz Acquires Majority of the Auto Union)
In 1960, the Auto Union was a wholly owned subsidiary of Daimler-Benz (more commonly known as Mercedez-Benz or Daimler), from which Volkswagen AG acquired it years later in 1964. This marked a significant turning point for Audi, as the acquisition by Volkswagen revived the brand who underwent a major rebranding to become the current Audi that we know today.

Groundbreaking Vision and Innovation
7.

Audi is the first company to ever crash test its cars.
(The Fact File: 50 Interesting Facts About Audi; Auto Portal: Top 10 Facts You Didn't Know About Audi)
Although safety tests in the form of crash testing seems like a relatively new development in the world of car making, Audi has been conducting crash testing on its cars for more than 80 years now. It conducted its first crash test in 1938, making it the first company ever to conduct a crash test for its cars. While its methods have more than likely upgraded by now, the company used to conduct these tests by rolling an Audi F7 down a hill.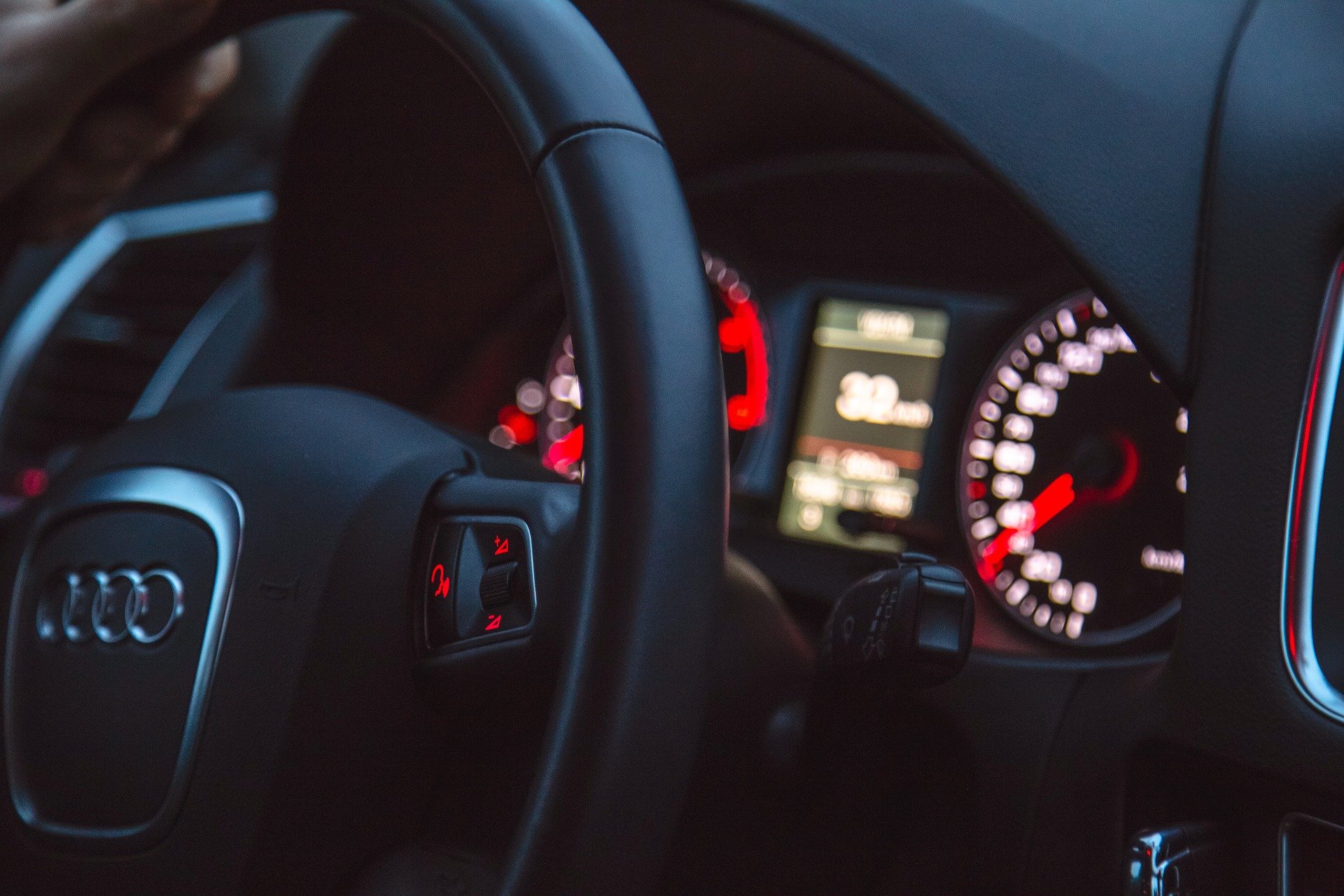 ---
8.

Audi revolutionized modern motor rallying with the Quattro four-wheel system.
(Auto Portal: Top 10 Facts You Didn't Know About Audi)
Audi released its Quattro four-wheel system back in the 1980's, right around the same time the World Rally Championship (WRC) was planning to integrate four-wheel-drive systems into race cars. Multiple rally wins by Audi between 1981-1986 put Quattro on the map, proving that Audi was a force to be reckoned with in the racing world. These victories promoted the Audi Quattro so much so that the WRC took notice and, from that point on, allowed four-wheel or all-wheel drive cars into racing.
---
9.

Audi is planning to send a Quattro-powered Lunar Rover to the Moon.
(Auto Portal: Top 10 Facts You Didn't Know About Audi; Audi Lunar Quattro)
Audi has joined forces with a team of German scientists to participate in Google's conducted research competition, Lunar XPRIZE, in which scientists from all over are invited to construct a Lunar Rover that can run along the moon's surface for 500 meters while broadcasting a high-definition live feed. The team's Lunar Rover is powered by Audi's Quattro and is appropriately named the "Audi Lunar Quattro". Its launch date, originally planned for October 2021, did not proceed and, so far, no further announcements on a new proposed launch date have been made.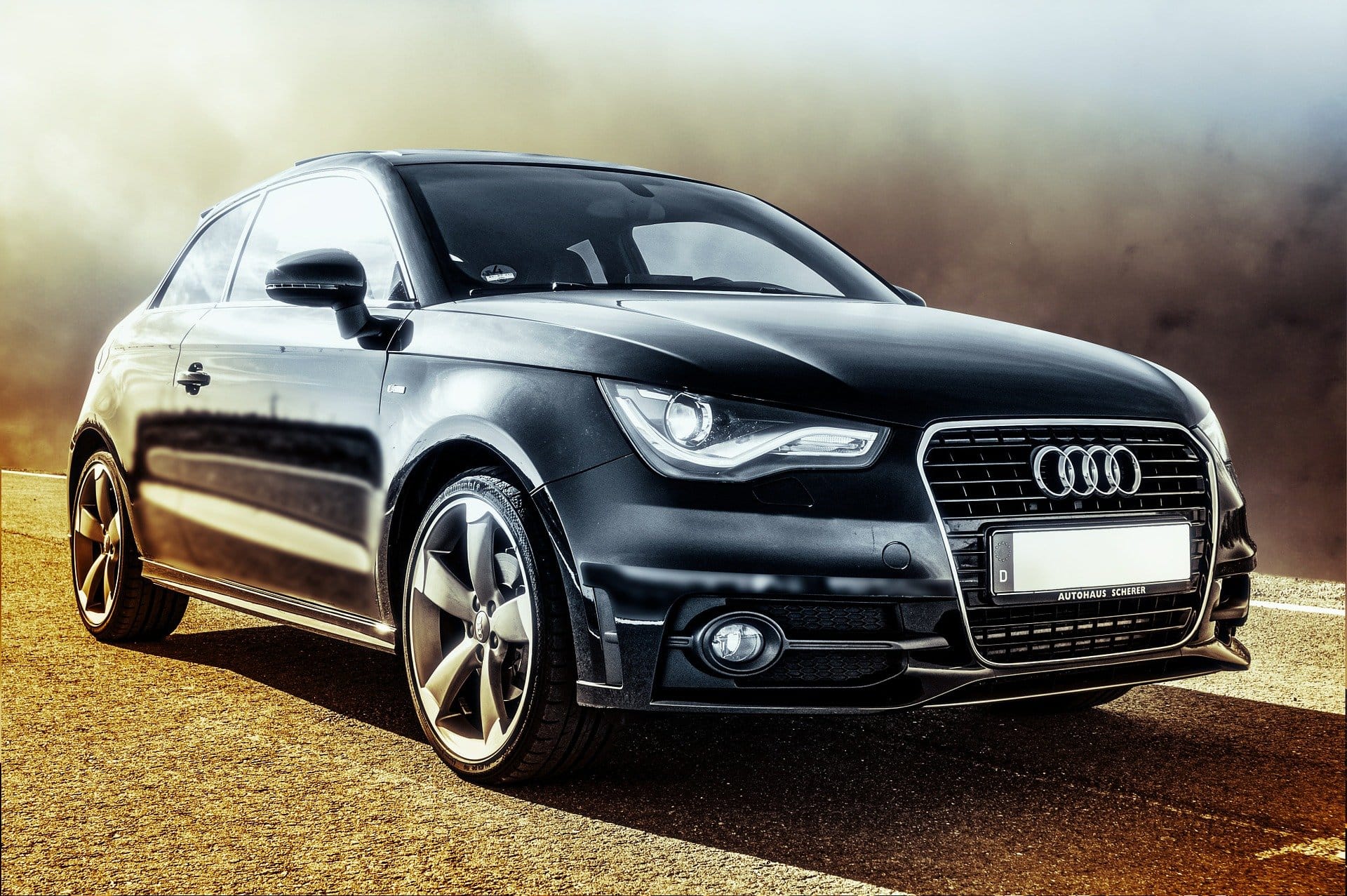 ---
10.

Audi is among the car-making pioneers to use aluminum metal in its cars.
(The Fact File: 50 Interesting Facts About Audi)
Audi is among an innovative few car manufacturing companies that have reaped the benefits of using aluminum for making its cars and parts. Such benefits include improved safety, driving dynamics, and fuel efficiency. For example, the Audi RS3's 5-cylinder turbo engine uses aluminum construction, making the engine significantly lighter than if it was made with cast iron. Audi models that have been made with aluminum bodies include the Audi A8 Limo and the Audi A2—the brand's first launched aluminum city car.
The Audi R8: Audi's First "Supercar"
11.

Launched in 2007, the first-generation Audi R8 became Audi's very first "supercar".
(The Fact File: 50 Interesting Facts About Audi; The History of the Audi R8: The Birth of a Supercar)
First introduced at the Paris Auto Show in 2006, the Audi R8 became the brand's flagship supercar and was an instant hit on the market the following year. With its ideation originating from Audi's then-recent acquisition of Lamborghini by Volkswagen AG, the R8 was created to level up the brand—bringing Audi closer in-line with the likes of BMW and Mercedes, its main competitors. Since 2007, the R8 has seen the introduction of two generations and several design and performance upgrades.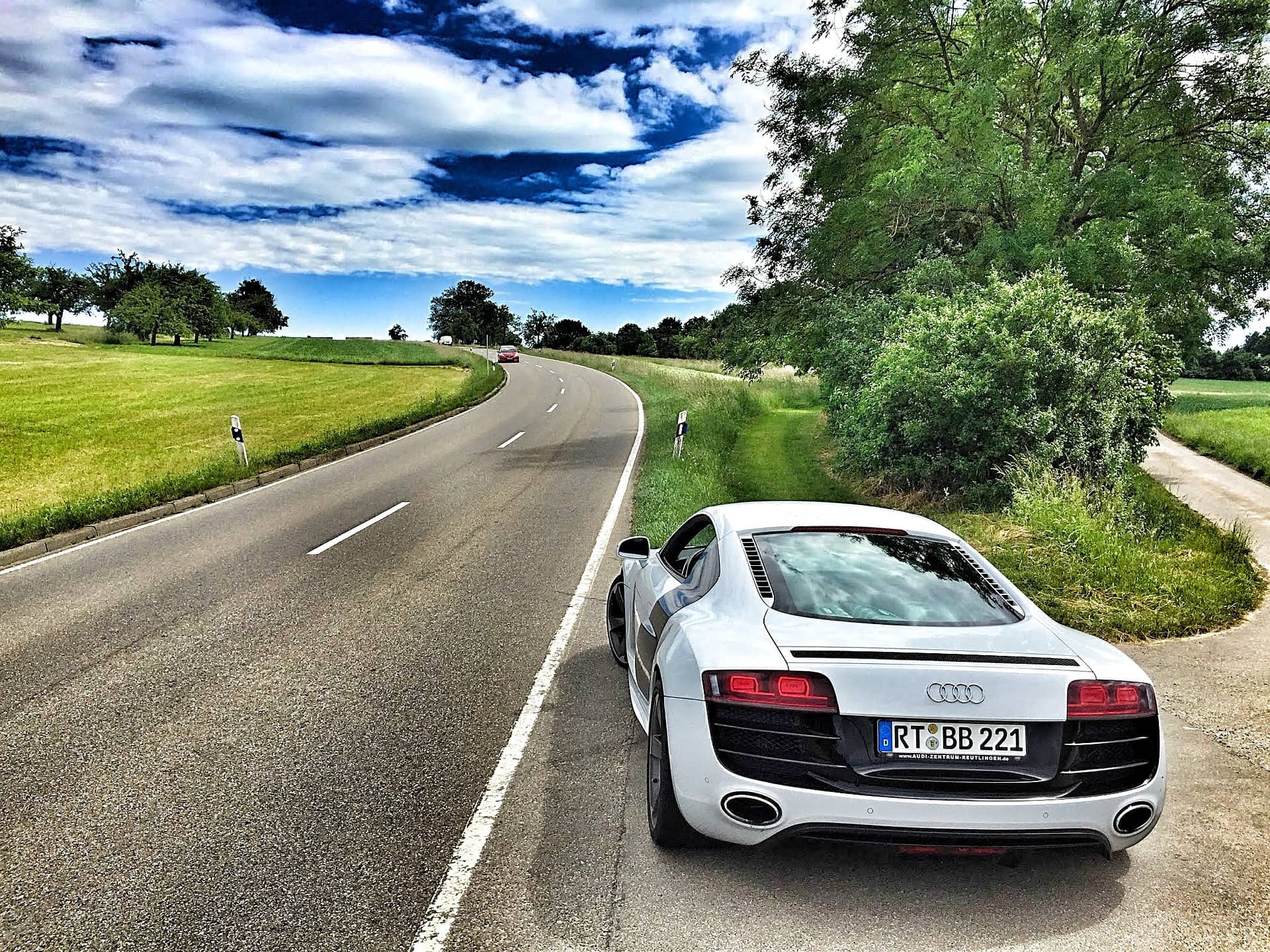 ---
12.

The Audi R8 is made of aluminium and carbon fiber to keep it ultra-lightweight yet solid on the road.
(The Fact File: 50 Interesting Facts About Audi)
Almost 80% of the Audi R8's body construction is made of lightweight aluminum, while its spine, rear wall, and b-pillars are made of carbon fiber for a high-strength frame to maintain its structural rigidity. The aluminum body panels are securely connected to the frame via positive and friction connections. Magnesium, another ultra-lightweight material, makes up the R8's engine frame.
---
13.

The newer Audi R8 has a German body with an Italian heart.
(Motortrend: The Audi R8 Origins, Generations, Specifications)
While Audi is notably and famously a German company, it is part of the larger Volkswagen Group, which acquired Lamborghini as of 1998. The 2021 Audi R8's impressive 5.2-liter V10 engine—the beating heart of the car—is actually the exact same engine as in the Lamborghini Huracán. In fact, according to Audi engineers, 98% of the Audi R8's mechanical construction and packaging is the same as the Lamborghini Huracán.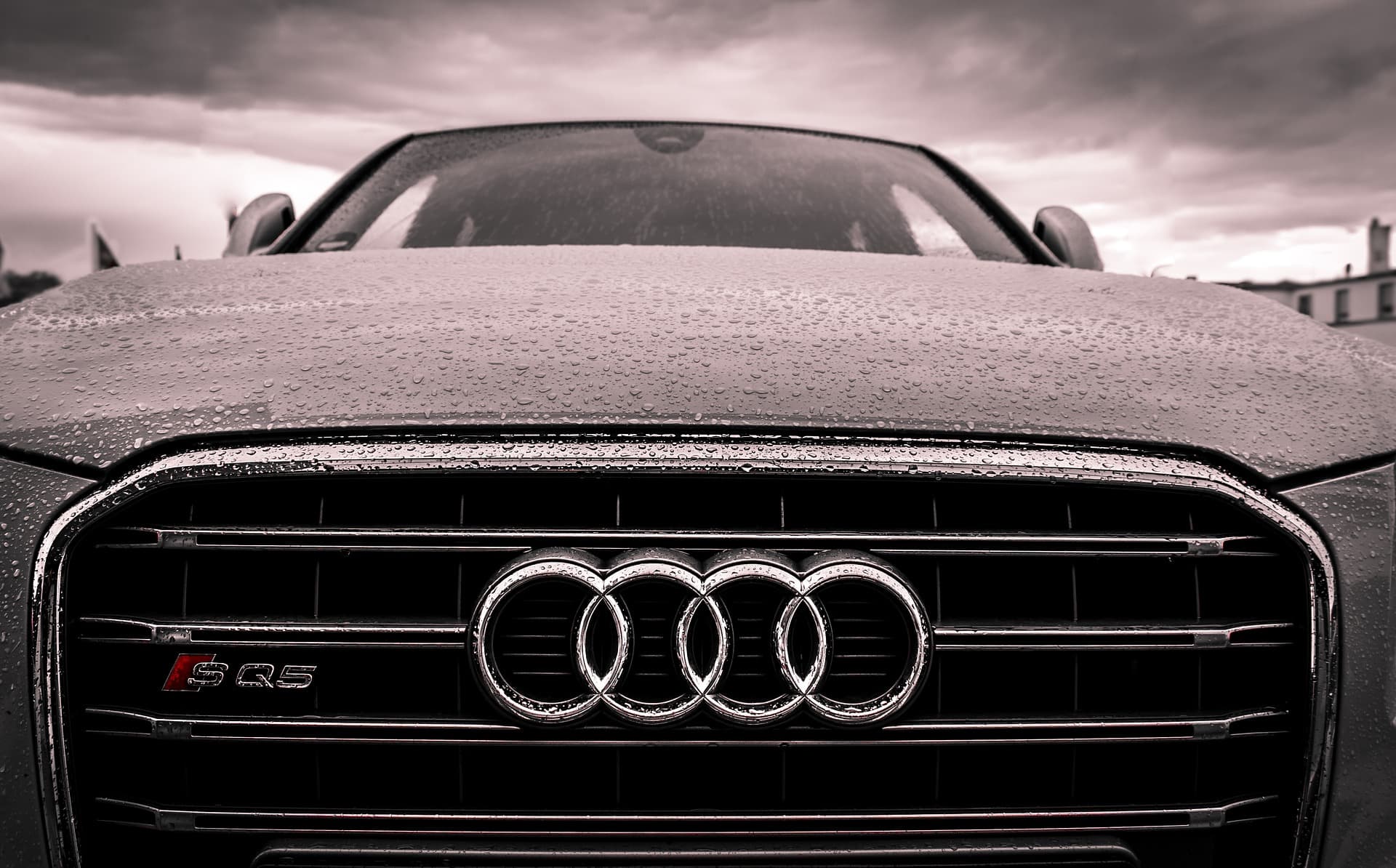 ---
14.

The Audi R8's 5.2L V10 Engine is essentially the last of its kind.
(Whichcar?: Audi R8 – 9 Things You Didn't Know;  Hot Cars: 2021 Audi R8 Coupe: Costs, Facts, And Figures)
Perhaps one of the biggest selling points of the newer Audi R8 models is the 5.2L naturally aspirated V10 engine. Especially among a sea of turbocharged and hybrid sports cars these days, the R8's engine is arguably among the last of its kind. As there is no longer a V8 version nor a manual version of the engine in the newer R8 models, every R8 made these days comes equipped with a seven-speed dual-clutch automatic V10 engine that also has the impressive capability of saving fuel under light loads by shutting down half its cylinders.
The Latest and Greatest: 2021 Audi R8
15.

In 2021, Audi released the performance version of the Audi R8 RWS—complete with an exclusive new look.
(Hot Cars: 2021 Audi R8 Coupe: Costs, Facts, And Figures)
The 2021 model of the Audi R8 RWS (short for rear-wheel series) was introduced as part of the supercar's second-generation upgrade and flaunts a new sharper design. Also introduced in 2021 was an ever-exclusive Panther Edition R8—complete with a sleek black crystal-effect paint job, nicely complemented by 20-inch black wheels with flashy red trimming and limited to just 30 units available exclusively in the United States. While the 2022 model has slight dimensional changes (we're talking a 0.1-inch difference in size dimensions, at most), the 2021 version of the R8—especially its Panther Edition—has brought with it some of the most impressive design upgrades to the Audi supercar in recent years.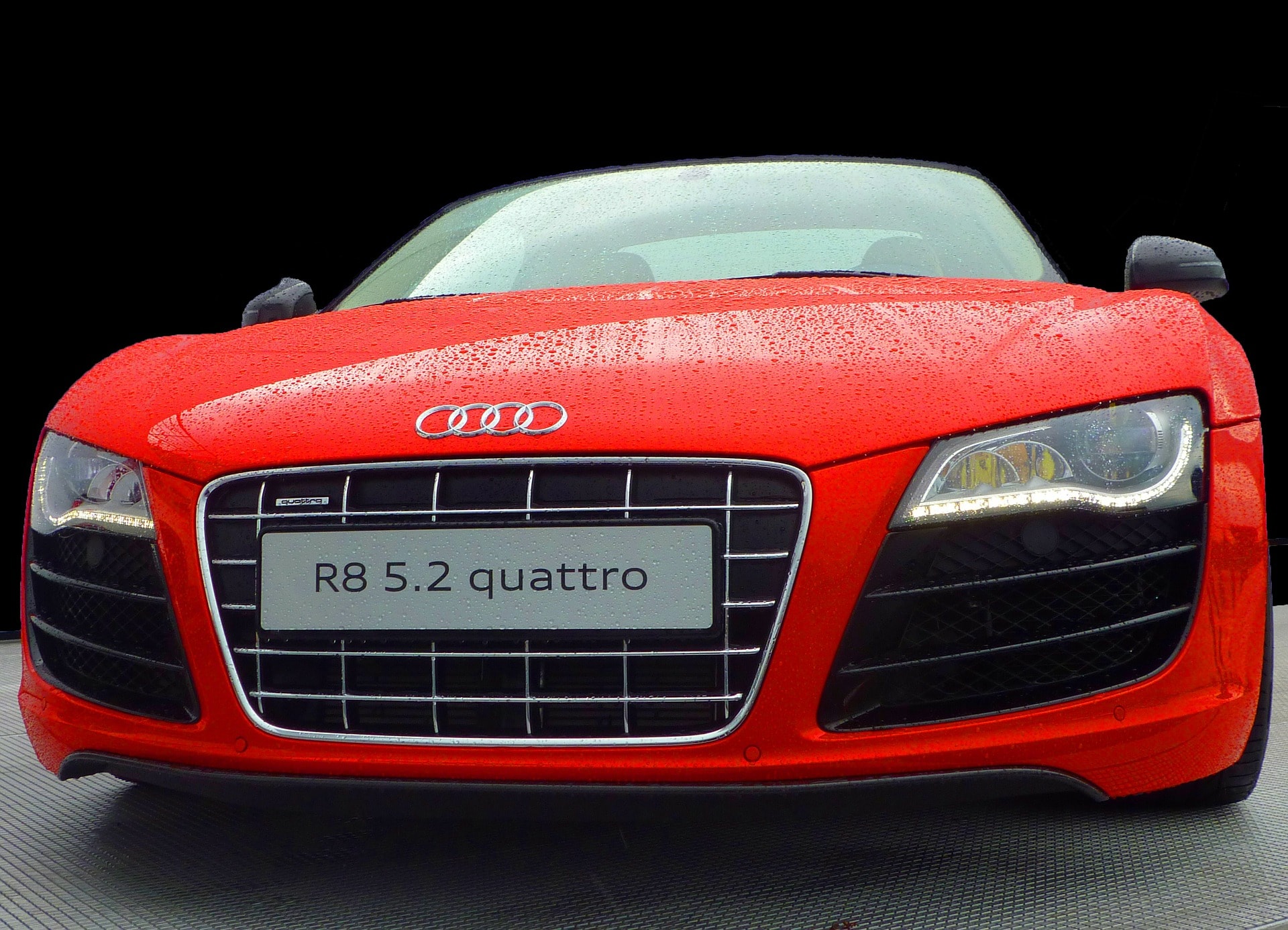 ---
16.

The 2021 Audi R8 packs quite a punch, ranging between 532 to 602 horsepower.
(Motortrend: The Audi R8 Origins, Generations, Specifications;  Hot Cars: 2021 Audi R8 Coupe: Costs, Facts, And Figures)
Despite being impressively lightweight on the road, the 2021 Audi R8 still packs an impressive punch of horsepower. With its rear-mounted 5.2L naturally aspirated V10 engine, the 2021 model makes up to 532 hp in its rear-wheel drive (RWD) base iteration, and up to 602 hp in its all-wheel drive (AWD) version. For some comparison, when the first-generation R8 debuted in 2008, it came equipped with a mid-mounted 4.2L V8 engine that packed up to 420 horsepower with its AWD version.
---
17.

Staking claims to its "supercar" title, the 2021 R8 is super-fast and furious.
(Hot Cars: 2021 Audi R8 Coupe: Costs, Facts, And Figures)
Along with its astounding power comes next-level speed. For the brand's speedster fans, the 2021 Audi R8's V10 engine does not disappoint, as this model can go from 0-60 mph in an ever-shocking 3.6 seconds for the RWD base model and 3.2 seconds for the AWD models. Considering the engine is naturally aspirated, these figures are especially impressive. For some comparison, the 2021 Porsche 911 Turbo does 0-60 mph in 2.8 seconds, except with a twin-turbocharged engine. As far as top speeds go, the 2021 R8 5.2L V10 engine can get up to a max speed of 201 mph (RWD) and 205 mph (AWD), compared to the early first-generation R8 4.2L V8 engine that topped out at 188 mph.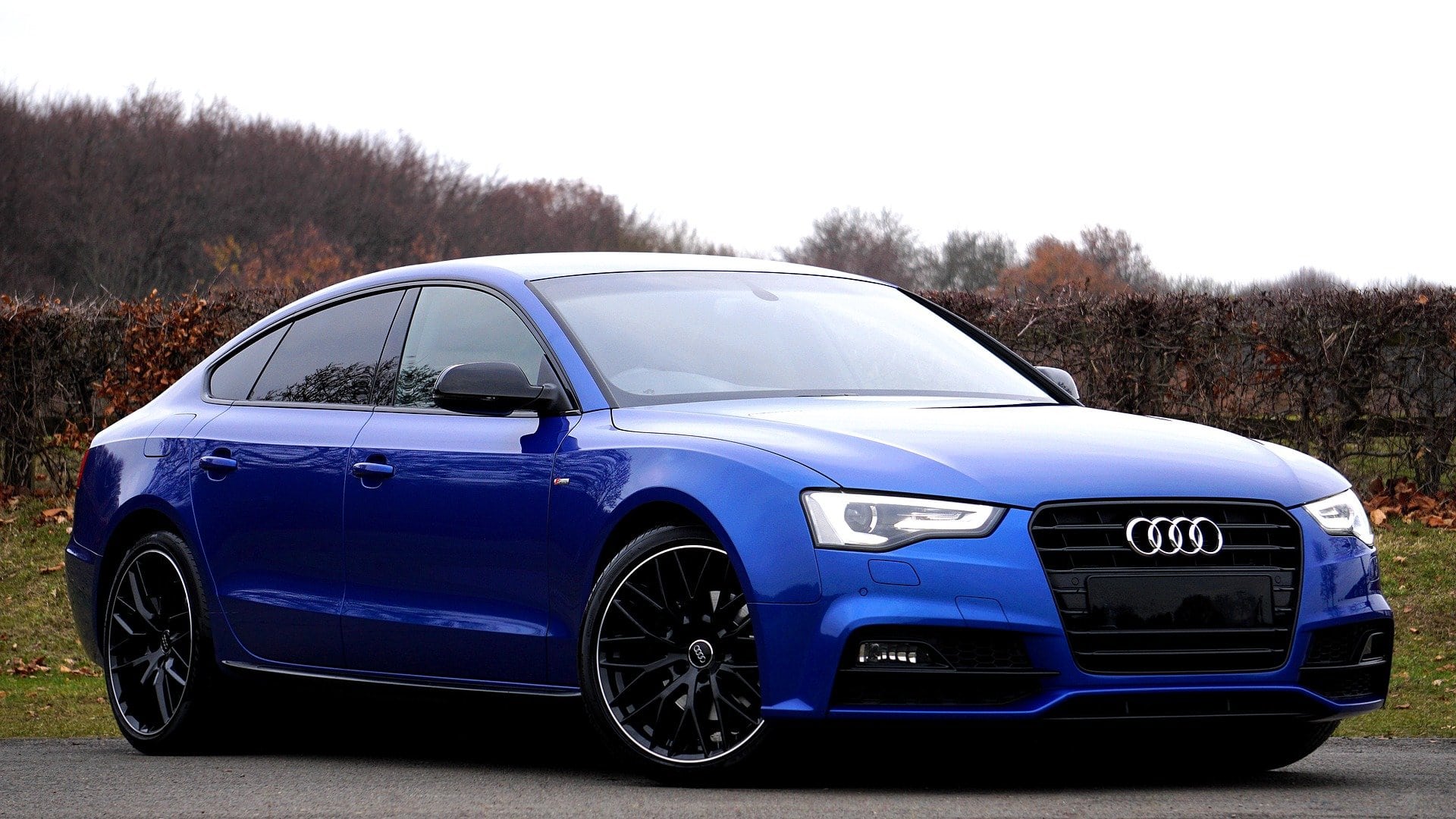 Frequently Asked Questions About Audi
What makes Audi so unique as a car brand?
Audi has become a well-known name in the world of cars, and for good reason. Having produced some of the highest quality luxury cars in the world while implementing ground-breaking innovation and technology, it has made quite a name for itself in the past 110+ years. Its image and identity as one of the most recognizable high-end luxury car brands in the world is credited to its unique design identity, outstanding racing heritage, and use of cutting-edge technology as an ever-evolving automotive company.
(Pffaf Audi: What Makes Audi Unique)
Are Audi cars known to be environmentally friendly?
Audi is credited as being one of the most eco-friendly car manufacturers in the game. After a 2016 emissions scandal involving Audi's parent company, Volkswagen AG, the luxury automotive group has increased its commitment to sustainability. Moving forward, Audi has made sustainability a focal point of its ambitious plans towards electrification—with claims made of offering 30 electric vehicles that account for 1/3 of the company's global sales by the year 2025. Considering we're only 3 years out from then, it'll be interesting to see Audi bring this plan come into fruition. As far as currently, Audi has managed to keep the aforementioned 2021 R8 rather sustainable, with a combined EPA rating of 17 MPG (13 MPG in the city, and 20 MPG on the highway). Not bad for being the brand's supercar.
(Leaders in Energy: Audi's Environmental Goals; Blue and Green Tomorrow: Eco-Friendly Audi)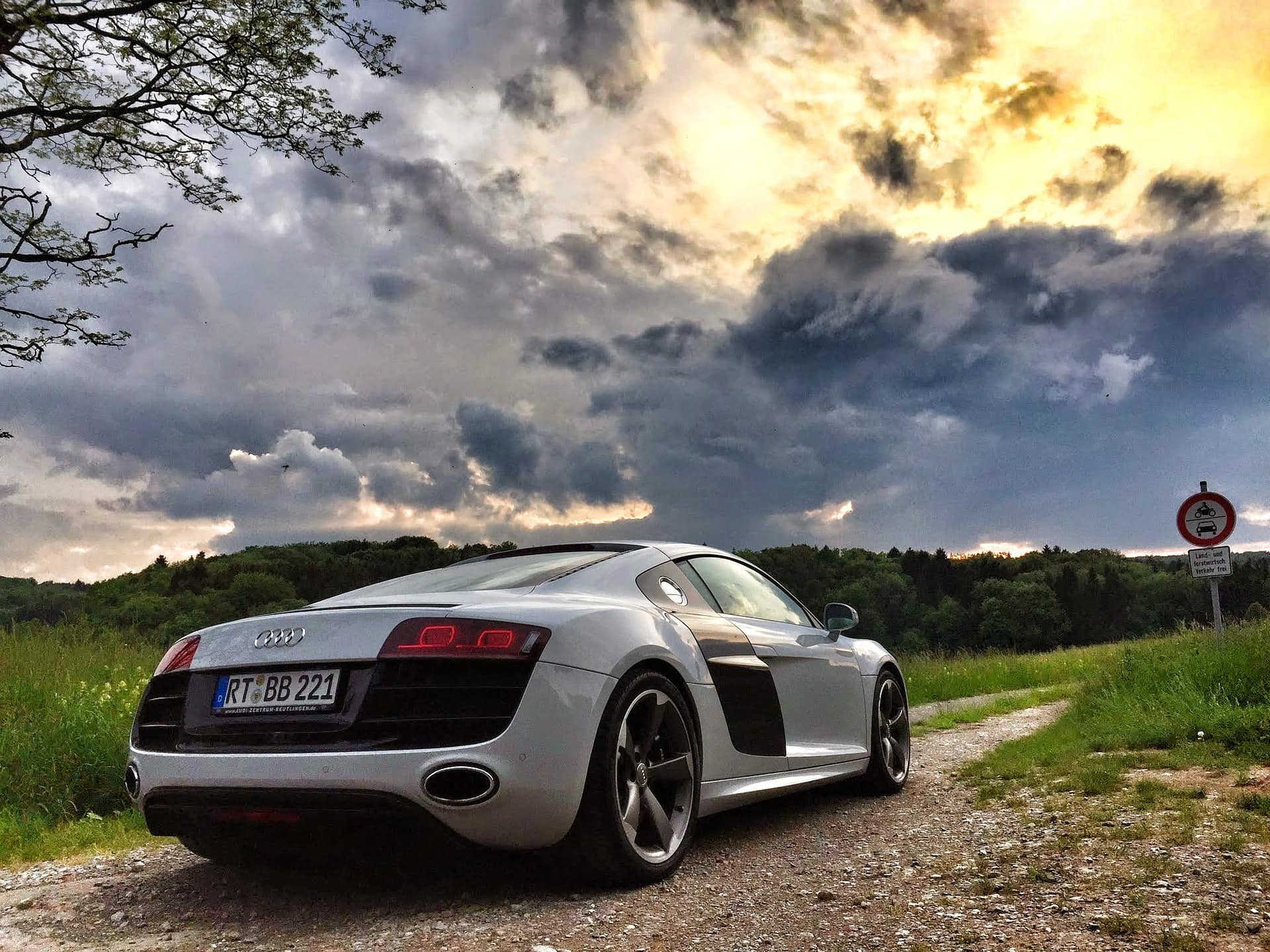 What is the average price range for an Audi?
That question really depends on many factors including the car's year, model, make, engine and transmission type, specs, add-on features, etc. Because there are various car types within Audi to choose from—ranging from the compact A3 sedan to the larger Q7 SUV, to the Q8 crossover, to the aforementioned R8 supercar—your best bet is to first narrow it down to what type of car you're looking for and go from there, noting that prices vary greatly depending on each specific factor. For the sake of reference, the 2021 Audi R8 has a starting MSRP of $142,700 for the base-level RWD couple, while the limited Panther Edition goes for $183,300.
(Pffaf Audi: What Makes Audi Unique)
Conclusion
As a premium luxury car brand, it goes without saying that Audi's top-of-the-line reputation comes at a hefty price. It's no surprise that cars made by the ever-popular German luxury automaker are not the cheapest on the spectrum, but you really get what you pay for when purchasing a vehicle from Audi. Not only are you paying for high-end quality paired with high-level performance, but you're also paying for the brand's unique design identity, use of pioneering innovation and technology, as well as its rich history and motor racing pedigree. As detailed above, driving an Audi signifies much more than just looking cool and stylish behind the wheel. As an Audi driver, or even as a passenger, you are embodying the very quality, class, and performance emitted by the brand's very name.
---
Featured Image Credit: Pixabay