11 Basement Kids' Playroom Ideas & Design Tips (With Pictures)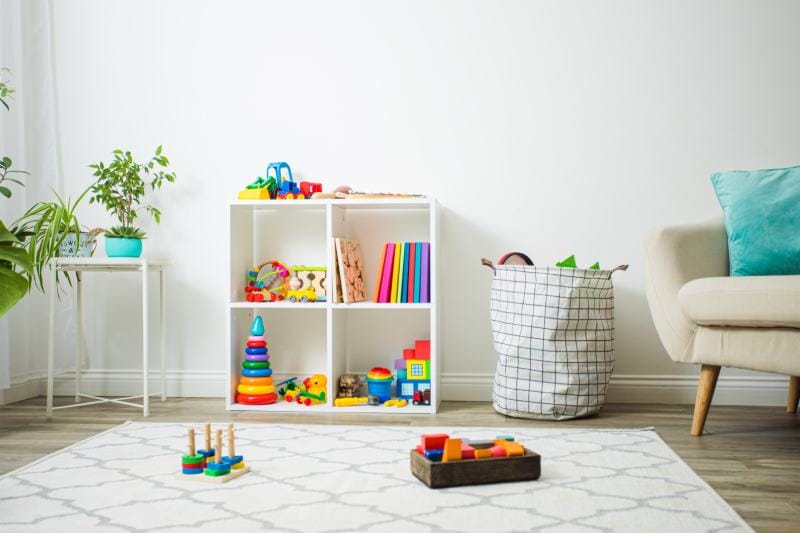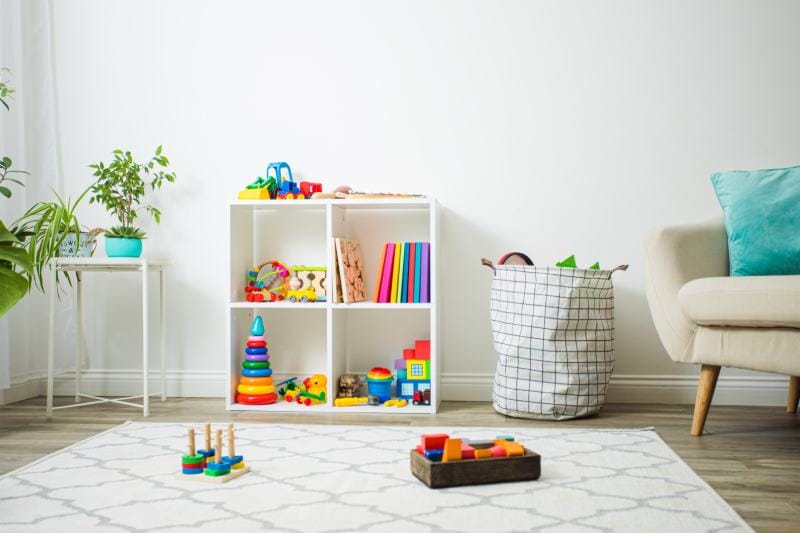 Having children is a joy, as all good parents will gladly attest. However, having kids underfoot asking for things every 5 seconds and causing a mind-numbing commotion all day long can be overwhelming. That's why, if you have a basement that's inhabitable and easily accessible, turning it into a playroom for your kids is a fantastic idea.
With a basement playroom, the kids can have fun and stay safe indoors while you get peace and quiet upstairs. To help you turn your basement into a sanctuary for your kids, we've collected 11 phenomenal ideas and design tips for you below!

The 11 Basement Kids' Playroom Ideas
1.

Create a Chalkboard Wall to Write and Color On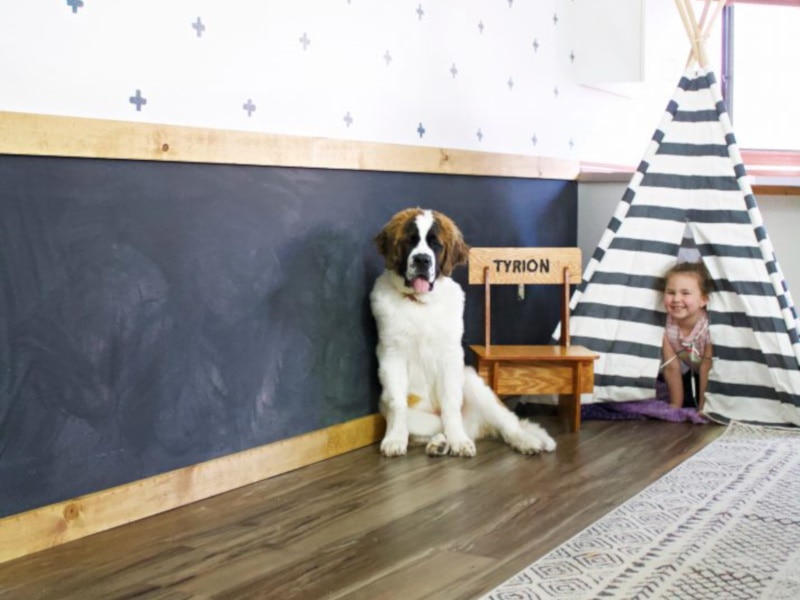 Kids love to write on walls for some odd reason. Making your kids a chalkboard wall to write on in their basement playroom is the perfect way to give them what they want and keep your regular walls scribble-free!
This is an easy weekend project that shouldn't take more than 2 or 3 hours at the very most. The results look great and for the little artist in your family, it will be a joy to scribble with their favorite chalk colors.
---
2.

Create a Space for Quiet Time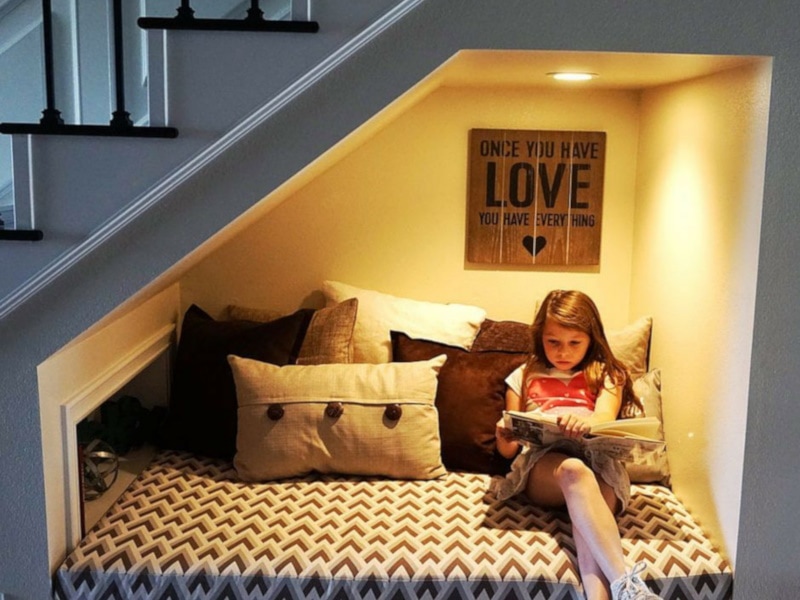 Yes, you're creating a playroom for the kids, but occasionally, they may want to stop playing to get some quiet time away from their siblings. This project is easy to set up and does not require tools if you have a cut-out under your basement stairs.
---
3.

Go for a Themed Playroom
Most kids love something specific, whether it's knights and dragons, castles and princesses, underwater life like the Little Mermaid, the Wild West, etc. To truly set the mood for your children, having a themed room is the way to go! We think you'll agree that this one from Decoist that's been made to look like a medieval castle is fantastic!
---
4.

Turn their Basement Playroom into Main Street
OK, we know that this idea will take a lot of time and effort and demands a skill set that some parents might not have achieved yet. However, it's just so amazing that we had to include it! Imagine if your child got to play in a make-believe town with a grocery store, firehouse, bakery, or whatever else you want to include! It will take playing "house" to a whole new level! With heavy-duty cardboard, paint, and other materials, your child will have the best basement playroom in town!
---
5.

Don't Forget to Add Storage Space
Leave it to HGTV to remind us that you can never have enough storage space when it comes to kids and their playroom! Depending on your DIY skillset, you could either make colorful cubbyholes and stack them in many positions or purchase them in various configurations, styles, materials, and colors. You can buy a bunch of plastic bins that fit inside the cubbyholes, and you'll have all the storage your little one needs to keep their playroom organized and neat!
---
6.

Incorporate a Slide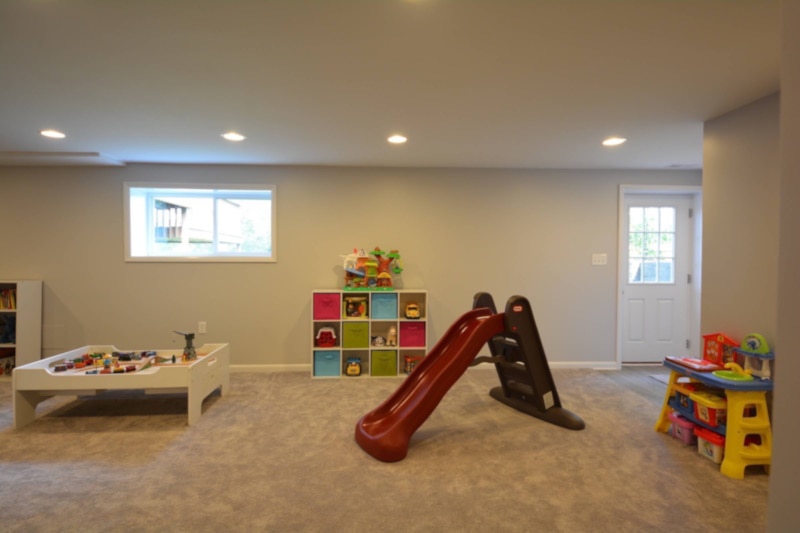 What child doesn't like sliding down a slide? (Answer; none!) Incorporating a slide into their basement playroom will create a new level of fun, especially for smaller kids and toddlers. You'll need a soft spot to land at the bottom (and an easy way to get back to the top), but we guarantee this will be your child's favorite part of their playroom for years to come! And speaking of soft spots to land…
---
7.

Incorporate Colorful Rugs or Play Mats into Your child's Basement Playroom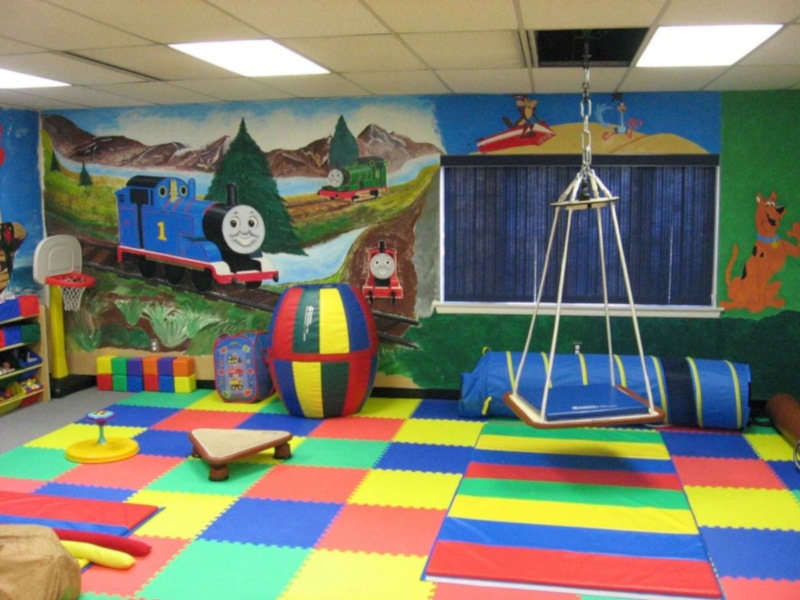 Having an area to play in the basement is all good and well, but if the floor is cold, hard concrete, your kids might not enjoy playing there. To make the playroom more appealing, use colorful rugs or, even better, soft play mats on the floor. There's no denying that, when playing with their toys or crawling around pretending to be dinosaurs, your child will be much happier if they're on something soft and warm.
---
8.

Create a Pretend Window to Another World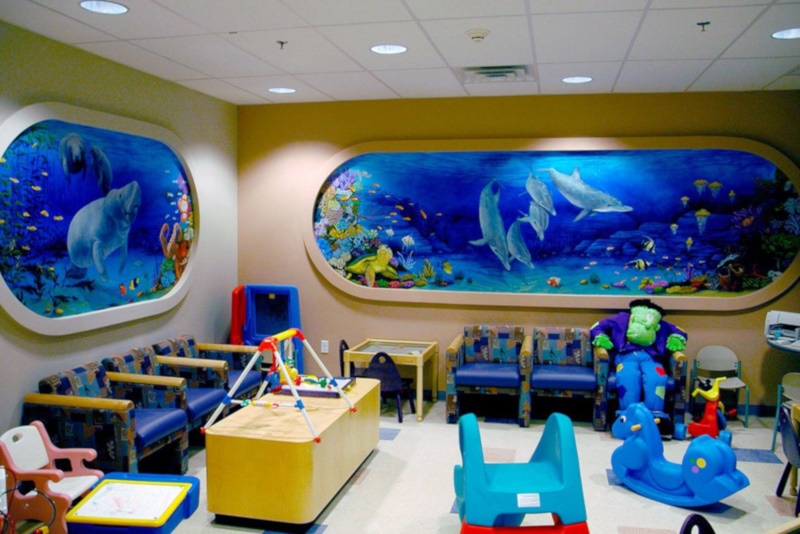 Imagine when your child looks out their basement window; they see an underwater world, the Amazon jungle teeming with life, or deep space with stars, the moon, and planets off in the distance. You can make it happen with paint or the right wallpaper! You'll need to make a "window frame" around the "window" for added realism, and once you do, you can make the world "outside" almost anything your child desires!
---
9.

Don't Forget the Child-Sized Furniture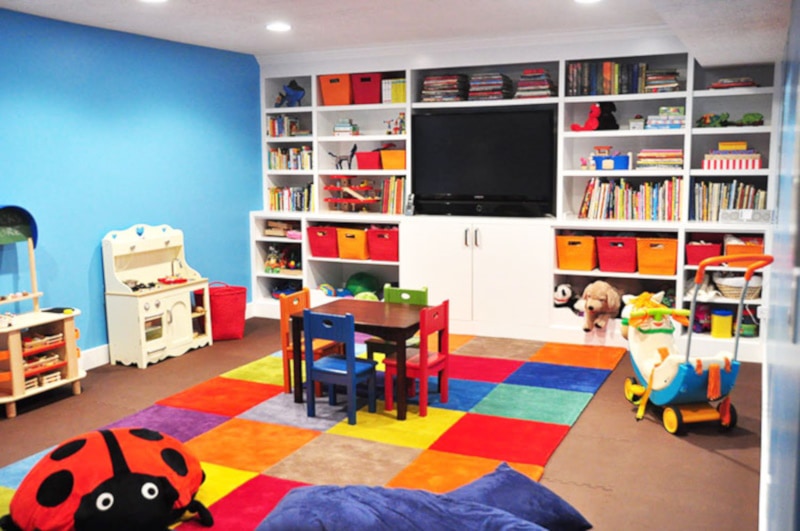 Some kids are perfectly happy playing on the floor, but there will be times when they want to sit while they build Legos, draw, color, or craft. You'll need child-sized furniture, which you can find at many major retailers and online. The more colorful the furniture, the better in most cases, as it will add extra fantasy and whimsy to their basement playroom (which might not be the brightest place in the house). Bean bag chairs and small rocking chairs are still popular among many kids.
---
10.

Use a Regular Tent as a Makeshift Fort or Castle
Kids love to pretend that they have their own place to live, which is why they love tents so much. Sure, there are dozens (probably hundreds) of themed tents you can buy, but a basic camping tent will usually cost much less and be just as fun for your child, especially toddlers. Of course, if you want to get your child a themed tent, by all means, do so! There are many types, materials, sizes, and themes on the market, and most are simply delightful!
---
11.

Turn Your Basement into a Jungle Gym
Kids like to climb, jump, swing, and slide as much as possible. Why do you think the local playground is so busy? Imagine what your munchkins would think if you turned your basement into a jungle gym where they could climb the walls, hang off bars, and swing around like monkeys! Yes, it will take a bit of time to put together and use all the DIY skills you can muster, but the reward will be that your kids think you're the greatest parent in the world.

Final Thoughts
Many of the basement playroom ideas and design tips we've shared today can be modified to fit your child's particular needs. Also, remember that there are several ways to achieve their dream playroom without breaking your budget. You can use Facebook marketplace, for example, to find used furniture, rugs, play mats, slides, and much more.
We hope the playroom ideas and design tips we've shared today have boosted your creativity. Best of luck creating a basement playroom to help your kids have fun and let their imaginations run wild!
---
Featured Image Credit: Oksana Shufrych, Shutterstock