7 Bathroom Tile Trends (2023) – Design Ideas for a Modern Home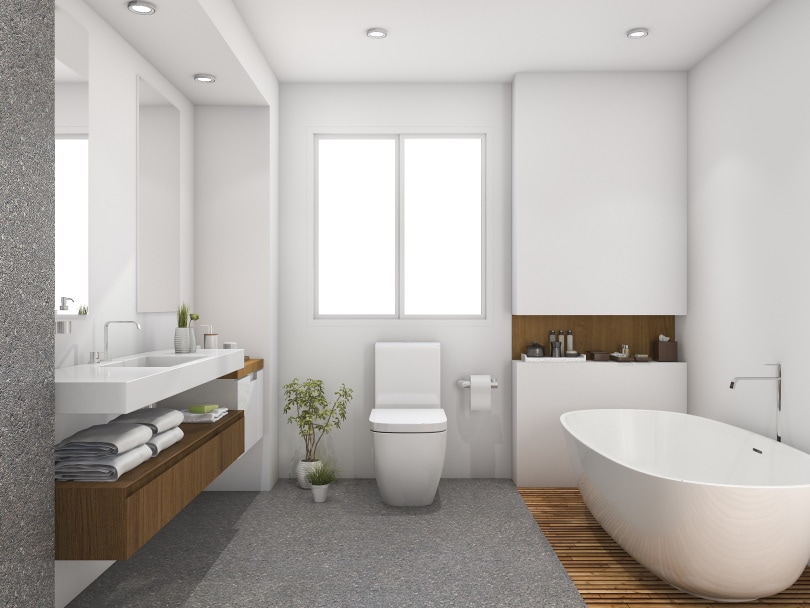 Tile is one of the best materials you can use inside your bathroom. Not only is it highly durable and increases the value of your home, but it also comes in many colors, patterns, and designs so that you can make a one-of-a-kind bathroom.
Going into this year, it's important to check out the bathroom tile trends that are all the rage. From dark tile floors to minimalistic tiled bathroom patterns, there are tons of tile bathroom trends to consider making your bathroom stand out this year.

The 7 Bathroom Tile Design Idea Trends (2023)
1.

Dark Tile Floors
One of the most popular trends for bathroom tile is using dark tile to accent the bathroom floor. With dark tile, the eye is automatically drawn to the tile.
Since the dark tile is a different color from grout, the pattern will be easy to showcase, creating an interesting visual on the floor of your bathroom. This means that you can create stunning visuals on your bathroom floor just using standard dark tile and grout.
Not to mention, using tile on your bathroom floor is a great choice because it is durable. Since your bathroom will see a lot of moisture and frequent usage, it's a good idea to select flooring that is highly durable and resistant to moisture, cracks, and damage.
In other words, tile is a wise choice for your bathroom floor because you can make it a stunning visual that also lasts a long time. By choosing a dark coloration specifically, you don't have to worry about the floor going out of style, either.
---
2.

Statement Tiled Floor
If you are a fan of putting tile on your bathroom floor but don't like simple dark coloration, you can make your floor the accent piece of the bathroom using unique tile. No matter what color scheme you want your bathroom to have, you can find tile that matches the coloration and makes your bathroom floor the star of this show.
As you can see above, you can use classic patterns and designs so that your bathroom looks clean and uplifting with its patterned floor. You can also have more retro or funky-looking patterns to showcase your home's personality.
Once again, this statement tiled floor also comes with the advantage of a highly durable and high-value floor. By opting for a statement tile floor, you get to add a bit more personality and funk to your bathroom's durable design.
---
3.

Matching Tiled Floors and Walls
One of the most popular bathroom tile trends is extending the tile from the floor to the wall. This tile design makes your bathroom visually stunning and makes it appear highly modern and contemporary. Whether you want mellow tones or a bright and bold bathroom, you can easily create the atmosphere you want by matching the tile on the ground and wall.
This bathroom tile design works best for showers that are flush with the bathroom floor. This allows for a cohesive and smooth look that isn't capable if you have to step into your shower. Its design choices are especially great for walk-in showers since it protects all aspects of the bathroom, not just the floor.
If you opt for this design choice, you don't have to decorate your bathroom too much. The tile will do most of the work for you. Just add a couple of finishing touches, and your bathroom is ready to go.
---
4.

Statement Tiled Walls
Tile isn't just for the floor. If you don't want to change your floor, you can add tile to the walls as well. In fact, tile makes a great choice for statement walls. If you want to add a bit of color and life to your bathroom, a statement tile wall is a great choice.
The key to successfully designing a statement tile wall is to use interesting geometric shapes, patterns, and bold colors. By pairing these three factors together, you will create a wall that is impossible to miss. More so, make sure to pair the statement wall with subdued decorations elsewhere so that the wall is the focal point of the room.
Most people like to put the statement tiled wall around the bathtub or shower. Not only does this create a stunning visual, but it also helps to protect the walls from any moisture from the bathing area.
---
5.

Tiled Accent Wall Around Sink
Another perfect place to put tile in your bathroom is around your sink, vanity, or mirror. By putting the tile in this place specifically, you make the mirror the star of the show. This statement wall is a great choice for half bathrooms that lack showers and bathtubs.
Even if you have a shower or bathtub, you can still make the vanity wall the main point of the bathroom. For example, bathrooms with attached full baths often benefit from tile around the mirror to showcase the more modern features.
---
6.

Statement Tiled Shower
If you have a walk-in shower with clear shower walls, consider tiling the inside of your shower. This may include the floor of the shower and the walls of the shower. Since the shower doors are clear, your guests will be able to view the stunning shower anytime they walk into the bathroom.
You can make just about any decor or atmosphere you want by tiling the shower. From a retro look to a peaceful seascape, the options are limitless when it comes to putting tile inside your shower.
As we've already covered, tiling the shower area will protect the floors and walls from any water damage. Tiling this area of the bathroom also increases the home's value by quite a lot since the tile is so stunning and durable.
---
7.

Minimalistic Tiled Bathroom
Finally, the last bathroom tile trend this year is minimalistic tiled bathrooms. Although funky patterns and bright colors are indeed contemporary, so are muted colors schemes with simplistic tile choices.
Minimalistic tiled bathrooms are great for homes that want a relaxing and cozy experience. They are also great for homes that see guests frequently. Since minimalistic tile bathrooms almost always use white as the main color, your bathroom will appear very clean at all times.
The minimalistic tile bathroom doesn't go out of style either. Due to its more subdued patterns and colors, you don't have to worry about this bathroom looking dated within a couple of years.

Why Choose Tile in Your Bathroom?
No matter which bathroom tile trend you go with, there are several reasons why you should choose tile inside your bathroom.
Tile Durability
Tile is one of the most durable materials out there. Because of its durability, it is an ideal material to use in your bathroom. It will withstand frequent use and high moisture in the air. Plus, tile is super easy to clean to maintain a new appearance.
Looks Expensive
Tile isn't just functional. It is also classy and aesthetic. When most people see a tiled room, they automatically assume that the room is highly expensive. By using tile in your bathroom, you can elevate your home's entire decor and appearance.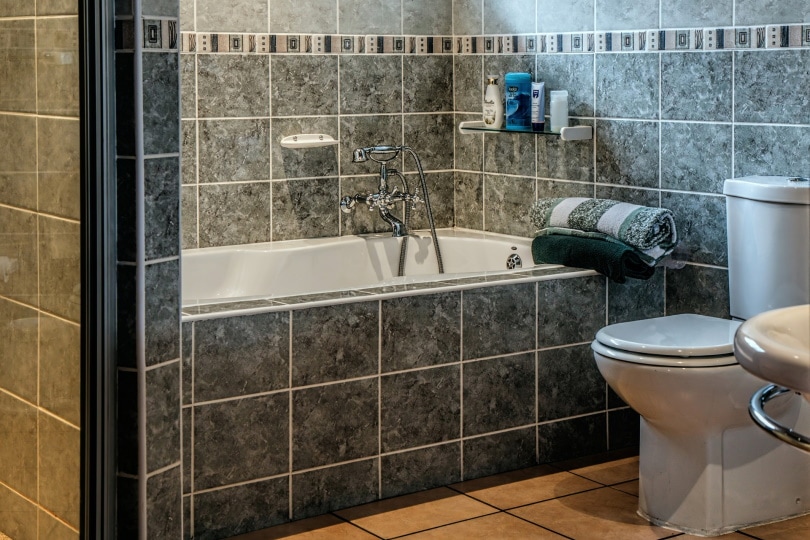 Increases The Value of Your Home
Since tile is so durable and expensive, it increases the value of your home. If you are ever thinking about selling your home in the future, future buyers will certainly love a tiled bathroom.
Complete Customization
One unique benefit of using tile in your bathroom is that it is completely customizable. Unlike laminate, wallpaper, and other decorative items, you get to choose the color, pattern, shapes, and laying pattern of your tile. This complete customization ensures that you get the finished results you are looking for.

Final Thoughts: Bathroom Tile Design Trends
Elevate your bathroom's decor by choosing one of the above tile bathroom trends. Even though each one of these trends is in style and popular this year, go with the trend that best matches your personality and the decor of the rest of your home.
By selecting a bathroom tile pattern that matches your entire home, not only will your bathroom look expensive, but your house will have a cohesive and classy look.
---
Featured Image Credit: Beyond Time, Shutterstock