10 Modern Wall-to-Wall Carpet Trends – 2023 Design Ideas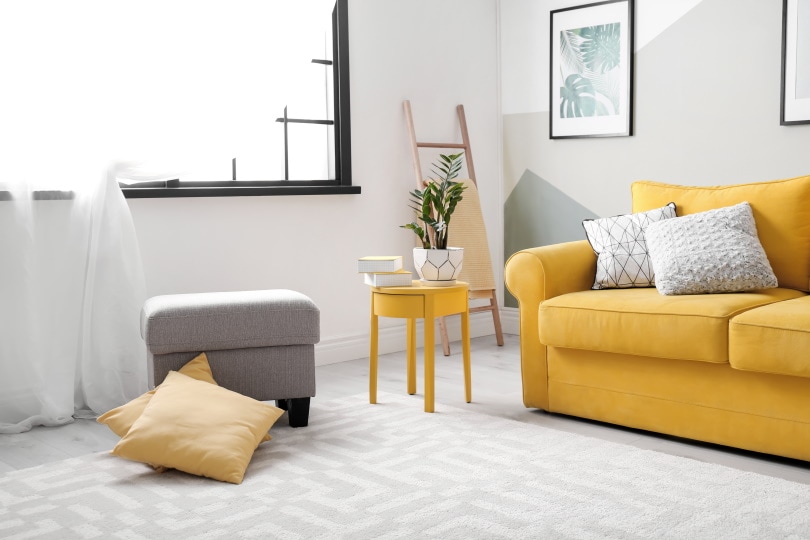 The trend of the wall-to-wall carpet is back in 2023, with a slightly modern and edgy look, new popular carpet colors, and patterns. There's no denying that wall-to-wall carpets are cozy and that they can be the perfect detail that your home is missing. Who doesn't love the soft feel of carpet under their feet? Another fantastic thing about wall-to-wall carpets is that they improve your house's insulation, add a sense of luxury, and are low maintenance.
If you've been considering setting up a wall-to-wall carpet in your home, keep reading. We will provide you with a detailed list of modern wall-to-wall carpet trends in 2023, with some of the most popular carpet colors, designs, and aesthetics.

The 10 Modern Wall-to-Wall Carpet Design Ideas
1.

Animal Prints Are Always Trendy
Although people might think that animal wall-to-wall carpets are no longer a thing, they are rapidly coming back to life. A classic animal print carpet is an excellent addition to any room, making it modern. You can go for a zebra, tiger, or an elephant pattern. You can think outside of the box, and instead of getting an animal pattern in their standard colors, you can select popular carpet colors of 2023, like mint green or stone blue. The space will look expensive, modern, and people will be able to sense your style.
---
2.

Tile Carpets Are Making Their Debut
If you want to make a big statement and add a contemporary feel to your home, consider getting a patterned wall-to-wall carpet. Minimalist looks are behind us, and in 2023 everything needs to be grand and fabulous. Tile print carpets have previously been used mainly in hotels and restaurants, but they've made their grand debut and are entering houses and apartments in the upcoming year. A tile print design will be eye-catching, and you can color code it to match your style. If you need to test the carpet out, you can experiment in smaller areas and later add it to bigger spaces like your family room or your bedroom.
---
3.

Floral Pattern Will Surely Matter
The floral pattern wall-to-wall carpet is another top choice for wall-to-wall carpets in 2023. They add a tropical and natural sense to your home with a touch of color. There's a wide range of choices for the floral pattern so that you can choose anything from tiny flowers to large details and colorful blueprints. It will be a great way to modify the look of your house and add an urban feel to it without having to spend thousands of dollars. Another great thing about carpets with patterns is that they are easy to clean and maintain.
---
4.

Go As Natural As Possible
Wall-to-wall carpets made of natural materials will definitely blossom in 2023. The world is becoming more and more eco-friendly, and almost everyone is trying to take care of the environment. Natural carpets are usually made of jute, seagrass, and sisal. They will add a natural feel to your home, making it seem modern but rustic at the same time. Just imagine having a soft seagrass wall-to-wall carpet. Wouldn't that be cool? It will be a great decorative piece and make your house warm and inviting. Go for natural colors because most tones fit in popular carpet colors in 2023, and they go great with everything.
---
5.

3D Carpets Are Becoming a Thing
In 2023, 3D wall-to-wall carpets are turning into a major trend. They can easily fit into any home design, and they can have different motives, patterns, or just be made in popular carpet colors for the following year. They can add texture and be a great starting concept for further decorating. Having a 3D wall-to-wall carpet will make your home feel unique, interesting, and it's a great feature every household should try out.
---
6.

Plush Is Always In
Plush wall-to-wall carpets will always be modern because they offer a timeless look that easily fits into any household. They are soft, warm, and add an excellent appeal to your home. Plush carpets can be made from numerous materials like nylon, polyester, and wool. The wool ones are pretty pricey because wool is a natural material, whereas other options might be more affordable. This carpet type is easy to maintain, it has an elegant appearance that can fit into any space, and everyone can adjust it to their needs and wishes.
---
7.

Waterproof From Wall-to-Wall
This is an especially family-friendly wall-to-wall carpet solution true to its characteristics and its material. It's perfect for families with kids or pets because of the low maintenance and 100% water resistance. They come in various different styles and patterns, but the important thing is that you don't have to think about stains or mold. This carpet type repels water and doesn't soak it in—so you can easily clean it, and it will look brand new.
---
8.

Make a Blue Statement
Blue is a classic, and it has always been among popular carpet colors. That remains for the following year, so having a blue wall-to-wall carpet will always be a winning combination. Light blue is a relaxing, calming color, so your house will seem peaceful and give out a cozy, comfortable feeling. On the other hand, if you choose darker shades, your home will appear elegant, modern, and luxurious. A high-quality blue wall-to-wall carpet can be the highlight of your living room and help with adding a splash of color.
---
9.

Be Trendy With Multicolor Wall-to-Wall Carpets
Although some people might be afraid of adding too much color to their home, in 2023, you should consider multicolor wall-to-wall carpets. You can choose lighter colors to make your space feel more spacious, or darker shades if you want to add a soft, mellow touch. Choose a multicolored wall-to-wall carpet with an exciting design and an interesting texture to make your home more contemporary.
---
10.

Stripes Are the New Black
A new classic trend that will surely stay on top, not just in 2023 but also in the following years, is striped wall-to-wall carpet. They are a perfect way to add an illusion of more space and depth to your home. Striped wall-to-wall carpets will keep your home up to date and be a tremendous stylish feature that makes a statement. You can go for popular carpet colors like blue, beige, and green, or you can go over the top and choose red, orange, or yellow tones. Choosing broad stripes will make the space feel larger, while small lines will narrow the area down.

Conclusion: Wall-to-Wall Carpets
Wall-to-wall carpets have been coming in and out of fashion, but one thing is sure—they're destined to be in every home in 2023. Decide if you want to be bold, or go for a more neutral design, and make your home modern with wall-to-wall carpets.
---
Featured Image Credit: New Africa, Shutterstock