Best 14-Inch Band Saws 2023 – Reviews & Buying Guide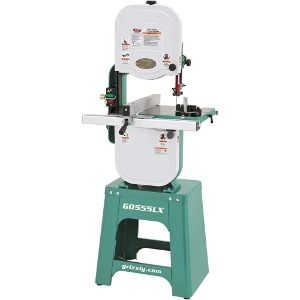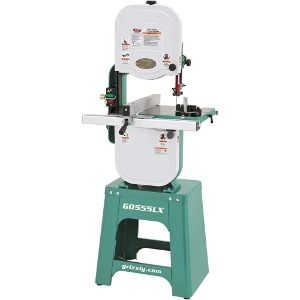 Bandsaws are big, heavy, and expensive. Duh. But because they are, you want one that works, meets your needs, and won't break the bank. In days gone by you could rely on a few trusted name brands offering a handful of models to choose from, and be certain of getting good value for your money.
Those days are long gone.
Today there are dozens of manufacturers offering a dizzying array of models, options, and accessories. Most of them claim to be "Made in America," but generally that just means the company is headquartered in the U.S., while the actual construction and/or fabrication takes place somewhere overseas. Quality is no longer a given.
It's not really a jungle out there but it's close. So in these reviews, we've done all the hard work of evaluating the various bandsaws and putting together an easy-to-understand list to make your decision as painless as possible.
---
Our Favorites of 2023 Compared:
Rating
Image
Product
Details

Best Overall

JET JWBS 14-Inch Band Saw

Easy to adjust
Good resaw capability
Cast-iron construction is solid
CHECK PRICE

RIKON 10-324 14″ Band Saw

Extra-tall rip fence
Resaw capacity of 13″
Adjustable ball bearing blade guides
CHECK PRICE

Best Value

Grizzly G0555LX Band Saw

Blade replacement is easy
Cast-iron frame and table
Magnifying window in fence
CHECK PRICE

WEN 3966 14″ Bandsaw

Lots of power
Very little noise
CHECK PRICE

Laguna Tools 14-Inch Band Saw

Good resaw capacity
CHECK PRICE
The 5 Best 14-Inch Bandsaws:
1.

JET JWBS 14-Inch Band Saw – Best Overall
This bandsaw demonstrates excellent quality and attention to detail in the manufacturing process. The cast-iron construction is solid through and through. There's no flexing of any of the saw's components, which prevents any drift or wandering of the blade. The result is smooth, reliable cuts.
Tensioning and tracking the blade is simple and easy. The cast-iron wheels have plenty of mass to keep the blade moving through hardwoods with minimal pressure. Resawing through 1×8 inch walnut is a breeze.
The blade guides are all ball bearing wheels—no steel blocks here. This means they're easy to adjust and gentle on the blade. Height adjustment is equally smooth and easy. The rack-and-pinion blade guard adjustments are easy, smooth, and sure.
If the word 'easy' keeps popping up, it's because it describes this bandsaw more than almost any other word.
The poorly written manual is the only real negative concerning this tool. Aside from that, it's a dream machine that deserves its spot as the best 14-inch band saw.
Pros
Cast-iron construction is solid
Easy to adjust
Excellent quality
Good resaw capability
Plenty of power
---
2.

RIKON 10-324 14″ Band Saw
This is a good quality bandsaw that just misses being our top pick. It has a good resaw capacity (up to 13″) along with an extra-tall rip fence. You won't have to fabricate a fence addition for this saw.
The upper and lower ball bearing blade guides are fully adjustable, which delivers a precise cut whether you're resawing or ripping. Changing blades is straightforward, allowing you to spend more time getting things done instead of messing around with the saw.
One added bonus is the inside of this saw. Most power tools are very roughly painted on the inside but this one is smooth to the touch. Dust doesn't cling to smooth surfaces as well as it does to rough ones, so you'll see much less dust collection inside the saw. Less dust equals less time spent cleaning the saw and more time for your work.
We were disappointed that a miter gauge wasn't included. Also, the blade that comes with this tool doesn't last very long. Aside from those two items, this was a very strong contender for the top spot.
Pros
Extra-tall rip fence
Resaw capacity of 13″
Good resaw results
Adjustable ball bearing blade guides
Cons
Dust collection isn't good
Didn't include miter gauge
---
3.

Grizzly G0555LX Band Saw – Best Value
This bandsaw is something of a mixed bag. It has good cast-iron construction, including the frame and table. The ball bearing adjustments are simple and smooth. Changing the blade on this saw is the easiest we've seen.
The fence is aluminum instead of cast iron, but it has a magnifying window and miter gauge for ease of adjustment.
The resaw capacity is only 6″ on this saw but a separate riser is available to extend it to 12″. Unfortunately, the riser kit requires the use of a 21mm wrench in a very tight, knuckle-busting space, so be careful. You'll also need a mallet to hammer it into place.
The included blade tends to break at the weld point. The blade alignment bearings are of poor quality and tend to seize. The table itself has problems with the trunnion slipping out of alignment when it's tilted. This isn't fatal, but it is annoying.
There aren't a lot of frills on this saw, but if you're willing to work around the few problems it has, it definitely is the "best for the money."
Pros
Blade replacement is easy
Cast-iron frame and table
Magnifying window in fence
Cons
Poor blade alignment bearings
Riser kit is hard to install
Included blade tends to break
---
4.

WEN 3966 14″ Bandsaw
This bandsaw is confusing. When it works, it's a good tool that delivers decent results. The problem is that it's not reliable.
It has a powerful motor that operates with very little noise. Furthermore, there's not much assembly required out of the box. This is always nice!
It includes a blade tension gauge, a circle cutting guide, a flexible work light, a 3-in-1 dust port, a fence, a 1/2-inch blade, and a miter gauge.
Now the bad news—it needs a lot of initial adjustment, and the adjustment process isn't easy. It won't tension the blade correctly, which results in the blade popping off the wheels. The blade also won't track correctly no matter how much you adjust it. The result of all this is extremely poor, uneven cuts.
There's a reoccurring dust collection problem in the wheels. Dust build-up increases the chances of the blade coming off the wheels. It also causes horrible grinding noises in the bearings.
This saw has too many problems and is too unreliable to rate any better than fourth place on our list.
Pros
Lots of power
Very little noise
Cons
Blade pops off the wheels
Needs lots of adjustment
Won't tension correctly
Won't track correctly
---
5.

Laguna Tools 14-Inch Band Saw
This saw has a good 14″ resaw capacity. Aside from that, it's a nightmare on Elm Street.
The list of accessories is good but all of them are extremely poor quality. The table insert is cast aluminum with rough edges, instead of machined as advertised. The knobs are welded on crooked, paint flakes off the tool every time you clean it, changing the blade requires the removal of several parts, and the ceramic guides come loose during operation which causes jams as well as damage to the throat and surrounding surfaces.
Making adjustments requires the use of very poor quality hex wrenches instead of knobs or wheels. The table either jams or doesn't lock securely in position. The upper wheel is out of alignment, causing the blade to oscillate back and forth, which results in a great deal of vibration in the saw.
This bandsaw doesn't ship with a blade! Even worse, the customer service representatives at Laguna don't seem to know anything about tools.
This expensive boat anchor deserves to sit at the bottom of the list.
Cons
Accessories are poor quality
Blade not included
Adjustments are cumbersome
Blade tension handle problems
Table tilt jams
---
Buying Guide – Choosing the Best 14 Inch Band Saw
Although our review didn't cover warranties, this is always an important consideration with large power tool purchases. Shipping damage doesn't always show up right away and three or four months down the line is a bad time to find out that the fine print on the warranty doesn't cover something.
Scrutinize the warranty before buying, and don't be afraid to call customer service with questions if something isn't clear. Most warranties are written by lawyers, for lawyers, which most of us aren't. Don't be embarrassed to ask the manufacturers to explain what something means. It can save you endless grief later on.
Available Options
There are a lot of options and accessories for bandsaws. The first one to consider is the fence. Some of the included fences don't have the same quality as the rest of the saw. You'll save yourself a lot of time and trouble if you go ahead and purchase a separate fence upfront.
Mobile bases aren't quite as important, but if you need to move equipment around the shop to accommodate different sizes of material, or for any other reason, you better have wheels under your bandsaw. The time to get them is when you're getting the saw.
Some bandsaws have a small resaw capacity. Go ahead and get the riser kit. They're generally not very expensive. Though you might not need it right away, once you do, you'll be glad it's already there and installed.
Bandsaws typically come with only one blade included in the box. Before long, you'll need replacements or different sizes. You already know that, so this one is a no-brainer. Get several blades in different widths.
Most manufacturers offer a selection of resaw guides that may come in handy. It saves you the trouble of fabricating them yourself or having to order them later. This is a smart purchase.
Conclusion:
In these reviews, we choose the JET JWBS-14DXPRO 14″ bandsaw as our top pick. It's a dream to work with, delivering smooth reliable cuts, whether you're working with soft pine or steely hardwoods. This saw will give you years of happy cutting.
Our choice for "best for the money" is the Grizzly G0555LX. While it doesn't have the frills of the top two saws in the list, it delivers decent results while saving you your hard-earned cash. If money is a concern, this is "the little bandsaw that could."
Whether you're ripping, resawing, or anything else, you need a bandsaw that fits your particular requirements. There are a lot of choices out there and hopefully, this review will prove an invaluable aid in your decision-making process. We've done the preliminary work, so all that's left is for you to sit down, read it over, and then choose the best 14-inch band saw for your needs.
More band saw posts: