5 Best Bandsaws for Resawing 2023 – Reviews & Buyer's Guide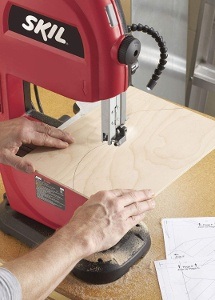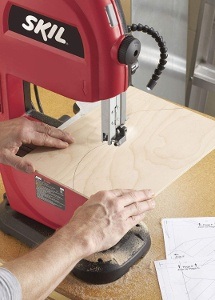 Resawing thick pieces of wood into thinner ones is a major function of bandsaws, and it's one of the reasons people buy them. For instance, you could purchase some rough-cut 4×4's then use a bandsaw to resaw them into ½-inch or ¼-inch shiplap. Resawing hardwood boards into thin laminate strips for flooring is also popular.
Needless to say, you'll need a bandsaw that can handle the requirements of resawing, and there are a lot of different manufacturers out there competing for your attention and money. In fact, there are so many different models available that it can become confusing trying to figure out which one is best for you.
We've taken a look at the bandsaws on the market today, done the research, compared them to each other, and come up with a list to assist you in making your decision. Read the reviews carefully, pay attention to the summary of each one (we even list the pros and cons), and you'll be able to choose the right bandsaw quickly and easily.
---
Comparison of our Favorite Models in 2023
Rating
Image
Product
Details

Best Overall

JET JWBS-14DXPRO Resawing Band Saw

Plenty of power
Built-in 12″ resaw capability
Cast-iron construction
CHECK PRICE

Grizzly G0555LX Resawing Band-Saw

All ball bearing construction
Good riser kit
Excellent power
CHECK PRICE

Best Value

WEN 3962 Resawing Band Saw

6″ resaw capacity
Cast-iron table
Ball bearing construction
CHECK PRICE

Delta 28-400 14 in. Resawing Bandsaw

Very quiet operation
Large table surface
CHECK PRICE

SKIL 3386-01 Resawing Band Saw

Lightweight
CHECK PRICE
The 5 Best Band Saws for Resawing – Reviews
1.

JET JWBS-14DXPRO Resawing Band Saw – Best Overall
The Jet JWBS-14DXPRO is an excellent quality bandsaw that shows attention to detail in the manufacturing process. The cast-iron construction is solid, including the cast-iron wheels which have plenty of mass to keep the blade moving through hardwoods with ease. There's no flexing of any of the saw's components, resulting in smooth, reliable cuts.
Tensioning the blade is simple and easy because the blade guides are all ball-bearing wheels. Height adjustments are very smooth, as are the blade guard adjustments.
Where this bandsaw really shines is in its built-in 12-inch resaw capacity, which allows for cutting larger pieces of wood without the necessity of installing riser kits. Resawing through eight-inch walnut (and other hardwoods) is a breeze. This baby has power where you need it the most, as well as extreme precision, so you get reliable resaw cuts every time.
The manual leaves much to be desired, but that's our only real concern with this tool. This bandsaw easily earned its top spot on the list.
Pros
Plenty of power
Built-in 12″ resaw capability
Cast-iron construction
Easy adjustments
Excellent quality
---
2.

Grizzly G0555LX Resawing Band-Saw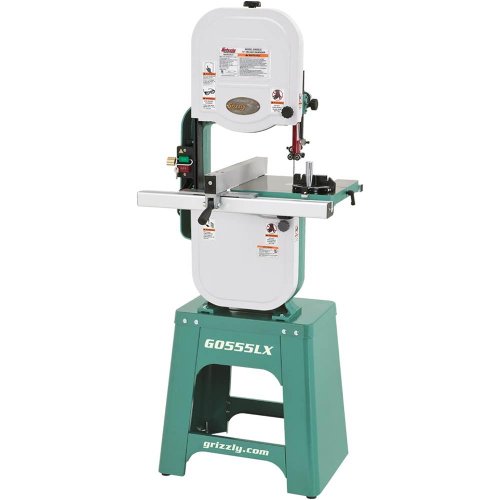 The Grizzly G055LX has good cast-iron construction, including the frame and precision-ground table. The ball bearing construction throughout means adjustments are simple and smooth. Changing the blade on this saw is quick, easy, and simple. The fence is sturdy aluminum construction and has a built-in magnifying window and miter gauge for ease of adjustment.
The resaw capacity is only 6 inches on this saw but a separate riser is available to extend it to 12 inches. Once it's installed, you'll be able to resaw large pieces of wood to your heart's content. It handles hardwood with the same aplomb and panache as it does softwood.
There aren't as many frills on this saw as on our top pick, but it gets the job done without any problems. That said, there a couple of items that keep it from being our top pick.
First, the riser kit is difficult to install. It's great once it's in place, but getting it there requires some effort, plus a mallet to hammer it into place—it's a tight fit. Second, the included blade has a tendency to break at the weld point. You'll want to get some extra blades anyway, but this was disappointing.
Despite this, we still think this is the best bandsaw for resawing available today.
Pros
Cast-iron frame and table
All ball bearing construction
Good riser kit
Excellent power
Cons
Riser kit is hard to install
Included blade tends to break
---
3.

WEN 3962 Resawing Band Saw – Best Value
The WEN 3962 2-speed bandsaw has a nice 6-inch resaw capacity and a 10-inch throat. This combination lets you cut sizable pieces of lumber on the cast-iron table, whether they're softwood or hard. Ball bearings give the ten-inch wheels a smooth operation and long service life. The initial assembly is relatively easy and straightforward.
This saw is powerful for its class, but it definitely has less power than 14-inch saws. It also suffers from excess vibration. The real shortcoming, however, is the difficulty one has of making adjustments on it.
Since even minor adjustments to tracking and blade tension make significant differences in the quality of cut, it's imperative to get it right. But the setup is complicated by the fact that there aren't any markings on the tension spring. Most adjustments on this machine are the result of trial and error. This is worsened by the fact that the tension knob breaks very easily and has to be replaced.
The tracking adjustments on the blade are incredibly finicky. The slightest touch can throw them off, forcing you to start over again from scratch.
Within its limits, this is a good saw with lower quality. But the better price makes it our pick for "best for the money."
Pros
6″ resaw capacity
Cast-iron table
Ball bearing construction
Cons
Less power than 10″ saws
Excess vibration
Difficult adjustments
---
4.

Delta 28-400 14 in. Resawing Bandsaw
The Delta 28-400 has more problems than solutions. Once properly adjusted, it's quiet as a whisper, and the large table is a definite plus. Other than that, it's all bad news.
It has a 6-inch resaw capacity but that's as far as it goes because there isn't any riser kit available. It also doesn't come with a fence or miter, so you have to purchase them from other manufacturers. The upper and lower wheels are aluminum instead of cast iron.
There's no micrometer adjustment on the blade guides. Unless you're buying this as a spare bandsaw, only set up for one blade and one type of operation, sooner or later you'll have to change blades. There are six guides to adjust; two upper and two lower side bearings, plus an upper and lower thrust bearing, and they have to be made with hex screws. This turns it into a major hassle.
This saw has good power but the subpar quality construction, missing fence and miter, and extreme difficulty in wheel adjustments relegate it to fourth place on the list.
Pros
Very quiet operation
Large table surface
Cons
Fence not included
Miter not included
Aluminum wheels instead of cast iron
Difficult wheel adjustments
---
5.

SKIL 3386-01 Resawing Band Saw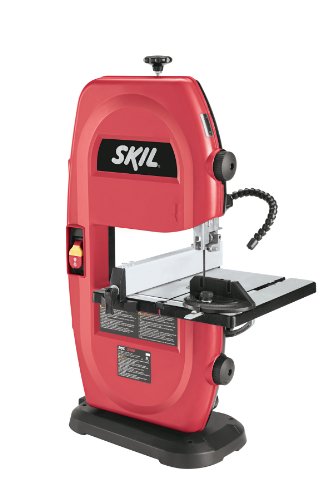 The SKIL 3386 lightweight tabletop saw is probably all right for beginners or hobbyists doing light cutting, but other than that, you're better off spending more money to get a real bandsaw.
The SKIL will cut pine, oak, and mahogany, but the cuts are so rough it would be pointless trying to resaw anything. The flimsy table isn't flat and the material keeps catching on the blade slot. The included fence and miter are equally flimsy—to the point they're pretty much useless.
Adjusting the blade guides is difficult and very time-consuming. It doesn't cut anything thicker than ½-inch because the motor stalls easily when you try. It just doesn't have enough power for the job. It also gets hot very quickly during use, and will almost certainly burn out before long.
Changing the blade is even harder than adjusting it, and once on it keeps popping off the wheel.
The plastic blade guide is so cheap that it breaks during normal use. Other plastic parts are equally fragile. This is simply unacceptable, and aside from its lightweight, the entire saw is a nightmare.
Cons
Motor bogs down
Won't resaw
Extremely rough cuts
Difficult adjustments
Cheap plastic parts
---
Buyer's Guide – Purchasing the Best Resaw Bandsaws
Read the Warranty
With major purchases, you always want to check the fine print on the warranty. Accidents can happen, either during shipping or manufacture, and if you're not covered you could have a very unpleasant, and expensive, experience trying to get the situation resolved. Most of the time manufacturers will work with you to fix it, but it's always better to be safe than sorry.
Available Options
Bandsaws have a number of options to consider at the time you purchase them.
Extra Blades
First and foremost will be extra blades. The blade you use for ripping will have different teeth and thickness than the one you'll want for resawing, particularly on the thinner resaws. Pick out several blades so they can be shipped with your saw.
Riser Kit
A riser kit can extend the resaw capacity of your bandsaw, even doubling it in some cases. This is one of the best investments you can make in your saw. Go ahead and get it upfront—you'll be glad you did.
Resaw Fence
Most bandsaws come with a fence, but a tall one is essential for resawing anything above 4 or 5 inches high. Otherwise, the material will tilt at the wrong moment, ruining your cut and a large portion of the material along with it. Spend the extra money to get a taller fence and you'll save some money on shipping by having it delivered with your saw.
---
Conclusion
The JET JWBS-14DXPRO is our top pick among the reviews we did. This is clearly the best bandsaw for a wide variety of reasons, not the least of which is the high quality of the cast-iron and ball bearing construction. This tool will resaw just about anything you throw at it.
Our pick for "best for the money" is the WEN 3962. It has only half the rip capacity of our top pick, but given the quality of its construction and the reasonable pricing, this is a good tool for resawing that won't break the bank.
Different bandsaws obviously deliver different results. What works for one person won't be useful for another. It's a pleasure bringing these reviews to you. Good tools are fun to play (work) with, and if this guide helps you decide which one is right for you then we have succeeded in reaching our goal.