5 Best Budget Band Saws in 2023 – Reviews & Buyer's Guide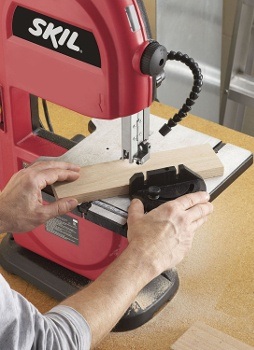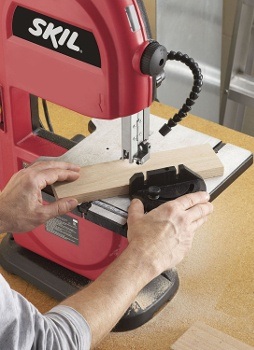 Combining the stability and durability of a table saw with the versatile cut shaping of a jigsaw, the band saw could easily become your next favorite workshop tool. Equally well suited for cutting through wood or metal, there are even specialized bandsaws made for meat cutting.
But due to their relatively high cost, they're a significant investment—so how can you know you're really getting your money's worth out of a band saw?
We're glad you asked, because in today's guide we'll be breaking down everything you need to know about the best budget band saws available today. After reading through our reviews, you'll be fully prepared to decide on the best band saw for your home workshop.
---
A Quick Comparison of Our Favorites (2023)
Rating
Image
Product
Details

Best Overall

Grizzly G0555 Band Saw

Extra powerful 1-horsepower motor
Precision ground table
Ball-bearing blade guides for smooth operation
CHECK PRICE

The Runner-up

WEN 3962 Band Saw

Easy to assemble stand
Spacious worktable
Equipped with many accessories
CHECK PRICE

Best Value

Rikon 10-305 Budget Band Saw

Durable all-steel construction
Large and perfectly level
Perfect for hobbyists
CHECK PRICE

SKIL 3386-01 Band-Saw

Perfect for first-time users
Can fit any garage table
Very inexpensive
CHECK PRICE

Grizzly Industrial G0803Z Benchtop Band Saw

Lightweight and easy to set up
Nice selection of accessories
Comes with a reliable rip fence
CHECK PRICE
The 5 Best Budget Band Saws
1.

Grizzly G0555 Band Saw – Best Value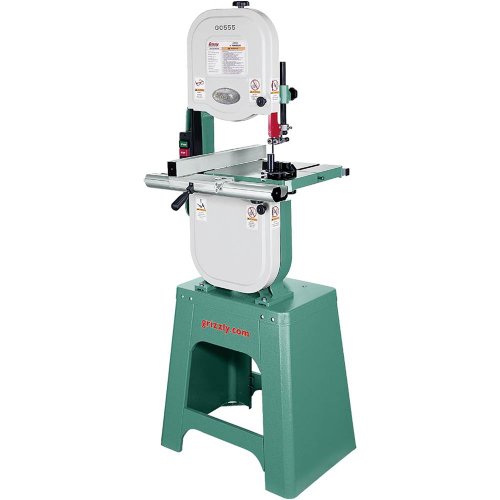 There are two major schools of thought for using band saws. The first asserts that a band saw is a more specialized form of a scroll saw, and should be used for precise curved and detailed work; the second sees a band saw as a tool with amazing versatility that can be used for jobs usually left to table saws.
With a tool as powerful as the Grizzly G0555, it's obvious that seeing a table saw as a suitable replacement for a table saw is completely realistic. The full 1-horsepower motor is just as robust as many table saws, allowing it to cut through lumber and hardwoods with ease. And because of the constant downward thrust of the blade, you'll never have to worry about the kickbacks that can come with a table saw.
Overall, the Grizzly G0555 is an extremely capable band saw that's can cut boards to size just as easily as it creates detailed curves. It's on the upper end of pricing for a budget band saw, but well worth the investment given how many other saws it can replace.
Pros
Extra powerful 1-horsepower motor
Ball-bearing blade guides for smooth operation
Precision ground table for absolute accuracy in cuts
Generous 13½" cutting capacity
Super accurate extruded aluminum fence and miter gauge
---
2.

WEN 3962 Band Saw – The Runner-up
As we conducted our reviews, it was a close race between the WEN 3962 and the Grizzly for our coveted number one pick. While the Wen is somewhat smaller and less powerful than the Grizzly, it's also available at a fraction of the cost—and comes with a wide range of accessories to make your woodworking easier and more enjoyable.
In the end, what makes the WEN 3962 our runner-up rather than the top pick is its smaller maximum cutting capacity. With four inches less clearance at the throat, it's much more suitable for small- to medium-sized jobs.
In every other regard, this table saw is top of the line. The ball-bearing operation makes for reliably smooth cuts, and the spacious 14 x 12½-inch tabletop is equipped with everything you need to make miter and bevel cuts with ease. Overall, it's a fantastic choice for anyone whose woodworking projects rarely proceed into the territory of larger furniture.
Pros
Excellent power output from its 3.5-amp motor
Spacious worktable
Ball-bearing inner workings keep wheels operating smoothly
Equipped with many accessories
Easy to assemble stand
Cons
Less than 10" cut capacity at throat
Not designed for larger sawing jobs
---
3.

Rikon 10-305 Budget Band Saw – Best Value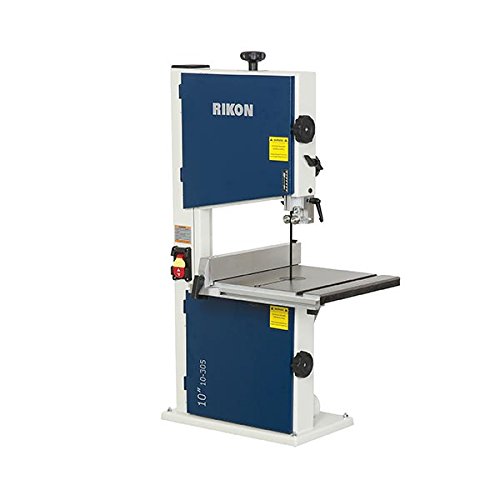 As the scaled-down model of Rikon's ever-popular 10-345, the Rikon 10-305 band saw is perhaps the most durable and long-lasting of any saw in our review. That it's available at such a steal of a price easily makes it the best budget band saw for the money, in our opinion.
With a solid steel housing and cast-iron table, the Rikon 10-305 is obviously built to last. The generously sized 13¾ by 12½-inch work surface is perfectly planed, making it easy to handle a variety of cuts with great accuracy and precision. An aluminum rip fence and 0-45 degree tilting table further reinforce this versatility.
Where the Rikon loses points in our review is its slightly underpowered motor. At just 1/3-HP, it lacks the maximum power necessary for cutting smoothly through dense hardwoods or tougher materials. Even so, it's an excellent option for anyone looking to incorporate a band saw's flexible cutting potential into their home wood shop.
Pros
Fantastic price
Durable all-steel construction for the housing
Cast-iron table is large and perfectly level
Rip fence and tilting table increase the number of cuts it can handle
Perfect for hobbyists or people with limited shop space
Cons
Slightly underpowered motor
Fairly small maximum cutting capacity
---
4.

SKIL 3386-01 Budget Band-Saw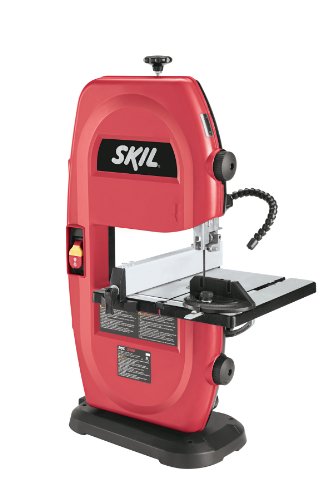 One step smaller than most band saws available today, the diminutive SKIL 3386-01 band saw is an extremely affordable option for hobbyists and beginning woodworkers. While it lacks much of the utility of larger, more powerful band saws, it's an excellent introduction to using this category of tool—and it's small enough to fit in any garage.
With just 2.5 amps of power from its small motor, the SKIL won't be winning any cutting power contests. That said, it's still perfectly capable of cutting irregular shapes or ripping softwoods into thinner pieces. Add a rack and pinion adjustable table for quick angle and height changes, and the SKIL becomes a very novice-friendly tool.
In short, the SKIL 3386-01 is an exceptionally well-priced option for a beginner to learn how to use a band saw. With any amount of time spent in the shop, you'll grow out of it quickly—but be fully prepared to graduate to a larger machine knowing exactly what you need out of your tools and projects.
Pros
Perfect band saw for first-time users
Small enough to fit on any garage table
Comes with a cutting light, miter gauge, and rip fence
Very inexpensive
Cons
Low power makes it unsuitable for accurate cuts on hardwoods
Small cutting capacity
Table isn't level enough for precision cuts
---
5.

Grizzly Industrial G0803Z Benchtop Band Saw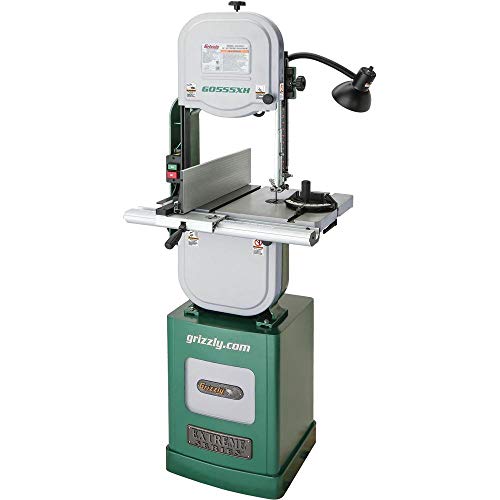 Bringing up the rear in our review, we had high hopes for the Grizzly Industrial G0555XH. With the tremendous performance of its cousin the G0555 as our top pick, it certainly had a lot to live up to—and we're not convinced that it has done so.
Smaller and less expensive than Grizzly's other band saws, the G0803Z is designed for use by novices and hobbyist woodworkers. Like other 9-inch benchtop band saws, it sacrifices a significant amount of motor power to be offered at a lower price, making it less suitable for precision work and medium to large jobs.
All of that is forgivable, of course, if it still operates well as a tool for beginners. While the laser guidance system and adjustable blower are nice added features, the lack of truing on the table and undersized cutting capacity prevent it from being a truly desirable saw. And at a price that's higher than other benchtop band saws, we don't necessarily recommend this one unless the SKIL (listed above) is not available.
Pros
Lightweight and easy to set up
Nice selection of accessories
Comes with a reliable rip fence
Cons
Underpowered motor
Table isn't flat enough for cuts with any accuracy
Very small cutting capacity
More expensive than other 9" benchtop band saws
---
Buyer's Guide – Picking the Best Budget Band Saw
Because of their unique continuous blade design, band saws lend themselves well to specific types of work. This will be the biggest determining factor in which band saw is best for you: What sort of projects do you plan on using it for?
With that in mind, let's look at some of the projects where you'll commonly use a band saw, as well as the blades that are most appropriate for different types of work. Then, we'll wrap up with a consideration of which features are most important in any band saw.
Common Uses for Band Saws
Since band saws are renowned for their versatility, what sort of projects might you use one for? Here is a small sampling of everything a band saw can do:
Freehand curves are so fast and easy with a band saw that you might never go back to a jigsaw
Intricate curves requiring tighter turns are often only possible with a band saw. Feed your piece slowly and work meticulously.
Parallel curves and three-dimensional curves are possible by marking out the profile on two adjacent sides of a blank, cutting one side freehanded and turning the workpiece 90 or 180 degrees to continue.
Rip cuts, including beveled rips, are easily accomplished with the aid of a fence or block.
Crosscuts are made possible with the help of your miter gauge and guide fence.
Types of Band Saw Blades
Depending on the type of project you're looking to tackle, you may want to switch out the blade on your band saw to achieve a finer finish or cut different material. Let's look at a few considerations for choosing the best blade for the job.
First, tooth shape determines whether your blade is designed for faster cutting or a cleaner surface.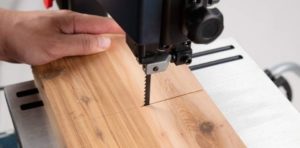 Regular tooth blades are the standard found on most band saws and produce an accurate cut on most man-made boards.
For deeper workpieces or harder materials, you'll need to consider using a skip tooth or hook tooth blade, respectively.
Every blade also has a tooth set, designed to cut a wider kerf than the body of the blade and reduce friction in straight cuts.
Standard set teeth are bent alternately left and right, while raker set teeth are set further apart and better at cutting curves.
Lastly, wavy set teeth are best for cutting thinner boards.
Lastly, special purpose bands allow you to cut materials other than wood.
Knife-edge bands can cut upholstery, foam, and fabrics, while abrasive bands are best for shaping and sending straight and curved edges.
Features to Look For
No matter what purpose you intend to use your band saw for, we recommend looking for the best you can find of these three features:
Cutting power is determined almost entirely by how many horsepower your band saw's motor produces. Look for the highest horsepower available in your price range.
Ease of use, especially in changing blades, can encourage you to use your band saw more frequently and make the experience more enjoyable. Look for quick-release levers and easily adjustable guides.
Durability is essential, as any band saw is likely to be a significant investment for you. Aside from looking for machines built with a minimum of plastic parts, it's worth searching out those saws that have warranties to protect your investment.
---
Conclusion
After considerable deliberation over our reviews, we've concluded that the Grizzly G0555 has the best combination of performance, durability, and ease of use for the price. We're happy to call it our number one pick and can strongly recommend it for use in your woodworking shop.
For anyone on a tighter budget, the Rikon 10-305 Band Saw delivers impressive accuracy and cutting power at a completely reasonable price. While not as large as our top pick, or able to accommodate oversized cuts, it's a fine machine for anything but the largest of projects.
Which band saw do you think is best for your shop? We hope that this guide has been informative and led you to the right budget band saw for your needs. Good luck with all of your woodworking projects!
Related Reads: