5 Best Air Compressors for Spray Painting in 2023 – Reviews & Buyer's Guide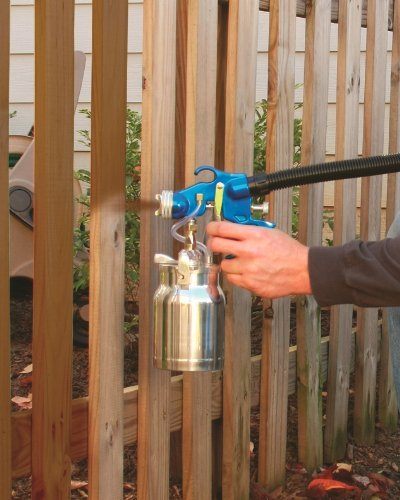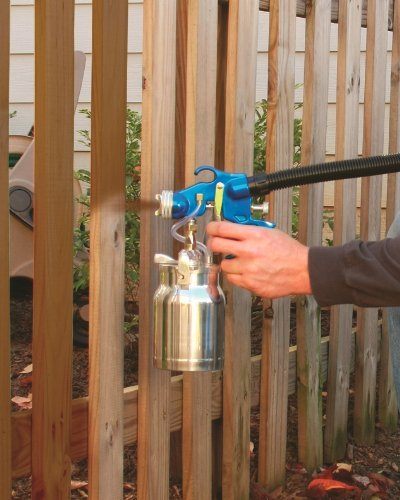 Unless you're using an airless paint sprayer or certain HVLP models, you must own a solid air compressor that delivers air flow and pressure to your paint sprayer.
A good quality air compressor will be compatible with almost all paint sprayers and give you the ability to choose any sprayer you want.  It can be a professional painter's best friend on the job site or a reassuring presence for DIYers during home projects.
Finding the right air compressor for your painting needs is not an easy task, as it requires in-depth analysis of the products on the market. That's why we've done the hard work for you. We've tested over 44 different air compressors, and have hand-picked our 5 favorite ones for you to look at below.
Choosing the right air compressor for your needs is an important decision and requires thorough analysis of the main options available on the market. That's why we've tested, measured and compared over 30 air compressors for spray painting. We've then handpicked our 5 favorite models and ranked them from #1 to #5. We've also written a buyer's guide, that talks about all the things you should consider when buying (factors, features, etc.). Hopefully, this article will aid you in your search!
Our Favorites of 2023 Compared
Rating
Image
Product
Details

Best Overall

California Air Tools 10020C

Portable
Steel air tank
Flexible for buyers
CHECK PRICE

Rolair JC10 Plus

Low
Very quiet
Smooth start-up
CHECK PRICE

Best Value

PORTER-CABLE C2002

Oil-free pump
Easy transportation
Lower maintenance costs
CHECK PRICE

California Air Tools 5510SE

Powerful
Fast tank fill-up
Thermal overload protector
CHECK PRICE

Campbell Hausfeld TQ3104

For heavy operation
Ideal for a small shop
10
000 hours reliable life
CHECK PRICE
The 5 Best Air Compressors for Spray Painting
1.

California Air Tools 10020C Air Compressor – Best Overall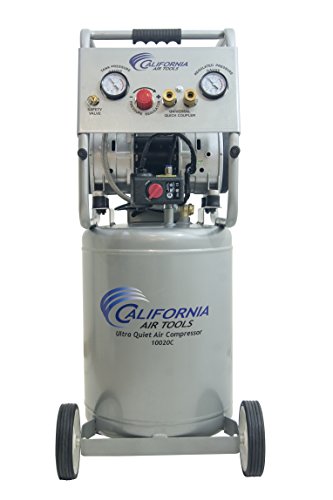 For years, the California Air Tools brand has been synonymous with quality air compressors in all categories. The 10020C Ultra Quiet & Oil-Free Air Compressor ("CAT 10020C") continues this tradition, bringing start-of-the-art technology to professionals and novice DIYers alike, with a host of benefits that earn it our "Top Pick" label.
Replacing the popular CAT 10020, the CAT 10020C offers a quiet 2.0 hp compressor that makes an incredibly low 70 decibels of sound while revving at a low 1680 RPM during operation. Less noise and less motor wear means better durability and a longer life.
Strong performance – up to an incredible 3,000 hours' worth – and durability is the result of the CAT 10020C's oil-free dual piston pump. Working with CAT's Easy Start Valve mechanism, this permits easier cold starts (lower amperage) at lower temperatures. The lack of oil in the cylinder also allows stable movement over bumpy terrain.
If you're looking for more power, better airflow, and less servicing time at the maintenance shop, look no further than the CAT 10020C, currently Amazon's Choice in its category.
Pros
Steel Air Tank includes wheel kit for portability.
Makes up to 30% less sound than comparable air compressors.
Offers 6.40 CFM at 40 PSI & 5.30 CFM at 90 PSI.
Voltage (110V/220V) and Drain (Auto/Manual) options offer buyers flexibility.
Cons
Certain design issues regarding wheel placement, welding joints at bottom.
Heavy tank (10 gallons, 82 lbs. approx.) to move even with wheels.
---
2.

Rolair JC10 Plus Compressor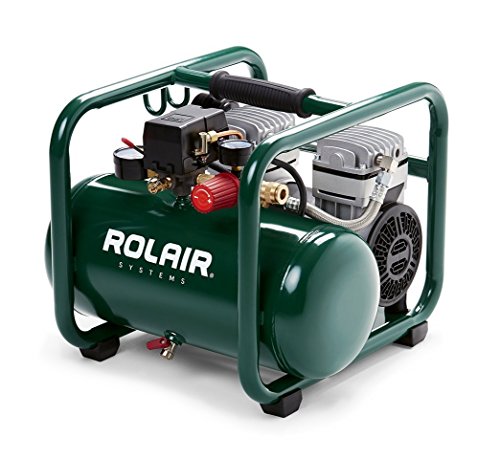 As it approaches its golden anniversary in 2019, Rolair has put forward its JC10 Plus 1 hp oil-less air compressor to challenge all comers. Like its predecessor the JC10, it offers a strong roll cage that protects the tank, integrated cords, and gauges that face upward in instead of across.
Its cast aluminum two-cylinder pump is powered by a draw motor spinning at 1700 RPM at low amperage to permit better cold starting. And it's very quiet.
Of the four other air compressors reviewed here, the Rolair JC10 Plus was the CAT 10020C's closest competitor. It didn't receive our top recommendation, because of it lower tank capacity and inability to handle extended (read continuous) use.
Pros
Low, compact footprint.
Light enough (40 lbs. approx.) to move around working area.
Quality valve extends compressor, motor life with smooth start-up.
Good performer on jobs requiring less air volume.
Cons
5 Gallon tank capacity alone not enough for professional tasks.
Air filter vulnerable to falling out of cage.
---
3.

PORTER-CABLE C2002 Air Compressor – Best Value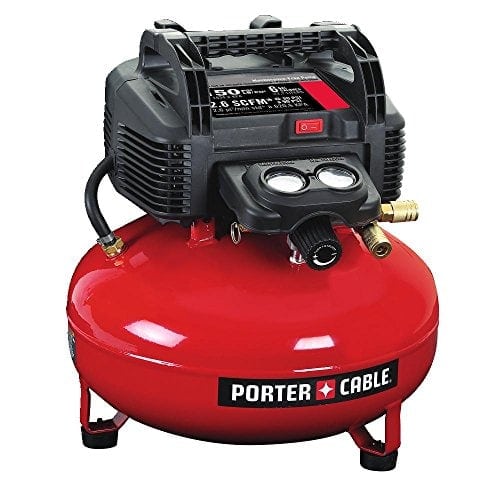 The PORTER-CABLE C2002 Oil-Free UMC Pancake Compressor ("PORTER-CABLE C2002") comes as advertised with the classic red pancake compressor look, a water drain valve, and rubber feet for added stability.
The compact, high-pressure design of this 150-psi six-gallon oil-free unit works for various air tools, as it is rated for 2.6 SCFM @ 90 psi which allows for a quick recovery time. Almost unique in its category, the C2002 offers two factory-installed air couplers to potentially support two users.
The C2002 offers a lot of positive features, earning it the "Best for the Money" tag. However, its noise level and lack of clarity with the break-in procedure, i.e. running with open drain valve before use, prevent it from beating the above two choices. Overall, we think this is the best spray painting air compressor for the money available this year.
Pros
Easy transportation (30 lbs.) with integrated cord wrap.
Oil-free pump for lower maintenance costs.
Cons
82 decibels noise higher than top competitors in category.
Lack of consistency getting to desired pressure.
---
4.

California Air Tools 5510SE Air-Compressor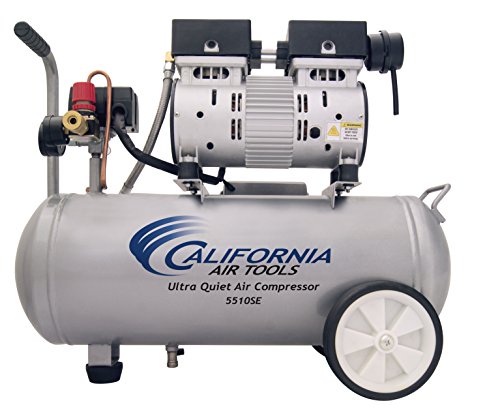 The California Air Tools 5510SE Ultra Quiet and Oil-Free 1.0-HP 5.5-Gallon Air Compressor ("CAT 5510SE") is part of a new wave of quiet yet powerful additions to the compressor market.
The CAT 5510SE offers a 1.0 hp compressor that makes only 60 decibels of sound while revving at 1680 RPM. Like other new CAT offerings, it has an oil-free dual piston pump and Easy Start Valve mechanism to make cold starting (lower amperage) at lower temperatures easier.
What prevents the CAT 5510SE from being higher ranked in our list is its susceptibility to air pressure regulator leaks and tank rusting (N.B. model offered with either a steel or aluminum tank).
Does this mean that CAT products cannot be trusted? Not necessarily, but chances are there is another compressor in the California Air Tools family or elsewhere that will better meet your expectations.
Pros
Thermal Overload Protector.
Fast tank fill-up (2 minutes) and 90-120 psi recovery time.
Cons
Leaking issues.
Reliability with extended use.
50 lbs. weight for a "light" model?
Low cfm not good for air volume-powered tools.
---
5.

Campbell Hausfeld TQ3104 Air Compressor
If you are casually looking through air compressor options, you may come across the Campbell Hausfeld Air Compressor, 80 Gallon, Vertical Compressor, Single-Stage, 16CFM, 5HP, 1PH ("Campbell Hausfeld TQ3104").
Its specifications are impressive (and large): an 80-gallon tank, 140 max PSI and 16.0 CFM @ 90 PSI. It can operate an array of powerful air tools, thanks to a cast-iron four-cylinder pump.
The problem with the Campbell Hausfeld TQ3104 is that many of the professional and industrial-class jobs it is suited for can be performed by lighter, less onerous and frankly better air compressors.
Shipping, delivery, and reception at your end alone can be a big headache, especially if parts are missing or broken. Therefore, if you are not involved in heavy-usage and want to avoid the risk of major disappointment, forgo the TQ3014 for other recommended choices.
Pros
Capacity for heavy operation.
10,000 hours reliable life claimed.
Cons
86 decibels at 3 feet distance.
Large volume tank takes up space.
Massive price compared to most compressors.
400 lbs. approx.
You might also be interested in: 10 Best Paint Sprayers – Reviews & Top Picks
---
Buyer's Guide – Find the Best Air Compressor for Spray Painting
Choosing the right spray painting air compressor requires a rational, systematic approach to both the pre-purchase and purchasing process. Here's what we believe are the most crucial factors to consider when choosing an air compressor for painting:
Air Compressor (Tank) Type
Most people are familiar with stationary, upright compressors.  These are most often found in manufacturing plants, multi-bay body shops, and garages.  They tend to quite large, heavy and have high horsepower (see below) for continuous use.  Their vertical design means that they take up little floor space.
Portable air compressors are popular with DIYers.  They are smaller, lighter and easier to maneuver than their stationary cousins.  Compact, portables typically have a small footprint and come in a variety of styles (e.g. pancake, hotdog, wheelbarrow-shape).
PSI and CFM
Work tools are, out of necessity, described by technical terms that professionals love, but beginners and DIYers roll their eyes at.
With air compressors, pounds per square inch (PSI) gets a lot of attention and not without merit.  However, for most applications, higher PSI ratings do not always translate into better performance.  In fact, for many applications, the compressor's cubic feet per minute (CFM) rating is a more important metric.
A higher CFM means faster air compression, meaning that it is better able to match the CFM of high-performance paint sprayers in the market.
When CFM ratings don't match, it doesn't necessarily disqualify the air compressor.   However, you will probably have to stop more often so that it can adjust adequately to provide adequate pressure to the sprayer before restarting.
Horsepower (HP)
Another specification that needs to be taken into account with PSI and CFM.  For most DIY and non-industrial applications, 1 to 2 HP motor is good enough with paint sprayers rated for 6 CPM and 30-40 PSI.
Today, 2 HP air compressors have crept into the mainstream retail market.  You should be good if your choice delivers at least 8 CFM at 40 PSI.
Operating Considerations
Air compressors are motor-driven, and as such create friction and heat during operation.  This is especially true for increasingly popular oil-less compressors used by hobbyists and DIYers.  To avoid comprising the quality of your paint job and safety, especially in a closed room, ensure that the working area is well-ventilated.
Oiled versus Oilless Air Compressors
Recently, oil-free air compressors have gained traction among hobbyists and professional tradespeople alike.  In the past, regular oil lubrication of piston chambers was a given, and this required a dedicated maintenance schedule.  To bypass this need, manufacturers started producing pre-lubricated air compressors.
So, which is better for you?  Oiled compressors are heavier, generally more expensive, and more durable.  The equivalent oil-less design will be lighter and maintenance-free – at least until the Teflon or equivalent coating wears out.  In the past, oiled compressors would always be quieter, but technological advances have all but eliminated noise differences of equivalent models (see below).
In general, opt for an oil-less air compressor if you are a casual or one-time user.  The demands of industry mean that big, heavy, oiled tanks still have their place.
Noise and Noise Reduction
Compressor noise is an important issue, especially if you plan on working in small, closed areas.  Apart from selecting air compressors with the lowest decibel (dB) rating, check to see if certain accessories can be purchased and installed:
Expansion chamber mufflers can also block air compressor sounds. Similar to regular automobile mufflers, they are good at blocking low frequencies.
Intake silencer filters can silence air intake activity into inlet holes.
Soundless compressors exist, but they are quite expensive and beyond the means of most individuals – even businesses.  In your work area, you can add sound dampers (e.g. fiberglass insulation, mineral wool, packed fiber) that block sound and prevent outward spread.
Versatility
How are going to use your air compressor?  Even if painting is your primary motivation for buying, consider its use with other air tools (e.g. nail and staple guns) when evaluating technical specifications.
Price and Final Buying Tips
If you are a price-conscious DIYer, pancake-shaped and portable air compressors may be the way to go.  They are generally smaller, lightweight, and allow for chaining so that you don't need to access a 220v outlet.
Regardless of the overall specifications, you're going to want an air compressor made by a recognized market leader that provides a solid warranty. Also, big suppliers tend to have a bigger retail network, and can thereby quicker send you replacement parts & accessories.

Conclusion
The California Air Tools 10020C is our choice as the best air compressor for spray painting, with the PORTER-CABLE C2002 taking the spot as "best air compressor for spray painting for the money". All five air compressors that we looked at offer distinct features (e.g. tank size, sound level, operating pressure ratings, etc.).
Hopefully, this article has given you some actionable advice that will aid you in your product hunt.
We wish you good luck in your search. Feel free to leave a comment below if you have any questions.
Related Reads: