10 Best Paint Sprayers of 2023 – Reviews & Top Picks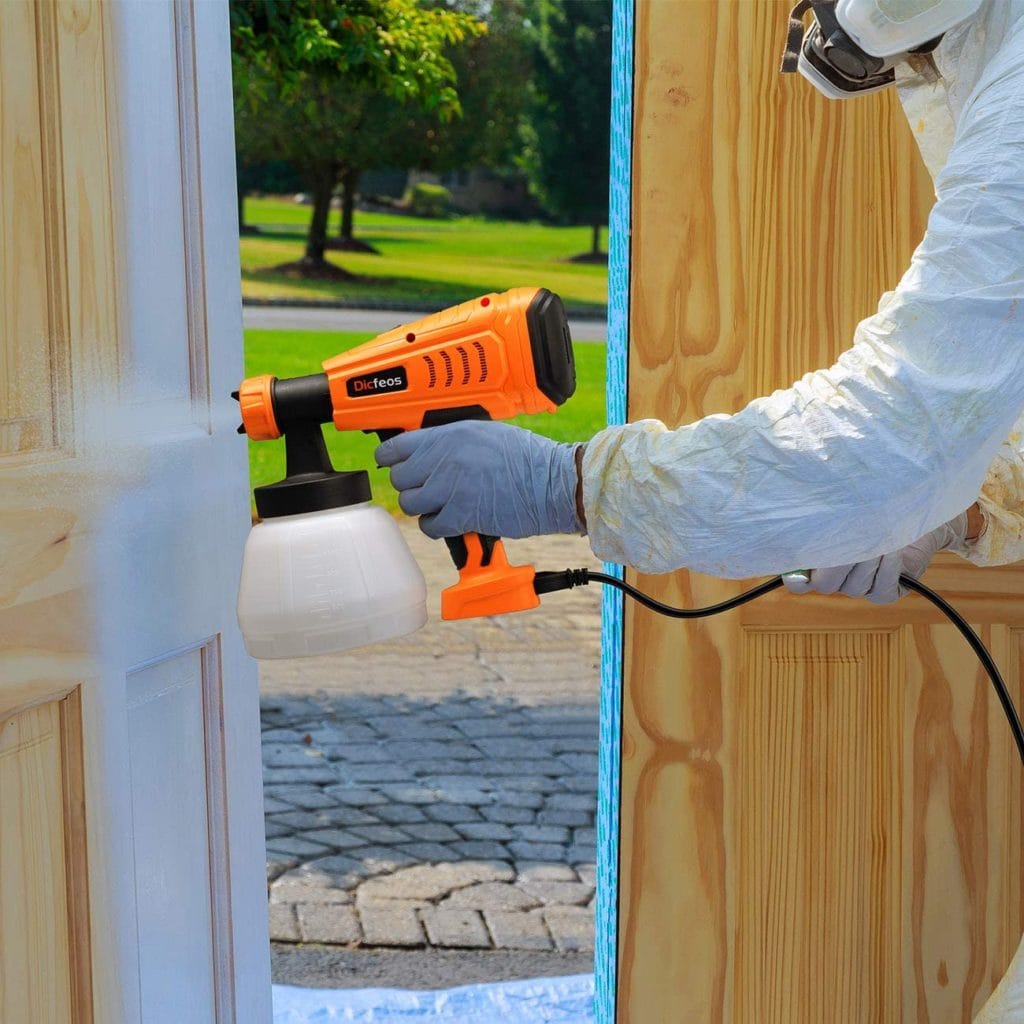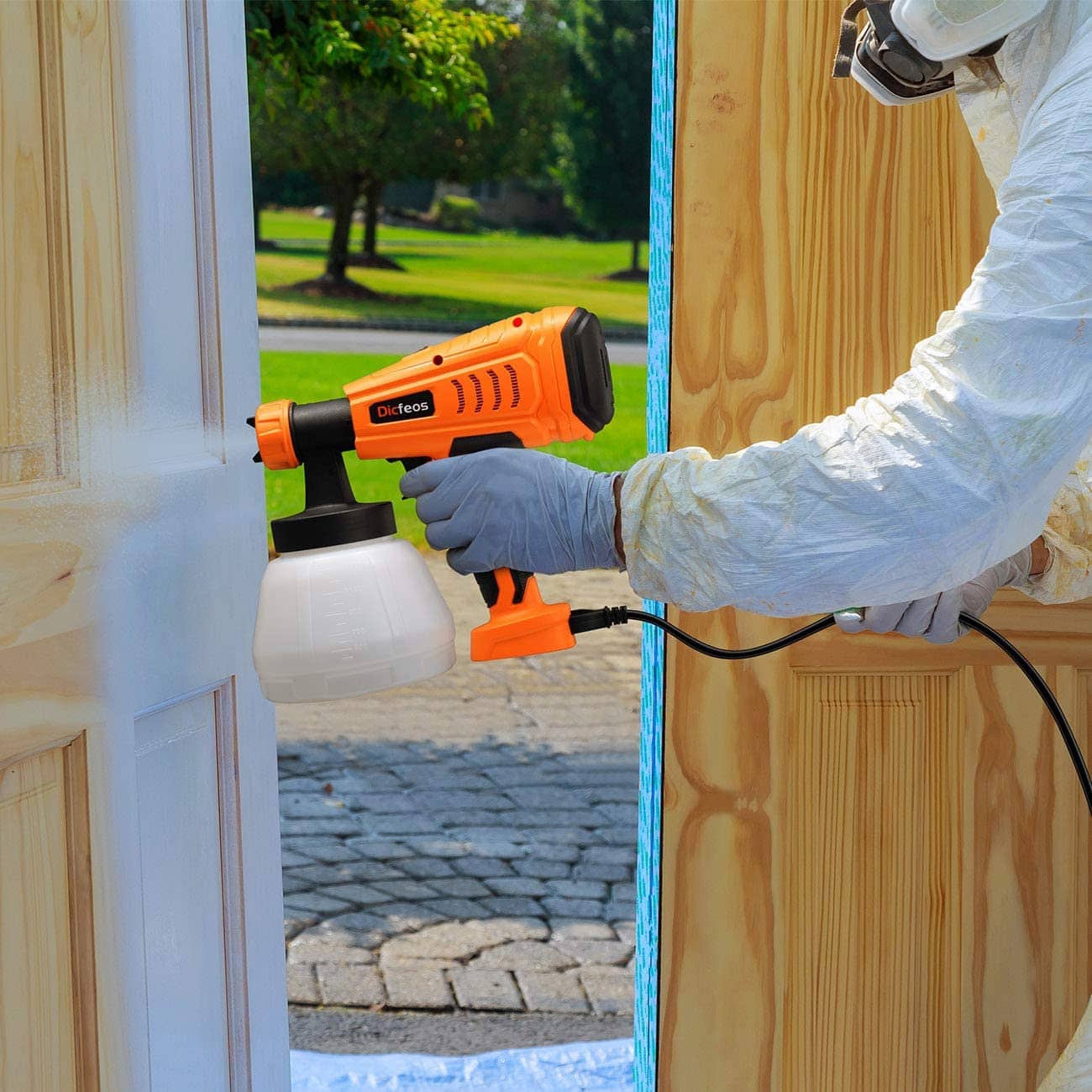 When most people think of painting, they probably picture themselves with a paintbrush in hand, slowly toiling away at a wall. They might even imagine themselves with a roller. But for those who are more experienced and are serious about their painting, a paint sprayer is probably their first weapon of choice.
Paint sprayers allow you to cover a lot more area in a lot less time. But you have to be careful not to spray areas you don't want or get overspray on the floor, furniture, and everything else. Paint sprayers require a bit of skill and a fine touch.
We do a lot of painting, so when our paint sprayer went out, we knew we needed to find the best replacement possible. We set out to test the most popular paint sprayers and determine which ones were worth the investment. To ensure our hard work doesn't go to waste, we're going to share everything we learned along the way with you in the following 10 reviews.
---
A Quick Comparison of Our Favorites in 2023
Rating
Image
Product
Details

Best Overall

Wagner Spraytech Control Spray

Light and portable
Affordably priced
Works with a variety of materials
CHECK PRICE

Best Value

TACKLIFE SGP15AC Paint Sprayer

Dirt-cheap pricing
Includes 4 nozzles for adjusting the flow rate
Can refill without removing the container
CHECK PRICE

Premium Choice

Graco Magnum X5 Airless Paint Sprayer

Professional-level paint sprayer
Precise control over the flow of paint
Can spray a variety of materials
CHECK PRICE

Wagner Spraytech Control Spray

Pick from 3 spray patterns
Sprays up to 8 gallons per hour
Works with a variety of materials
CHECK PRICE

HomeRight Finish Max Paint Sprayer

2-year warranty
Can be used with many materials
Flow control knob on the trigger
CHECK PRICE
The 10 Best Paint Sprayers
1.

Wagner Spraytech Control Spray – Best Overall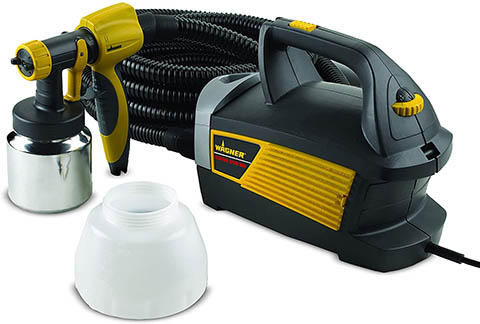 Wagner is one of the biggest names in residential painting supplies, so it makes sense that one of their products would end up atop our list. We were quite impressed with the Wagner Spraytech Control Spray HVLP paint sprayer. It's a diverse tool that works with a variety of materials, including paints, stains, clear coats, and more.
This tool is highly adjustable. You get precise control over the spray patterns, which makes it easier to get the exact type of spray you desire. Because of this, you can use this machine for painting walls, cabinets, trim, decks, and anything else you can think of. It's also easy to use since the turbine is separate and can be left on the ground, attached to the nozzle with a 20-foot hose.
To make your work go faster, you can adjust the spray to a width of 12 inches, providing excellent coverage for painting walls and other large surfaces. When painting trim, you can adjust the spray into a much thinner output that gives you better control.
The downfall of this tool is its small capacity. It can only hold 1.5 quarts at a time, which isn't sufficient for most professional use. Despite this, we think this is the best paint sprayer on the market today.
Pros
Light and portable
Affordably priced
Works with a variety of materials
Adjustable spray patterns for precise control
Sprays up to 12" wide
Cons
Small capacity isn't appropriate for professionals
---
2.

TACKLIFE SGP15AC Paint Sprayer – Best Value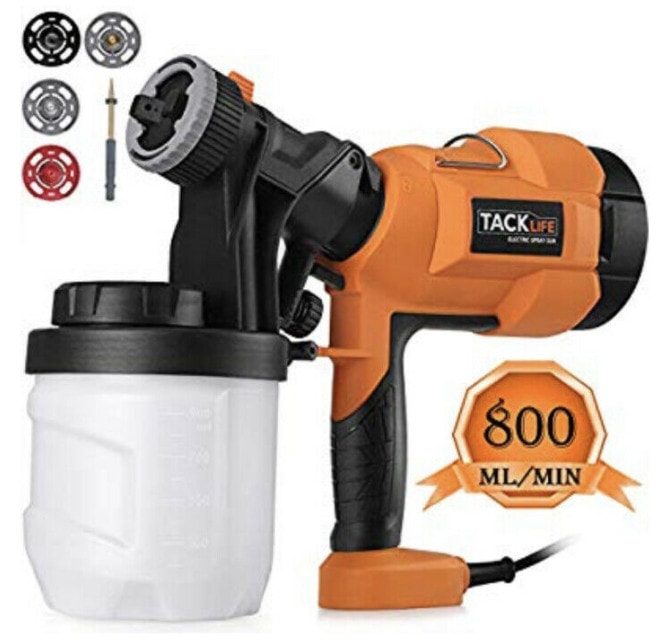 If you're looking to repaint your home or even just a room and save some money, then you want the best paint sprayer for the money, which we think is the TACKLIFE SGP15AC. It's dirt-cheap compared to other paint sprayers, but still makes a quality finish that's perfect for the DIY enthusiast taking on a new project.
But affordable pricing alone isn't enough to earn this sprayer the second spot on our list. It's loaded with other great features like the adjustable flow control knob that lets you dial in the amount of paint you want to spray. You can also choose between 3 different spray patterns; vertical, horizontal, and circular. For even more adjustability, 4 nozzles are included as well.
There's a lid on the top of the holder for the paint canister that allows you to refill your paint without removing the canister. This is a great addition that we think should be included in every similar sprayer.
On the downside, this is an all-in-one device, so you have to hold the full weight of the paint, sprayer, and turbine in one hand, which can get pretty tiring.
Pros
Dirt-cheap pricing
Can refill without removing the container
Includes 4 nozzles for adjusting the flow rate
3 different spray patterns to choose from
Adjustable flow control knob
Cons
Holding up the whole sprayer gets tiring
---
3.

Graco Magnum X5 Airless Paint Sprayer – Premium Choice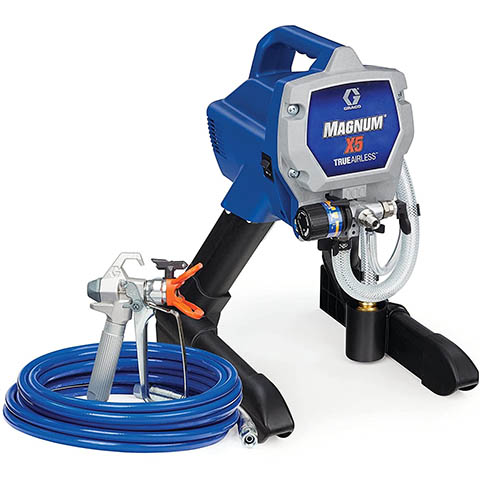 Stepping from the DIY world into the professional world means a big jump in quality and price. The Graco Magnum X5 Airless Paint Sprayer is a professional-quality tool, and as such, it's much pricier than the paint sprayers meant for the average homeowner. But it also provides you with some professional features that are absent from those cheaper devices.
Because this machine has a stainless-steel piston pump, it can spray just about any material and you won't even need to thin anything out. Other sprayers will clog up with thick materials, but not the Graco. If it does, just reverse the tip and spray the clog out!
You also have precise control over the flow of paint, which you can dial in from a knob on the machine and a small dial on the sprayer as well. Luckily, the sprayer attaches to the machine by a hose, allowing you to set the machine in one place and still reach all of the areas you need to paint without moving it. This is especially great since the Graco can suck paint straight from one and 5-gallon containers of paint.
Pros
Professional-level paint sprayer
Precise control over the flow of paint
Can spray a variety of materials
Spray directly from a paint can
Reversible tip unclogs easily
Cons
More expensive than other options
---
4.

Wagner Spraytech Control Spray
The Wagner Spraytech Control Spray is a cheaper version of the Wagner sprayer that earned the top spot on this list. Overall, this is a great tool, but it's not one of our favorites. Still, it's got some great features like the 3 spray patterns you can pick from.
If you're looking to cover a lot of area very quickly, this sprayer can put out up to 8 gallons of paint per hour. But it only holds 1.5 quarts max, so you'll be refilling it an awful lot to reach that level of output.
This machine will work with a variety of materials. However, some paints and other materials will need to be thinned in order to spray properly. Forgo this step and you're likely to have a spotty, uneven finish with drips. But if you get the viscosity of the material correct, then this sprayer makes a great finish in short order, saving you time and money.
Pros
Pick from 3 spray patterns
Sprays up to 8 gallons per hour
Works with a variety of materials
Cons
Holds a max of 1.5 quarts
Soma materials will need to be thinned
---
5.

HomeRight Finish Max Paint Sprayer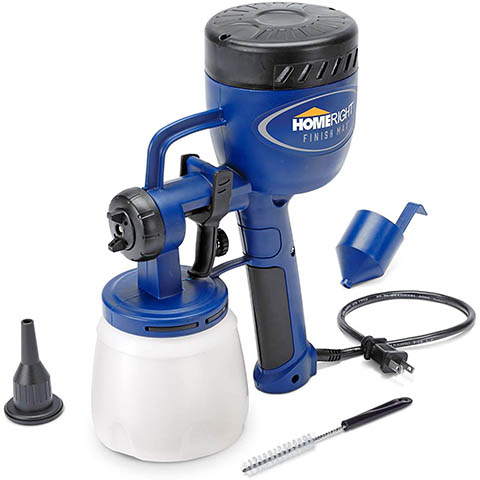 This electric paint sprayer from HomeRight is easy to use and gave us some respectable results. It's a bit overpriced when compared to similar products though, which is part of why it won't break into our top three. Despite this, it's a quality machine with some useful features, starting with the 2-year warranty that ensures it will be around for several projects at least.
Thanks to the flow control knob mounted on the back of the trigger, you always have precise control of the paint flow. But you get less control over the spray because this machine only comes with a single nozzle.
You can spray a variety of materials through this gun, but some will need to be thinned to spray properly. Watch out for fatigue though! Since you're holding the turbine, sprayer, and paint up, your arm will get tired much quicker with this sprayer than when using a 2-piece sprayer with a separate turbine.
Pros
2-year warranty
Can be used with many materials
Flow control knob on the trigger
Cons
Includes just 1 spray nozzle
More expensive than other options
Holding the sprayer and paint can get tiring
---
6.

Wagner FLEXiO 890 Paint Sprayer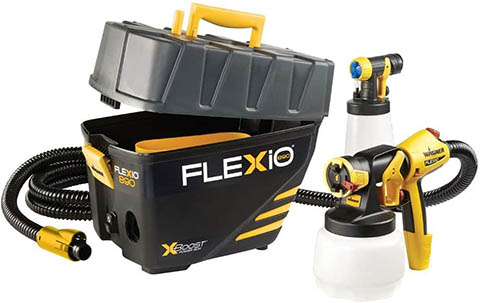 The Wagner FLEXiO 890 is an HVLP sprayer with a separate turbine and sprayer. This reduces your fatigue when using it since you only have to hold the weight of the gun and the paint, but not the turbine. You also get two different nozzles with this set. There's a detail finish nozzle for precise control and the iSpray nozzle is perfect when you need lots of coverage.
Using the X-Boost power dial, you can easily adjust the air pressure of this sprayer. There's also a control for the paint flow, giving you lots of control over the output. When you're all done, the turbine even houses the hose and sprayer, keeping it all neat and tidy.
We love that the turbine and sprayer are separate, but at less than 12 feet in length, the hose is just too short, limiting your reach. But the main thing keeping this from reaching a higher position is the high price. There are so many sprayers that perform similarly for a much lower price, and we'd rather save our money since you can't really tell the difference in the finished paint job.
Pros
Separate turbine and sprayer
Separate nozzles for coverage and fine finish
Cons
There are cheaper, better options
Short hose means you have to move the sprayer often
---
7.

Dicfeos DIC025 Paint Sprayer

If you're looking for a paint sprayer that's absolutely average in every aspect, look no further than the Dicfeos DIC025 Paint Sprayer. There's nothing wrong with this device. It's perfectly adequate. But there's nothing special about it and it doesn't offer anything unique to make it worthwhile.
It's priced similarly to other machines with the same build. Four nozzles are included so you can dial in your spray; the same amount that comes with other machines we tested. But the power cord is very short — 6.6 feet isn't giving you any room to work with, so keep an extension cord on hand.
One nice thing about this sprayer is that everything disassembles, making it easy to clean. Like many similar products, you can use multiple materials with this machine. However, it's vital to thin them down because if the viscosity isn't just right, it will clog up this sprayer.
Pros
Includes 4 different nozzles
Everything disassembles for easy cleaning
Cons
6' power cord gives you no room to work
Thicker materials will need to be thinned
---
8.

Campbell Hausfeld HVLP Paint Spray Gun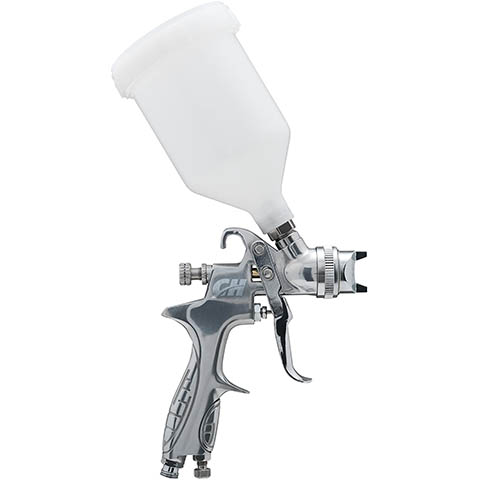 Campbell Hausfeld makes professional-quality equipment, and their HVLP Paint Spray Gun is no exception. With that in mind, you're probably wondering why it's ranked so low on our list. There are a few reasons. First, this type of sprayer is only good for a few select types of painting; mainly, automotive painting. Second, it's not a complete sprayer. As it is, it will do nothing. You'll need a compressor to power this, and a low-quality cheapie isn't going to do it.
For the average person in need of a paint sprayer, this is not what you're looking for. Automotive painters with a garage full of equipment might be looking for this though. And to be fair, it's an excellent machine. You get very precise control over your spray and the finish it creates is incredible, provided you have the skills to work it properly!
Pros
Precise control of your spray
Gives a professional-quality finish
Cons
Requires a separate air compressor
Specifically meant for automotive painting
---
9.

Paint Zoom Handheld Electric Spray Gun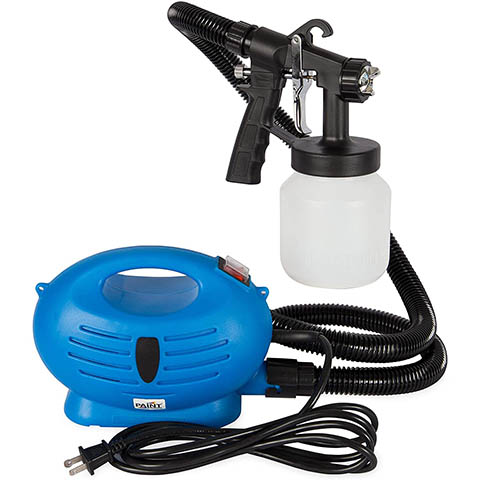 There are two things we really like about the Paint Zoom Handheld Electric Spray Gun. First, it's got a separate turbine and sprayer, reducing your fatigue since you only have to hold up the small sprayer and paint canister. Second, you get a 3-way dial for precise control of your spray pattern.
But aside from those features, this sprayer is a failure. It's more expensive than other sprayers that did a much better job. Plus, the hoses are too short to be of much use, severely limiting your range. As if that's not enough, the hose is of low quality and it kinked up during our first use, resulting in several cracks that made the hose useless.
When it did work, this sprayer was more finicky about viscosity than any sprayer we tested. If the viscosity wasn't exactly right, it would clog the gun and we'd have to waste time cleaning it and remixing our paint. Save yourself the headache and frustration and simply skip this machine.
Pros
Separate turbine means less fatigue
3-way spray dial
Cons
Overpriced for what you get
You're limited by short cord and hose
Extremely finicky about material viscosity
The hose kinked up and cracked
---
10.

NEU MASTER Cordless Paint Sprayer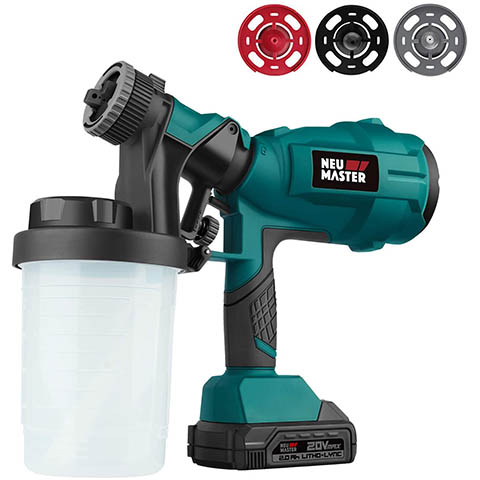 There's something very unique about the NEU MASTER Paint Sprayer and it's a novel concept that we hope to see more of; it's cordless! Rather than plugging this sprayer in and being limited by the cord length, this sprayer is battery-powered, providing ultimate cordless freedom.
This is a great concept, but it wasn't executed very well in this sprayer. First, the price is too high compared to similar sprayers to justify the battery. Especially when you realize how poor the battery life is. You'll only be spraying for about 30-45 minutes before you have to stop for hours and let the battery charge.
At 6 pounds plus the weight of the paint, this is a pretty hefty device that's going to wear you out much faster than other sprayers. Plus, the canister only holds enough paint to cover 54 square feet, so expect to take constant breaks for refilling paint. The idea of this device is great, but it needs some more refinement before it's truly a viable option.
Pros
Provides cordless freedom
Cons
Far more expensive than other options
Covers just 54 sq. on a full canister
Weighs nearly 6 pounds plus paint
Poor battery life limits your painting time
Related Read: 5 Best Commercial Paint Sprayers – Reviews & Top Picks
---
Buyer's Guide – Choosing the Best Paint Sprayer
Now you've seen how 10 of the top sprayers on the market compare, you're ready to go purchase one! But if you're still unsure of which one to choose, then you'll want to read this buyer's guide. In it, we're going to break down some of the features we think are the most important to help you figure out exactly what you need from your paint sprayer.
Single Unit Sprayers vs Two-Part Sprayers
One of the biggest differences you'll notice between the sprayers on this list is that some of them are in two parts and some are a single unit. Let's take a closer look at each so you can get a better idea of the differences between them.
Single Unit Sprayers
As the name implies, these sprayers contain everything in a single unit. The turbine, nozzle, trigger, paint canister, and everything else is in a single machine. You have to hold this whole device up to spray, which can definitely cause your arms to fatigue faster than with a two-part sprayer.
Another downfall with these is the limited paint capacity. Since the canister is attached to the gun, they generally don't hold more than 1.5 quarts of paint.
On the other hand, these tend to be the cheapest paint sprayers on the market, making it much more affordable for the average homeowner to spray their own house.
Also, these are some of the simplest sprayers to use. You don't have to connect any hoses or turn dials on multiple machines. Instead, everything is contained in a single device that's right there in your hand.
Since there's only one part to these sprayers, they're easy to clean and generally don't waste any paint in the process.
Pros
Affordably priced
Very simple to use
Easy to clean
Cons
The extra weight can fatigue you
Limited paint capacity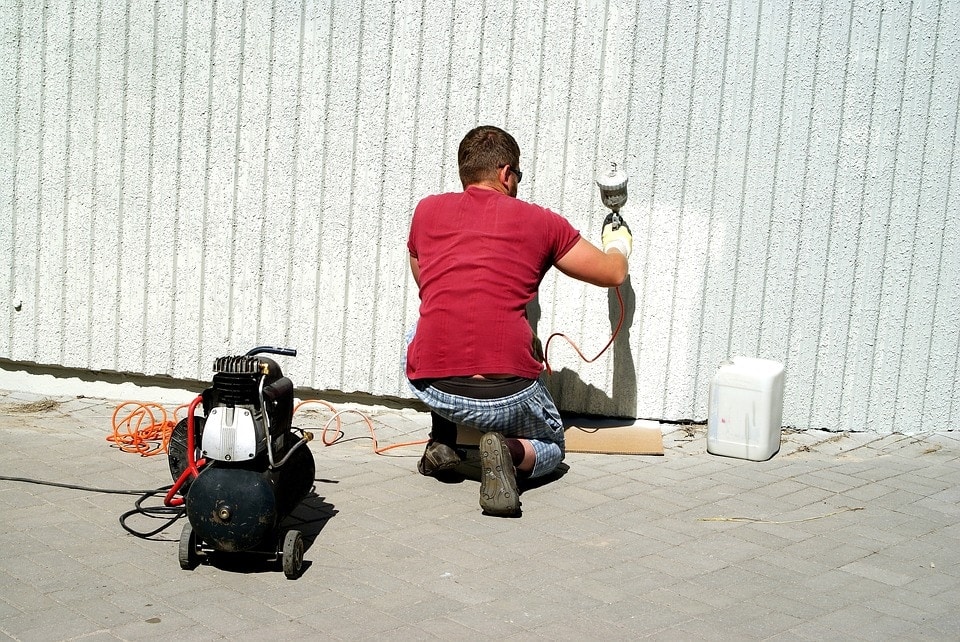 Two-Part Sprayers
Unlike single-unit sprayers, two-part sprayers divide the machine into separate parts. The turbine or the pump will usually be one machine that's meant to stay on the floor. You'll attach the sprayer to the pump or turbine with a long hose. This makes it so you have plenty of reach and can move around without constantly moving the turbine.
Naturally, since you're only holding up the sprayer, you're not going to get tired as quickly. But now you have several hoses and separate machines to deal with. They all need to be connected together to work.
Once you're done spraying, you also have to consider the cleanup. Each device and every hose will need to be thoroughly cleaned so no paint dries inside. Since there's usually a long paint hose, this means a lot of wasted paint, unless you try to spray the remainder back into your paint bucket, which opens up the potential for quite a mess.
Also, consider how much more you have to store with a two-part sprayer. Hoses, the sprayer, the pump, nozzles. There's just a lot more to contend with.
Pros
Provides ample reach with long cords and hoses
Won't fatigue as quickly since you're not carrying as much
Cons
More complicated to use
Harder to move and store
More parts to clean
When to use a single unit sprayer
You're on a budget
You only have a small area to paint
Hobbyists and DIYers
When to use a two-part sprayer
You need professional quality
You have a large area to paint and don't want to fatigue quickly
Professionals
Related Read: Best Paint Sprayers For Fence Staining – Reviews & Top Picks

Conclusion
Whether you're painting a room in your home, refinishing furniture, or repainting your vehicle, a top rated paint sprayer is usually the fastest, most efficient way to do it. But all paint sprayers are not created equal, as you could see from our reviews. After testing so many, we finally settled on three that we feel confident recommending.
For most people, the best choice is the Wagner Spraytech Spray Max Paint Sprayer. It's light and portable with a separate turbine and sprayer for reduced fatigue. It gives fine control over the output with an adjustable nozzle and pressure control dial. You can paint precisely or cover lots of area with a spray up to 12 inches wide.
When you're painting on a budget, we suggest the TACKLIFE SGP15AC sprayer. It's dirt-cheap but still offers great features and adjustability with 4 nozzles, 3 spray patterns, and an adjustable flow control knob.
Finally, for professionals, we recommend the Graco Magnum X5 Airless Sprayer. It offers professional quality, precise control over the paint flow, and can spray a variety of materials without thinning them down.