10 Best Battery-Powered Chainsaws of 2023 – Reviews & Top Picks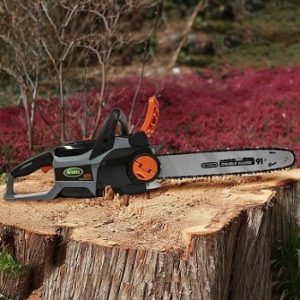 If you're reading this article, you're probably looking for a powerful tool to cut down your neighbor's trees while they sleep, so it has to be silent enough not to wake them. Plus, you need to be able to reach their yard in the first place, so cords are out of the question. Since you have to run full-speed back to your house once the tree crashes to the ground and wakes your neighbor, you'll need something light that can be held at a dead-sprint.
Whether that's how you plan to use it or not, you're probably looking for the same traits from your electric chainsaw. We've tested out a ton of them, and the following reviews will compare 10 of our favorites to help you decide which one will help you terrorize your neighbors in the night.

A Quick Glance at our Favorites in 2023:
Rating
Image
Product
Details

Best Overall

DEWALT DCCS670X1 Battery Chainsaw

Auto-oiling
Low kickback bar and chain
It's super powerful
CHECK PRICE

Best Value

Scotts LCS31140S 14-in Battery Chainsaw

Automatic-oiling chain tensioning
Plenty of power
Weighs just 10 pounds
CHECK PRICE

Premium Choice

Makita XCU03PT1 Battery Chainsaw

Direct-drive brushless motor
Long lifespan
Variable-speed trigger
CHECK PRICE

Oregon Battery-Powered 16-Inch Chainsaw

Ultra-lightweight
Automatic oiling system
Good battery life
CHECK PRICE

ECHO 16 In Chainsaw w/Battery

58V system provides loads of power
Good battery life
CHECK PRICE
The 10 Best Battery Powered Chainsaws:
1.

DEWALT DCCS670X1 Battery Chainsaw – Best Overall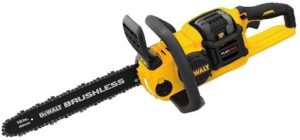 Brushless motors have made power tools more efficient and powerful than ever. The DEWALT FLEXVOLT battery chainsaw makes excellent use of the technology in tandem with a powerful 60V battery system resulting in a behemoth of an electric chainsaw. If it weren't so quiet, you would probably forget you're not using a gas-powered saw. Except this is much lighter and easier to maneuver at a mere 12 pounds. It's also got a low-kickback bar and chain keeping safety as a major priority, especially with that big 16-inch bar and chain.
If you want the mammoth power of the DEWALT battery chainsaw, you're going to have to fork out quite a bit of cash to get it. The 60V system is powerful, but it's not cheap. If you happen to already possess the 60V batteries, then it will considerably less expensive. For the price, you get some helpful features like the auto-oiling continuous lubrication or the tool-free chain tensioning. If we had to pick just one of these chainsaws to add to our tool collection, it would be the DEWALT, which is why it's in the top position.
In short, we think that this is the best battery chainsaw of the year.
Pros
Weighs just 12 pounds
Auto-oiling
Low kickback bar and chain
Tool-free chain tensioning and bar tightening
It's super powerful
---
2.

Scotts LCS31140S 14-in Battery Chainsaw – Best Value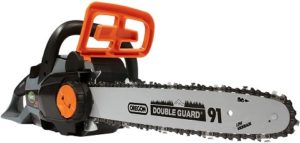 Some of these battery-powered chainsaws require a pretty hefty investment to get into. The Scotts 40-Volt Lithium-Ion battery chainsaw is more reasonably priced and won't hurt your wallet so much. It certainly doesn't pack the same power as the DEWALT in our top position, but the Scotts chainsaw is a pretty stout worker in its own right. It's got plenty of power for cutting through medium and smaller sized trees, but the included battery will die pretty quickly. With just 2Ahs of juice, it's not going to power you for very long.
The Scotts chainsaw is pretty light and nimble compared to some of the other saws we tested. At just ten pounds, it's on the more petite end of the spectrum. It's still packed with useful time-saving features like automatic chain oiling and tool-free chain tensioning. With great features and usable power in an affordable package, we think it's the best battery-powered chainsaw for the money.
Pros
Automatic-oiling and tool-free chain tensioning
Plenty of power
Weighs just 10 pounds
Reasonably priced
Cons
The included battery is too small
---
3.

Makita XCU03PT1 Battery-Powered Chainsaw – Premium Choice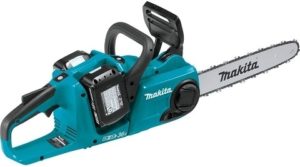 Makita is known for making high-end, expensive tools. They last a long time and hold up to loads of abuse. Since their battery chainsaw lived up to that reputation, it earned our premium choice recommendation. It is a bigger investment than most of the other machines on this list, but it's also a much burlier tool. You can cut through trees with ease as long as the 14-inch blade will reach.
This Makita features the new direct-drive brushless motor that's got as much power as a 32cc gas chainsaw, so you'll cut through things you never imagined an electric chainsaw going through. The brushless motors also boast a longer lifespan, which is good for your investment.
You get great control with the variable-speed trigger, so you don't have to go full-blast on tiny saplings. You're welcome to for fun though. Backing up the stout power of this saw is a hefty frame that weighs in at burly 22 pounds. Especially, given the shorter reach, that's pretty heavy. But if it were lighter, all the power might be more difficult to control.
Pros
Kit includes four batteries
Direct-drive brushless motor equal to a 32cc gas chainsaw
Long lifespan
Variable-speed trigger
Cons
Very expensive
Pretty heavy
---
4.

Oregon Battery-Powered 16-Inch Chainsaw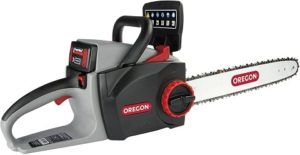 Oregon is such a prominent manufacturer of chainsaws that many of the other saws on this list utilize their low kick-back bar and chain. This 16-inch chainsaw features a brushless motor that helps it make efficient use of all the power its packing behind the trigger. You can cut through 400 moderately-sized branches on a single charge of the 4.0Ah battery. It offered some of the best battery life of any battery-powered chainsaw we've tested. The batteries are also designed to hold their charge in storage, so it should be ready to work whenever you grab it from the garage. At just 12 pounds with the battery installed, it's also very light and usable, especially for a 16-inch saw.
In between cuts, this chainsaw is nearly silent. While you're cutting, it's much louder than the other saws we tested. We're not sure why that is, but it's louder than we expected. It's also surprisingly difficult to assemble. Not all of the chainsaws needed assembly, but the ones that did weren't this tough. For such an expensive chainsaw, we'd like to see some improvement in these areas before it earns our top recommendations.
Pros
Ultra-lightweight, just 12 pounds with battery
Batteries hold their charge in storage
Automatic oiling system
Good battery life
Cons
Very expensive
Loud for an electric chainsaw
Difficult to assemble
---
5.

ECHO 16 In Chainsaw w/Battery

One of the old gas chainsaws we used to have was an ECHO, and it looks just about the same as this 16-inch battery-powered more modern version. This one is powered by a 58V battery pack, plenty of power for cutting down large trees and below. There were times it almost felt like we were using the powerful old gas-powered chainsaw, but this one didn't need any priming and it was much quieter.
We were surprised at how long the battery lasted in the ECHO chainsaw. Many of the chainsaws we tested for this list would run out of juice pretty quick if you ran them full-steam. We put the ECHO through its paces and the battery held out. But that's what you get with such a large investment because this is a very expensive tool. It's also a very stout tool, weighing in at 20 pounds. If you want the lightest chainsaw, this isn't it.
And, if you think it weighs a lot, it's nothing compared to the difference in weight your wallet will experience after shelling out a small fortune on this chainsaw. But it's got gobs of power and good battery life, it just needs a diet.
Pros
58V system provides loads of power
Good battery life
Cons
Very expensive
Weighs a hefty 20 pounds
---
6.

CRAFTSMAN V20 Chainsaw (12-Inch)
Equipped with the shorter 12-inch bar and chain, the CRAFSTMAN V20 battery Chainsaw is one of the cheaper ways you can start cutting things apart with motorized help. You might think the smaller size of the CRAFTSMAN would make it lighter and nimbler for when you're carving intricate ice sculptures, but it's actually pretty heavy for its size. At 14 pounds, it's heavier than some of the 16-inch saws we tested. Worse, the 20V system is much weaker than the 40V and 60V systems on other saws, and its power was underwhelming at best.
If you're considering the CRAFTSMAN, it's likely due to the affordable price. You get a 4.0Ah battery included with the saw, making it an even better deal. It's also got features like tool-free chain tensioning that will make your life easier. But you can't make up for the lack of power in the CRAFSTMAN battery powered chainsaw. We prefer something with a heftier power pack that's got more capability behind it.
Pros
Very affordable
Includes extended runtime 4.0Ah battery
Cons
Heavy for its size
Not as powerful as some competitors
---
7.

BLACK + DECKER 20V MAX Battery Chainsaw (10-Inch)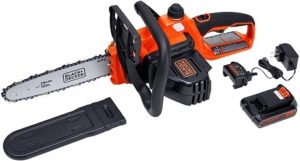 The BLACK + DECKER battery chainsaw is another short reach 10-inch chainsaw, but this one is very lightweight at just seven pounds. It's also one of the cheapest saws we tested, so it's in the budget for most. But that doesn't mean you should buy it. While we liked how light and maneuverable it is, we aren't a big fan of the 20V systems for cordless chainsaws. They're great for regular power tools like drills and impact drivers, but they don't have enough juice to power something like a chainsaw.
Between the short 10-inch reach and weaker 20V battery, this saw delivers mediocre performance at best. It did nothing that really impressed us, and we were always hoping for more but it just wasn't there. Aside from the small form factor and low price, we don't think this tool has a whole lot offer.
Pros
Affordable
Very lightweight
Cons
20V systems aren't as powerful
Short 10-inch bar
---
8.

LiTHELi 40V Battery Powered Chainsaws
If you haven't heard of LiTHELi before, you're not alone. But their 40V battery chainsaw looked like an excellent tool. It's not the cheapest, but it's still reasonably priced for what you get, which is a 14-inch battery chainsaw, 2.5Ah battery, and a charger. This is one of the more powerful 40V systems, so we were satisfied with how much power output this saw produced. But the 2.5 Ah battery didn't hold enough power to keep us going for very long. We were constantly held back by the need to stop and charge the too-small battery.
For the price, we were pleased to see a brushless motor powering the LiTHELi chainsaw. Brushless motors are more efficient than brushed motors, and they tend to last much longer as well. The saw looked light and streamlined, but we realized that was a miscalculation when we first picked it up. This is a stout saw at 17 pounds, and you can feel it right away. We wanted to like the LiTHELi battery chainsaw, but in the end, it was outperformed by too many other tools.
Pros
Brushless motor is efficient and long-lasting
Five-year tool warranty
Cons
Heavy 17 pounds
Not very powerful
---
9.

Greenworks 16-Inch 40V Battery Chainsaw
The Greenworks battery chainsaw is powered by a stout 4.0Ah 40V battery that provides substantial power and torque. We thought the batteries would last a while, but unfortunately, the Greenworks displayed some of the poorest battery life of any of the chainsaws we tested. It had enough power to cut down large trees, but you're not getting through more than one without stopping to recharge.
Every time we left the saw sitting for a few nights, all of the chain oil would leak out and leave a puddle on the floor. It's got an auto-oiling chain, but the leaking isn't something we were happy about. This is one of the more expensive options we tested, and there are saws with just as many options available for less, so we expected higher-quality craftsmanship on the Greenworks saw.
Pros
Lots of power
Can cut large trees
Cons
More expensive than other options
Battery life wasn't great
Leaks oil
---
10.

Worx WG322 20V Chainsaw with Auto-Tension
We love affordable tools and we've had good luck with Worx tools in the past, but we weren't so pleased with the Worx WG322 20V battery-powered chainsaw. We did love how lightweight it was. At just six pounds, it's one of the lightest saws we got our hands on. But the battery is hefty, and the saw weighs nearly ten pounds once it's in, which is a lot for a 10-inch chainsaw. That battery also takes forever to charge, so if you don't have a spare, you'll be waiting for hours to get enough juice to start cutting again.
We were able to cut through smaller branches and saplings with this saw, but we couldn't make it through anything thicker than two to three inches. Even though it's very affordably priced, we don't think that the Worx tool is a great value. There are other chainsaws available for the same price or just a little more that vastly outperformed the Worx saw.
Pros
Affordable
The saw weighs just 6 pounds
Cons
Doesn't have much power
Short 10" reach
Takes hours to charge a battery
Battery adds a lot of weight

Buyer's Guide: Choosing the Best Battery Powered Chainsaw
Battery-powered chainsaws are the shiny new toy on the block. Once you see one, you're going to want it. But is it really the best tool for the job? Or will you still need to keep a more powerful gas-powered saw on hand for the burly stuff? If you're still wondering whether you should make the jump to a battery chainsaw or not, hopefully, this short buyer's guide will help you figure out which side of the fence to get on. Let's talk about battery-powered chainsaws and why you would and wouldn't want one.
Benefits of Battery-Powered Chainsaws
Battery-powered chainsaws come with a host of benefits over plug-in electric saws or gas-powered models. So, what advantages can you expect with a battery-powered chainsaw?
No Maintenance
Gasoline chainsaws require loads of maintenance to run properly. You have to keep oil in the engine and gas in the tank. You can't let the gas sit too long or it goes bad. When you store the chainsaw, you'll need to drain the fuel. Spark plugs need replacing as well as mufflers and air filters. On the other hand, a battery-powered electric chainsaw has none of these needs. It has no oil except for chain oil which is automatically applied by the auto-oiling mechanism. Battery-powered chainsaws have no fuel to drain, no air filters or spark plugs to replace. They're basically maintenance-free for a much simpler tool with less upkeep.
Quieter
Gas-powered chainsaws are very noisy. But battery-powered saws are much quieter, even when they're cutting. Instead of hearing the loud motor, you'll only hear the sound of the chain cutting through the wood. Between cuts, you'll hear absolutely nothing as the tool is dead-silent. Gas motors will continue to burble between cuts, only silencing when they're entirely shut off.
Lighter
Chainsaws that use gas tend to be heavy machines. Even more so once they're full of fuel. But electric chainsaws are much lighter, sometimes weighing less than ten pounds! The newer brushless motors are much lighter than before, enabling these machines to get very light and nimble while still packing in loads of cutting power.
Zero Emissions
With all the concern over climate change and global warming, many people are thinking about their impact on the environment. With a gas chainsaw, you can be sure you're steadily increasing your carbon footprint. But with a battery-powered electric chainsaw, there are zero emissions, no smog, no exhaust, and no pollution at all.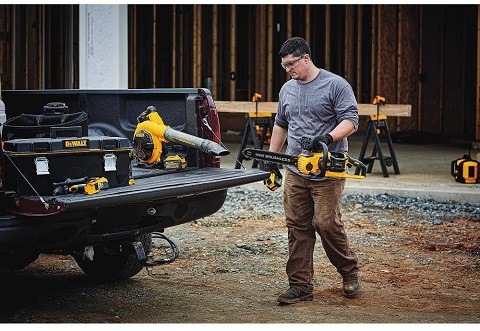 Easy Start-Up
If you've ever wrestled with the pull-start cord on a gas-powered chainsaw, then you know just how frustrating it can be. They never seem to start on the first pull and each pull seems to get successively more difficult! But with a battery-powered saw, you don't have to wrestle with any of that. Just pull the trigger and the chain turns. It's that simple.
Drawbacks of Battery-Powered Chainsaws
While we are definitely big fans of the battery-powered electric chainsaws, they're not without their flaws. We've discussed their advantages, but now let's talk about the negatives. These are the drawbacks of battery-powered chainsaws.
Not as Powerful as Gas
With our latest brushless motor technology becoming available on battery-powered chainsaws, they're finally stepping up in power to be real contenders against the gas-powered chainsaws that have held the title for so long. But only the most expensive, high-end battery-powered saws manage to produce that level of power, even now. It's still very difficult for a battery-powered saw to match the power that a gas saw can continue to push out for hour after hour. The battery-powered saws that come close tend to drain their batteries pretty quickly, so you won't get much run time out of them.
Batteries Take Time to Recharge
If you run out of gas, you can always add more and keep going. If your battery dies, you better hope you have a spare. If not, you'll be waiting hours before you have enough juice to keep going, and even then, it may not be enough to finish the job. With battery-powered tools, you're always going to worry about how much power is left. Especially with big power-hungry tools like chainsaws, batteries have a hard time providing enough power to keep them running for very long.
Conclusion
After cutting up so much wood while testing these saws to write our reviews, we permanently smell like cedar and pine. Hey, no one is complaining! We were trying to find the best battery chainsaws available, and we think we managed to. For us, the top performer was the DEWALT FLEXVOLT 60V MAX battery chainsaw. It weighs just 12 pounds but packs enough power to take out trees of almost any size with a 60V battery system and a 16-inch bar and chain.
For the best value, we think you ought to take a look at the Scotts 40V Lithium-Ion battery Chainsaw. This one weighs only 10 pounds, packs plenty of power thanks to the 40V battery pack, and has useful features like an automatic-oiling chain with tool-free tensioning. And it manages all of that for a very reasonable price.
Finally, if you want the Cadillac of battery chainsaws, you should try the Makita 18V X2 LXT battery chainsaw. It uses two batteries simultaneously to create double power, making it one of the most capable battery chainsaws that we've seen. In fact, the direct-drive brushless motor makes it as powerful as a 32cc gas chainsaw.