10 Best Cordless Chainsaws of 2023 – Reviews & Top Picks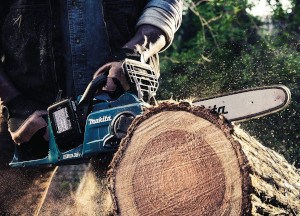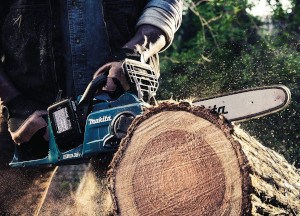 The chainsaws on our list today have been compiled after much time and effort. We've spent hours studying the market, evaluating tools, and performing intricate tests, all with the express purpose of finding the very best options.
The things we've learned about the world of cordless chainsaws are conveniently enumerated in the guide below. All the work has already been done. The only thing left for you to do is sit back, relax, and enjoy these best cordless chainsaw reviews!
A Quick Look at Our Favorites (updated in 2023):
Rating
Image
Product
Details

Best Overall

Makita LXT Cordless Chain Saw Kit

Tool-free blade adjustment
Variable speed trigger
Quick halt
CHECK PRICE

DEWALT Lithium Ion Chainsaw Kit

Auto-oiling
Lightweight
Tool-free adjustments
CHECK PRICE

Best Value

BLACK+DECKER Cordless Chainsaw

Long battery life
Tool-free adjustments
Ergonomic
CHECK PRICE

Husqvarna Cordless Electric Chainsaw

High-quality battery
Good guide bar and blade
Energy-saving
CHECK PRICE

Toro PowerPlex Cordless Chainsaw

User-friendly
Moderate price tag
Self-oiling chains
CHECK PRICE
The 10 Best Cordless Chainsaws:
1.

Makita XCU03PT1 LXT Cordless Chainsaw Kit – Best Overall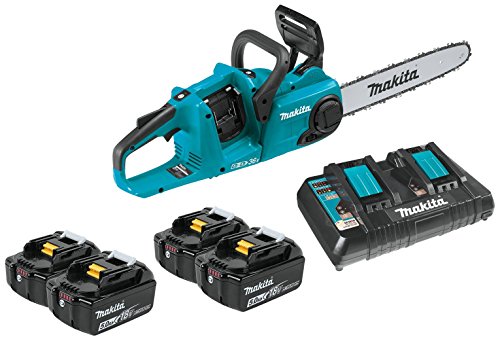 We've chosen the Makita XCU03PT1 as the best cordless chainsaw. The brushless motor, the variable speed trigger, and the tool-free blade adjustments all make for a tool that stands tall against competing options.
It also has a couple of safety features that will make it significantly more user-friendly. A quick halt function makes the blade stop quickly when deactivated, and a lever makes the blade very difficult to activate mistakenly.
The tool is fairly heavy. After long periods of use, you may find yourself fatigued. However, for the most part, it's a well-rounded machine with lots to offer buyers looking for a good electric chainsaw.
To conclude, we think that this is the best cordless chainsaw of the year.
Pros
Tool-free blade adjustment
Quick halt
Variable speed trigger
Blade difficult to activate accidentally
---
2.

DEWALT DCCS670X1 Lithium Ion Chainsaw Kit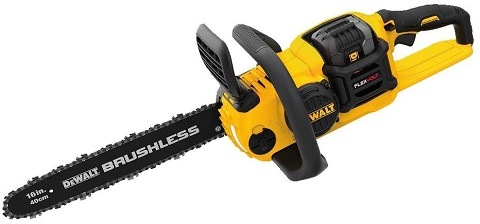 The DEWALT DCCS670X1 Lithium Ion Chainsaw Kit has a brushless motor and a low kickback feature that makes it safer to use on hard woods and other heavy-duty stocks. This chainsaw also has tool-free blade adjustments, auto-oiling, and a lightweight, ergonomic design that make it as user-friendly as possible.
The main reason you would turn this tool down is the price tag. DEWALT is known for two things: quality and price. This tool encompasses both factors. If you want the high-end features attached to this unit, you must be willing to pay for them. However, for buyers with a substantial budget, this is the best battery chainsaw.
Pros
Auto-oiling
Tool-free adjustments
Lightweight
Ergonomic
---
3.

BLACK+DECKER LCS1020 Cordless Chainsaw – Best Value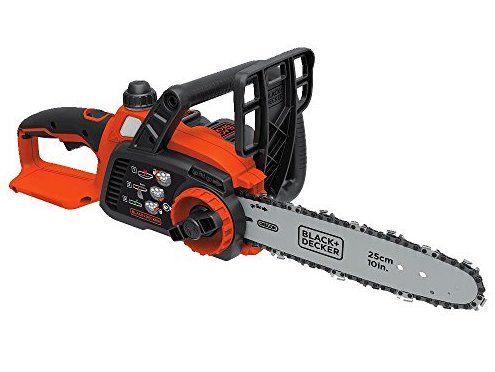 The BLACK+DECKER LCS1020 is our best cordless chainsaw for the money. The affordable tool includes a lithium-ion battery that stays charged for up to five times longer than similar competing models. You also get tool-free blade adjustment and an ergonomic handle that will be comfortable to use for long periods of time.
This saw has an oil-free feature that is, in theory, supposed to make the tool easy to maintain. However, it doesn't work very well, so you'll most likely need to do a lot of oiling by hand. It's also uncommonly loud for an electric chainsaw.
Pros
Best cordless chainsaw for the money
Tool-free adjustments
Long battery life
Ergonomic
Cons
Noisy
Requires hand oiling
---
4.

Husqvarna 120i 40-Volt Cordless Electric Chainsaw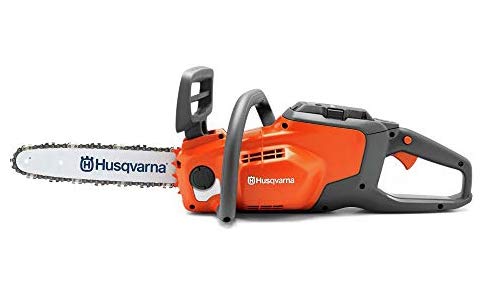 The Husqvarna 120i 40-Volt Cordless Electric Chainsaw is all about efficiency. Its "save" mode is designed to minimize energy expenditure and maximize the efficiency of the battery. The tool is designed to only use power when it is sawing, which means that you don't lose much battery power while the blade idles.
It has a long 14-inch guide bar and a power chain that will make it effective to use on hardwoods and thick stock. These features make it ideal for pruning tasks, and even for cutting down smaller trees.
The battery is incredibly impressive, but the overall durability suffers. The plastic has a cheap quality to it, which may limit the life expectancy of the tool.
Cons
Poor overall durability
Cheap plastic
---
5.

Toro PowerPlex 40V MAX Lithium Ion Cordless Chainsaw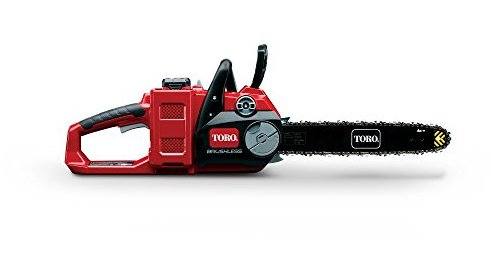 The Toro PowerPlex is a moderately priced tool for users who are okay with proportionately moderate features. It does have all the desirable conveniences: self-oiling chains, tool-free blade adjustments, and a push start element that makes it easy to get going.
The battery life may be a problem for some users. The company advertises that you get forty cuts out of it. In and of itself the number is average, but it's also an estimation that doesn't reflect user experience.
While you may be able to perform forty light cuts, heavy-duty work will rapidly drain the battery. When the tool does die, it takes an hour or more to recharge, which can be very inconvenient during long days of work.
Pros
User-friendly features
Moderate price tag
---
6.

EGO Power+ 14-Inch 56-Volt Cordless Chain Saw
The EGO Power+ 14-Inch has a kickback reduction feature and a solid battery that delivers up to one hundred cuts per charge. The frame is also designed to be resistant to moisture, so it should stand up well to the elements. The lightweight, ergonomic design is great for long hours on the job.
Durability is a concern, however. The plastic on this unit feels cheap and unstable relative to most other options featured on our list. This is particularly unfortunate because the EGO is also one of the pricier saws we reviewed.
Pros
Good battery
Kickback reduction
Moisture-resistant
---
7.

Zombi 16-Inch 58-Volt 4Ah Lithium Cordless Electric Chainsaw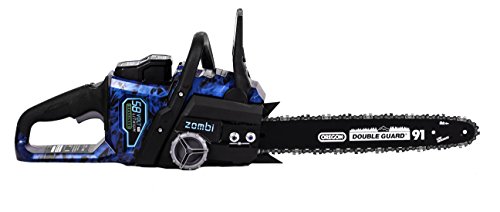 The Zombi ZCS5817 has a fun name and a cool design, but there's more to it than just that. The solid five-year warranty provides long-term protection, while the auto oil/chain leveling feature makes the tool easy to use and maintain.
Safety features are also at the forefront of the Zombi's design. The chain brake, handguard, and low-kickback design are all there to help you use the tool safely.
However, if you're looking for a lightweight, comfortable tool, this isn't it. The bulky design will make it very cumbersome to use over time. It also doesn't have enough juice to work through thick woods or trees. For hedging or other garden work, it will do just fine. For anything else, you'll want to invest in something with more power.
Pros
Interesting design
Five-year warranty
Auto oiling
---
8.

Greenworks 16-Inch 40V Cordless Chainsaw
Ergonomics is a big focus of the Greenworks 16-Inch 40V Cordless Chainsaw. A comfortable grip, a natural design, and a sharply reduced vibration level make it easy and comfortable to use. It also has a high-quality brushless motor for a long, healthy lifespan.
In terms of safety, you get quick braking action and a low kickback design that should limit the potential for serious accidents.
The two major problems are battery and power level. Greenworks is a well-known company in the world of environmentally friendly yard tools, but it consistently struggles with producing high-quality batteries. This unit is no exception. Expect to require recharges regularly.
Perhaps in part because of the battery situation, the Greenworks is also not very good at working with hard woods.
Pros
Ergonomic
Low kickback design
Cons
Poor battery
Low level of power
---
9.

Worx WG322 20V Cordless Chainsaw
The Worx WG322 20V is a compact, lightweight saw that will be an enticing option for budget buyers. In addition to being one of the most affordable tools on our list, it also includes an automatic chain lubrication feature and a battery display indicator that will conveniently notify you when it's time to recharge.
You do make some trade-offs with this low-priced tool. One of them is power. You can get hedge trimming work done with the Worx, but anything more than that will be outside the Worx's capacity.
It also has a very flimsy build. The chain comes off frequently, requiring regular maintenance, and the overall build feels cheap.
Pros
Affordable
Lightweight/compact
Cons
Chain comes off frequently in use
Not very powerful
---
10.

Earthwise LCS32412 Cordless Electric Chain Saw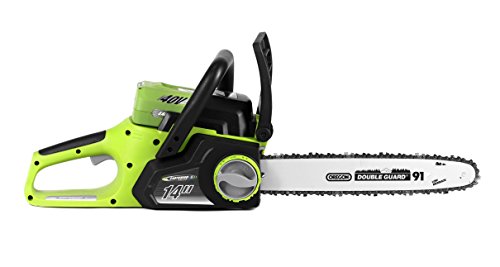 The Earthwise LCS32412 Cordless Electric Chain Saw has a comfort grip and a lightweight, compact design. These things aside, the price tag is probably the main selling point of the tool.
The battery life is poor, cutting out after a short period of use. It also takes two hours or more to recharge, which means when the battery dies, your work is interrupted for a long period.
You can use the Earthwise on bushes and twigs, but most other projects will be off limits due to power limitations. Budget buyers may find something to like here, but in most cases the money may be better spent on our best for the money pick.
Pros
Affordable
Compact/lightweight
Cons
Power limitations
Short battery life
Battery takes a long time to recharge
---
Buying Guide: How to Select the Best Cordless Chainsaw
Here are some considerations that will help you get the best battery powered chainsaw possible.
Safety First
Chainsaws in any form are one of the most dangerous power tools out there. Because of the exposed blade, and how the tool is used, there is only so much that can be done to make it safer. However, there are a few ways you can reduce the likelihood of injury, both in how you choose your tool and in how you use it.
When it comes to tool selection, don't opt for more power than you need. The more juice you have, the harder the exposed blade will be to control.
You can also find chainsaws with safety-specific features. Components that shut the blade off quickly, or make it very difficult to initiate on accident.
Other than that, the safety considerations are all your responsibility. Wear goggles, gloves, and be extremely mindful of how you use the tool. It's well worth the effort.
What are you using the chainsaw for?
Chainsaws can be used for anything from hedging bushes to cutting down mighty trees. Naturally, each task has tools made especially for it.
For basic yardwork, an electric chainsaw should get the job done. With this tool, you will be able to carve up bushes, and even take down branches from trees.
However, if you need to fell some trees, you'll need a tool that has a little bit more beneath the hood. For serious lumberjack work, invest in a high-powered gas tool.
Guide Bar Length
The length of the blade is naturally an important factor to bear in mind as you look for your tool. Longer blades will be good for cutting thicker stock, including tree trunks.
There is no single length that is better than any other. However, as a general rule of thumb, opt for a guide bar length that is at least two inches longer than the width of the thing you are trying to cut.
Gas Considerations
Most gas engines for chainsaws land somewhere between 24-46cc. Naturally, more powerful motors will be good for working through thick, hard woods, the likes of which you might find on trees.
Lower powered engines will be better for handling smaller tasks. Most of the time, moderately powerful gas engines will be more powerful than high powered electrical chainsaws. However, there are some exceptions to that rule.
Electric chainsaw considerations
Electric chainsaw power considerations are measured in amps rather than in ccs. However, the same guidelines apply. The higher the amperage, the more powerful the chainsaw will be.
Gas or electric?
Choosing between gas and electric is fairly straightforward. Electric chainsaws are better for light work like cutting hedges and bushes. Gas chainsaws are better for heavy-duty work.
However, there are some other considerations to bear in mind. For example, electric chainsaws are more affordable to run. Recharging a battery costs a lot less than a can of gasoline.
Electric chainsaws are also more environmentally friendly. If you're worried about the environment, low-emission tools are definitely the way to go.
However, electric chainsaws are also limited in how long they can be used. When the battery dies, you're pretty much stuck in limbo until you can get another one juiced up. With gas chainsaws, everything is the complete opposite: lots of power, high emissions, expensive to run. However, as long as you have gas on hand, you can run one forever without any trouble.
Deciding between the two tools is partly a matter of your value system and partly a matter of what you need to get done.
Weight
Chainsaws are entirely manual tools, which means you will want to be mindful of how much yours weighs. Heavier chainsaw tools will make you get fatigued quickly over time.
Remember that this is a tool you need to have complete control over. It's probably not a good idea to get something that's the max weight you can handle. Even if you're a strong person, opting for a lightweight tool is a pragmatic way to limit fatigue and maximize your safety.
Variable Speed Trigger
The variable speed trigger allows you to seamlessly adjust the tool's speed output by simply altering the amount of pressure you apply to the trigger. It's a great precision feature that allows you to customize the approach you take to each cut. You don't technically need this feature, but it can be very handy to have.
---
Conclusion
These cordless chainsaw reviews likely taught you at least one thing: there are many great products out there to keep in mind. In fact, for the purposes of choosing, there might be too many options. If you aren't quite sure which chainsaw is the right one for your home, there are two options to remember.
Our top choice for the best cordless chainsaw, the Makita XCU03PT1 LXT Cordless Chain Saw Kit, will be great for buyers who put quality first.
However, if you're trying to keep spending to a minimum, go with our best battery powered chainsaw value pick, the BLACK+DECKER LCS1020 Cordless Chainsaw.