5 Best Belt Sanders of 2023 – Top Picks & Reviews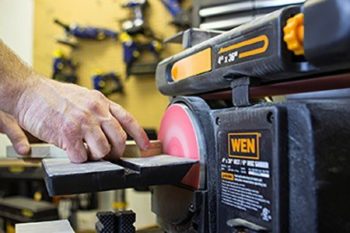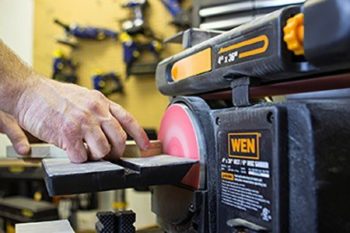 This comprehensive guide has two goals. The first goal is to introduce you to some of the best belt sanders on the market. The second goal is to give you all the information needed to choose which belt-sander will be the right one for your needs.
After reading this article, you'll be crystal clear on what to look for and what to avoid. Let's get started!

Our Favorite Models in 2023 Compared
Rating
Image
Product
Details

Best Overall

WEN 6502

Affordable
Powerful
Disc cum belt combo
CHECK PRICE

Best Value

Black & Decker DS321

Economical
Compact
Powerful
CHECK PRICE

Kalamazoo 1SM

Powerful
Durable
CHECK PRICE

WEN 6321

Economical
Compact
Lightweight
CHECK PRICE

JET J-41002

Powerful
Functional
Durable
CHECK PRICE
The 5 Best Belt Sanders
1.

WEN 6502 Belt Sander – Best Overall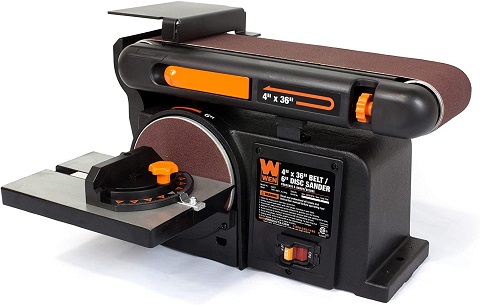 The WEN 6502 is a combination sanding tool that brings to you the benefit of a disc sander and a belt sander. It's a stationary unit with a sturdy cast iron base that dampens vibrations and promotes stability. Ideal for most finishing jobs, this combination sander allows you to sand, trim, level, round, and smoothen your woodworking projects.
Its 4.3A motor runs at 1900 SFM. At this speed, belts of 80-grit and 120-grit work best. Lower grit belts may stall and higher grits may burn out fast. I would have loved it if this machine had variable speed control. But, as it is, the machine is great for beginner to intermediate level woodworkers.
The belt changing system is simple and quick. After a belt change, the tracking system allows you to manually position the belt at the center using the tracking knob. Swapping the disc on this machine is pretty quick and convenient as well.
On examining the machine, I found all the parts well aligned. So, you can start using it out of the box without any major adjustments or corrections. I also like that I can change the angle of the belt from 0 to 90 degrees. I like that the belt over the idler is exposed. This provides an ideal surface for sanding inside curves.
Considering its price, functionality, build quality, and power, I'd say that the WEN 6502 is clearly one of the best belt sanders on the market right now.
Pros
Affordable
Powerful
Disc cum belt combo
---
2.

Black & Decker DS321 Belt-Sander – Best Value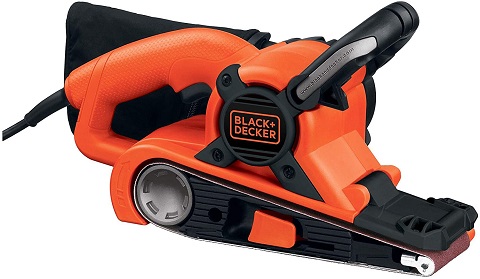 A disc-belt sander usually lacks the power of a standalone disc sander or a standalone belt sander. So, if you're looking for a pure bred belt sander, the Black & Decker DS321 is sure to interest you.
Packing a powerful 6 A motor, the DS321 powers its 3 inches x 21 inches belt at an impressive speed. Best suited for working with medium-grit belts, this machine helps remove large amounts of wood from the surface of your workpiece. Since the machine has a powerful motor, it will work well with grits as low as 60. But, I wouldn't push it lower than that. Usually, I prefer using an 80-grit belt while working with this machine. For a better finish, I rely on my orbital sander.
Coming back to this belt grinder, one of the features I like a lot is its angled belt design. This design allows you to get close to the edges while sanding floorboards. Also, you can raise the front part of the machine to expose the sanding belt. This is another feature that makes this tool awesome for hard to reach places.
The belt is easy to change and track. The dust collection bag fits easily into the slot and does a nice job trapping sawdust. The drive train rotates the belt smoothly. So, this machine takes care of most of the little things nicely.
However, this belt sander is a single-speed machine. If I could have variable speed at the same price, I'd be totally happy with this product. But, for this price, maybe that's probably too much to ask. Taking everything into consideration, this is probably one of the best choices for the money right now.
Pros
Economical
Compact
Powerful
Durable
Works well around edges
---
3.

Kalamazoo 1SM Belt Sander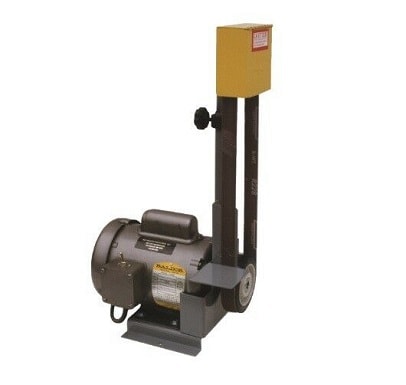 In addition to woodworkers, belt sanders appeal to another category of craftsmen – knife makers. If you're looking for a belt sander to sharpen, deburr, shape, smoothen, and size knives, the 1SM is likely the right option for you.
With a 1/3 horsepower motor powering its 1-inch x 42 inches belt at 1725 RPM, this machine works well with 80-grit and 120-grit belts. Changing the belt and tracking it is extremely easy and quick on the 1SM. The machine is of good build quality and you'll experience little to no vibration while running it. The tilt enabled table is smooth and sturdy. All parts are well aligned, so you won't have to make any design tweaks to correct angles.
Regarding its limitations, I see a couple of them. First, the belt is only one inch wide. At a time only a small part of the belt can come into contact with the workpiece. So, it's not ideal for finishing large surfaces. It works beautifully on rounding corners or smoothening the edges. But, you can't use this to plane a broad surface. Second, the machine does not offer variable speed control. At this price point, I was hoping they would. But, they didn't.
In the light of this product's strengths and weaknesses, I'd say that the 1SM is excellent for knife workers. But, if you're into woodworking, you'll need another sander to cope with large projects.
---
4.

WEN 6321 Belt-Sander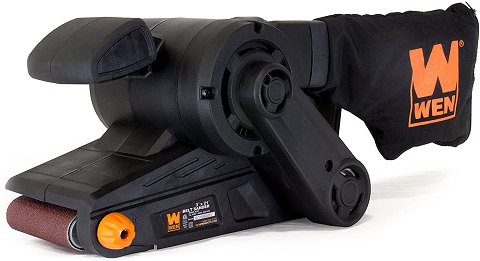 Here's another great product from the world of portable belt-sanders. This compact and lightweight powerhouse runs on a 7 A motor that can turn its 3 inch x 21 inch belt at a respectable 820 feet per minute. Not intended for adding finishing touches, this machine shines when you need to remove lots of material quickly.
It comes with an 80-grit sanding belt, but you can use it with a 60-grit or 120-grit belt. However, be mindful of the project and your skill level before choosing the grit. Remember, models in this category of sanders aren't meant for large-scale projects, such as sanding an entire floor. It's better suited for smaller projects, such as removing paint, smoothing edges, and eliminating splinters.
This model offers tool-free belt change and manual tracking. You'll have no trouble getting up and running with the WEN 6321. It comes with a dustbag, and the dust collection system does an excellent job. However, the connection port is, oddly, rectangular shaped. So, you may run into difficulties if you want to hook it up to your shop vac.
Another feature that I find quirky about this model is that the plate supporting the sanding belt is pretty small. A big portion of the sanding belt towards the front and the back is unsupported. So, you have to tilt the machine forward or backward to get an even surface.
Note that this machine is not a variable speed machine. That's a negative. But, at this price point, that's something about which I won't complain. It's a good buy for the money and it gets the job done. What else can you ask for?
Pros
Economical
Compact
Lightweight
---
5.

JET J-41002 Belt Sander Machine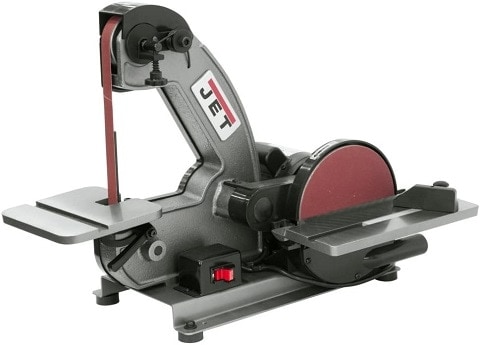 The JET J-41002 is a benchtop sander that's gaining a lot of popularity, and some notoriety, in the sanding space. The machine is popular because it comes with a 3/4 HP motor that rotates its 2 inches x 42 inches belt at 3100 SFPM. The motor has enough speed and power to help you with almost every task a belt sander can accomplish. Most of the machines that perform at this level are floor standing models. If you're looking for a powerful bench-top sander, then you should check this model out.
But, there are a couple of problems. If you're lucky, the machine will come with all edges and surfaces squared off out of the box. However, in many cases, customers have had to make adjustments to correct deviations. You can make most of these changes yourself, it's not a big deal. My complaint is having to make them in the first place.
The next issue is with the belt-change and the disc-change system. Every time you replace the belt or disc on this machine, you have to readjust the tilt of the table. This brings inconsistency between belts if you are not careful.
So, who should buy this machine? This machine is for those who need a high-power benchtop sander. For this price, you can get an excellent floor standing sander, but if you're picky about it being a bench-top, then go for it. However, be prepared to spend some time squaring off the angles and setting up the machine.
Pros
Powerful
Functional
Durable
Cons
Expensive
Awkward belt/disc replacement system
Requires squaring off
---
Buying Guide – Choosing the Best Belt Sander
The belt-sander conjures an image of brute power among those who begin working with it. But, once you get to know the tool, you'll quickly realize that this beast has a gentle side. With the right combination of sanding belt and experience, you'll come to count on this machine more often than you initially thought you would.
If you are looking to buy your first belt sander, the number of variables that influence your choice may bog you down. But, if you take that big decision and break it into a series of small decisions, it becomes much easier to pick the right product. So, the first question you should address is whether a belt sander is the right sander for you.
Do you need one?
The belt-sander specializes in removing large amounts of stock from the work piece's surface. It's a tool that you can use to prepare a surface for finer operations. Unless you're very skilled at using the tool, it would be extremely difficult to work with a belt sander on projects with a low tolerance for mistakes. In other words, high precision isn't the belt sander's strong suit. When you think of belt sanders, think of broad strokes, not fine ones. But, make no mistake, the broad strokes count. With some practice, the belt sander can help you save time and effort without compromising quality.
Should I go for a benchtop or a handheld model?
If you want to take the workpiece to the tool, go for a benchtop belt sander. If you want to take the tool to the workpiece, go for a handheld belt sander. Portability is another aspect. Benchtop sanders are large and heavy. As the name suggests, they are meant to function as mounted tools. Portable sanders, however, are light and compact.
Next, think about what sort of work you want to do with your sander. For example, if you want to change a cracked floorboard, which sander do you think is right for you? That's obvious, a portable sander. Now, what if you want to sharpen a knife? In this case, a benchtop sander works better. How about removing splinters on a piece of wood? Well, it depends on the size and shape of the piece. We also have an article on this topic here.
As you can see, the main factor that will help you choose between a benchtop belt sander and a handheld one is the job requirement.
What are the important factors I must consider when buying?
A good belt sander perfectly balances price, power, durability, design, and function for your needs. Individually, each parameter is important; but, it's the way these factors interact with each other that makes the difference.
For example, a belt sander with a powerful motor will not work well if the belt slips on the bearings. Here's another example, a tilting work table will not work well if adjusting the angle of tilt is a hassle. It gets even worse if the table slips during operation, changing the angle of tilt unexpectedly. I've also seen products where a feature becomes useless because of poor design decisions.
So, if you're shopping for a belt sander, pay attention to the details. Read the manual, watch video demonstrations, and read reviews. This way, you're less likely to overlook things. Now, here are some important factors you should consider.
Belt Speed: Low-end models don't offer variable speed control. In my opinion, variable speed control is one of the most important features to have on a belt sander. Variable speed control allows you to work with a broader array of belt grits and offers better control over the sanding process.
Belt Grit: When the workpiece meets the sanding belt, it creates resistance. If the sander's motor cannot overcome this resistance, it causes the belt to stall, slip, or skip. On the other hand, if the motor is too powerful, it will wear the belt down rapidly. So, it's important that you select a belt sander that works well on 80-grit, 120-grit, and perhaps even 220-grit belts.
Durability: Make sure that the model's housing and all critical components are made of strong materials. Pay attention to the idler wheel, drive wheel, platen, and tracking knob. For benchtop belt sanders, make sure the machine has a solid base that dampens vibrations.
Motor: The motor is the heart of the sander. Usually, benchtop motors have fractional horsepower motors. Handheld belt sanders have motors that draw between 6 A and 10 A. In every case, more power for the same money is better. Unless of course, design flaws negate the power boost.
Dust Collection: Sanding generates a lot of dust. Therefore, make sure your sander comes with a dust bag or a port to connect to your shop vac. Also, check whether the port's shape and size are compatible with your shop vac.
Warranty: A good warranty will protect your purchase in case things go wrong with the machine, and it's not your fault. This is especially important when you're buying expensive products. Evaluate the warranty in conjunction with the price you pay. For example, a 1-year warranty on a $100 product may be enough. But, a 1-year warranty on a $300 product is far from enough.
Service: When you buy a product, try to make sure that the brand has an authorized service center in your city. You can even visit the place if time permits. If you're investing in an expensive model, it helps to talk to the company representatives before you buy one. They can give you tips and caution you against common pitfalls. You may even get the chance to see a demonstration while you're there.
Price: There are good products available at every price range. So, decide how much you're willing to spend on a belt sander in advance. At the same time, allow yourself a margin of 20 to 30 percent. For instance, I'll gladly stretch my budget by 30 percent if I can get a variable speed belt sander.
Now that I know what to look for, what are my options?
Be sure to see our list of our top picks for the year. You're likely to find what you're looking for in that section. If you want to use the information in the buying guide to do your own research, you should look at brands such as Bosch, Craftsmen, WEN, Black & Decker, Makita, and Porter-Cable.

Conclusion
A belt sander has a way of revealing its true capabilities the more you use it. Expert woodworkers wield the belt sander in many marvelous ways and over time it will become an integral part of your set of tools too. So, if you're buying one for the first time, you may not realize this machine's full potential.
In the beginning, the best way to think about a belt sander is to think of it as a high-speed and low-effort alternative to manual sanding. Next, compare the advantages and disadvantages of owning a portable belt sander as opposed to a stationary one.
If you're going to get a stationary belt sander, go for the WEN 6502. It's the best belt sander for beginners. But, if you are an experienced sander, who doesn't mind some squaring off, you can go for the more powerful JET J-41002. And, if you're into knife making, the Kalamazoo 1SM is the most likely the right option for you. At the same time, if you're looking for a portable belt sander, you can choose between the Black & Decker DS321 and the WEN 6321.
In the recent decade, the DIY scene exploded. To equip these DIYers with the proper tools of the trade, companies started redesigning and refining their products to cater to the non-industrial segment as well. That's why there are so many products and tools out there.
But, without a fundamental understanding of how these machines work and what they are capable of, you can't make that choice wisely. Hopefully, the information and guidance in the article will help you do so. Good luck with your search for the best belt sander for you!
Note: we also have guide on which belt-sander to choose if you're on a budget.
More buying guides like this: