10 Best CamelBak Backpacks in 2023 – Reviews & Top Picks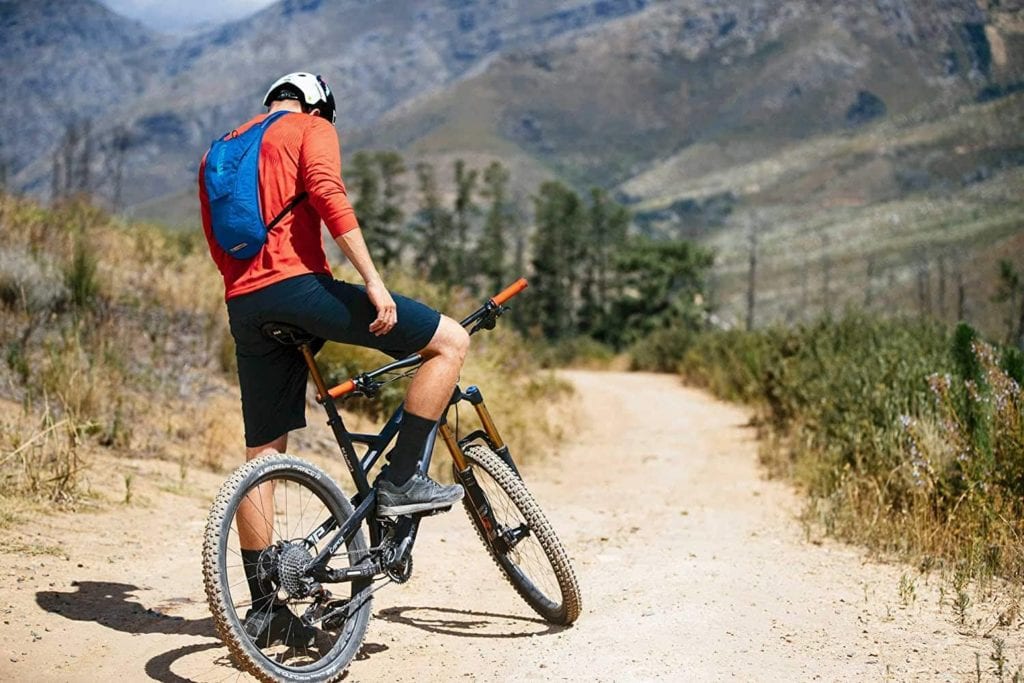 It's almost hard to remember now, but before Camelbak hydration packs, you had to carry your drinking water by hand. While this may not sound like the worst thing in the world, it gets worse when you're hiking for long distances or you're riding a bike. You'd have limited water carrying capacity, which could severely limit the distance you able to travel.
Today, you simply strap a Camelbak to your back. Some of our favorites even have room to carry some extra essentials with you. But with so many to choose from, which Camelbaks offer the best capacity, extra storage, comfort, and value? We wanted to know, so we tested as many of them as we could. The following ten reviews compare some of our favorites – with three of them standing out as our top recommendations.
---
A Quick Look at Our Favorites (Updated in 2023)
Rating
Image
Product
Details

Best Overall

CamelBak M.U.L.E. Hydration Pack

Large 100-ounce water capacity
Lots of extra storage
Magnetic tube strap
CHECK PRICE

Best Value

CamelBak Mil-Tac HydroBak Hydration Pack

Affordably priced
Rugged and durable
Extra zipper pocket for small extras
CHECK PRICE

Premium Choice

CamelBak Rubicon Hydration Backpack

Mil-spec 100-ounce hydration reservoir
Full-sized backpack with lots of storage
Many attachment options
CHECK PRICE

CamelBak Lobo Hydration Pack

100-ounce water capacity
Extra pockets for carrying essentials
Leak-proof on/off lever
CHECK PRICE

CamelBak ThermoBak Hydration System

Large water capacity
Very tough and durable
External fill
CHECK PRICE
The 10 Best CamelBak Backpacks
1.

CamelBak 1115001000 M.U.L.E. Hydration Pack – Best Overall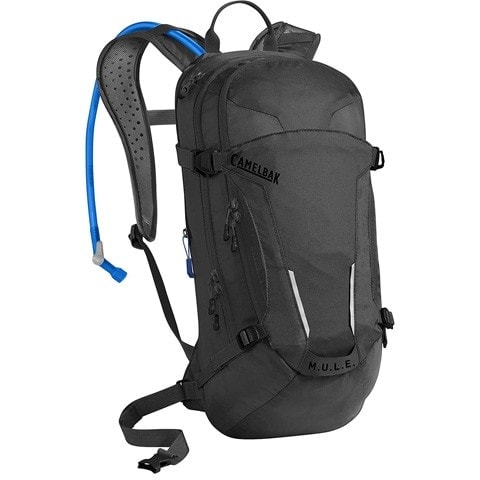 Camelbak products are known for their high quality. The M.U.L.E. hydration pack is no exception, and it has some nice features that make it one of the best Camelbak backpacks overall. For instance, the magnetic tube holder keeps your drinking tube out of the way, but it's still easy to get to and much easier to put back than the old clip-in style tube holder. Plus, the Crux reservoir that's in this pack has incredible flow, providing 20% more water each sip than the regular Camelback reservoirs. When you're looking for some serious thirst-quenching, that extra 20% makes a big difference.
One of the things we liked about this pack was the extra-large capacity of 100 ounces or three liters. That's enough to keep you hydrated for several hours. But this pack offers plenty more storage than just a pocket for your keys. You get two full-size zip-around pockets that give you room to carry quite a few extras with you. A stability belt will help keep the load stable so you can hike or bike without ever even noticing the extra weight. And the padded breathable straps and back keep you comfortable.
Pros
Large 100-ounce water capacity
Lots of extra storage
Magnetic tube strap
Comfortable to wear
Crux reservoir provides more water for each sip
Cons
One of the more expensive Camelbaks
---
2.

CamelBak 61536 Mil-Tac HydroBak Hydration Pack – Best Value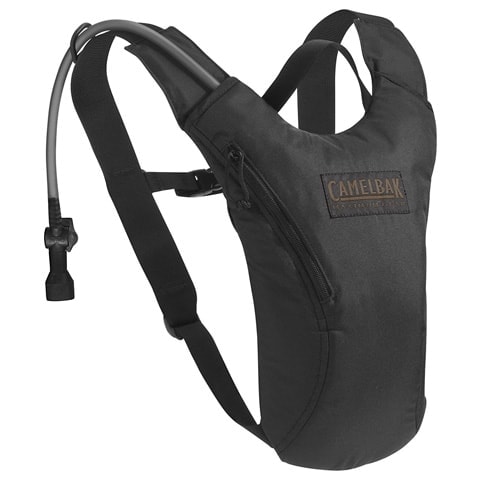 Carrying a lot of water can be a tradeoff between the extra weight and how long you can continue your activity. For shorter outings where less water is needed, the CamelBak Mili-Tac HydroBak hydration pack offers 1.5 liters or 50 ounces of water capacity in a small package that won't add much weight to your back. It also doesn't offer much extra storage since it's small, but there is a little zipper pocket for keys or a small smartphone.
There were two things we really liked about this pack. First, it's very affordably priced. It's one of the lowest-priced CamelBaks we've seen. Despite that, it's very ruggedly built. It's made extremely tough with an abrasion-resistant exterior that's perfectly suited for a life outdoors. It may not be the best choice for all-day outings, but the mix of affordability and durability of the Mil-Tac hydration pack makes it one of the best CamelBak backpacks for the money.
Pros
Affordably priced
Rugged and durable
Extra zipper pocket for small extras
---
3.

CamelBak 62477-CAP-P Rubicon Hydration Backpack – Premium Choice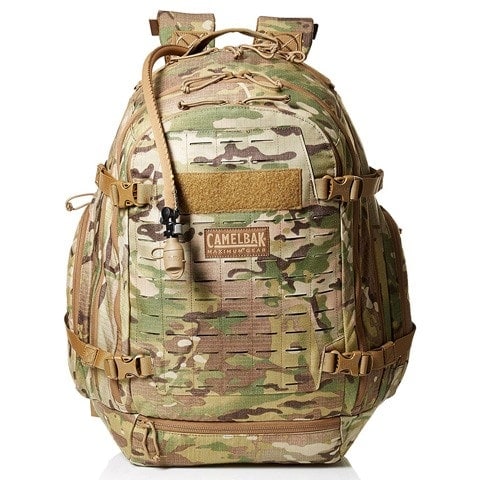 If you need better storage and more rugged mil-spec durability than a standard hydration pack offers, then the CamelBak Rubicon Mil-Tac hydration backpack is the pack you're looking for. It's got the mil-spec 100-ounce hydration reservoir to provide you with three liters of drinking water in any conditions. But that's just a small part of what this bag can carry. With eight slip, four zip, and five exterior pockets, there's no shortage of space to fit your gear inside this backpack. You also get tons of attachment options on the outside, so you can even hang more gear off it and take your entire kit.
Luckily, this pack is rugged, so it can easily handle many pounds of weight inside and hanging off the outside. But all that storage and water capacity doesn't come cheap, as this is one of the highest-priced hydration packs we've seen. But we think it's the best option if you need rugged durability with extra capacity and you don't mind paying a premium for the superior CamelBak quality.
Pros
Mil-spec 100-ounce hydration reservoir
Full-sized backpack with lots of storage
Many attachment options
Rugged durability
---
4.

CamelBak 1118001000 Lobo Hydration Pack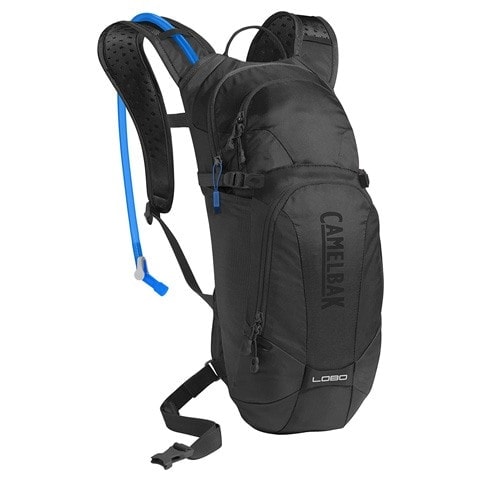 The Lobo hydration pack has extra water capacity and just enough storage to carry your essentials. It carries 100 ounces of water to fuel your longer adventures. You also get several large zip-up pockets on the outside that can fit several extras to bring along. But when the hydration pack is full, they're difficult to use as there's not much space left. However, it's very comfortable to wear, even when fully loaded. You also get multiple colors to choose from, so you can match your existing kit or pick a color that mixes with your personality.
We really like the high-flow Crux reservoir inside the Lobo pack. It delivers more water with each sip than the regular hydration packs, and the leakproof on/off lever never dripped on us. The external fill made it easier to top up your water without pulling everything out, which was a real blessing since this pack was stretched so tight with a full bladder. We thought it was a very comfortable pack to wear, with the weight well centered, and breathable, padded straps.
Pros
External fill
100-ounce water capacity
Extra pockets for carrying essentials
Leak-proof on/off lever
Very comfortable to wear
Multiple color options to choose from
Cons
Bladder makes pack too tight to fit much stuff in the pockets
---
5.

CamelBak 62326-CAP-P ThermoBak Hydration System
Available in camo, black, and tan, the ThermoBak hydration system is a tactical-looking hydration pack with a three-liter capacity to get you through those multiple-hour trips with ease. This pack has a small zipper pocket on the back, but it doesn't offer much in terms of extra storage. But it makes up for that in ruggedness, because it's a very durable pack that's built extremely tough. It's 100% nylon and can be machine washed to make sure it always looks good after you get it muddy and dirty in the backwoods.
We love the external fill on this pack that allows you to fill the reservoir without removing it. It's far more convenient and we would like to see this feature implemented on all hydration packs. But we weren't fans of the straps. They're not well-padded like most of the other packs, instead opting for a basic nylon strap. This pack is a great bare-bones way to carry water and not much else, but we'd prefer a few more carrying options and extra storage.
Pros
Large water capacity
Very tough and durable
External fill
Cons
Very little extra holding space
Nylon straps aren't the most comfortable
---
6.

CamelBak 1121404000 Classic Hydration Pack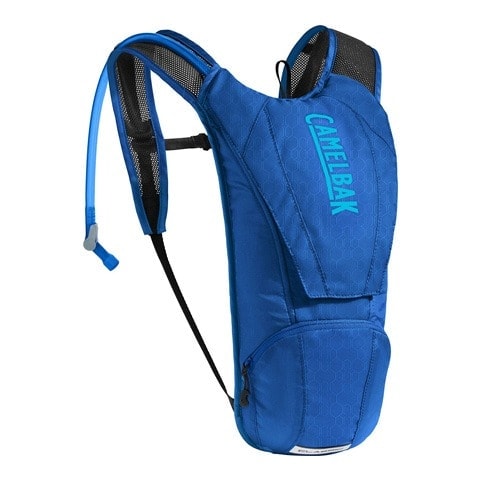 The new Crux water reservoir is making its way into many of the CamelBak packs now, including the CamelBak Classic Hydration Pack. This reservoir lets you get a lot more water with each sip, making for an altogether better drinking experience. The CamelBak Classic also offers easy access to the lid for refilling without having to remove the reservoir.
This pack has a small zipper pocket at the bottom for keys or other little extras, but it doesn't offer much room when the bladder is full. The straps aren't padded well, limiting the comfort level of this pack. But with a moderate-sized reservoir of just 2.5 liters, it doesn't get too heavy. It's also very affordable, a trait we always appreciate. This simple pack may be a decent choice for mid-length hikes, but we'd prefer to see more cargo capacity and improved padding on the straps.
Pros
Crux water reservoir
Lightweight
Easy refill access
Affordable
Cons
Very little padding
Not much storage
---
7.

CamelBak 1122001000 HydroBak Hydration Pack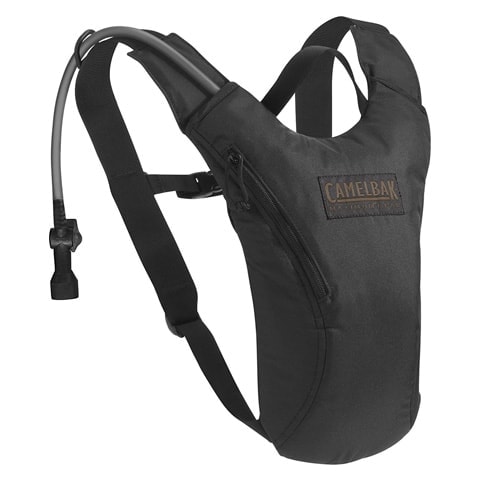 Simple and small with no extras, the CamelBak HydroBak hydration pack carries just 50 ounces of water so it doesn't weigh you down on your shorter trips. But don't expect it to fuel your water needs through an all-day hike. This pack also has very little cargo storage, so you won't be able to carry much aside from a set of keys or maybe a small cell phone. That said, it's a lighter and smaller pack so it may be great for smaller individuals.
We like the affordable price of the HydroBak, and that's probably its greatest selling point. While it's got very breathable straps and a mesh back, it's not very padded or comfortable. Luckily, there's not much weight pulling on the straps, but after a short while, they can get to be pretty uncomfortable. But we do appreciate the increased flow rate on the Crux reservoir which makes it easy to get as much water as you need to quench your thirst.
Pros
Crux reservoir
Affordably priced
Cons
Very little extra storage
Small reservoir
---
8.

CamelBak 60306-CAP-P-P Mil Spec Antidote Hydration Backpack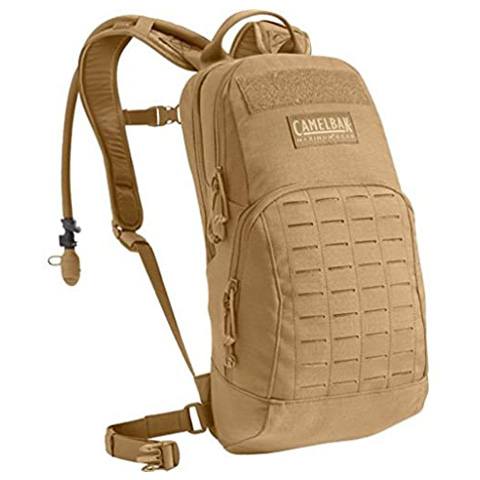 CamelBak packs have always been well-built and durable, but their Mil-Spec Antidote Hydration Backpack takes that to a new level. This pack is very rugged and can hold up to any conditions with its 500D corduroy construction. To make sure you're well-equipped, this pack allows you to carry three liters of water. On top of that, you get eight liters of extra storage capacity. All that space makes for a hefty and bulky pack, but if you need the extra cargo capacity, you can't beat it.
For tactical situations, this pack uses all noiseless zipper pulls. The back panel is also covered in the MOLLE attachment system so you can add on whatever you need to bring with you. Overall, it's a very rugged but heavy pack for when you need to protect more than just your water inside of your pack.
Pros
3 liters of water capacity
8 liters of storage capacity
Made from durable 500D corduroy
MOLLE attachment system
Noiseless zipper pulls
---
9.

CamelBak 1105301000 Rim Runner 22 Hydration Pack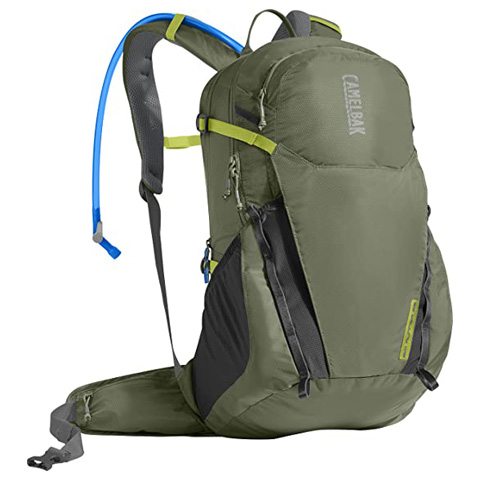 The Rim Runner is one of CamelBak's longerrunning and very popular hydration packs. It's perfect for all-day hikers since it has so much extra storage capacity. To help carry all of that comfortably, a hip belt will secure the load better than shoulder straps alone. For even better storage, the hip belt has zipper pockets so you can reach your essentials without removing the pack.
The new high-flow Crux reservoir is included in the Rim Runner pack like many of CamelBaks premium packs now. But this one isn't as large as we think it should be for the pack's intended purposes. At just 2.5 liters, there's room for more water capacity. But this pack is already heavy. It's covered with padding to make it more comfortable for all-day excursions, but that makes it weigh more than other hydration packs.
Pros
Crux reservoir
Lots of cargo storage
Hip belt with cargo pockets
Cons
Heavy
Doesn't carry enough hydration
---
10.

CamelBak 1155405000 Mini M.U.L.E. Kids Hydration Backpack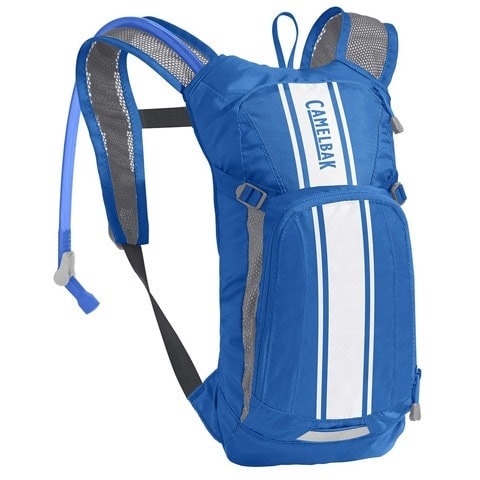 While it won't fit any full-size adults, the CamelBak Mini M.U.L.E. kids' hydration backpack is a great option for your kids who love to emulate your every move. Your children probably want to wear a CamelBak because you do, and with this children's specific pack, now they can. There are several colors to choose from and they're all affordably priced. There are also great features for kids like the built-in safety whistle that makes it easy for them to call for help.
Since kids aren't very big, this pack is smaller sized and more lightweight than normal CamelBak hydration packs. It's still equipped with the Crux reservoir though, which may be more water flow than kids need. And while it's a lightweight pack, it's not very padded, so it's not the most comfortable option for your kids. Overall, they'll probably love it, but better options may exist.
Pros
High-flow Crux reservoir
Affordably priced
Breathable and lightweight
Built-in safety whistle
Cons
Not very padded
Only sized for children

Buyer's Guide – Choosing the Best CamelBak Backpack
You've seen our comparisons of the 10 most popular CamelBak packs, but how do you decide which one is right for you? If you're still unsure after reading our reviews, then this buyer's guide is intended to help you make the decision. After testing so many of these hydration packs, we have a pretty good idea of what to look for when deciding on a specific pack for you. Let's discuss which traits you should keep in mind when picking a hydration pack.
Water Capacity
One of the most important features to keep in mind when purchasing a hydration pack is how much water it can hold. But how much water do you need? This is entirely dependent on how you plan to use your CamelBak and the type of adventures you'll be taking it on. If you're mainly using your hydration pack for short day-hikes of a couple hours, then a smaller pack with a lower water capacity may be acceptable. For these shorter excursions, a 50-ounce or two-liter pack should be sufficient.
If you tend to be out slightly longer and plan to use your CamelBak for periods of three-four hours, you'll need a larger water capacity of at least 2.5 liters. But if you'll be out for extended trips, you'll need to look for a pack with a three-liter hydration reservoir. That's enough water to keep you hydrated for adventures that last most of the day.
Cargo Capacity
After you decide how much water you need, you'll have to figure out how much extra stuff you'll be carrying. One of the major differences between CamelBak models is how much cargo capacity they have. Many CamelBak packs only have a very small zippered pocket that's barely large enough to hold your keys. But some CamelBaks are full-sized backpacks with hydration reservoir pockets. These will allow you to carry lots of extras along with you. If you know you'll be needing to carry equipment, look for one of their larger bags that offers extra pockets for cargo.
Breathability or Padding
When you're carrying your CamelBak for hours, you'll start to feel those straps. If they're too heavily padded, they may be comfortable, but they won't allow much ventilation and may make you hot and sweaty. On the other hand, if you have very breathable straps, they may not be very comfortable since they have no padding, but they may keep you cooler with better airflow. You'll have to decide which one makes you more comfortable. Some of the packs come with just light padding so you can have some comfortability without entirely sacrificing breathability.
Extra Features
Many CamelBaks are loaded with extra features that may be great selling points depending on what you plan to use the pack for. For instance, the Crux reservoir included on many CamelBak packs now offers improved water flow that allows you to get 20% more water with each sip. Another great feature we like is the external fill that lets you fill the reservoir without pulling it out of the pack. Magnetic tube holders are also nice, and we think they're a superior way of holding the tube over the traditional plastic tube clips.

Conclusion
When you start looking for the best CamelBak hydration pack, the sheer number of options can be daunting. We wanted to see which options were the best, so we set out to test as many as we could and compile all the information into reviews to help make the choice easier for you as well. After extensive comparisons, our pick for the best Camelbak backpack overall was the M.U.L.E. Hydration Pack. It's got a great three-liter water capacity with tons of extra storage. Plus, we enjoyed the bonus features like the magnetic tube strap and the high-flow Crux reservoir.
For the best Camelbak backpack for the money, we recommend checking out the Mil-Tac HydroBak Hydration Pack. It's perfectly sized for shorter adventures with an affordable price to match. But it's still got useful extras like a pocket for your keys and durable construction that will last for years. Finally, our premium recommendation is the Rubicon Mil-Tac Hydration Backpack. This pack is built military-tough with 17 pockets for storage and 100 ounces of water capacity. All three of these packs are excellent choices that we feel confident recommending.