10 Best Backpacking Water Filters of 2023 – Reviews & Top Picks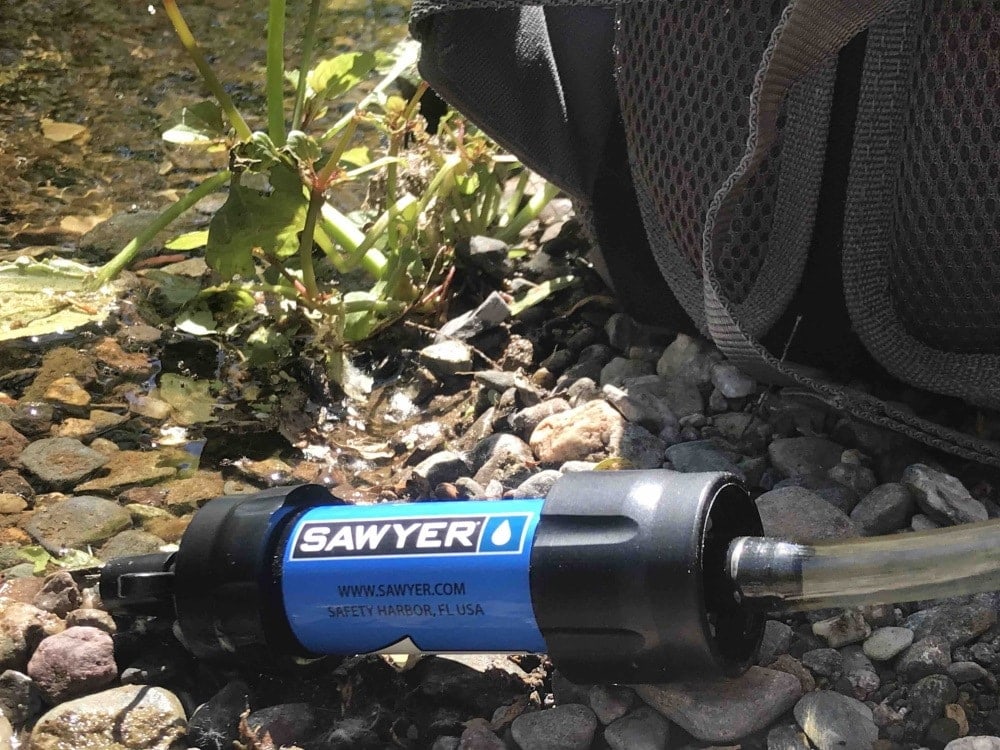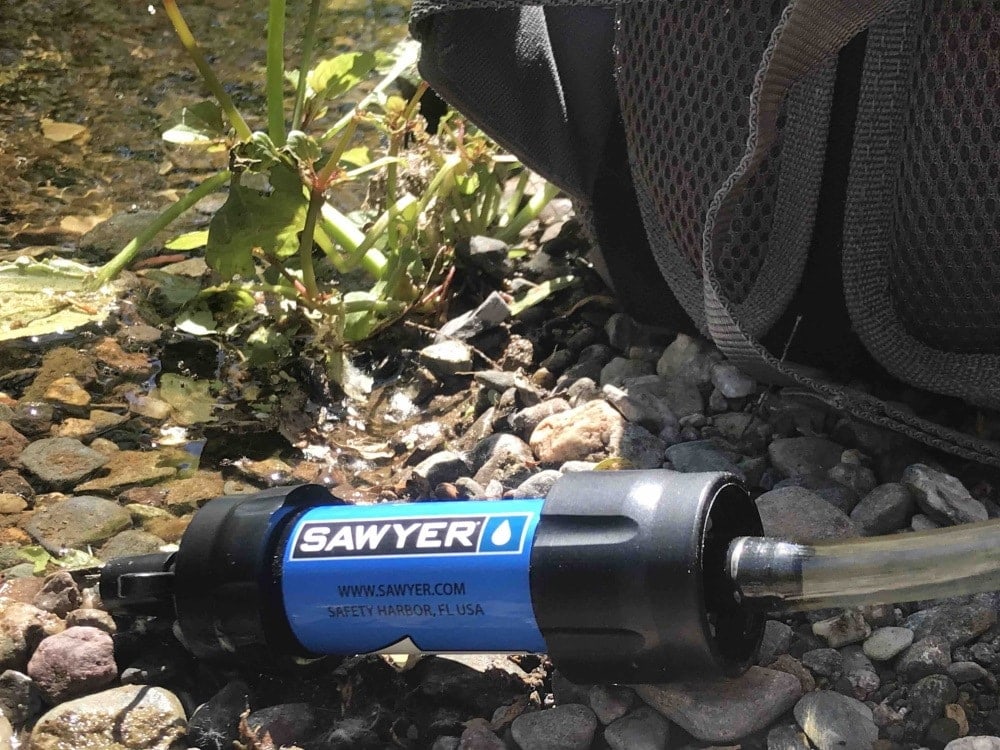 Backpacking requires you to carry everything you need to survive for days or weeks at a time in a single pack on your back. While you're out in nature on your journey, you'll need to eat and hydrate. While you may find water, it won't be drinkable unless you purify or filter it. Since you're trying to shave every gram of excess weight for the lightest pack possible, you want a small filter that packs a big punch and won't keep you held up trailside waiting forever for it to finish.
As avid backpackers, we wanted to know exactly which filters were the best choices to take with us on our next outing, so we've tested as many as we could and put them through the wringer out on the trail. The following reviews will compare 10 of the best filters for backpacking to help you decide which one is right for your next adventure.
---
A Glance at the Winners of 2023:
Rating
Image
Product
Details

Best Overall

Sawyer Squeeze Backpacker Water Filter Bottle

Screws onto any normal water bottle
Filters 100,000 gallons
Easy to backflush if it gets clogged
CHECK PRICE

Best Value

Sawyer MINI Backpacking Water Filter System

Tiny and lightweight
Can be used in multiple ways
Good for 100,000 gallons
CHECK PRICE

Premium Choice

GRAYL Ultralight Water Filter Bottle

No batteries or chemicals
Easy to use
Weighs less than a pound
CHECK PRICE

Platypus GravityWorks Backpacking Water Filter

Filters a large amount at once
Great for multiple people
Very fast
CHECK PRICE

MSR TrailShot Pocket-Sized Water Filter

Ultralight-just 5 ounces
No chemicals or batteries
Can fill a bottle or drink straight from the source
CHECK PRICE
The 10 Best Backpacking Water Filters:
1.

Sawyer Squeeze Backpacker Water Filter Bottle – Best Overall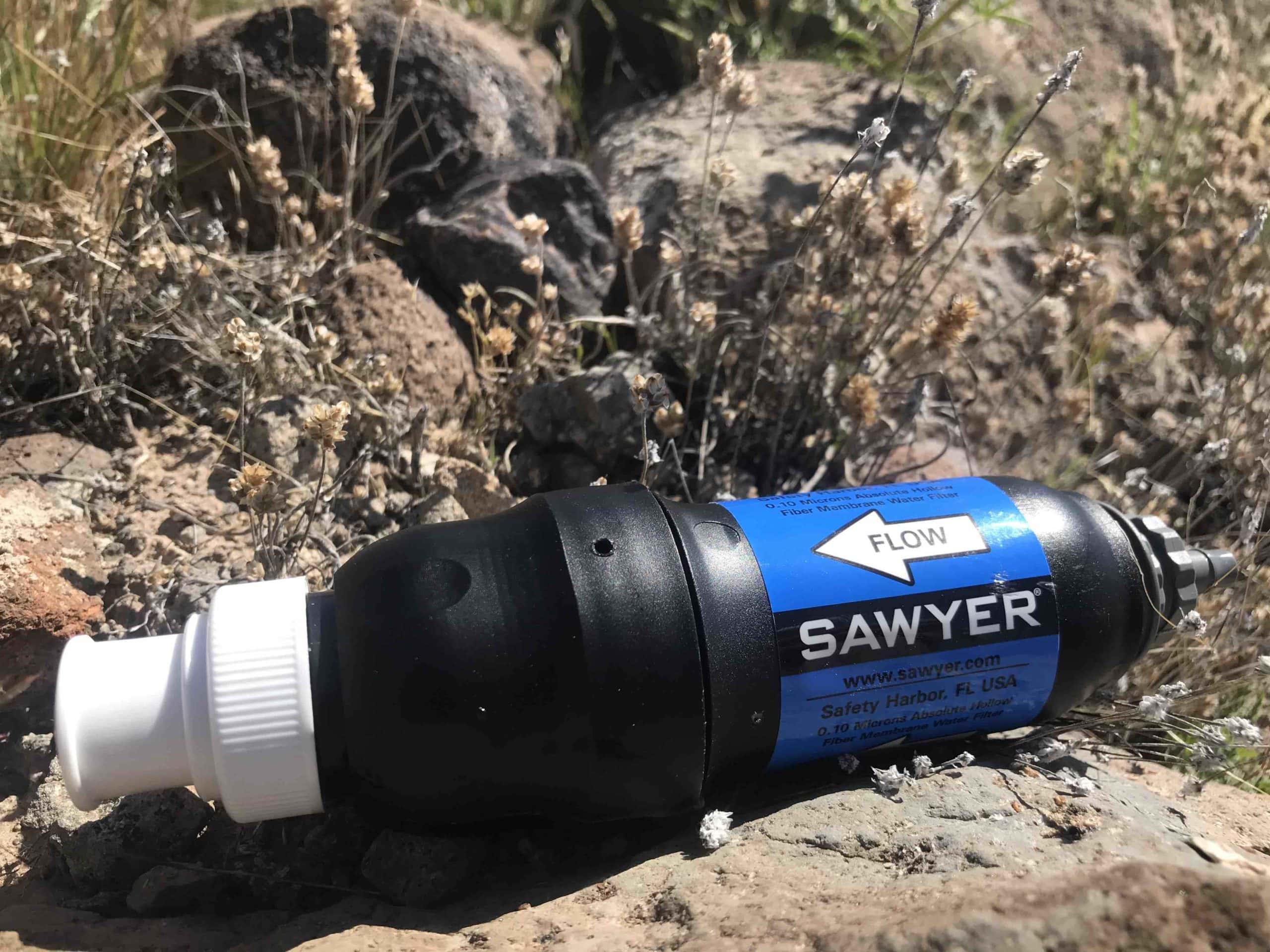 When you're out on the trail, you need a water filter you can rely upon without any doubts. The longevity, lightweight, and reliability of the Sawyer Squeeze earn our recommendation as the best water filter for backpacking. Weighing in at just 2 ounces, you won't even notice the addition to your pack. While other filters require replacement cartridges and more, the Sawyer Squeeze just needs backflushing, which can be done right in the field.
This filter will provide you with 100,000 gallons of clean drinking water in its lifetime. That's the kind of longevity you can count on. If it gets clogged, backflushing is easy, though we recommend getting the bottle adapter to backflush with a water bottle instead of the included syringe.
When you finish cresting a summit, you're often breathing hard, looking for a few gulps of refreshing water. We like to drink directly through this filter, so its high level of water flow meant it always provided enough water. Plus, we could fill up very quickly and get back on trail. No filtering needed when you fill up. Just get water in your bottle, screw your filter back on the top, and you're on your way. All in all, this is the best backpacking water filter on the market this year.
Pros
Screws onto any normal water bottle
Filters 100,000 gallons
Easy to backflush if it gets clogged
Dependable
Plenty of water flow
---
2.

Sawyer MINI Backpacking Water Filter System – Best Value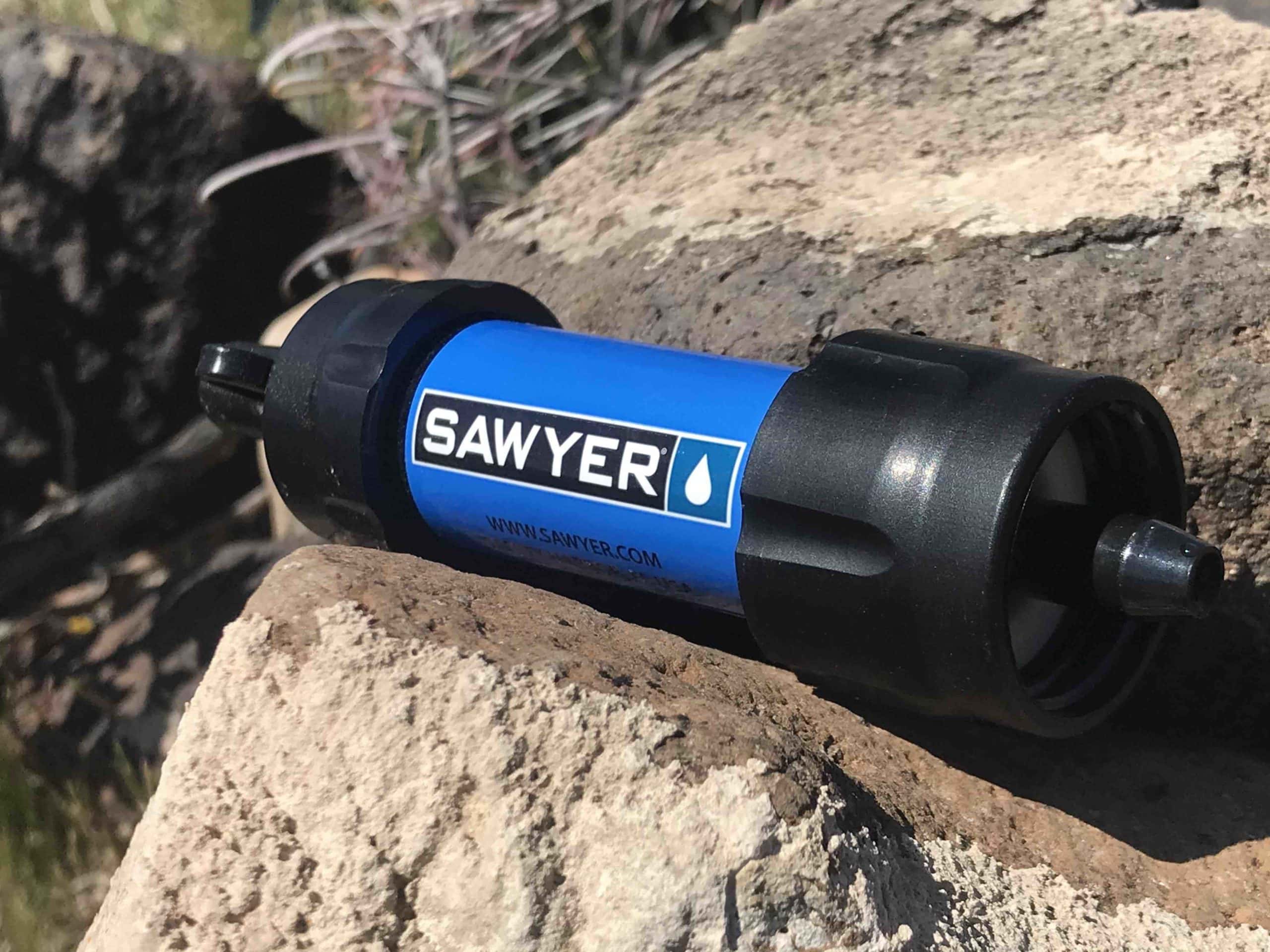 If you're just getting into backpacking, you're probably realizing just how much equipment you need to gather and how expensive it can be. You're probably looking to save a few bucks wherever you can, so you can opt for the cheaper little brother to the Squeeze system in our top spot, the Sawyer Mini water filter. The Sawyer Mini is affordable and tiny, weighing just two ounces. It's still a powerful filter though, filtering bacteria, protozoa, microplastics, and more down to 0.1 microns.
One of the things we loved most about the Sawyer filters is how versatile they are. You can use it in-line as part of a bladder hydration system. If you prefer, you can screw it directly onto a water bottle and drink through it that way. You can also use it as a gravity feed system, or even squeeze the water through the filter into a clean container like was originally intended. Like its big brother, the Sawyer MINI lasts for 100,000 gallons. Unfortunately, it doesn't share the same level of water flow as the Sawyer squeeze, and we sometimes wished for more. But overall, we think it's the best backpacking water filter for the money.
Pros
Tiny and lightweight
Can be used in multiple ways
Affordably priced
Good for 100,000 gallons
Cons
Doesn't get quite enough flow
---
3.

GRAYL Ultralight Water Filter Bottle – Premium Choice
While most portable water filters on the market do a good job of removing all the bacteria and protozoa. But that's not all that's in some water. Viruses lurk in some water sources, particularly in third world countries. If you want total protection, the GRAYL Ultralight Water Filter Bottle is one of the only filters that remove viruses as well as all of the other contaminants that most filters remove. It's a bit expensive for a portable filter, but it's inexpensive for a virus filter.
This filter bottle uses cartridge filters that need to be replaced every 40 gallons. That's more frequently than we'd like, but they filter out a lot of stuff, so we can live with it. No batteries are necessary, it runs off suction you create by pushing down on the top. Then the water goes through the filter and after 15 seconds, your water is purified and ready to drink. If you want a filter that can remove viruses, sediment, bacteria, and more, then the GRAYL ultralight water filter bottle is our premium recommendation as the best water filtration for backpacking.
Pros
No batteries or chemicals
Easy to use
Weighs less than a pound
Cons
Rather expensive
Cartridges only last 40 gallons
---
4.

Platypus GravityWorks Backpacking Water Filter
It's one of the most expensive systems we tested, but the Platypus water filtration system from GravityWorks is a high-end filter system for backpackers. It's perfect for those who hike in small groups since it has two-liter reservoirs and can filter 1.5 liters per minute. This filter is gravity-fed, so you hang the dirty water bag from a branch or something else of appropriate height and gravity will pull the water through the filter and into the clean water reservoir beneath. You don't have to do anything once you add the water and hang it, just wait for gravity to do all the labor for you.
The problem we encountered is that there's not always a tree around. In fact, sometimes, there's nothing tall and sturdy around at all, which makes it very difficult to hang the Platypus. It's also time you can't travel while you wait for the gravity-fed system to work. If you're the type who always wants to make more miles, you may get impatient waiting for your water each time. For everyone else, it's a simple system that gives you large amounts of clean water quickly while you're on the trail.
Pros
Filters a large amount at once
Great for multiple people
Very fast
Cons
Have to find something tall to hang it in
---
5.

MSR TrailShot Pocket-Sized Water Filter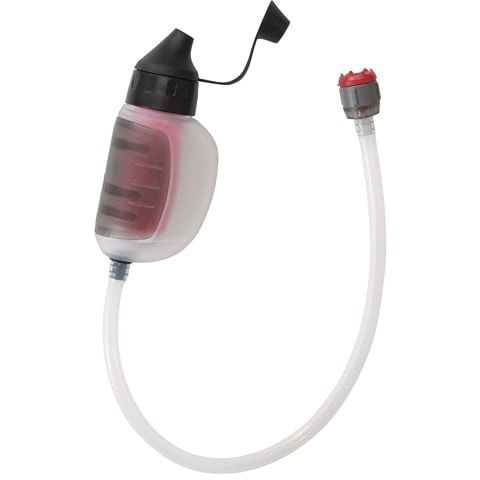 At just 5 ounces, the MSR TrailShot water filter is one of the lightest filters we tested, though the Sawyer filters are less than half the weight and much smaller. That said, the MSR filter is still very compact and easy to fit into your pack or your pocket. It's unique in that you can use it to drink straight from your water source or use it to pump water from your source into your bottle, filtering it along the way. To pump the water, you'll simply squeeze the device to create pressure. No batteries needed, it's always ready to go.
Using this filter, you can produce one liter of clean drinking water each minute. That's not too bad, but it's certainly one of the slower filters we tested. This device also has one of the shorter lifespans. It's good for 528 gallons before it needs to be replaced. Luckily, it's not very expensive because there's no cartridge to replace, you must replace the whole filter. We think this is one of the best filters that we've tested, and it never let us down out in the backcountry, but the Sawyer filters were superior.
Pros
Ultralight-just 5 ounces
Can fill a bottle or drink straight from the source
No chemicals or batteries
The hand-powered pump is easy to use
Cons
Not the quickest filter method
Only good for 528 gallons
---
6.

LifeStraw Go Backpacker's Water Filter Bottle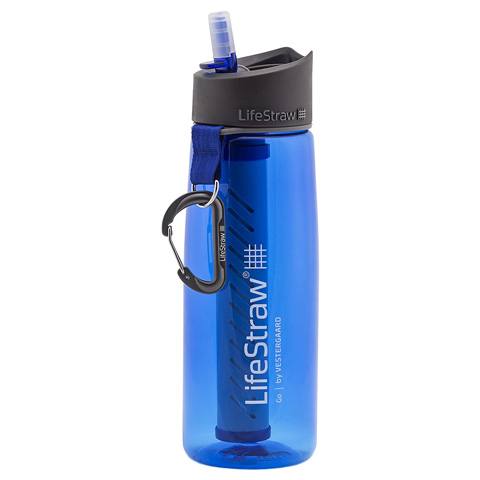 LifeStraw is one of the more well-known names in personal water filtration, and their Go Water Filter Bottle makes it possible to use the LifeStraw wherever you are. This bottle has a LifeStraw attached to the lid that you drink through, effectively filtering your water as you drink it from the bottle. The LifeStraw lid will only work with this bottle though, so you're tied to it for good. It takes no batteries, chemicals, or electricity to work. Just fill your bottle up and drink through the LifeStraw for clean water.
This filter tends to clog up pretty quickly when drinking dirty water. Thankfully, you can get some water flow back by backflushing the filter whenever it starts to clog. Each filter will last for more than 1,000 gallons before it needs to be replaced, which is a pretty decent lifespan for a filter at this low price. But we don't like being tied to a single bottle with no other options, so the LifeStraw hasn't earned the best position on our list.
Pros
Filter good for more than 1,000 gallons between replacements
No chemicals or batteries
Cons
Can only use the LifeStraw bottle
Filter tends to clog up quickly with dirty water
---
7.

SimPure Water Filter Bottle
The SimPure water filter bottle is a very similar design to the LifeStraw bottle. It's got a BPA-free bottle with a top that fits the SimPure filter as a straw. You can fill the bottle with dirty water, and when you drink, the water filters through the SimPure straw. The lid has a locking cap that prevents leaks, and a pop-up silicone nozzle that's comfortable and convenient to use. Once you pop the nozzle up, a small compass is hidden beneath to help you find your way on the trail. But it's really a toy and not something you should rely on in a survival situation.
The SimPure filter only attaches to this lid and bottle, so you won't be able to use it with other bottles. Luckily, this one is protected by a one-year warranty, so no matter what happens to your filter or bottle, it should be covered. Our biggest complaint with the water filter bottles is the limited volume of water they can hold and this bottle is no different with a capacity of 21 ounces. That's not great for all-day hiking when you're not quite sure where the next water source is.
Pros
Protected by a 1-year warranty
Nozzle cap prevents leaks
Cons
Built-in compass is cheesy and unreliable
Can't use with another bottle
---
8.

SurviMate Backpackers Filtered Water Bottle
Filtered water bottles have exploded in popularity recently for their convenience and ease of use, but they're not our favorite filters on trail. The SurviMate bottleis easy to use like the rest but goes further by incorporating a four-stage filter that removes staph, salmonella, cholera, and more. That sounds great on paper, but in reality, the 4-stage filter is very difficult to drink through. You have to suck very hard, and it takes five or more sips to even get the water through the filter. When you're tired from traversing the mountain peak, you're going to be more frustrated with this bottle than anything as you can't get enough water to satisfy your thirst.
Like similar water filter bottles, you're stuck to this specific bottle and the filter isn't transferrable to another container. But this filter has some unique issues such as the odd taste that the filter gives to the water. Plus, the filter doesn't reach to the bottom of the bottle, so there's always a little water leftover that you can't drink.
Pros
Very easy to use
4-stage filter
Removes staph, salmonella, cholera, and more
Cons
Doesn't get the last water in the bottle
Stuck to the SurviMate bottle
Water has an odd taste through this filter
Takes five or more sips to get water
---
9.

Katadyn Hiker Pro Water Filter System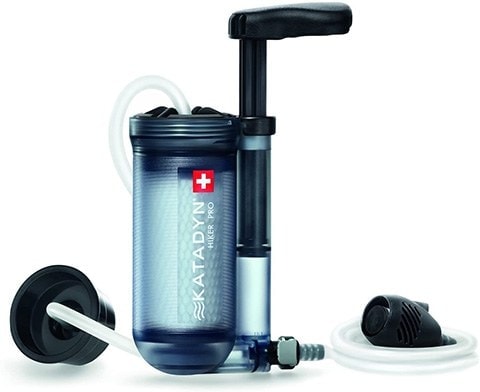 "Bulky" and "heavy" are two words that no backpacker wants to hear. Especially, if you're part of the ultralight crowd, the idea of adding a few ounces of unnecessary weight is sacrilege. The Katadyn Hiker Pro water filter is unfortunately bulky and heavy, making it a less-than-perfect choice for most backpackers. It's still a great filter, but at 11 ounces, it can't compare to the meager 2-ounce weight of the Sawyer Squeeze. Plus, the Katadyn is several times larger, so it will also take up more space in your pack than you'd probably like to sacrifice.
This filter is field cleanable, so if it does get clogged you can fix it where you are without worry. But the filter cartridge inside only lasts for 300 gallons, so you'll be replacing it a lot. This is already one of the more expensive filters, so the need for replacement cartridges raises the cost even more. We also don't like that you have to sit by the side of your water source, pumping through this filter until your bottle is full. It's too time-consuming and slows us down too much when we're trying to make miles.
Cons
Big and bulky
Heavier than other filters
Slow
Must replace the filter every 300 gallons
---
10.

SteriPEN Ultra UV Water Filter
The SteriPEN UV water filter is an interesting device that's quite different from most of the filters we've tested. Instead of filtering your water through it, you'll simply insert the SteriPEN into your dirty water, press the button, and let it work its magic. It works by dousing the water with ultraviolet light, which kills any living organisms in the water, including bacteria, viruses, and protozoa. Not many portable filters kill viruses, so that's impressive. What's less impressive if the short lifespan of this filter overall. It's only good for decontaminating 4,000 gallons of water before it needs to be replaced. Considering that this is one of the more expensive options already, that's pretty disappointing.
We have two major complaints about the SteriPEN that held it back in our testing. First, it doesn't remove sediment, which is necessary for a backpacking filter. The water sources you'll be drinking from are often full of silt and sediment, but the SteriPEN won't remove them. You'll need to filter the sediment separately if you want to use this device. Worse, it's battery-powered, so you're always at the mercy of batteries. If they're dead, you may not have clean drinking water today!
Pros
Kills bacteria, viruses, and protozoa
Cons
Good for less than 4,000 gallons
Expensive
Doesn't filter out sediment
Could have a dead battery when you most need it

Buyer's Guide – How to Purchase the Best Water Filter for Backpacking
Every filter on this list is capable of providing you with clean drinking water while you're backpacking. But that doesn't mean they're all equally viable as backpacking water filters. When you're traveling long distances on foot, every ounce of weight and every minute of time count. Because of this, certain types of filters just lend themselves better to the backpacking environment. If you're still on the fence about what type of filter to purchase for your next big adventure, hopefully, this short buyer's guide will help you gain some perspective to make the choice easier.
Ways to Filter Water
With so many different types of filters available, you have many options for how you'd like to filter your water. Not all of them are great when you're on the trail though. Let's take a look at some of the popular filter types and their trail performance.
Gravity-Fed
Gravity-fed filters are easy to use and require little labor. They consist of a dirty water reservoir and a clean water reservoir connected by a waterline with an in-line filter. You fill one reservoir with dirty water and hang it off the ground. Gravity will pull the water from the top reservoir, through the filter, and into the bottom reservoir. Once it's finished, the water in the bottom pouch is clean and ready to drink.
The drawback to a gravity-fed system is that you have to wait for it to work. You can't just fill up and start walking again. On the other hand, you can let the water filter while you cook or set up camp, so you can still find ways to make it work.
Water Filter Bottle
Water filter bottles have become one of the most popular water filtration methods recently. They're very easy to use. Just fill the bottle, screw on the cap with the water filter straw attached, then drink. The straw filters the water on the way to your mouth.
For backpacking, these make it very quick to fill up the bottle and be on your way. But they have a very small capacity, generally around 21 ounces. That's not enough water to keep you hydrated between sources on the trail, so you'll need another large container to carry more water if you use this method. However, some of the water filter bottles offer the cheapest way to get virus filtration on trail, so if you think you may be dealing with viruses in the water, then this is a good option.
Pump Filter
As the name implies, a pump filter works by pumping the water through the water filter and into a waiting container. These take a bit more work than most of the other filters we've used on trail since you'll have to sit by the water source and manually pump the water until your container is full.
We don't like having to spend so much time and effort on getting our water, so pump filters aren't our favorites. Worse, they tend to be pretty bulky and heavy, so they're going to take up more space in your pack and weigh you down more than other filter types.
Squeeze Filter
For us, squeeze filters are the best types of water filter for backpacking. They're tiny, lightweight, and extremely versatile. Squeeze filters can be used in a similar fashion to any of the other filters we've mentioned. You can fill up the included water bags and then squeeze the water through the filter into a waiting container, similar to a pump filter. Alternatively, you can use a squeeze filter in-line between two bladder bags to create a gravity system, and the needed attachments are usually included. You can also use it in-line with a hydration bladder.
But our favorite way to use the squeeze filter is similar to the water filter bottles. Since the squeeze filters can screw directly onto water bottles, you can simply fill the water bottle with dirty water, screw the filter on top, and get back to marching. When you drink through the filter, it will purify the water from the bottle on the way to your mouth. What makes this better than a water filter bottle is that you can transfer the filter across many different bottles instead of being stuck to just one.
UV Filter
Ultraviolet filters are a newer filter style that works very differently from the other options on our list. Instead of filtering the water through this type of filter, you'll simply insert the UV filter into the dirty water, turn it on, and let the ultraviolet light purify the water. The ultraviolet light kills anything in the water, including viruses. It's one of the few methods of filtration that will kill viruses, but it leaves out something major; the sediment.
When you use a UV filter, you'll still be left with all of the sediment at the bottom of your water container. Most water sources that you find in the backcountry aren't going to be crystal-clear mountain streams. You'll often be drinking from cow ponds and overgrown marshes, so it's safe to say your water is often full of sediment that the UV filter will leave for you to chew on.

Conclusion
Our top recommended filter and the one we trust most in the backcountry is the Sawyer Squeeze. It's tiny, weighs just two ounces, filters 100,000 gallons of water, and can be used as a gravity filter, a squeeze filter, an in-line filter for a hydration bladder, or just screw directly onto your water bottle.
If you want to save a few bucks, the Sawyer MINI was our pick for the best value. It's got a lot of the same advantages of the Sawyer Squeeze, such as a tiny footprint and ultralight weight, but it's even cheaper and smaller. Finally, if you don't mind paying a bit more for a truly premium water filter, the GRAYL Ultralight Water Filter Bottle can filter out viruses, bacteria, protozoa, and more.