10 Best Camping Showers of 2022 – Reviews & Top Picks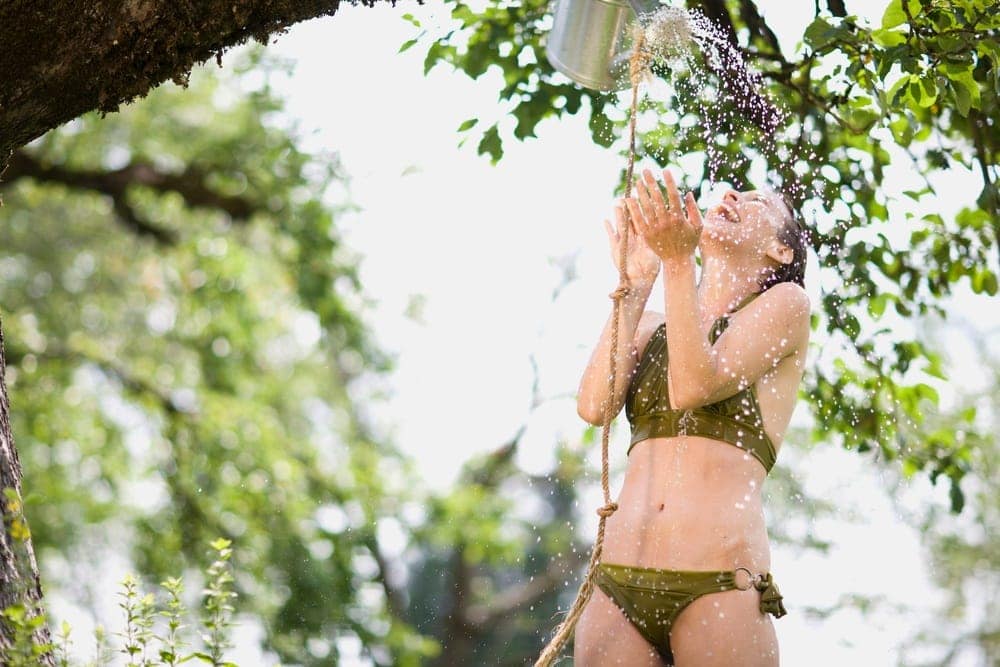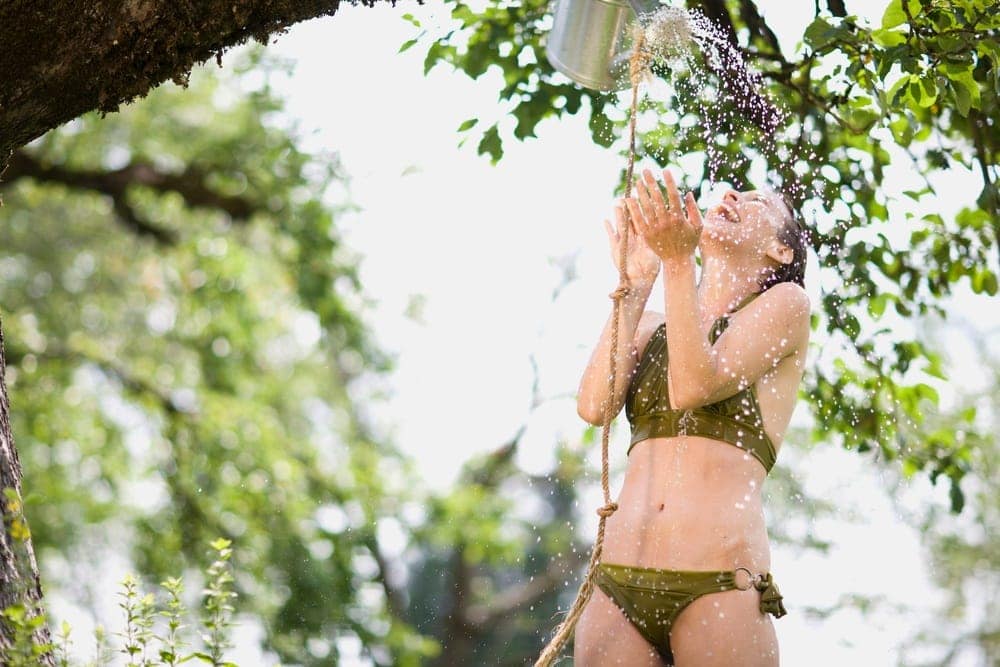 Camping showers can be a real gamechanger. After all, hygiene should never have to go out the window even when you are roughing it. Unfortunately, though, a lot can go wrong with a camping shower. The great outdoors are unforgiving, and subpar products just won't make it for very long.
Unfortunately, you never know that you've got a dud on your hands until the reservoir bag splits on the first day of a week-long camping trip. By then, of course, it's too late.
We don't want that for you. And while you can't exactly guarantee great results—especially not for a product that will get exposed to all the variables of a campsite—we do feel pretty confident in the products on this list. So, what are you waiting for? Read on for some camping showers reviews!
---
A Quick Comparison of Our Favorites in 2022
Rating
Image
Product
Details

Best Overall

Advanced Elements Summer Solar

3-gallon reservoir
Solar-powered
Heating element
CHECK PRICE

Best Value

Simple Shower Portable

Affordable
Easy to use
Low profile build
CHECK PRICE

Premium Choice

OnTrackGear Electric

Huge reservoir
Slinky-style hose design
Heating element
CHECK PRICE

RinseKit Pressurized

Relatively affordable
Low profile build
Easy to transport
CHECK PRICE

Nemo Helio Portable

Heats from sun
Good sized reservoir
Foot pump
CHECK PRICE
The 10 Best Camping Showers
1.

Advanced Elements SS761 Summer Solar Shower – Best Overall
The Advanced Element is a high-end solar-powered unit that features a backpack-style design concept for easy transport. ITs 3-gallon reservoir will give you 5-10 minutes of operation on a single tank fill.
The best aspect of this shower is the onboard heating component. When your unit has exposure to the sun, it will heat up quickly, allowing you to take a hot shower even in the great outdoors.
Naturally, these types of features don't come cheap. You will need to spend a few bucks to get your hand on this shower. Even so, it's our pick for the best camping shower overall.
Pros
3-gallon reservoir
Backpack style design
Solar-powered
Heating element
---
2.

Simple Shower Portable Camping Shower – Best Value
The Simple Shower, our pick for the best camping shower for the money, features an affordable price, a low-profile build, and an extremely easy-to-use interface. This unit comes in several simple pieces that can be put together and inserted into a water bottle. It then can produce several minutes of runtime. If you still need a little bit more water, simply insert it into a new bottle and keep going.
Of course, it is a very simple piece of equipment. There is no heating element, which means you will be taking cold showers. And of course, without a reservoir, you are likely to deal with much shorter showers than the other options on our list.
Pros
Affordable
Easy to use
Low profile build
Cons
No heating element
Short shower times
---
3.

OnTrackGear Electric Camping Shower Kit – Premium Choice
The OnTrackGear is going to be a great unit for families. It can hold several gallons of water at a time—enough for roughly 30 showers on a single fill of the tank. It features a slinky-style hose that is easily moved and adjusted to clean your entire body. Thanks to its battery, water is effortlessly ejected from the sprayer.
If there is a feature you would like to have in a camping shower, chances are pretty good that this unit has it. Of course, the premium features highlighted above come at a great cost. It's super pricey, so budget accordingly.
Pros
Huge reservoir
Slinky-style hose design
Heating element
---
4.

RinseKit RK01 Pressurized Portable Shower
This next unit, the RinseKit Rk01, is similar to the last unit that we looked at but for a fraction of the price. It features a 3-gallon tank that gives you 3-5 minutes of runtime. It also features a hose port adapter, which means if you have access to a spigot or faucet, you can use the hose pretty much indefinitely.
It is also pretty easy to transport. It features a low-profile build and a comfort grip that makes it easy to move from place to place.
Unfortunately, there is a value problem. While it isn't extremely pricey on its own right, it is relative to comparable units. For the money you spend here, you could definitely get something with a heating element.
Pros
Relatively affordable
Low profile build
Easy to transport
---
5.

Nemo Helio Portable Pressure Shower
The Nemo Helio is unique in that it heats with the power of the sun. Though it doesn't have a heating element per se, the building material is specifically designed to trap and use heat to make your water warm.
You get an 11-liter reservoir with this purchase, which means it you should be able to use it for several minutes on a single fill of the tank. It also comes with a handy foot pump that gives you complete control of how and when the water is dispersed.
This will be a decent unit for the buyer who needs to bathe several people with a single fill of the tank.
Unfortunately, there are some problems with durability. The build materials will scratch or develop holes easily, which may shave a significant amount of time from the shower's life expectancy.
Pros
Heats from sun
Good sized reservoir
Foot pump
---
6.

Sea to Summit 195 Pocket Shower
The Sea to Summit unit truly is a pocket shower. The inflatable unit can break down so that it literally fits in your pocket. If you are the type of camper that needs every inch of space they can get, this will be the right product for you.
It features a 10-liter reservoir that gives you roughly eight minutes of use. It also comes with an easy to use interface that will make it ideal for people who want something simple and effective.
Unfortunately, the gimmicky "fits in your pocket" feature does seem to increase the cost a little bit. This is comparable in price to some of our fancier units with heating elements. Indeed, some buyers may prefer to go that route instead.
Pros
Super portable
7-8 minute runtime
Easy to use
---
7.

Reliance 9316-03 Flow Pro Portable Shower
The Reliance is a simple and straightforward shower that features a 6-foot twist-free hose. The high-quality spraying mechanism makes it possible to enjoy consistently easy access to all the nooks and crannies that need addressing during a shower session.
It also features a backpack style design that simplifies transportation and a pressure relief valve that will bail you out if the unexpected happens. Unfortunately, there is a durability problem. A little bit of wear and tear and it will probably need replacing sooner rather than later.
Pros
6-foot hose
Backpack style design
Pressure relief
---
8.

Iron FIST-LS180727 Hammer Portable Camp Shower
The Iron Fist is a unique unit in that it is extremely portable and also quite powerful. While it doesn't feature a water reservoir, it does come with a miniature battery-powered pump that helps you to effortlessly draw water from the source of your choosing.
You can use it to pull water from a bucket, a tank, or even a lake if you are feeling adventurous. Note that the utility does come at a price. It is one of the more expensive options on our list.
It is also fairly lacking in terms of durability. If you aren't careful with this unit it may break down pretty quickly.
Pros
Powerful
Very portable
Compatible with any water source
Cons
Not super durable
Fairly pricey
---
9.

Dr. Prepare Camping Shower
With a four-gallon reservoir, the Dr. Prepare is one of the most sizable units on our list. That makes it a great option for families that may feel the need to squeeze several showers out of a single tank. However, most of the other features fall short of what we would typically expect to encounter. For one thing, it is pretty bulky—a component that doesn't lend itself very well to the campsite. The hose is also very frail. Chances are it won't be terribly long before it breaks down, at which point you will need to replace the entire shower.
Finally, it is also pretty expensive. While the sizable reservoir may be tempting, the shortcomings are probably enough for many people to think twice about this unit as an option.
Cons
Very fragile hose
Expensive price tag
Bulky build
---
10.

Ivation IVAPSWB Portable Outdoor Shower
The Ivation is an electric-powered unit featuring a collapsible jug that is designed to make the unit extremely portable when not in use. It's a good feature in theory but it doesn't work so well in practice. The collapsible component of this shower is extremely fragile, which means it may break under stress.
Even if it doesn't though, it's also not very stable. When filled with water, the unit tends to wobble inconsistently which hurts your user experience. Finally, battery life is very short. You will only get a shower or two out of each charge. After that, you will need to wait a considerable amount of time before it can be used again.
It's not a bad product but it requires a few tweaks before it can truly live up to its potential.
Cons
Fragile
Very wobbly
Short battery life
Long recharge

Buyer's Guide – Finding the Best Camping Shower
If you still don't know what product is right for you, you may find it worthwhile to take a look at some handy buying considerations. Read on for everything you could ever want to know about portable showers.
Portability
Obviously, every camping shower is designed to be portable; however, that word means different things in different contexts. What one camper considers portable might be radically different from what another one does.
To maximize the portability factor, you will want to be aware of the dimensions on the unit as well as its overall body weight. However, you may ultimately find that bulkier units with a larger capacity are more worth your time than smaller units that aren't able to accomplish much.
It really is a balancing act, so buy smart!
Set-Up Requirements
Some units can pretty much be used instantaneously, while others require a good deal of setup before they can be used. The intricacy of a camp shower may depend on several factors including the actual components (i.e. the hose, the reservoir, the shower head, the mount) or just the way it operates.
For example, units you may have to wait 45 minutes just for some units to heat up. If you want something that can be used at the drop of the hat, you will probably gravitate towards a simpler product.
Style
There are a variety of different styles to select from. Some camping showers look at least a little bit like the same kind of shower you will find in your own home.
However, many manufacturers have gotten creative with their purchase. For example, some portable showers fit on your arm and look a little bit like an oversized boxing glove. Granted, you aren't going to get the in-depth clean you would enjoy at home with this approach, but it is suitable for a quick scrub.
Price
As with any product, there is quite a bit of variation in the department of price. Typically speaking, spending more money will buy you a larger water capacity and a decent surface area.
However, you can still find decent products that come at a good price. For example, our best for the money pick is a good example of something that delivers quality performance at a price you will be able to manage.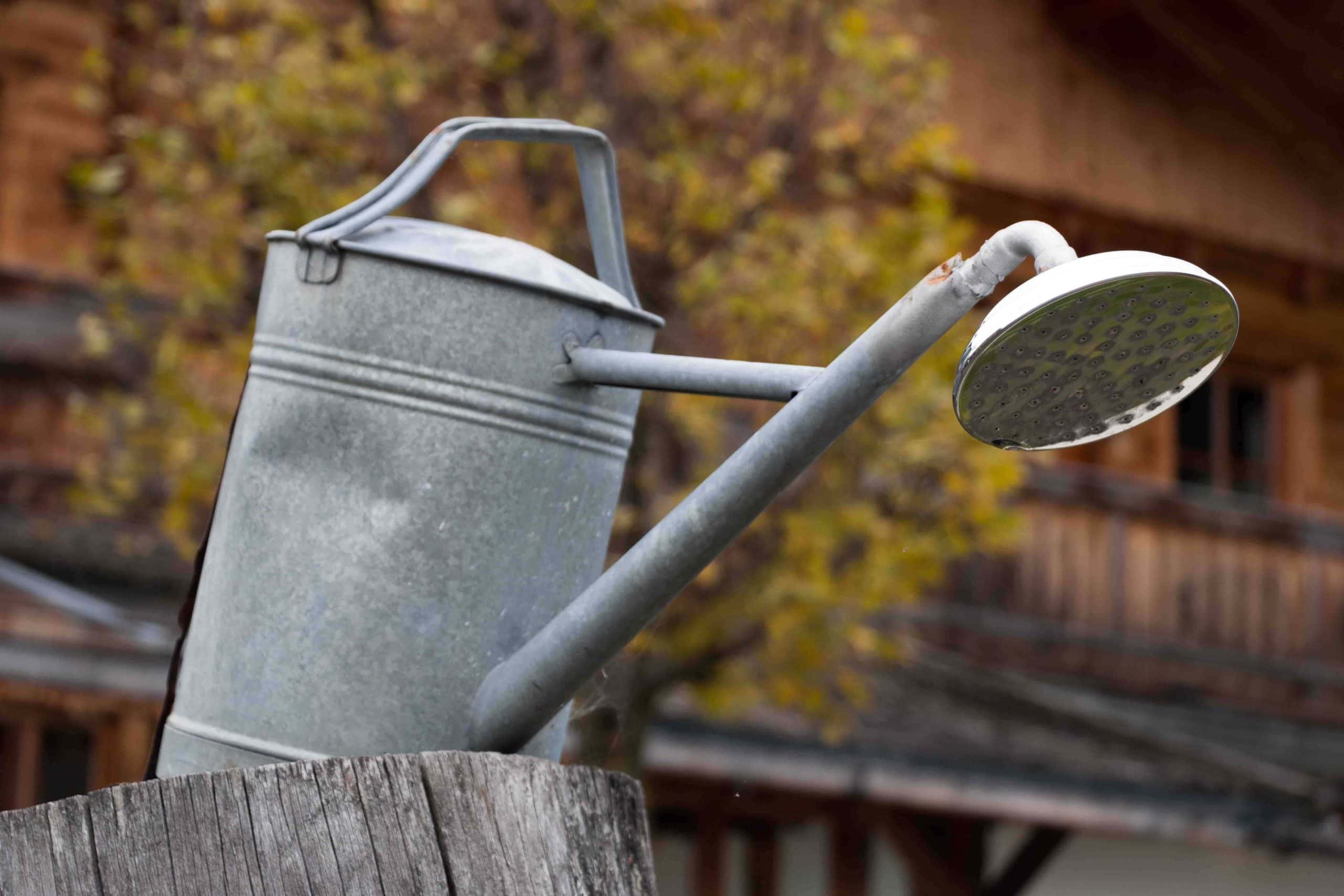 Heated by the Sun
You don't necessarily need a battery to enjoy warmth. Some units are fairly clever in how they heat their water. For example, some of the building materials can actually trap and use heat to naturally make the water warmer. It's not as efficient as a propane heater but it can increase your enjoyment of the product all the same.
This is not necessarily a common feature but it is great when you can get your hands on it.
Durability
Unfortunately, durability is often lacking when it comes to camping showers. To a certain extent, the manufacturer doesn't even hold much blame for this. Campsites are notoriously brutal. Plastic and rubber are pretty much the best you can hope for from this product.
This puts quality materials at a big premium. Granted, most manufacturers will claim that they have a well-built piece of equipment, but not all of them are able to deliver. If you are ever in doubt, reading a review can go a long way towards improving your odds of getting something decent.
Capacity
Because portable showers do not typically have access to a water hookup, they are naturally limited in how long they can run.
Your home shower outputs a couple of gallons a minute but no camping shower will ever be able to do that. In fact, they may only have several gallons in their reservoir, to begin with.
Of course, you can make do with a smaller capacity if you really need to save money and space, but just remember that doing so comes with some serious cons. For one thing, you aren't going to get a very long shower. For another, you may find yourself replenishing the reservoir mid-soak from time to time.
In general, you can expect to enjoy a shower time of between 5 or 10 minutes with a single fill of the tank. Not exactly luxurious, but in the woods, you've got to take what you can get right?
Power Source
What is driving the water out of the shower and onto you? Hate to break it to you, but most of the time it will be your own physical labor. The most typical method of operation is for a shower to be activated by a foot pump. When you press up and down on the pedal, the water discharges. It can be tedious at best and even exhausting in certain situations, but it will get the job done.
Fortunately, other units make things a little bit easier. For example, some are powered by solar. If you have access to the sun (and chances are, you will) you'll have a decent supply of power. Others may be activated by gravity or a pump of some kind. In any case, you will want to know how a shower is activated before you add it to your collection of camping gear.
Heat
More often than not, camping showers are going to provide a cold, shall we say, brisk, experience. Hey, it's camping, not a day spa. Still, if you do want to bring some of the comforts of home with you onto the campsite, there are options available that will be able to treat you to some nice hot water.
Unfortunately, if you want a nice hot shower you are going to need to be willing to pay the big bucks to get it. Propane-powered units are the most reliable at producing hot water. They are great because they are easy to use and they can quickly heat up the water. But they are pricey, and they also require you to bring propane with you to your campsite.
Keep in mind that hot showers also aren't as efficient with water as unheated units. When the water gets too hot, some of it will be lost to steam, which may shave precious seconds off your shower time.
Temperature Indicator
Units that have adjustable heat may also feature a temperature reading component. A thermometer will help you to know exactly how hot the water is to avoid burns. It's not a necessary feature per se, but it can ensure safety and comfort.
Pressure Control
Naturally, adjusting water pressure on your real shower is usually pretty easy. Typically, a quick twist of the shower head will change the spray pattern; thus, altering the amount of pressure that you experience.
Fortunately, you can also get that same experience with the right portable shower. Some feature handy pressure gauges that make it easy to alter how much output you get at once. This can help ensure that everyone in your family is comfortable with the shower.
Improvised Water Reservoir
While some units feature their own onboard reservoir, it can be all the better for some people if they can improvise. Some shower heads simply feature long tubes that can be dropped into any body of water. This might include a jug, a tank, a bucket, or whatever else you have access to. It's great for people that are trying to save space.
Shower Head
Just like at home, the head can really make or break your outdoor showering experience. While you probably aren't going to find many luxury units, you may still be able to find something that is to your liking. Some shower heads feature a wide range of different spray patterns making it easier to ensure that you enjoy your experience

Conclusion
The goal is always to have connected you with your dream product by this point. However, if none of our camping shower reviews have helped you to zero in on a specific product yet we understand the struggle.
All ten of the products featured here today are tempting in their own way, and even with the in-depth buyer's guide featured here today it still makes sense that you'd struggle with this important choice.
Perhaps you may benefit from considering a couple of our favorite products. People that appreciate the finer things will probably lean towards the high-end efficiency of our top choice for the best camping shower, the Advanced Elements Advanced Elements SS761 Summer Solar Shower.
However, budget buyers have plenty to work with as well. If you want something a little bit more economical go with a value pick like our runner up for the best camping shower, the Simple Shower Portable Camping Shower.
---
Featured Image Credit: Cultura Motion, Shutterstock