10 Best Car Drying Towels of 2023 – Reviews & Top Picks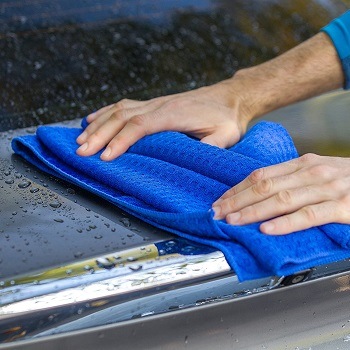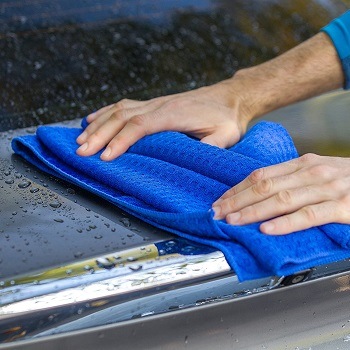 If you wash your car, you probably know how important it is to do the job in a way that won't destroy your paint. You understand that anything you touch your car with does just a little bit of damage, however small, and that damage adds up over repeated washings.
After all the work it takes to wash your car carefully, would you dry it off with a bathroom towel or a dishrag? Of course not. If you want to protect your paint job, drying properly is just as important as washing correctly, and that means you can't just use whatever towel you have lying around.
But which towels can you use? We'll show you our reviews below. We've gathered 10 of our favorite car drying towels and ranked them so you can pick the one that's best for you. Read on to learn everything you need to know about finishing your car wash right.
---
A Quick Comparison of Our Favorites in 2023
Rating
Image
Product
Details

Best Overall

Chemical Guys Woolly Mammoth Microfiber Dryer Towel

Extremely absorbent
No scratches or swirls
Soft
CHECK PRICE

Best Value

VIKING Waffle Weave Drying Towel

Abrasion-free
Flexible
Comfortable to use
CHECK PRICE

Premium Choice

Griot's Garage Terry Weave Drying Towel

Most absorbent towel we tested
One-and-done wipes
Low-impact and low-abrasion
CHECK PRICE

Meguiar's Water Magnet Microfiber Drying Towel

Easy to afford two
Soft waffle-weave cloth
Absorbs a lot of water
CHECK PRICE

Zwipes Auto Microfiber Waffle Drying Towel

Great price
Very absorbent
Leave almost no residue
CHECK PRICE
The 10 Best Car Drying Towels
1.

Chemical Guys Woolly Mammoth Microfiber Dryer Towel – Best Overall

If you know Chemical Guys from their superior-quality buffing and waxing kits, you won't be surprised to see them at #1. It's hard to beat the plush, abrasion-free, hyper-absorbent Woolly Mammoth Microfiber Dryer Towel.
Our tests found it versatile, low-maintenance, and fun to use. If you've only ever used the traditional chamois for drying your car, you'll be shocked at how much the Woolly Mammoth can absorb ­– we dumped it in a full bucket and found the water's surface quite a bit lower when we checked back.
The only problem with the Woolly Mammoth is its small size. It's also a good idea to wash it before you use it to cut down on lint. Overall, we think this is the best car drying towel on the market this year.
Pros
Extremely absorbent
No scratches or swirls
Soft
Easy to clean
Can be used for more than just cars
Cons
A bit small for the price
Shed a lot if they aren't washed first
---
2.

VIKING Waffle Weave Drying Towel – Best Value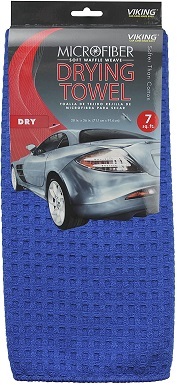 The Chemical Guys Woolly Mammoth is a great towel, but definitely on the pricey end of the spectrum. If you're looking for the best car drying towel for the money, you want the Viking Waffle Weave instead. It's 7 square feet of highly absorbent, reusable material.
The lack of abrasive edges proves Viking has thought hard about making this towel work right. It's soft, won't leave any marks, and is useful for other tasks, like buffing or drying your hair.
Our biggest complaint is that it doesn't dry quite as efficiently as other microfiber towels. You might be able to finish drying a sedan, but with a truck, van, or SUV, you'll probably need two or three. Fortunately, at the price, you have to buy four to equal the price of one of our #1 picks.
Pros
Very affordable
Abrasion-free
Flexible
Comfortable to use
Dries well
Cons
Not as absorbent as it could be
Might need two or three to finish your car in one go
---
3.

Griot's Garage Terry Weave Drying Towel – Premium Choice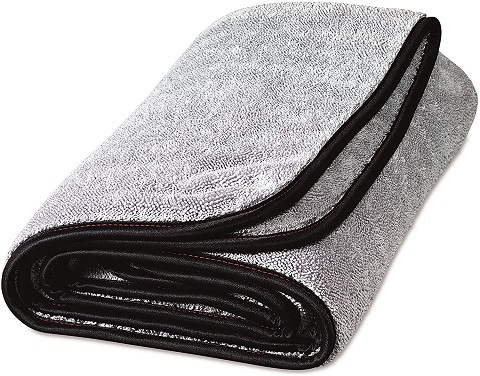 The Terry Weave Drying Towel from Griot's Garage is undeniably expensive. The question is whether it earns that money, and the answer is yes. It's incredibly absorbent and can hold up to 5 pounds of water. You only have to go over each area with it once to remove every single droplet. That's it. That radical efficiency prevents streaks, swirls, and scratches.
As fantastic as it is, the price is just too high. To get to #1, a towel has to be accessible as well as functional. We're also concerned about a few terry-weave strings we saw getting loose after a few uses, meaning this towel might not last long enough for the cost.
Pros
Most absorbent towel we tested
One-and-done wipes
Low-impact and low-abrasion
Cons
Very expensive
Weave begins deteriorating quicker than expected
---
4.

Meguiar's Water Magnet Microfiber Drying Towel

Meguiar's is another car care brand we've rarely been disappointed by. However, their products also often feel like they have unfulfilled potential, and that's precisely how we felt about the Water Magnet.
It's a waffle weave towel, absorbent and soft, but lags just a bit behind the competition in its power to pick up water on the first pass. Likewise, its size—22 inches by 30 inches, or about 4.5 square feet—leaves a bit to be desired, and drying will take longer and require more wringouts.
We were almost satisfied with the X2000 Water Magnet. It's less abrasive than microfiber and holds a ton of water. The price is low enough that you could easily afford two, which makes a lot of our issues irrelevant. But if you like your drying towels to feel thick and substantial, the Water Magnet won't do it for you.
Pros
Easy to afford two
Soft waffle-weave cloth
Absorbs a lot of water
Cons
You'll probably need two
Doesn't get all water on first pass
Smaller than it could be
---
5.

Zwipes Auto Microfiber Waffle Drying Towel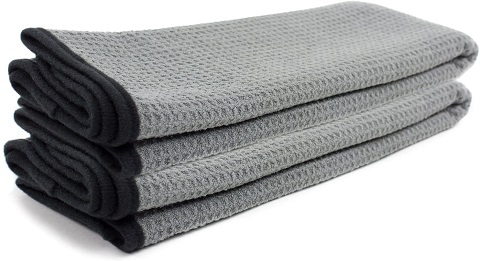 The Zwipes Auto 879-2 is most notable for its incredible price. You can get a two-pack of these for the price of one standard car drying towel. Each towel is over six square feet, which provides a lot of cleaning power for very little money.
They perform much better than the budget price would suggest. You'll find them lint-free and sufficiently absorbent to last a long time. A two-pack is probably enough to dry off any vehicle in your garage, short of an 18-wheeler or private jet.
You knew a catch was coming, and here it is; these towels don't last. After half a dozen washes, the material starts coming apart. Exactly when they start to break down varies since quality control is not great with these towels. One pack we tried was noticeably more absorbent and durable than the other. Since you can't be sure what you'll get, Zwipes lands at #5.
Pros
Great price
Very absorbent
Leave almost no residue
Cons
Bad quality control
Short lifespan
Tag might leave scratches
---
6.

The Rag Company Microfiber Waffle-Weave Drying Towel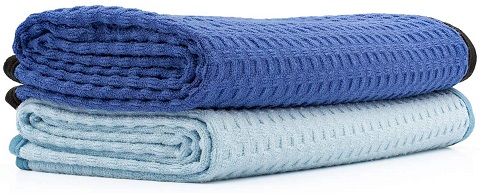 By this point on the list, we're getting into options with about as many bad points as good ones; we advise making sure all the top 5 are unavailable before you consider buying any of these.
We'd happily use this drying towel from The Rag Company, called the "Dry Me A River," if we didn't know there was anything better. Its Korean-sourced weave isn't soft initially but gets softer as you use it. It's primarily paint-safe. At 20 by 40 inches, the two you get in each pack should be enough to dry your car.
And yet, the few things we don't like about Dry Me A River add up to a less-than-stellar experience. They leave too much lint, hold too much dirt, and have to be wrung out a few too many times. Finally, we can't overlook that our favorite brands are soft right from the start, and we didn't have to break them in.
Pros
Two in a pack
Paint-safe
Soft once broken in
Cons
Less soft on the first use
Picks up dirt
Not as absorbent
Sometimes bleeds color
---
7.

Adam's Ultra Plush Drying Towel
Let's start with the obvious; Adam's Ultra Plush Drying Towel is at #7 because it's overpriced. We like Adam's Polishes, but this microfiber towel isn't in the same league as the others that cost this much.
While it does everything you'd expect it to do—drying in one swipe, drinking a ton of water, and leaving a spot-free finish—it has to be cared for regularly with microfiber revitalizer, or you'll need to wring it out more often.
On top of that, the towel's smooth side isn't nearly as "ultra-plush" as you'd expect from the price. However, with the first few washes, Adam's Ultra Plush is right at the top of the absorbency heap.
Pros
Absorb a ton of water
Clean on one wipe
No abrasion
6 square feet of towel
Cons
Price is way too high
Loses absorbency without regular care
Handheld side is uncomfortable
---
8.

CleanTools Absorber Synthetic Drying Towel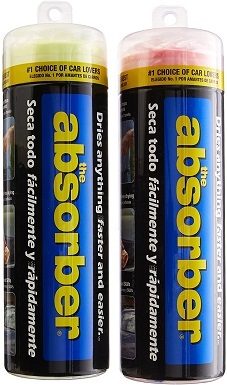 We're not sure what "No. 1 Choice of Car Lovers" means; we love cars and are pretty sure about keeping The Absorber at #8. It makes the list for being affordable, way more absorbent than a chamois, and indestructible.
The drawback is that The Absorber is unfortunately not all that absorbent. Yeah, it beats a chamois, but so does every other car-drying towel on this list. Compared to our top picks, the Absorber only moves the water around. Also, despite its claims of being mold-resistant, some towels have a distinct mildew smell right out of the box.
Pros
Long-lasting
Better than a chamois
Good price
Multiple uses
Cons
Not as mold-resistant as advertised
Not very absorbent
Pushes water around
---
9.

SINLAND Microfiber Car Drying Towel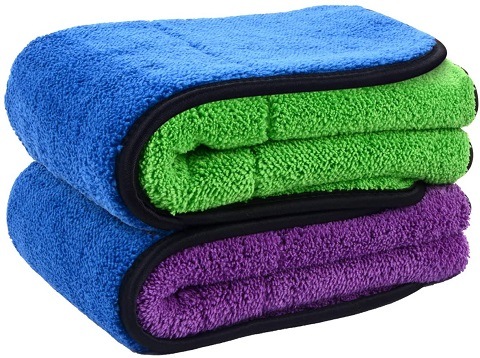 SINLAND's Microfiber Car Drying Towel has two sides: one with coarser fibers for cleaning and drying broad surfaces and one with finer fibers for getting the details. We liked the feeling of using them, and they'll leave the advertised streak-free and scratch-free finish.
They're small, however. At 16 inches, you're paying way more per square inch than you should be. Also, while these towels might leave your car free from scratches and swirls, they won't leave it free of lint; they'll shed all over it.
We could forgive that if cleaning didn't take so much work, but these towels require more elbow grease than any other we've tried. We suspect they're not car-drying towels but applicator towels marketed as drying towels.
Pros
Spotless finish
Two sides for differently-sized jobs
Cons
Too small
Leave a lot of lint
Better at applying formula than removing water
---
10.

Autofiber Dreadnought Microfiber Car-Drying Towel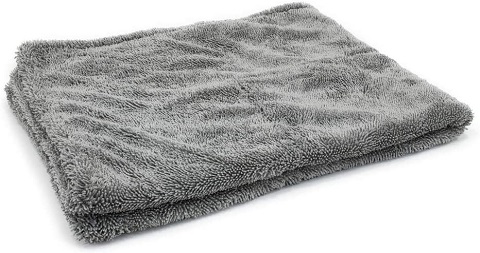 Here we are at the end. Autofiber's Dreadnought Car-Drying Towel, despite being at #10, has a few of the characteristics we look for. Its edges are invisible, with no sharp lines to scratch your paint. It's good at covering glass without leaving streaks. And it can be air-dried quite a few times before you need to launder it.
As for why it's this low, we immediately noticed that its construction is shoddy. Some towels we tested started losing threads after three or four uses, but the Dreadnought had loose threads when we opened the package. It takes a lot of work to dry off your car's surface, increasing the risk of damaging the paint job, and it snags on everything and loses even more threads.
This isn't a bad towel, but the previous brands are better.
Pros
Good for drying glass
Invisible edges
Air-dries well
Cons
Cheap construction
Drying requires too much pressure
Snags easily
---
Buyer's Guide – Choosing the Best Drying Towel for Cars
This guide is for those of you who'd rather search for your car drying towel than choose one of the items off our list. While shopping for your new favorite towel, here are the most important factors.
Material
When looking for a towel to dry your car after hand-washing, microfiber is the only way to go:
Cotton towels, as you might use in the bathroom, are way too rough, and your car's paint job is way more delicate than your skin.
Squeegees are better but can leave scratches if they pick up any dirt.
A chamois is too thin.
Whichever towel you're interested in, make sure it's microfiber before you go any further.
Size
This should be proportional to the size of the car you have to clean:
"Junior" 16×16 inch microfiber towels are best for the smallest jobs, like spot-cleaning your windshield.
The larger the vehicle, the larger the towel must be if you want to finish the job with only one (though honestly, we recommend always having a backup on hand anyway).
Pile Depth
The primary way to classify microfiber towels is by their pile depth, which measures how thick and soft the towel is. It's measured in grains per square meter (GSM); a higher GSM has a thicker pile.
Short pile towels, at 200 to 250 GSM, should only be used on surfaces without vulnerable paint.
Standard medium pile towels, from 250 to 400 GSM, are best for buffing or polishing your car's paint.
From 400 to 600 GSM, medium plush pile towels make good drying towels for painted surfaces.
From 600 GSM upwards, long pile towels are more expensive but even better at harmlessly drying painted panels.
Waffle weave towels are unusual. They're made of lower-pile microfiber crisscrossed with a higher-pile grid that makes it look like a waffle. They are great drying towels, especially for reflective surfaces.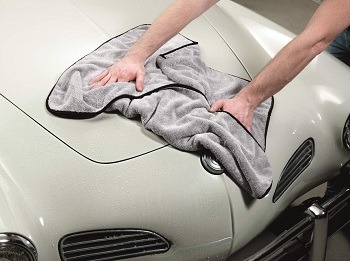 Longevity
Many towels look great when you use them for the first time but start to fall apart quickly. You can't test for longevity, so the best way to find out how long a towel will last is to read reviews from others who have used it. Remember, a long-lasting towel pays for itself; you won't have to replace it every 3 months.
---
Conclusion
The Chemical Guys Woolly Mammoth came first in our reviews. It's the epitome of a car-drying towel; it's skillfully woven, gets the water in one go, and leaves your paint job like it was never there. Cleaning it is a breeze, and it's so soft you can use it in the shower if you want. The fact that our biggest problem is "there wasn't more of it" should tell you all you need to know.
The Viking Waffle Weave drying towel is an excellent car-drying towel for the money. It's a champion dryer for an incredible price, though you might need more than one to finish the job. You should know everything you need to know to leave the chamois world behind and purchase a high-quality towel for your car. We live in a golden age of towels; don't wait to get yours.