5 Best Cement Mixers 2023 – Reviews & Buyer's Guide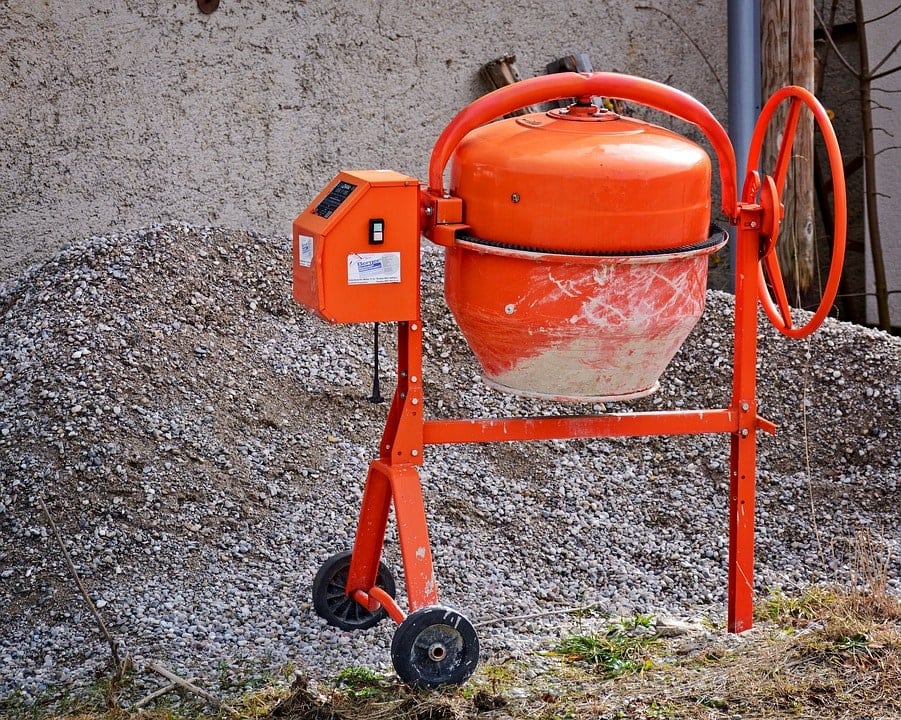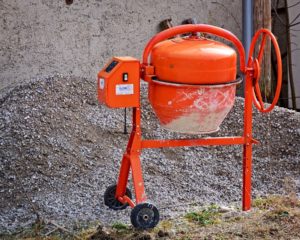 There is a more significant knowledge base out there for home projects. With YouTube offering instructional videos on almost anything, DIY and small projects have become a favorite past time. Cement mixers are becoming a highly-coveted commodity for both the residential and commercial sectors. Cement mixers in the market come in a number of shapes, sizes, and loading options.
With the number of projects, purchasing your cement mixer puts you in control of the project rather than relying on the schedule of contractors. Working on your own time has added appeal and allows room down the road for future projects because you already possess the assets. Convenience is critical in today's world, as time is a commodity that you can't get back.
When looking at the variety of choices available, it is easy to become somewhat overwhelmed with the number of available options. Luckily, we have compiled a list of the top five cement mixers on the market to highlight qualities that may help you find what you are looking for.
A Quick Comparison of Our Favorites in 2023
Rating
Image
Product
Details

Best Overall

SUNCOO 3/4HP Electric Concrete Cement Mixer

Durable
strong commercial build
Variety of uses and applications
Portability
CHECK PRICE

Best Value

YARDMAX YM0046 Concrete Mixer

Can handle large amounts of mix
Portable
Solid structure and design
CHECK PRICE

Premium Choice

Klutch Portable Electric Cement Mixer

Sturdy build
Comparable price
CHECK PRICE

COLIBROX Portable Electric Concrete Cement Mixer

Powerful engine
Sturdy build
Dual Usage
CHECK PRICE

Pro-Series CME35 Electric Cement Mixer, 3.5 Cubic Feet

Excellent cost
Maneuverable
Easy to clean
CHECK PRICE
The 5 Best Cement Mixers
1.

SUNCOO 3/4HP Electric Concrete Cement Mixer – Best Overall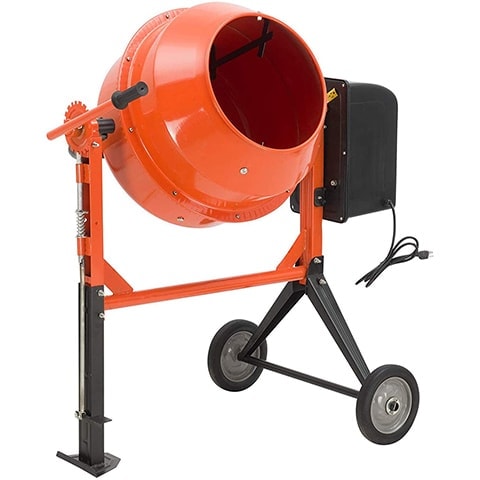 The SUNCOO Electric Concrete Cement Mixer is one of the best cement mixers on the market and starts us off at the top pick. The powerful engine has dual purposes for mixing cement, mortar, stucco, seeds, and fertilizer, which is ideal if you are into doing several home projects. Versatility plays a significant role in purchasing a cement mixer because if it is only able to do one thing, it isn't nearly as handy.
The mixer gets up to speed relatively quickly and is easy to maneuver. There are no dead areas, so you can feel confident that everything is getting mixed thoroughly. It has an industrial steel frame, making it extremely durable and with a commercial feel. Durability is coupled with versatility when looking for a sound cement mixer. It is reasonably priced, so you won't break the bank, making this an ideal investment.
An added bonus is that this cement mixer is easy to put together, and if you are having trouble, there is a video to help you out. It is a highly portable concrete mixer and easy to move around. The wheels could have been a tad larger, but it wasn't anything that couldn't be handled for any project. Additional accessories can be purchased at a moderate price. All in all, this cement mixer has earned its top spot with flying colors.
Pros
Durable, strong commercial build
Variety of uses and applications
Portability
Excellent price
Cons
Wheels could be a bit larger
---
2.

YARDMAX YM0046 Concrete Mixer — Best Value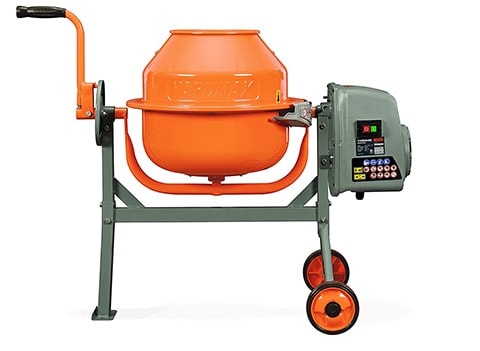 Our runner up is the YARDMAX YM0046. This rugged unit is ideal for both commercial and residential use, and we think it's one of the best cement mixers for the money. This unit has a low height, so you don't have to lift heavy objects far to get them into the mixer. The powerful engine allows for maximum mixing. The wheels offer portability and are easily maneuverable. The Yardmax is easy to clean and maintain. The unit does not come assembled but is relatively easy to assemble in under 30 minutes.
The large drum can hold a heavy load and doesn't waiver from the challenge. Excellent customer service further promotes this product. Problems have been solved quickly, and parts are received in record time if needed. This cement mixer boasts durability, versatility, and good customer service, making it a great addition and ideal companion for any project. Overall, we think this is the best value cement mixer we have reviewed.
Pros
Can handle large amounts of mix
Portable
Solid structure and design
Excellent customer service
Affordable
Cons
Does not come assembled
Bolts can come loose and need to be monitored
Customer service took a few days to respond
---
 3. Klutch Portable Electric Cement Mixer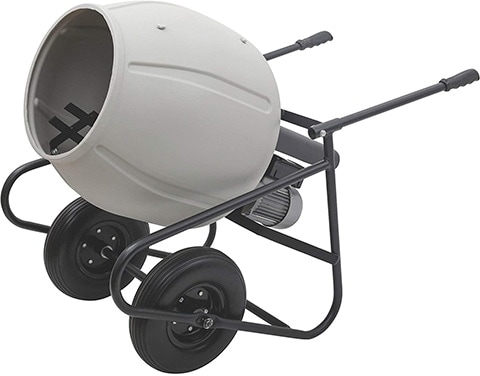 The Klutch Portable Electric Cement Mixer is an excellent choice for any project. The Klutch is steel reinforced with a powder finish for that commercial look and feel. It has a cast iron ring gear for durability and wheels for mobility. It is smaller, but ideal for small to medium size projects. The cost is comparable to other brands on the market. The engine is powerful for smaller jobs.
However, this wasn't a total home run. The biggest drawback is the lack of customer service. That, and it's tough to assemble. Its size also limits the scope of work you can do with this mixer.
Pros
Sturdy build
Comparable price
Cons
Small to midsize jobs
Doesn't come assembled
Little to no customer support
---
4.

COLIBROX Portable Electric Concrete Cement Mixer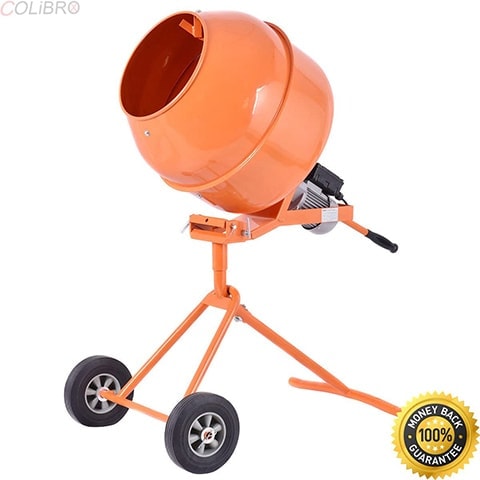 The COLIBROX Portable Electric Concrete Cement Mixer is one of the top cement mixers on the market. Not only does Colibrox offer a reliable product, but they stand by it. They promote customer service and a money-back guarantee if you are unhappy with the purchase. The solid build and powerful engine accommodate a variety of mixes for projects including cement, agricultural applications, mortar, and various other ingredients.
There is no project too big or too small for this portable mixer. It is easy to maneuver with two large rubber wheels. The front loader makes for ease and convenience of getting heavy material into the mixer. The price is comparable with other cement mixers, making it an outstanding investment for any home or commercial project.
However, beware of the fact that it does not come assembled. Also, it suffers from having a few dead spots within the mixer, which we didn't like.
Pros
Powerful engine
Sturdy build
Dual Usage
Customer service and guarantee
Cons
There are a few dead spots
Does not come assembled
---
5.

Pro-Series CME35 Electric Cement Mixer, 3.5 Cubic Feet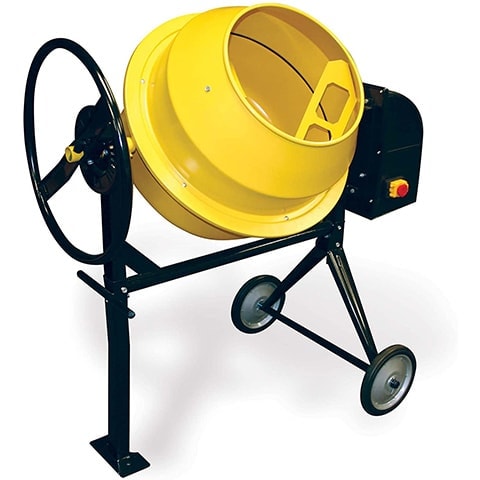 The Pro-Series CME35 Electric Cement Mixer is designed to knock your socks off on versatility. It offers a 180-pound mix capacity, making it ideal for residential or commercial small to medium projects. The portability is appealing as it is not overly cumbersome to take to different job sites or around the yard. If you do not need to complete overtly large projects, the size is ideal with a robust mix capacity. It's tilting mechanism makes it suitable for those backyard projects like BBQ pits or patios.
The mixing height is low, so the drum contents can easily be dumped into any wheelbarrow creating ease of use and convenience in movable projects. The mixer is double insulated and has a powerful 5 horsepower engine that can be used on any project.
The instructions for assembly are not the easiest in the world to read, but the assembly was pretty standard and accomplishable. This mixer sits a bit low for standard wheelbarrows, so keep the height of your project in mind when considering this one. It's also not able to handle big projects, which could be a drawback depending on your specific goals.
Pros
Excellent cost
Maneuverable
Easy to clean
Robust design
Cons
Instructions are hard to read
Sits a little low for standard wheelbarrows
It is for small to medium jobs
---
Buyer's Guide – Picking the Best Cement Mixer
There are many advantages to purchasing a cement mixer. Especially one that is dual purposed to handle agricultural applications as well as landscaping and building applications. It is not easy work, and any equipment can make the job easier is welcome.
When purchasing a cement mixer, there are several things that you should consider.  It is an investment that you will use maybe hundreds of times. Adding convenience and ease to any project is ideal, and lowering the cost of projects is an added incentive to purchasing your own mixer. You will use it more than you think.
What to Consider When Buying a Cement Mixer
The most important thing to consider while you are shopping around is, what are you going to use this mixer for? Mixing seed and fertilizer? Building a deck? It matters what you are going to do. After you have established firmly in your mind what you are looking for, the next thing would be to look at the following:
Capacity
For any job, you have to have the proper tool.  One of those is knowing how much your drum can hold.  If you aren't able to put enough material in the drum at a time, you can be overworking yourself.  Make sure that you pick the appropriate size mixer for the job.  Remember that when mixing, drums are tilted, so that should be taken into account.  You cannot fill a drum completely full. A 3.5 cubic foot drum holds two bags of 80-pound concrete, so that is a good jumping-off point to what you may or may not need.  If you require less capacity and more portability, you may want to consider a smaller drum. The opposite is, of course, true of larger jobs.
Drum Opening
The drum opening is how much you can actually put into the drum at a time. If you purchase a smaller unit with a smaller drum size, loading it with an immense amount of material may become more aggravating than it is worth. Most drums come with a 15-inch diameter. As this is the average, closely review anything that is more or less in diameter to make sure that it fits your needs.
Weight
If you weigh down a cement mixer, it will not work as efficiently as you would like and could become unstable. Staying below the maximum weight can increase the longevity of your mixer because the engine will not wear out prematurely. Weight includes the material you put in as well as the water. A lot of people forget to add water to the weight amount. Depending on what jobs you intend to complete, weight can play a big part of that need.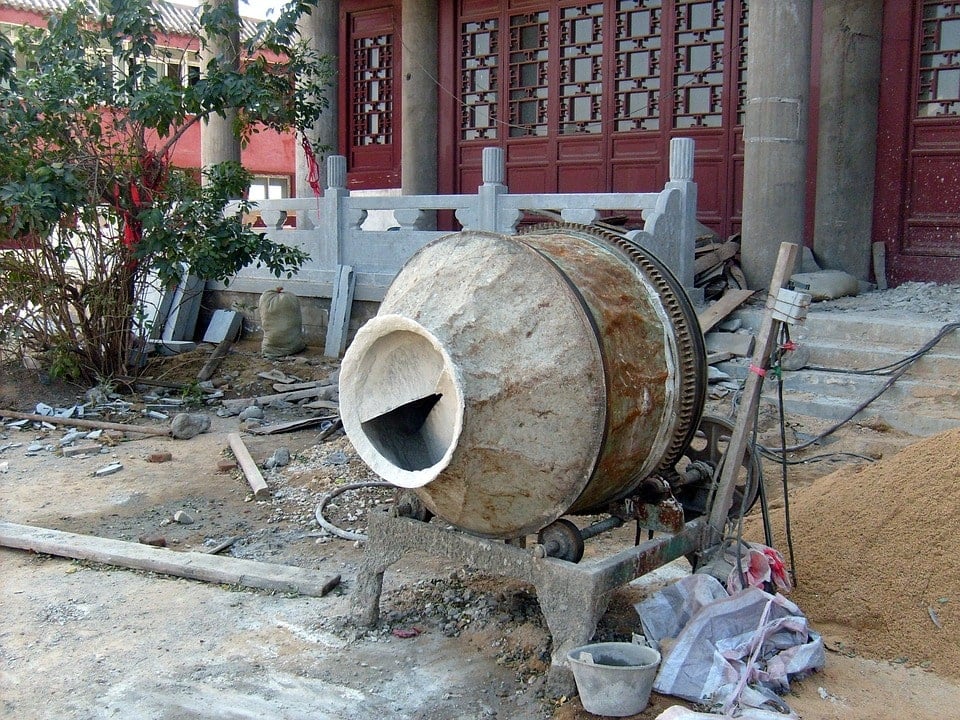 Power
Cement mixers come in the gas or electric variety. The engine size will determine portability. If you are working on smaller jobs, like out in the yard where plug-ins aren't readily available, you are probably better off with a gas mixer. If you are working on larger jobs where you don't need as much portability, and they are generally indoors next to power outlets, electric mixers might better suit your purposes. Electric mixers tend to be lower maintenance. There are dual power mixers that can accommodate both gas and electric, so if you are working with both kinds of projects, this will be a primary consideration.
Customer Service & Warranty
Cement mixers are an investment, so you will want to make sure that it is protected. When you are owning a cement mixer versus renting, you want to make sure that you are purchasing a high-quality and high-performing piece of equipment that is backed by the company that makes it. Excellent customer service is of paramount importance when buying a piece of equipment of this size and stature. A company that builds a relationship with you is definitely worth looking into.

Conclusion
Whether you are an occasional or frequent user, the SUNCOO Electric Concrete Cement Mixer is a top-notch mixer that will not leave you disappointed. You will be hard-pressed to find another mixer as sturdy and reliable as this with such good customer service. For best overall value, we would consider the YARDMAX YM0046 Concrete Mixer. It is the best of both worlds in terms of price and features.
Cement mixers are an investment. Warranty, even if it's not needed, is a welcome comfort in this investment. Remember when shopping, there are a lot of brands and varieties that will be able to do well with any project. The important thing for you to know is the requirements of the project, and that will determine what kind of cement mixer you should purchase.
Other articles we've written about cement:
---
Featured Image Credit: Pixabay