How Much Can a Toyota Highlander Tow?
The Toyota Highlander is a large SUV that is perfect for families. It is designed to seat multiple people and has a robust engine. Modern families have a lot going on with everything from camping to home improvement to lawn mowing services and school projects. It has a lot of people wondering how much a Toyota Highlander can tow. Does the Highlander have enough towing power to meet the needs of a busy modern family?

General Overview of The Toyota Highlander
The Toyota Highlander is a three-row SUV that can comfortably seat seven people. In certain configurations, this SUV can even seat eight if needed. The Toyota Highlander features five base models and two standard engine configurations. There are two primary engine configurations, a V6 gasoline engine, and a 2.5 L hybrid engine.  All of the base models are capable of towing either 3,500 lbs. or 5,000 lbs., depending on which engine you choose. In order to utilize the towing power of your Toyota Highlander, you will need to purchase the towing package as well.
In addition to the dual engine configurations, there are currently eleven different models of Highlander to choose from. These models range from the most basic package up to fully loaded Limited, Bronze, and Platinum models. Each model features various trim packages, optional upgrades, safety features, comfort features, audio enhancements, and more.
Despite the large number of potential packages and options to choose from, picking a towing package is easy. There are only two options for towing that will depend on what engine you choose in your particular model.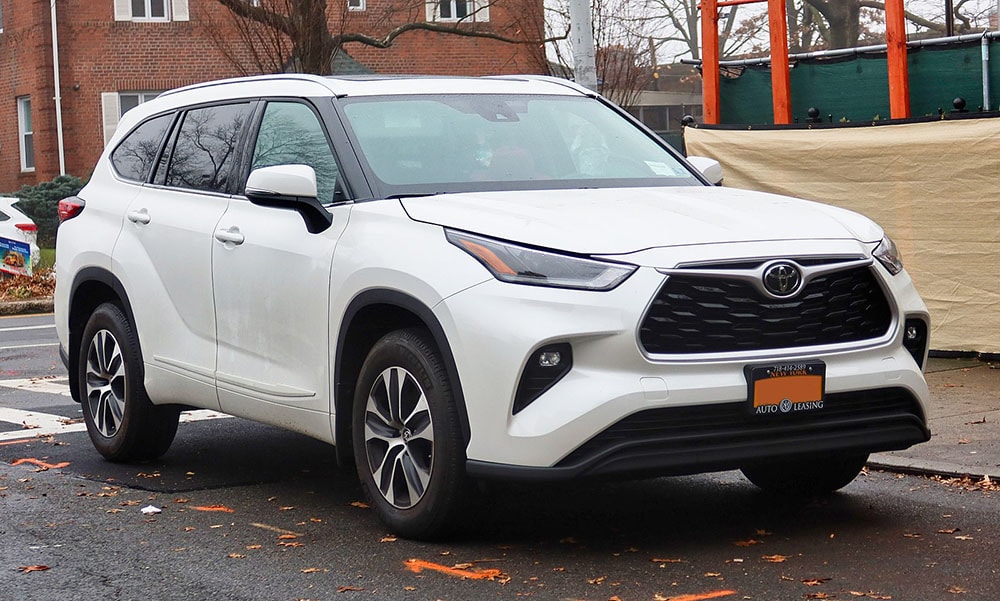 What are the Different Towing Capacities for the Toyota Highlander
There are only two towing capacities for the Toyota Highlander. Each model will either be able to tow a maximum of 3,500 lbs. or 5,000 lbs. These hybrid engines are smaller than the gasoline engines and offer less towing power. The hybrid engines are only 2.5 L versus 3.5 L in the gasoline variety. That produces less horsepower and less towing power.
The 2.5-Liter L4HV ECVT engine features a 186 HP combustion engine and only puts out a combined total of 243 HP. The 2.5-Liter L4HV ECVT has 175 lb.-ft. of torque at 4400 RPM. The 3.5 L V6 8AT gasoline engine features 295 HP and 263 lb.-ft. of torque at 4700 RPM.
Both engines also feature all-wheel drive (AWD) and front-wheel drive (FWD) options. Some people prefer AWD over FWD, but the choice does not affect the towing capacity. You can get AWD or FWD in both hybrid and gasoline, and either decision does not affect the total towing torque put out by each engine.
Engines and Towing Capacities of Common Highlander Models
| | | |
| --- | --- | --- |
| Model | Engine | Towing Capacity |
| Hybrid LE | 2.5-Liter L4HV ECVT | 3,500 lbs. |
| Hybrid XLE | 2.5-Liter L4HV ECVT | 3,500 lbs. |
| Highlander L/LE | 3.5L V6 8AT | 5,000 lbs. |
| Highlander XLE | 3.5L V6 8AT | 5,000 lbs. |
Towing Capacity of the Toyota Highlander Compared
How does the towing capacity of the Toyota Highlander compare to other similarly sized SUVs? Quite favorably. The Toyota Highlander represents the industry standard when it comes to towing capacities. The good news about the Toyota Highlander is that the V6 engine capable of towing the 5,000 lbs. is now the standard base model. That means you do not have to pay extra to upgrade from a 4-cylinder to get the towing power you desire. That is not the case with every manufacturer. Some makers still offer a smaller base engine that is not capable of towing.
Here is how the Toyota Highlander stacks up against similar models of SUV on the market today.
| | |
| --- | --- |
| Make and Model | Towing Capacity |
| Toyota Highlander | 3,500/5,000 lbs. |
| Ford Explorer | 5,600 lbs. |
| Chevy Tahoe | 7,500 lbs. |
| Toyota 4Runner | 5,000 lbs. |
| Toyota RAV4 | 1,500/3,500 lbs. |
| Kia Telluride | 5,000 lbs. |
| Hyundai Palisade | 5,000 lbs. |
| Honda Pilot | 3,500/5,000 lbs. |
| Honda CRV | 1,500 lbs. |
The Toyota Highlander is only beaten by the Ford Explorer (5,600 lbs.) and the Chevy Tahoe (7,500 lbs.). Otherwise, the Toyota Highlander matches or exceeds all other similar models on the market in terms of towing capacity.
Advantage of Towing with a Toyota Highlander
The advantages of towing with a Highlander revolve around the fact that you do not need to buy another car or give up your family vehicle in order to tow something. Some people have SUVs that are incapable of towing, meaning they have to have another vehicle dedicated to hauling. With the Toyota Highlander, you can do both in one single vehicle. The other advantage is that the 3.5L V6 8AT engine comes standard, so you do not have to pay to upgrade from a smaller engine like you would with other manufacturers. The tow package also features Trailer-Sway Control technology included as a standard option that increases the safety of your vehicle while towing.
Downsides of Towing with a Toyota Highlander
It is not a truck. That is really the main downside to towing with a Highlander. Trucks, even small trucks like the Tacoma, are much better suited to hauling than a Highlander. Trucks can haul far more weight, and they can be easier to hook up than SUVs like the Highlander. While the 5,000lbs towing limit is good within its class, the Highlander is greatly outperformed by the vast majority of modern trucks.
Gas vs. Hybrid Engine
What about choosing between a gas engine and a hybrid engine? The gasoline engines have much more power than the hybrid engines. They feature more torque and more horsepower across the board. This translates directly to more towing power. The gasoline engines in the Toyota Highlander feature 30% more towing capacity than the hybrid engines.
However, the hybrid engines have better gas mileage. The Toyota Highlander Hybrid can expect to get 35 MPG on average compared to just 23 MPG for the gasoline models. The difference in overall MPGs garners 200 more miles per tank for the hybrids than the gasoline models. That is a sizable difference that can save you a lot of money at the pump over the lifetime of the vehicle.
But those savings come at a cost. The hybrid Highlanders are more expensive to buy up front than the gasoline models. And they come with less towing.
The choice between gas and hybrid engines for the Toyota Highlander will come down to whether you value towing capacity or miles per gallon more. If you need to tow more than 3,000 lbs. on a regular basis or tow things frequently, you will likely want to get the gasoline engine. If you don't tow very often and are just looking for some flexibility for your family and are worried about gas prices, you can safely opt for the hybrid model.

Frequently Asked Questions (FAQs)
Which Toyota Highlander Models Can Tow 5,000 lbs.?
Any Highlander that features the 3.5L V6 8AT engine can tow up to a maximum of 5,000 lbs. As of late, that includes every gas-powered Highlander. The 3.5L V6 8AT is now a standard base feature. That means every Highlander should be able to tow 5,000 lbs. if it has the 3.5L V6 8AT engine and the required tow package. That towing capacity extends from the most basic L model all the way up to the most expensive Platinum Edition. The trim levels change, and the interior features change, but the Toyota Highlander features the same V6 gasoline engine throughout. You do not have to research which model is capable of towing 5,000 lbs. As long as it is gas, it can haul the maximum amount. You only have to choose what level trim you want to purchase.
The only Highlanders that cannot tow 5,000lbs are the hybrid models. The 2.5-Liter L4HV ECVT hybrid engine is only capable of hauling 3,500 lbs. All of the Highlander hybrid models feature the 2.5-Liter L4HV ECVT and are therefore capped at 3,500 lbs. of towing capacity.
Do I Absolutely Need the Tow Package to Tow with My Toyota Highlander?
Yes. A Toyota Highlander without a towing package will not have the necessary additions and upgrades needed to tow anything. The tow package includes anti-sway technology, bulked-up frame strength, and the hitch itself. Without the towing package, you will have nowhere to hook your trailer, and the underside of the SUV will not have the necessary alterations needed for safe and effective towing.
The engine might be strong enough to haul and tow without a tow package, but the tow package is what allows you actually to hook things up to your Highlander. While the extra costs can be irritating, the tow package is absolutely necessary.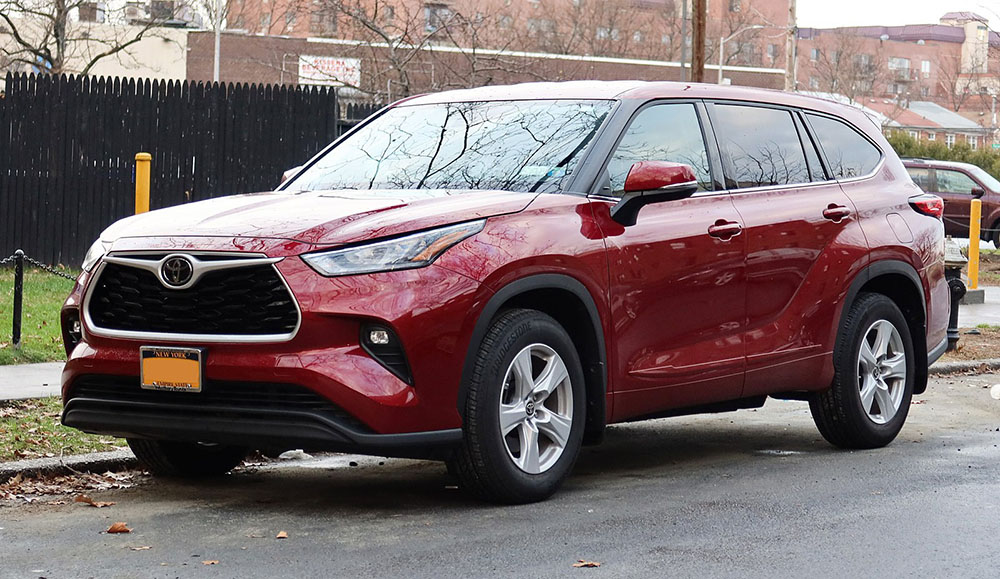 Can a Toyota Highlander Pull a Trailer?
Yes. A Toyota Highlander with a towing package can easily pull a trailer. Most empty utility trailers weigh between 500 and 1,000 lbs., leaving you 4,000 lbs. of capacity to load into the trailer. That is more than enough for most people. The Toyota Highlander can even pull small campers and RVs as well. The towing package for the Toyota Highlander includes a standard hitch, so any trailer that can hook up to a basic trailer hitch will work with the Toyota Highlander.
What If I Need to Tow More Than 5,000 lbs. Consistently?
You will likely need to get a truck. 5,000 lbs. is a decent amount of towing that should serve most people just fine. If you find yourself needing to tow more than 5,000 lbs. on a consistent basis, you will likely need to get a truck. Trucks have more robust engines and towing packages that make them ideal for towing loads greater than 5,000 lbs.
If you do not want to get a truck, you can look into a Ford Explorer, which has a maximum towing capacity of 5,600 lbs., or the Chevrolet Tahoe, which has an impressive 7,500 lbs. towing capacity.

Conclusion
Unlike some other manufacturers, Toyota makes finding out the towing capacity of their Highlander very easy. You can either tow 3,500 lbs. with the hybrid engine or 5,000 lbs. with the V6 gasoline engine. Both engines are standard across the board. The decision simply comes down to what kind of trim and which engine you want. The towing capacity of the Highlander is not the industry's best, but it is average and will easily get the job done for most families.
---
Featured Image Credit: Matthew Lancaster, Unsplash