10 Best Combination Wrench Sets of 2022 – Top Picks & Reviews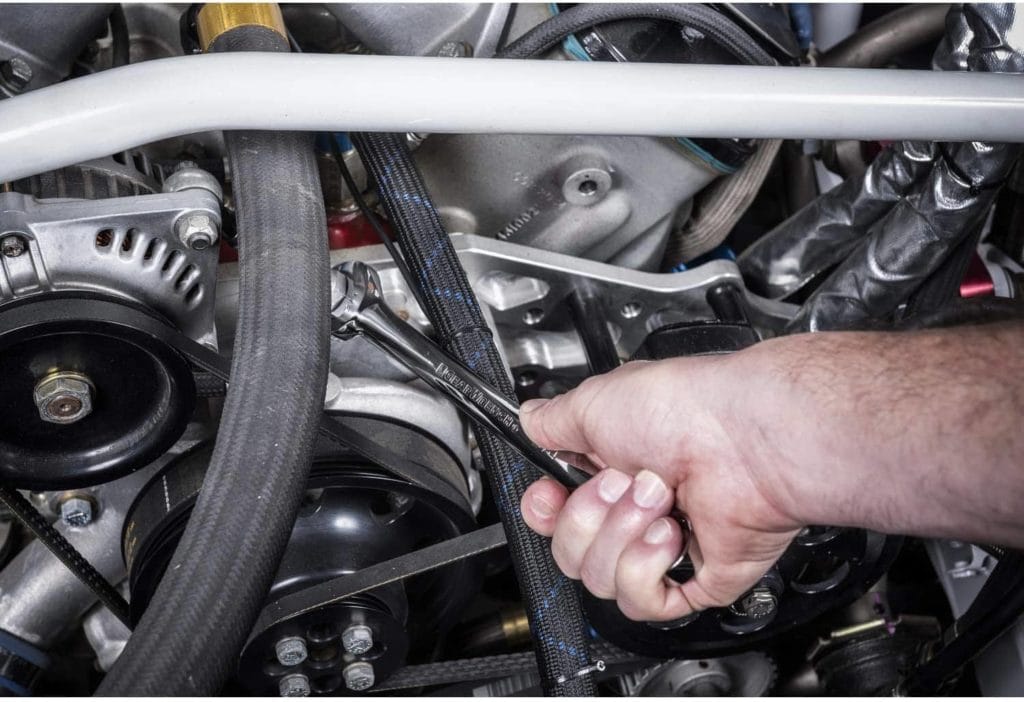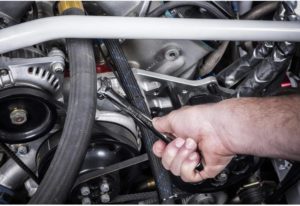 Combination wrenches are a must-have for any homeowner, whether you do a lot of DIY or not. For very simple repairs, these wrenches are often necessary. However, because these wrenches are not adjustable, you have to ensure that you have enough sizes laying around to complete projects whenever they come up.
This is why many people choose to purchase a combination wrench set. These sets include many different combination wrenches so that the likelihood of having the right size wrench is high. However, not all of these wrenches are equal. Some sets are better than others. The last thing you want is to have a wrench that breaks in the middle of a project – or just never works to begin with.
Our reviews below should help you choose the ideal combination wrench set for your situation. Whether you're a professional or a homeowner, you'll find the perfect combination wrench set below.
---
A Quick Comparison of Our Favorites in 2022
Rating
Image
Product
Details

Best Overall

TEKTON 90191 Combination Wrench Set

12-point design
Offset ends
Vanadium steel
CHECK PRICE

Best Value

EFFICERE WR-001 Master Wrench Set

Chrome vanadium steel
Offset
12-point box
CHECK PRICE

Premium Choice

GEARWRENCH 81916 Combination Wrench Set

Off-corner loading
Long wrenches
Hard-stamped
CHECK PRICE

WORKPRO Flex-Head Ratcheting Wrench Set

Flexible rotation
Made of durable steel
Grey coating
CHECK PRICE

Performance Tool W1099 and Metric Set

SAE and metric sizes
32 different wrenches
Chrome vanadium steel
CHECK PRICE
The 10 Best Combination Wrench Sets
1.

TEKTON 90191 Combination Wrench Set – Best Overall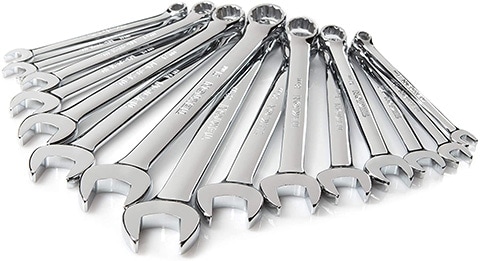 The TEKTON 90191 Combination Wrench Set is a 30-piece set that comes with all the sizes the average homeowner or even professional might ever need. The open-end of each wrench is at an angle, allowing you to use them more easily in tight spaces. The box end is a 12-point design and is offset by about 15°. Because these wrenches are made with premium vanadium steel, they are very durable and will last a long time.
Plus, we loved that this set comes with two keepers to hold your wrenches all together. They are non-slip and lock each wrench into position. This is a great feature for those who plan on traveling with their wrenches, but it is also wonderful for users who just leave their wrenches at home. It keeps them all together and makes them look very neat.
The only negative we see about these wrenches is that they are a bit more expensive than they may be worth. They aren't the most expensive option at all. However, you may be able to find a similar wrench set for cheaper at your local hardware store. Of course, it really just depends on your local situation.
Pros
12-point design
Offset ends
Vanadium steel
Organization keepers included
Easy to use in tight spaces
---
2.

EFFICERE WR-001 Master Wrench Set – Best Value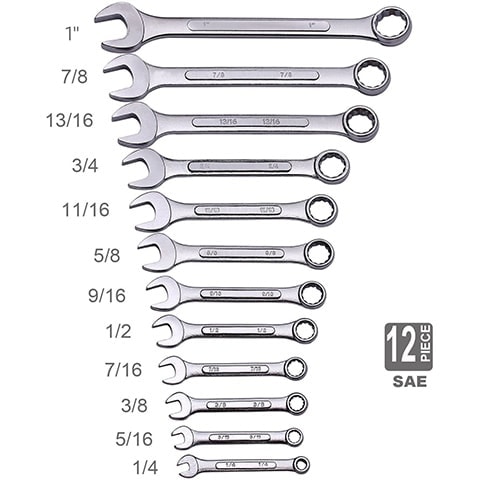 With 24 different wrenches, EFFICERE WR-001 Master Wrench Set has quite a few different sizes. It isn't as big as some of the other options we've mentioned. However, it should be plenty for most homeowners and professionals. This set also comes with a roll-up storage pouch, which makes storing all the wrenches much easier. These wrenches are made with chrome vanadium steel. They are constructed from high-strength and heat-treated, making them very durable and strong.
The durable finish prevents corrosion and rust. The chrome plating works to extend the wrench's tool life by quite a bit. For the price, you can't get much more durable than this wrench set. They also have a 12-point offset box on the end. The open end is also offset by 15° for easier access to fasteners in tight spaces. The raised panel wrench is designed to help you get more leverage and gripping power.
Our only complaint is that while the rolled storage pouch works quite well and takes up little room, if you tip it the wrong way, a lot of the wrenches will fall out. There isn't much actually keeping them in. Despite this, this is the best combination wrench set for the money on our list today.
Pros
23 different wrenches
Chrome vanadium steel
Offset
12-point box
Cons
Wrenches will fall out of storage pouch
---
3.

GEARWRENCH Combination Wrench Set – Premium Choice
The GEARWRENCH 81916 Combination Wrench Set has 22 pieces. These wrench sets are extremely high-quality, though you are going to pay for that extra durability. They are at a 15° offset, which allows for better access in tight spaces. The off-corner loading design also helps with your grip and reduces fastening rounding. These wrenches are quite long as well, which can improve your reach, leverage, and torque.
They have a hard-stamped size marking, so you won't ever forget which size each wrench is. The alloy steel provides better strength and a longer tool life. They are also finished with chrome. The chrome is bright and fully polished. They easily wipe clean to help resist corrosion. The material they're made out of and the finish means they have a higher-than-average lifespan.
A tool roll is provided for storage and extra organization. It works quite well. However, the wrenches will just fall out of it if you tip it the wrong way.
Pros
15° offset
Off-corner loading
Long wrenches
Hard-stamped
---
4.

WORKPRO Flex-Head Ratcheting Combination Wrench Set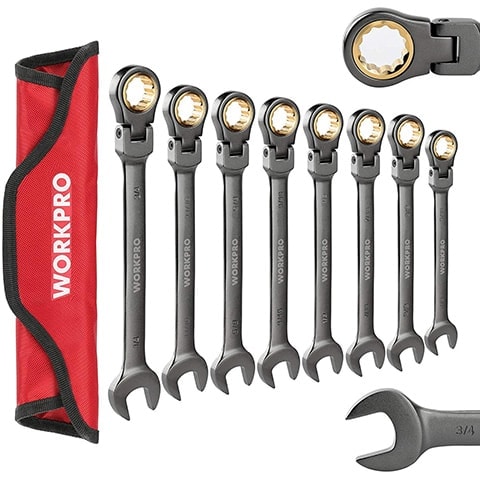 Out of all the wrench sets we've reviewed, the WORKPRO W003320A Flex-Head Ratcheting Combination Wrench Set is unique. The box end is ratcheted, making it a bit more flexible and easier to use in smaller areas. The flexible rotation is very suitable for those who work in smaller areas. This set includes eight different wrenches, which is a bit lower than the other sets we've reviewed. This is one of the large reasons we rated this wrench set lower than the others, despite the fact that the wrenches that are included are high-quality.
These wrenches are made out of steel that has been hardened and heat-treated. They are coated in a grey Ni-coating for durability. This coating also helps with durability, rust resistance, and longevity. Like many sets, this one also has a storage bag. It is made out of polyester, which makes it more durable than most of the other storage options we've discussed so far.
The only other complaint we have regarding this toolset is that there seems to be poor quality control involved in the creation of this wrench set.
Pros
Flexible rotation
Made of durable steel
Grey coating
Quality storage case
Cons
Only 8 wrenches included
Poor quality control
---
5.

Performance Tool W1099 SAE and Metric Set
The Performance Tool W1099 SAE and Metric Set is huge. It includes 32 different wrenches. Some of them are in SAE, or standard,  and some are in metric, so you truly have all the wrenches you need for whatever project you run into. All the wrenches are high-grade and heat-treated. They are made from mirror polished chrome vanadium steel. This steel is strong and durable. They are also corrosion resistant, which is great longevity. You'll love that these wrenches are durable enough for even tough working environments.
This wrench set comes in a handy carrying box that can fit into most drawers and workshops with ease.  It is compact and durable. Plus, it actually keeps all the wrenches in it reasonably well. We liked this storage option better than most of the others we've reviewed thus far.
These wrenches are stubby. This makes them a bit more durable since they're less likely to snap in the middle. However, it also means you get less leverage overall. Really, it just depends on what you're looking for.
Pros
SAE and metric sizes
32 different wrenches
Chrome vanadium steel
Cons
Chrome is not durable
Case is not super durable
---
6.

Crescent Ratcheting Combination SAE Wrench Set
With only seven different wrenches, the Crescent CX6RWS7 Ratcheting Combination SAE Wrench Set is smaller than most. The box end of all the wrenches is designed to grip as many different types of fasteners as possible. They work on hex, square, 12-point, partially rounded hex, external torx, and spline.
The laser-etched sizing allows you to quickly recognize the size of each wrench. This etching won't wear off any time soon either, which is often the case for some of the other wrenches on the market. Furthermore, the innovative design beams give your wrench set a unique look, so you aren't going to accidentally confuse them with other people's tools.
The rapid ratcheting action allows you to easily turn fasteners in low-access environments. If you work in tight places, this is a solid toolset to choose. Sadly though, the ratchet feature only works some of the time. At other times, you'll have to reposition the wrenches instead. Furthermore, these wrenches also scratch easily. They're black as well, so the scratching is very obvious.
Pros
Works on many different fasteners
Laser-etched sizing
Innovative design
Cons
Scratches easily
Ratcheting only works sometimes
Only comes with 6 pieces
---
7.

Craftsman 9-47242 Combination Wrench Set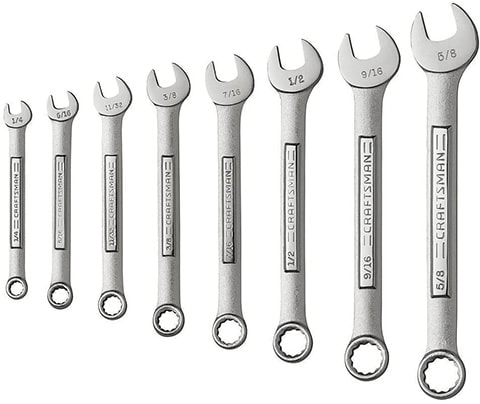 The Craftsman 9-47242 Combination Wrench Set comes with eight different wrenches. This is a bit smaller than most of the other sets we reviewed. However, some homeowners may find that this low number of wrenches is perfectly suitable for them. It just depends on how many DIY projects you do. This set is likely not enough for a professional, though. The small number of wrenches in this set is one reason we rated it so low. It just isn't suitable for all homeowners.
The box end has 12 different points, which allows it to get a great grip on a variety of fasteners. It can get quite a bit more leverage on a wide variety of different fasteners. These wrenches also work in small places much more easily. The handles are comfortable, and they are backed by Craftsman's Lifetime Guarantee.
These wrenches are forged in China, however. This may not seem like a big deal, but it does have a significant effect on the fit of the wrenches. This makes the wrenches impossible to use in some situations and just plain frustrating in others.
Pros
12-point end
Craftsman's Lifetime Guarantee
Comfortable handle
Cons
Bad fit
Expensive
Only 8 different wrenches
---
8.

Neiko Jumbo Combination Wrench Set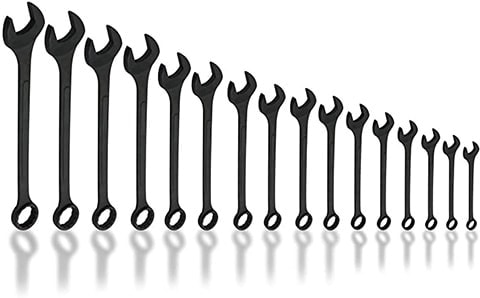 While the Neiko 03574A Jumbo Combination Wrench Set is not absolutely awful, it was not our favorite by far. It includes 16 different wrenches. This is about average as far as wrench sets go. There are plenty of sets that have fewer wrenches, as well as quite a few sets that have more. While this set comes in SAE and metric, we primarily reviewed the SAE set.
These wrenches are made with industrial-strength steel that has a black oxide coating. These materials ensure maximum durability and lifespan. They are sure to last quite a while because of these features. The panel design adds extra strength to the shaft of the wrench, which prevents snapping and further increases the lifespan of these tools.
One of the big downsides of this set is that it doesn't include all the standard sizes – despite having 16 different wrenches. They also aren't as heavy as some of the more expensive options on the market. But you can expect this based on the lower price. We also found the mid-sized wrenches to be a little longer than we would have liked. However, this is a small downside.
Pros
16 different wrenches
Made with industrial-strength steel
Cons
Doesn't include standard sizes
Not as heavy
Mid-sized wrenches could be longer
---
9.

TACKLIFE TLWR01HD Combination Wrench Set
The TACKLIFE TLWR01HD Combination Wrench Set comes with 32 different wrenches. This is a huge number of different wrenches, making it one of the largest sets we've reviewed. However, despite being generally inexpensive and containing a huge variety of wrenches, this set ranks quite low on our list for a variety of different reasons.
Firstly, they do not have ratcheting ends. This is not a huge negative, however, it is a bit disappointing. We would have much rather had ratcheting wrenches. Furthermore, the set seems to skip some standard wrench sizes for no reason. As you might imagine, this can make doing certain projects impossible to do. You may have to add extra wrenches to the set to make it "complete".
Cons
No ratcheting ends
Not all standard sizes included
Not as durable as some other options
---
10.

EASTVOLT Flex-Head Ratcheting Wrench Set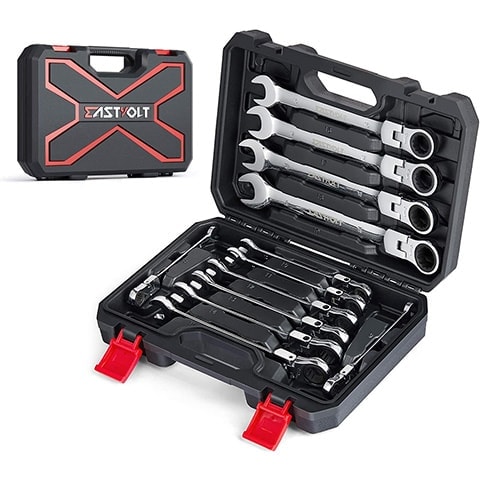 The EASTVOLT EVHT1201 Flex-Head Ratcheting Wrench Set is not our favorite by far. It is okay, but we really recommend spending your money elsewhere. The storage box is not awful, but some of the wrenches do not secure properly into the box. This can create obvious difficulties when you're transporting all of the different wrenches. After all, eventually, the wrenches will fall out.
Furthermore, some of the sizes are actually doubles. They are just different lengths. This isn't actually helpful in most situations, as you can probably imagine. You really aren't getting a variety of wrenches at different sizes. This makes this set less usable overall.
The pass-through wrenches are what makes this set awesome. They're great. However, the regular wrenches are really sub-par. For the price, we would have liked to see higher quality wrenches overall available. Most of the wrenches in this set are just basic tools.
Pros
Quality pass-through wrenches
Cons
Some wrenches are doubles
Wrenches don't all secure into the box
Expensive for what they are
---
Buyer's Guide – Choosing the Best Combination Wrench Set
There are many combination wrench sets on the market. And, truthfully, they all seem very similar at the first glance. However, there are a few different things that absolutely set certain sets apart from others.  Understanding these differences is essential to choosing a set that works well for you.
In this buyer's guide, we'll take a look at some of the most important features and questions to consider when purchasing a combination wrench set.
Number of Tools Included
Different sets come with various numbers of tools. Some come with only a few different sized wrenches, while other sets are massive. For most users, you're going to want a set that is somewhere between these two extremes. You don't want to buy such a small set that you end up never having the sizes you need for simple projects. At the same time, you don't want a set that is so huge you have a hard time storing it or finding the wrench you need.
The cost of a combination wrench set is not usually tied directly to the number of wrenches it includes. There are many quality sets that come with many different wrenches at a low price. Similarly, there are many expensive sets that only come with a few wrenches. Usually, the price is determined by other characteristics — not how many wrenches are included. This allows you to focus more on other features that are more heavily associated with price.
Material
What the wrenches are made out of matters a lot. This has a lot to do with the price as well. The higher quality material a wrench is made out of, the more expensive it is in most cases. However, choosing a high-quality wrench can save you money in the long run, even if it costs you more upfront. Wrenches made out of low-quality materials are more likely to snap or rust, which renders them useless. On the other hand, wrenches that are made out of high-quality materials will last you much longer.
The best material a wrench can be made from is chrome vanadium steel. This material is extremely durable and not brittle in the least. It can stand up well to usual abuse and tough working environments. Plus, it is also naturally resistant to corrosion, so it won't rust or break down as fast as other materials.
High carbon steel is also common. However, this material comes in a range of strengths, so you can never tell exactly what you're getting when you're making your purchase. This kind of steel is also prone to rust, so it will need some sort of outer coating. Make sure any steel coating you're getting comes with some sort of coating on it. Otherwise, it may rust faster than you were expecting.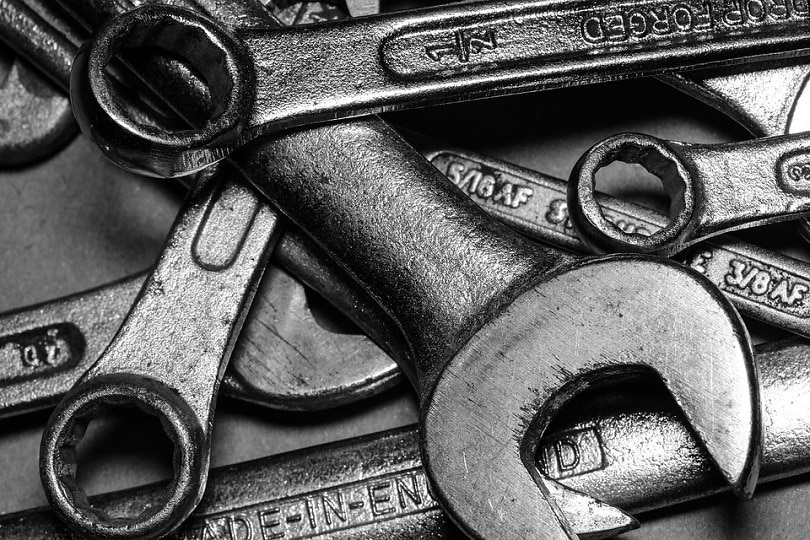 Storage
Most wrench sets come with some sort of storage. After all, when you're purchasing a number of wrenches, you're going to need somewhere safe to put them. The quality of the storage varies quite a bit, though.
Some wrench sets have storage containers that seem to be complete afterthoughts. Simple roll-up pouches are the most common. These involve a simple pouch that has a pocket for each wrench. The whole thing rolls up as well, allowing you to carry it on-the-go easier. However, if you tip these the wrong way, all the wrenches will simply fall out. Obviously, this isn't going to work well in most circumstances.
On the other hand, some wrenches come with very high-quality options. For example, some may come with hard cases that are designed to easily fit into drawers.  Others may include polyester bags that actually close, preventing the wrenches from falling out.
While the storage bag included is often overlooked, we consider it to be an extremely important component of a wrench set. A low-quality bag can lead to your wrenches becoming damaged or lost while in storage or transport.
Box End
The box end of a combination wrench is important. Most high-quality wrenches come with 12-point ends, as these are less likely to round and strip bolts and nuts. They also have more points of contact, which gives you a better grip. They're great at loosening fasteners that are extremely stuck or that have been previously rounded.
However, some models come with 6-point box ends, which are typically not as capable overall. They aren't necessarily bad by any means, but we recommend choosing 12-point box ends when possible.
Some of our other wrench-related posts:

Conclusion
We reviewed countless different combination wrench sets for this article. However, our favorite option for most homeowners is the TEKTON 90191 Combination Wrench Set. It comes with many different wrenches that are all made out of high-quality materials. Plus, the storage bag is very well made as well.
For those on a budget, we liked the EFFICERE WR-001 Master Wrench Set. These wrenches are made with chrome vanadium steel, which is about as high-quality as it gets. Furthermore, this set includes enough wrenches for most purposes.
Hopefully, our reviews gave you a good idea of exactly what set is best for you. If you need extra help, our buyer's guide is the place to go.
Related Reads: