How to Make Your Own Wall Mounted Clothes Rack – 5 Easy DIY Plans
A wall-mounted clothes rack offers a convenient place and a simple way to hang clothes. Because it is attached to the wall, it should be strong enough to hold plenty of shirts, dresses, jeans, and any other clothing you want to hang. And it takes up less space than a rolling clothes rack without the need to have to build a full wardrobe around it. Wall-mounted clothes racks also offer an effective way to hang clothes while they dry so that you don't have to hang them over radiators and heaters, and you don't have to turn the dryer on every time you want to dry tomorrow's outfit.
Below are 9 easy DIY plans that you can use to erect a wall-mounted clothes rack, whether you want to hang it in the room under the stairs, in your bedroom, or in any other room of the house.

The 5 DIY Ideas to Make Your Own Wall-Mounted Clothes Rack
1.

DIY Wall-Mounted Clothing Rack With Top Shelf by Simplified Building
| | |
| --- | --- |
| Materials: | Pipe, wood boards, flange fittings, socket tee fittings, elbow fittings |
| Tools: | Drill, screwdriver |
| Difficulty: | Easy |
These DIY wall-mounted clothing racks with a top shelf have been used in boutique shops in the UK but the finished item would look equally at home in your home. The pipe used is essentially a scaffolding pipe, which gives an industrial look, especially when combined with a dark-stained wood for the top shelf.
The top shelf is a great place for hats, bags, and other items that you don't want to take up hanging space, and there's room for a good 20 or so items of clothing on hangers.
---
2.

Industrial Clothing Rack by Sammy on state
| | |
| --- | --- |
| Materials: | Elbow, pipe flange, pipe nipple, galvanized pipe, fence picket, screws |
| Tools: | Stud finder, drill, saw |
| Difficulty: | Easy |
This is another industrial clothing rack but without the top shelf. This rack is being used in a laundry room, which is a great place for this kind of wall-mounted hanger. It saves you from hanging clothes from the doorframe, over the door handle, and on any available hanging surface.
Like the plan above, it uses industrial metal piping combined with a stained wood to give an industrial feel to the design.
---
3.

Wall-Mounted Clothes Drying Rack by Instructables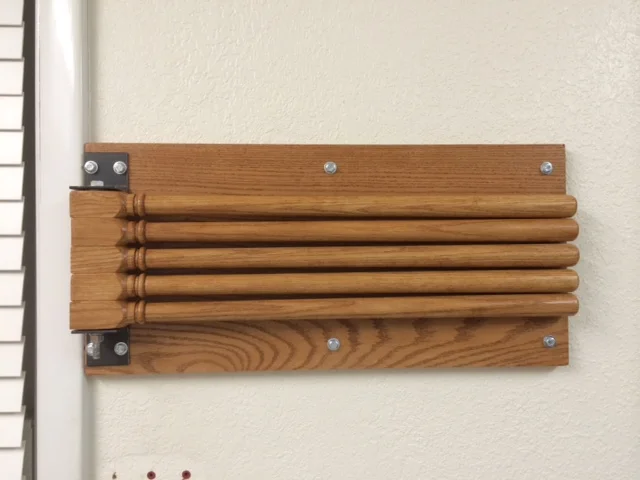 | | |
| --- | --- |
| Materials: | Red oak board, red oak baluster, steel angle iron, bolt, washers, screws, stain |
| Tools: | Saw, drill |
| Difficulty: | Moderate |
One potential use of a wall-mounted clothes rack is for drying clothes, rather than for storing them. And, if you have limited space, you don't really want a wall-mounted rack that stays in place throughout the week. This wall-mounted clothes drying rack uses an antique design but modern pieces of red oak.
Five pieces of baluster fan out from the wall unit and can be used to hang clothes over. The ends of the wood, in this case, are used to dry swimming caps but could be used to dry delicates. This is a great option if you're really looking to save space while providing somewhere to dry clothes.
---
4.

Wall-Mounted Clothing Rack for Kids by Toolbox Divas
| | |
| --- | --- |
| Materials: | Board, dowel, screws |
| Tools: | Drill, sander, saw |
| Difficulty: | Moderate |
If you have young kids, you will know just how many items of clothing they can amass in such a short space of time. And despite the clothes being tiny, they take up a surprising amount of space. This wall-mounted clothing rack for kids is ideal for hanging under shelves or in the corner of a room and it is made from sanded wood. According to the plans, it can be completed in less than an hour, or during baby's nap time, too.
---
5.

DIY Fold Down Drying Rack by Pine and poplar
| | |
| --- | --- |
| Materials: | 2×8, 3×8, square dowels, dowels, beadboard, screws, nails, hinges, chain, eye hooks, magnets, French cleat |
| Tools: | Drill, saw, sander, nail gun, multi-tool, mallet |
| Difficulty: | Moderate |
This DIY fold-down drying rack is another space-saving rack that mounts to the wall and can be folded back away while not in use. It is a great way to dry clothes without clogging up an entire room or multiple rooms. It uses magnets to fix it in place, is hinged so that it is easy to fold down and back up again, and has multiple rails that can be used to hang clothes and other items while they dry.
The design can be modified so it accurately fits your space and provides enough room for everything you want to hang.

Conclusion
Clothes racks can be used to store clothes permanently or as drying racks so that you don't have to put the dryer on every time you want to dry a garment. Wall-mounted racks are beneficial for those with limited closet space, or for people that are looking to take advantage of more of the space they have available in a utility room or other small space.
Above are nine plans so that you can make your own wall-mounted hanging racks. Most of the designs can be easily modified so that you can create a rack that more precisely fits the space you have available. And if you have a lot of clothes you need to hang, you can always put up two or more.
---
Featured Image Credit: Africa Studio, Shutterstock