10 Best Commercial Blenders of 2023 – Reviews & Top Picks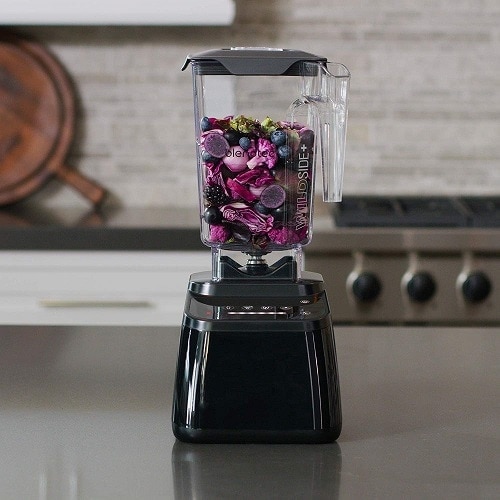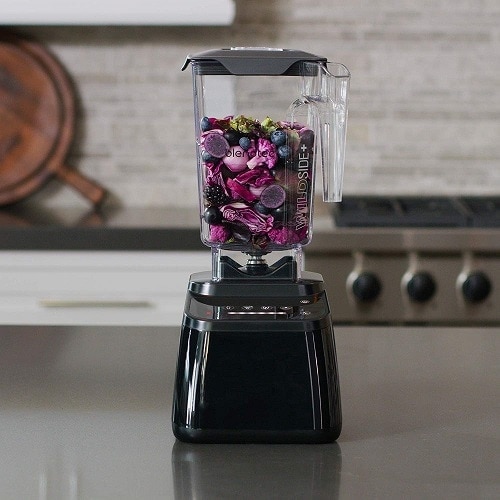 It's hard to beat the convenience, efficiency, and ease of use of a blender. Unless of course, your blending pitcher isn't big enough to supply your party with margaritas! Or if your smoothies are always chunky and never smooth.
What if your blender dies right when the party starts? When it comes to purchasing a commercial blender, there are many things to consider from operating noise to reliability to blending capacity.
To help make the decision easy for you, the following reviews compare the ten best commercial blenders available right now.
A Glance at the Winners of 2023:
Rating
Image
Product
Details

Best Overall

Blendtec Designer 625

90-ounce capacity
Powerful motor
Two containers
CHECK PRICE

Best Value

Cleanblend 2001

Long lifespan
Affordable price
Strong 3-HP motor
CHECK PRICE

Premium Choice

Vitamix 36019

Powerful motor
Sound dampening
Vibration dampening
CHECK PRICE

Addwin Countertop

Affordable price
70-ounce capacity
BPA-free container
CHECK PRICE

Waring MX1000XTX

Heavy-duty
3.5-HP motor
Very powerful
CHECK PRICE
The 10 Best Commercial Blenders:
1.

Blendtec Designer 625 Blender – Best Overall
Blendtec is a well-known name in the kitchen appliance industry, and for good reason. Their 625 model has loads of great features to make your life easier. The stout 3-horsepower motor provides enough power for the blades to effortlessly glide through any foods you put inside. With two glass blending containers included, you have plenty of volume to make as much smoothie, soup, or anything else as you'd like. And if you hate making multiple small batches, then the 90-ounce capacity of the larger container means you can stuff everything in at once to make your meal in one pass.
If you've considered using your blender as an easy soup maker, then the Blendtec 625 will help simplify the process since it can actually heat and cook the soup as you prepare it. The eight-year warranty means this blender is an investment that will keep paying you back for years. Despite all the great upsides to this blender, it's not perfect. First, you're paying a premium price to get this stacked feature set. It's also not the quietest blender on the market, so if you want a silent addition to your kitchen, you may look elsewhere.
All in all, though, we think think this is the best commercial blender on the market today.
Pros
Powerful 3-HP motor
90-ounce capacity blending container
Two blending containers included
Cooks soup in the blender
Cons
Premium price
Not the quietest blender
---
2.

Cleanblend 2001 Commercial Blender – Best Value
If you don't want to break the bank buying a new blender, but you also don't want to sacrifice quality and reliability, then the Cleanblend commercial blender is worth taking a look at. With a five-year warranty and a host of useful features, we think it's the best commercial blender for the money.
The robust 3-HP motor can blend vegetables, fruits, and ice with ease. Unfortunately, the blade design does allow some to get trapped in the corners of the blending container and won't get fully mixed. Since it can hold up to 64 ounces, the BPA-free plastic blending container allows you to prepare large volumes of food at once. It would be nice if it were glass instead of plastic, but for the price, some sacrifices had to be made. Steel ball bearings are used in place of the plastic bearings found on most budget-priced blenders, helping the Cleanblend to have a long projected life expectancy. Another reason that it's our choice for best value blender.
Pros
Five-year warranty
Long lifespan
Strong 3-HP motor
Affordable price
Cons
Plastic blending container
Blade design causes some food to get trapped
---
3.

Vitamix Quiet One Blender – Premium Choice
If the excessively loud sound of your blender bothers you, then consider the Vitamix Quiet One commercial blender, our pick for premium choice. Featuring built-in vibration dampening technology, this blender has earned the name of the "quiet one". To help even more, a plastic secure sound enclosure surrounds the blending container during use, trapping the sound so it doesn't escape out into your home. The result is one of the quietest blenders available today. But don't let the lack of noise fool you, this is one powerful blender. With the motor pushing a peak 3-horsepower, this model will have no problem mixing smoothies, spreads, nut butters, and more. The polycarbonate blending container holds 48 ounces, and unlike glass, it's very strong and unlikely to break.
With such a stacked feature set, it's no surprise that this blender sits at the very top of the price range. What's more surprising is the fact that the warranty only covers commercial use. Using this blender in your home voids the warranty and it won't be replaced by Vitamix. Despite the benefits, these two faults hold the Vitamix from making it into the top positions of this list.
Pros
Sound dampening in the motor housing
Sound control enclosure
Powerful 3-HP motor
Cons
Very high price
Warranty only covers commercial use
---
4.

Addwin Countertop Commercial Blender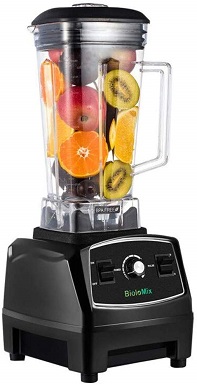 Addwin offers a low-cost blender with enough features to satisfy the needs of most people. With a 70-ounce BPA-free plastic blend container, it's got plenty of capacity for blending. It would be nice to have a glass container instead, but you're unlikely to find that at this price point. The 2200W motor spins the blades up to 45,000 rpm, making short work of any foods you fill it with. Although the blades are made of stainless steel, they actually rusted after a few short months. Naturally, most of us don't want the oxidation in our smoothies, it's not the kind of iron supplement we're looking for! Since the blender is covered under a short one-year warranty, the blades were replaced quickly with no hassle. Overall, it's a good budget blender, just not the best one for the price.
Pros
Affordable price
70-ounce capacity
Cons
Short one-year warranty
Blades showed signs of rust after a few weeks
---
5.

Waring MX1000XTX Commercial Blender
Pushing 3.5 horsepower, this commercial blender from Waring has enough power to make short work of anything you put inside of it. Be aware, if you're very conscientious about noise, the extra power this blender makes also means it creates extra noise. This model opts to ditch all the fancy pre-programmed controls and multi-button operation of other high-end blenders for a simple two-switch design. One switch operates HI, LO, and OFF, while the other switch controls the PULSE function.
Crafted from BPA-free copolyester, the blending container can hold 64 ounces. Respectable, but certainly not class-leading. One advantage though is that the container is clearly marked on both sides for measuring. Although it's built heavy-duty for commercial toughness, Waring only offers a limited three-year motor warranty and a two-year warranty on parts and labor. Price wise, this blender is towards the middle of the pack. Certainly not budget-priced, but not one of the premium-priced offerings either.
Pros
Very powerful 3.5-HP motor
Heavy-duty commercial specs
Cons
No pre-programmed controls
More power means more noise
---
6.

Hamilton Beach Quiet Shield Professional Blender
For some people, noise concerns are one of the most important factors when it comes to purchasing a new kitchen appliance. If quiet operation is of utmost concern to you, then the Professional Quiet Shield Blender from Hamilton Beach is worth taking a look at. At 2.0 peak horsepower, it's definitely not the most powerful blender on the market. It also doesn't have a very large blending capacity at a meager 32 ounces, not large enough if preparing for a family. However, the quiet shield cover that surrounds the blending container when in use really helps to contain the noise and reduce the noise of operation. This is great for anyone living in an apartment or sharing a space with other people.
With a respectable five-year warranty, you would expect this blender to have a long lifespan. Unfortunately, it stopped working after only a few weeks. It was quickly replaced without any headache since it is covered under warranty by Hamilton Beach, but it's still an extra hassle.
Pros
Quiet operation with Quiet Shield
Five-year warranty
Cons
Only 32-ounce blending container
Short lifespan means you might need the warranty
---
7.

VIVREALNY Commercial Blenders
Priced at the affordable end of the spectrum, this VIVREAL blender features simple two-switch operation with a variable speed control knob. It has a large capacity 72-ounce blending pitcher made from BPA-free plastic. A digital timer counts down on the front of the machine so you can see how long you've been blending. VIVREAL recommends not to allow the machine to run for more than three minutes at a time to avoid burning out the motor, after which it needs 10-15 minutes to cool down.
Although the blender itself is quite adequate, it's difficult to upkeep for continued use. Blender blades tend to wear down and become dull with months of use and may eventually need replacing. Unfortunately, it appears that replacement blades may not be available for this blender, meaning when the blades wear out you might have to replace the whole unit.  That said, the warranty is good for two years and should cover it.
Pros
72-ounce capacity
Two-year warranty
Cons
Motor can only run for three minutes
No replacement blades available
---
8.

Cenow Blender with Smart Touch
Unique looks are the first thing that stand out about the Cenow HT-8004 commercial blender. One solitary knob protrudes from the front of the base, while a screen with featuring induction sensitive touch selection adorns the top of the base. With automatic heating, this blender can cook your food while you blend it, perfect for making soups or baby food. Thanks to the heat, it's also got built-in cleaning and disinfecting programs.
Compare the lackluster power rating of 800 watts this blender is capable of to the 1560 watts produced by the Blendtec 625 in the top spot of this list. It's pretty clear that the Cenow blender is underpowered. The maximum blending capacity of 56 ounces isn't terrible, but it's nothing to write home about. Unfortunately, it's priced high for the features and not the function. Despite the awesome features that set this blender ahead of many competitors, the lack of power and less than stellar capacity hold it back from reaching a higher position on our reviews list.
Pros
Can cook while you blend
Cleaning and disinfecting programs built-in
Cons
Not the best capacity
Underpowered at only 800 watts
Overpriced for the performance
---
9.

Hamilton Beach Tempest Commercial Blender
Built to be durable enough for use in busy bars, nightclubs, and restaurants, the Hamilton Beach HBH650 industrial looking blender is a very capable tool. Although it's not very attractive, the motor is a solid 3 HP, able to crush ice cubes and foods with no problem. The wave-action system forces the food down to the blades, creating a smoother mix than traditional blade setups. However, it also creates enough pressure to pop the lid off, so you'll have to keep a hand on the lid. Operation is simple with two speeds, jump cycle, and pulse button.
It's a stout, no-frills blender, though for the premium price tag you might expect a host of next-level features. The jump cycle feature starts slower to crush ice before speeding up to blend, which can improve the lifespan of this blender over competitors. The three-year warranty isn't class-leading, but it does protect you should something happen.
Pros
Powerful 3-HP motor
Wave-action creates smooth blend
Jump cycle can help extend motor life
Cons
Must hold lid down
No pre-programmed functions
Not very attractive
Very high price
---
10.

OmniBlend VTM-800B Blender
With a seven-year warranty, the premium-priced OmniBlend commercial blender is slated to last the long haul. The 3-HP motor is plenty powerful to make short work of anything you want blended. The blending container is only 50 ounces. Still better than many on the market, but not in the same league as some of the top picks on our list. The pitcher is also crafted from BPA-free copolyester instead of glass. There are markings on it, though they're difficult to read.
This blender performs satisfactorily. Everything was nicely blended, and the final mix was perfectly smooth. It's capable of blending soups, nut butters, sauces, ice cream—anything you'd like—and it does so quickly. While it is a very capable blender, it performs its duties without anything extra. No extra features such as heating or self-cleaning, no digital display, no noise shroud. It feels like you're paying the premium price just for the extended warranty. The looks are simply outdated, and it's probably not an appliance you'd want to leave on your counter because of this. Overall, this blender clearly sacrifices form for function, though its excellent performance still earns it a spot on this list.
Pros
Seven-year warranty
Great blending performance
Cons
Not attractive, looks outdated
No extra features
High price
No glass blend container
---
Buyer's Guide: Buying the Best Commercial Blender
We've gone over the ten best commercial blenders available now and compared them to see how they measure up. But how are we making these comparisons? Which features are important to look for in a new blender and what should you keep in mind when looking to purchase a new one? In this section, we will go over all of the information that you need to be able to make an informed decision on which blender will best fit your needs.
Blending Capacity
While not everyone needs enough capacity to serve an entire party, many do want to serve a family or at least more than just themselves. Vegetables, particularly leafy greens, tend to take up a lot of space in the blender. If you've ever had a hard time fitting enough food inside of your blender's container, then you understand the dilemma. Blender capacities can vary greatly from model to model. On this list alone the container size varies from 32 ounces all the way up to 90 ounces. You'll have to determine just how much capacity you think you need for the average serving size you'll be blending.
Blender Container Material
Today, blender containers can be made out of many different materials, but the most common are glass and BPA-free plastic. Although both are completely dishwasher safe and easy to clean, there are still reasons to prefer one over another. Plastic may over time start to absorb some of the scents or flavors from the foods you put in it. This is the biggest drawback to plastic blend containers and the main reason why you would want to look for a glass one instead. Of course, glass is easier to break. However, blender containers made of glass tend to be very thick and sturdy, so breakage shouldn't be a major concern.
Power
If your blender can't successfully blend up its contents, then what good is it? Make sure you look for a blender with enough power to cut through leafy greens and ice with ease. Two-horsepower motors and over will provide plenty of speed. But with so many options available at a powerful 3HP, it's worth taking a look at the models that have the extra power.
Warranty
Blenders perform a difficult duty. They must go from a cold start to very high speeds while producing enough power to crush solids such as ice cubes. This can create a lot of wear and tear, causing low-quality blenders to have short lifespans. While it's not a direct indicator of quality, a long warranty usually shows that the company stands behind its product and expects it to fulfill a long service life. Some blenders have warranty periods as short as one year. Others have up to eight years of coverage included. The longer your warranty covers the blender, the longer your investment will continue to pay you back with great service.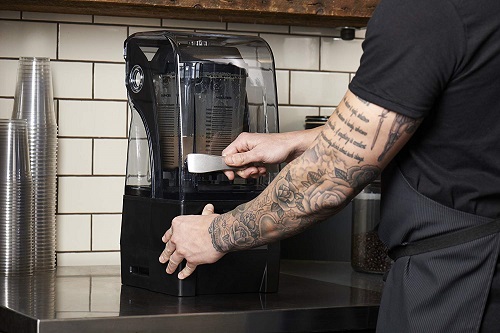 Operating Volume
Whether you're at home making breakfast or at a social event surrounded by conversations, the last thing you want is for your blender to be so loud it wakes up the family or drowns out the people around you. While blending solid ice cubes is never going to be silent, some blenders go a long way towards minimizing the amount of noise created. Built-in sound dampening technology can help to drastically reduce motor noises. Sound control enclosures are offered with some blenders that will surround the blending pitcher during use and contain the noise. This can quiet the noise enough to no longer be a nuisance. Look for these features if noise is one of your main concerns when looking for a blender.
Looks
Form versus function is a debate as old as time. Everyone has their own preferences when it comes to aesthetics and whether it even matters. For many, the kitchen is a focal point of the home, an area where a lot of time is spent. Because of this, most people prefer a nice-looking kitchen with visually appealing appliances. Not everyone leaves their blender out though. If your blender spends a majority of its life tucked away in a cabinet, then you may not really care about looks either way. On the other hand, if you're a daily blender user, it's quite likely yours has a permanent spot on the counter. In such a case, you probably want to keep your eye out for a blender with looks to complement your kitchen's current style. While some blenders are quite industrious looking, others have elegant looks that will be right at home in full view.
Price
Unless your blender sees daily use, you may not be willing to justify the price on something like our premium choice. For others, the blender will see near-constant use and will be a staple in culinary as well as social activities. No matter which way you tend to lean, we've covered options in every price range that are sure to satisfy your needs.
---
Conclusion
Although every option on this reviews list is a quality blender that will function well, some features and abilities set some of them apart from the rest. The Blendtec 625 was our pick for best overall blender for a host of reasons. The industry-leading eight-year warranty backs up the long lifespan and durability of this appliance. The massive 90-ounce blending capacity means you can supply even large groups with one serving. The ability to cook while you blend is just icing on the cake.
For the best value, the CleanBlend 2001 commercial blender with a five-year warranty is pretty hard to beat and comes in at our second spot. With a long lifespan, powerful 3-HP motor, and 64-ounce blend capacity all available at an affordable price, it's easy to see why. And for our premium choice, the Vitamix Quiet One is our recommendation when price is of no concern. The built-in dampening and quiet shield enclosure make it one of the quietest blenders available for those who don't want to disturb the whole house with their breakfast smoothies.