10 Best Budget Blenders in 2023 – Reviews & Top Picks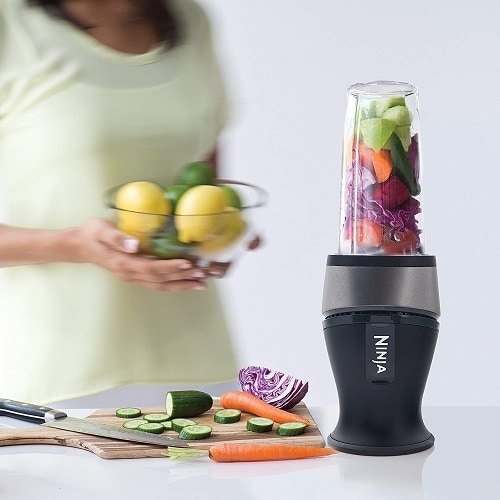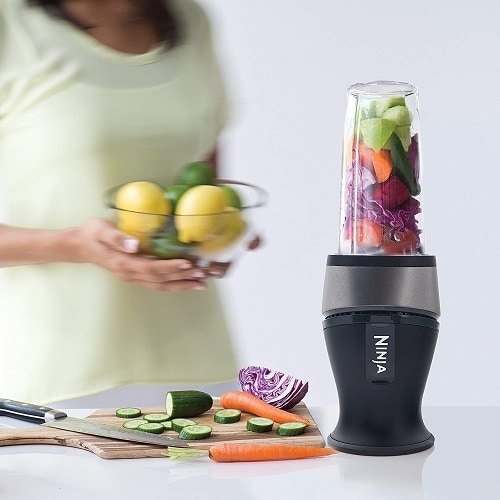 There are many gadgets that you may purchase for your kitchen. Some end up in the charity box after one use, and others will have you wondering how you ever got by without it. The blender is a timeless small kitchen appliance that will never go out of style.
Whether your blender makes you smile by whipping up your favorite milkshake or helps you shake off a Monday with a stealthy margarita, it's a significant player in a small package. If you wore out your old blender and are in the market for a new one, we're here to help.
Below, we'll guide you through our reviews of the top 10 best budget blenders.
A Quick Glance at our Top Picks in 2023:
Rating
Image
Product
Details

Best Overall

Oster Blender Pro 1200

Extra-wide blade
One-touch controls
24-ounce to-go cup
CHECK PRICE

Hamilton Beach 58148A

Glass jar
Easy-pour spout
Blends thoroughly
CHECK PRICE

Magic Bullet

Inexpensive
Easy to clean
Multiple cups
CHECK PRICE

Ninja QB3001SS

Compact
Easy to use
Dishwasher-safe cups
CHECK PRICE

Oster Simple Blend 100

Lightweight
Stainless-steel blade
User-friendly preset
CHECK PRICE
The 10 Best Budget Blenders:
1.

Oster 1200 Budget Blender – Best Overall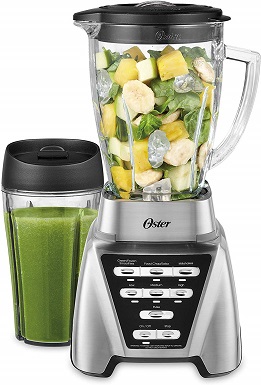 The Oster Blender Pro 1200 has seven speeds, with three settings for salsa, smoothies, and milkshakes. It has an extra-wide blade with forward and reverse motion and offers 1,200 power watts and 900 watts for crushing ice. The glass jar ensures no stains and is dishwasher safe. It also comes with a 24-ounce plastic to-go cup when you want a smoothie on the road.
A few users have complained about the jar leaking at the base. However, if you dismantle the blender jar to clean it thoroughly, it has to be put back together precisely or it will leak, making the process awkward at best. Additionally, the base is plastic, and replacement parts are nonexistent, making this a point of contention with certain users. However, unlike most cheap blenders, this one has an all-metal connection between the base and the jar.
The price, the wattage, and the options on this blender make it our top choice, and we believe it's one of the best cheap blenders for smoothies this year.
Pros
1,200 watts
One-touch controls
Glass jar
Extra-wide blade with dual direction
24-ounce to-go cup
Metal base-to-jar connection
Cons
Difficult to clean
Leakage at base
No replacement parts
---
2.

Hamilton Beach Power Elite Blender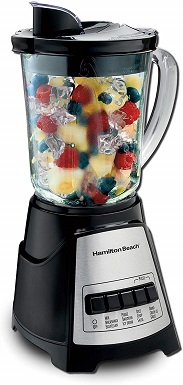 Our runner-up is the Hamilton Beach Power Elite Blender. It has 12 blending functions and "easy" buttons that include milkshakes, smoothies, salsa, and ice. The top has a pouring spout, and the glass jar, blades, and lid are dishwasher safe, making it easy to clean. Although this is a simple, straightforward machine without extra bells and whistles, the 700 watts of power keep it out of the number-one spot.
Many users have noted that this one is loud — louder than a blender should be, kind of loud. It does come with a three-year limited warranty, which is good because a few users have experienced smoking and a burning smell.
For the price, this simple machine is a good choice, as long as you don't expect a high level of performance.
Pros
Compact
Easy-pour spout
Glass jar
Easy to clean
Blends thoroughly
Three-year limited warranty
---
3.

Magic Bullet Blender (11 Piece Set)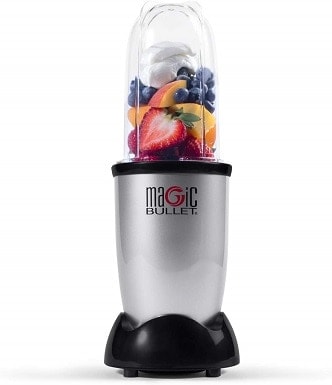 The Magic Bullet Blender comes in an 11-piece set to simplify a lifestyle on the go. It comes with three blending cups, a storage lid, and a flip-top lid so you can hit the road with your favorite smoothie or protein shake. It can also be used to grind coffee beans and froth your favorite coffee drink. It's easy to use and takes up little counterspace.
While it's ideal for milkshakes and light smoothies, it may struggle with a chunkier mix or ice due to its mere 250 watts of power. It's easy to clean, which is good because you'll need to clean it immediately after using so any stickiness won't dry in the base and clog it for the next use. It works well for a single use; however, if you need to make drinks for a group, this won't fit the bill.
If you're searching for a small blender for fresh fruit smoothies or shakes, this may be the one for you.
Pros
Compact
Inexpensive
Easy to use
Easy to clean
Multiple cups
Cons
Struggles with frozen fruit
Struggles with ice
Plastic cups
---
4.

Ninja Personal Budget Blender
The Ninja Personal Blender comes with two 16-ounce cups with flip-top lids for the on-the-go user. The cups conveniently fit in most car cup holders. It's a compact model that blends one cup at a time and has 700 watts of power. It's designed for fruits and vegetables and will work well for shakes, smoothies, and juices. It's also easy to clean and the cups are dishwasher-safe.
If you love a thick fruit smoothie, be aware that you'll have to remove the top to drink it. The air hole in the lid is too small, and you may end up wearing your smoothie instead. The cups are BPA-free; however, the plastic may break with heavy use. It's also not designed to blend hot ingredients.
Although it's a budget blender, it's slightly pricey for this list. However, if you are committed to a daily juice fix, this may be the perfect fit.
Pros
Compact
Easy to use
Easy to clean
Cons
Slightly pricey
Plastic cups
---
5.

Oster Simple Blend 100 10-Speed Blender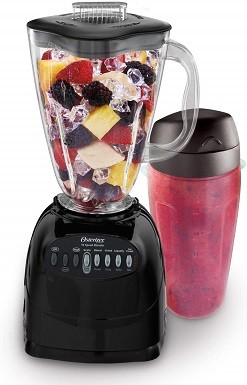 The Oster Simple Blend 100 has a stainless-steel blade, a six-cup jar, 10 speeds, pulse options, 700 power watts, and 450 blending watts. It's easy to clean, as the jar and lid are dishwasher-safe. There's also a to-go cup that allows you to blend directly in it. The preset selections are clearly labeled and user-friendly too.
One downfall to this choice is that the base and jar are plastic. Fortunately, if you drop the jar, it isn't likely to break; however, avoid washing the to-go cup in the dishwasher, as it's been known to disfigure. Users also note that it's louder than many other models. If noise is a factor, this may not be the choice for you. Fortunately, it comes with a three-year satisfaction guarantee and a 10-year all-metal-drive limited warranty.
It doesn't chop nuts or coffee beans well, but if you need a cheap machine for a smoothie or protein shake, this may be a decent choice for you. Overall, this is an average machine that will do the job just fine.
Pros
Easy to use
Easy to clean
Lightweight
Three-year satisfaction guarantee
Cons
Poor crushing and chopping
Plastic construction
Loud
---
6.

FOCHEA 3-In-1 Budget Smoothie Blender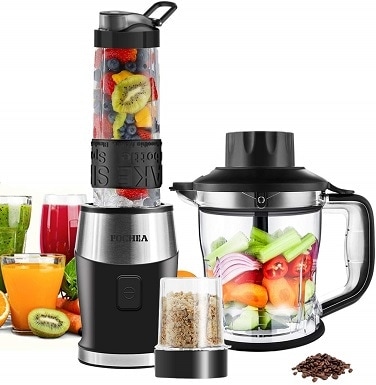 The Fochea 3 in 1 is a 700-watt mixer system that functions as a mixer, chopper, and grinder and has four stainless steel blades. It includes three containers, one for each function. The portable bottle is ideal for smoothies and shakes and holds approximately 20 ounces. The smaller cup works well for grinding nuts, seeds, spices, and coffee. The food processor will chop meat, ice, and frozen fruits and veggies.
Notably, the smaller cup is for grinding and not suitable for liquid. The attachments and lids are plastic, although BPA free, and may not hold up well in a dishwasher. Many users have indicated that the seams in the plastic split, causing leakage. However, this machine comes with a one-year warranty, and customer service gets two thumbs up for its responsiveness.
With more options than other personal blenders, this choice has a food processor that is ideal for making your own baby food. If this is an important option, this may be the blender for you.
Pros
Compact
Multiple attachments
Easy to use
Easy to clean
Low noise level
One-year warranty
Cons
Not dishwasher safe
Plastic construction
Low durability
---
7.

BLACK+DECKER BL1210BG Blender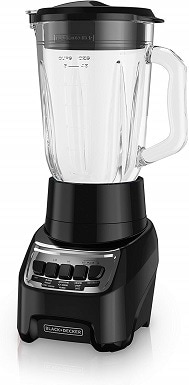 The BLACK+DECKER Countertop Blender includes a 40-ounce glass jar with a pour spout, 10 speed settings, a pulse option, and a four-tip stainless steel blade. It has 550 power watts at peak performance and 350 blending watts for continuous use. All the removable parts are dishwasher-safe, making cleanup easy.
This blender comes with a low price and a well-known brand name behind it. It's still a budget buy, however, and weak compared to other models. Users indicate that it performs poorly in the ice-crushing game. If you need a monster ice-crushing machine, this is not your choice. While no blender is quiet, the noise may wake the neighbors, so if you're sensitive to sound, this is also not for you.
If you need a simple blender handy for the occasional smoothie, milkshake, or puree, this may be your blender.
Pros
Large glass jar
Easy to use
Easy to clean
---
8.

KitchenAid KSB1570OB 5-Speed Blender
The KitchenAid KSB1570OB 5-speed Blender includes a 56-ounce BPA-free plastic pitcher, a metal base, a stainless-steel blade, five speeds, and a pulse mode. The control panel is backlit with blue LED buttons for smooth operation. This blender has a soft-start feature that begins at a slower motor speed and pulls food into the blade before hitting the selected speed setting.
For a budget blender, this model is a little pricey. Although the base is metal, the jar is plastic, and users note that it doesn't hold up well in the dishwasher and the blade rusts. It may be a design flaw that the blade base doesn't detach from the jar — it's all one piece. Fortunately, this blender comes with a one-year limited warranty.
If you need easy-to-read controls and quiet operation, this may be a choice for you.
Pros
Large blending jar
Metal base
Soft-start feature
LED control panel
One-year limited warranty
Cons
Slightly pricey
Difficult to clean
Nondetachable blade
Not for heavy-duty use
Low durability
---
9.

Hamilton Beach 51131 Blender

The Hamilton Beach 51131 blender arrives near the end of our list, but it's a single-serve model with only 175 power watts, and it's the cheapest too. It has an ultra-compact design with a 14-ounce BPA-free plastic travel cup and lid. It's intended for on-the-go functionality. With one-touch blending, this single-serve blender is ideal for mixing up a shake or fresh fruit smoothie on your way to work or the gym.
This blender is perfect for protein shakes. Users have noted that it doesn't handle frozen fruit well unless it's in tiny pieces. If you are a gym rat and need your protein fix, this machine is perfect for you. If you need this to double as a mini blender, you'll be disappointed.
If you just need a little something for quick, single-serve use, this personal blender is compact enough to take to work or on vacation too.
Pros
Bargain price
Ultra-compact
Easy portability
Cons
Single-serve
Light duty only
Weak motor
Low durability
Flimsy plastic lid
---
10.

AICOOK Blender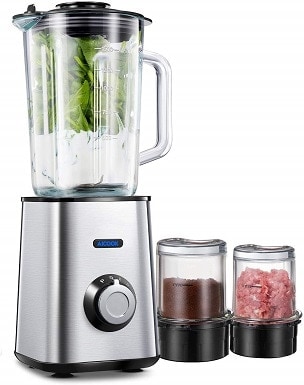 The AICOOK 3 in 1 Smoothie blender includes a 51.5-ounce glass jar, a mini-grinder, and a mini-chopper for mincing meat. It has two speeds and a pulse function. All detachable parts are dishwasher safe, so you can spend more time with your smoothie and less time in the kitchen.
Users recognize this choice for powerfully crushing ice, making it ideal for smoothies. However, the blades are titanium coated, and there's a note from the brand to clean the parts quickly to avoid rust, so you don't want to put this part in the dishwasher. Many have also noted issues with the safety lock not catching.
If you need a blender specifically for fruits and vegetables or to mince meat, this may be a good choice for you.
Cons
Required cleaning after every use
Coated blades will rust
Few control options
Safety lock issues
Low durability
---
Buyer's Guide: Finding the Best Budget Blender
Whenever you use a blender, it's wise to remember that liquid helps the process. Blender blades will struggle with frozen fruit and ice without adequate liquid. Additionally, packing a blender jar full will not do you any favors, so always leave a little room.
Factors to Consider When Picking a Cheap Blender
When choosing a value blender, there are a few things to consider, such as power, machine size, container size, material, use frequency, controls, and budget.
Power
If you need a blender that effortlessly pulverizes ice, choose wisely, as not all blenders are created equal. The higher wattage blenders will work better with frozen fruit and ice. Lower wattage blenders need more liquid and work best without frozen items.
Machine Size
You first need to identify how much room you have to store a blender. If you live in a compact home with little counter space, you may want to consider a small blender, to stow away in a cabinet when not in use. If you have more room to dedicate to a blender on the counter, that can be handy, as the right blender can be used for many things while cooking.
Container Size
A personal blender is designed for a single serving and portability for a grab-and-go smoothie or shake. The individual blender cups are typically plastic, with no glass option. Here's something to keep in mind if you drink a protein shake on the way to the gym or the office: If you forget it's in your car, the smell will remind you the following week.
Other options are designed for large quantities, for those who like to entertain guests with margaritas or make milkshakes for the family. If you want to use mason jars with your blender, pay attention to the compatibility, as many smaller, single-use blenders won't accommodate a mason jar.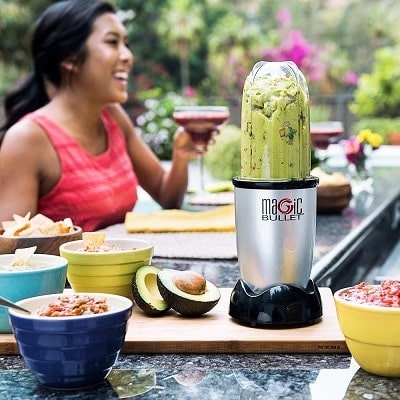 Material
You'll need to determine if you want a glass jar or a plastic jar. Glass jars are heavier yet more durable. They're heavier to hold for pouring but hold up in a dishwasher.
Although plastic jars are typically BPA-free, plastic tends to absorb odor, scratch easily, and may not be dishwasher-safe.
Use Frequency
You'll want to consider your household size and how often a blender will be used. If you are a single household user, a smaller compact blender may be ideal. However, if you have multiple users, you'll want a blender that can stand up to frequent use.
Controls
At a cheap price point, control options are limited and will have manual switches. However, it will be easy to use and understand.
Budget
The prices in this list range slightly but still fit most budgets. Small kitchen appliances are typically not designed to last a long time, though a couple on this list do offer warranties. However, do your research and don't set your expectations high.
---
Conclusion
Purchasing a blender isn't a difficult decision, but there are many options. We hope that we've helped you identify a few ideal choices and helped you pick the best budget blender for your needs. To summarize our breakdown, our best overall vote goes to the Oster Blender Pro 1200, with the most power wattage on the list and an extra-wide blade. Our runner-up is the Hamilton Beach Power Elite Blender, outfitted with 12 blending functions and a three-year limited warranty. Now get out there buy the best budget blender for your needs, so you can get your smoothie on!
See Also: an overview of our favorite blenders under 100 USD