10 Best Coping Saws of 2023 – Reviews & Buyer's Guide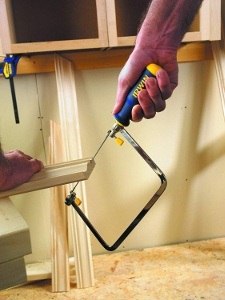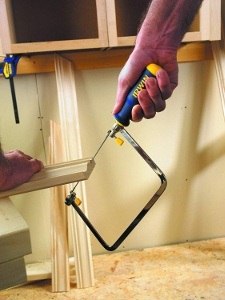 So, you're in the market for a new coping saw. Do you know what you're supposed to be looking for? Whether you're completely new to woodworking or have a long history in the hobby, you've come to the right place. We know it's not always easy to know what makes a great coping saw, and it's harder to tell if one is good or not just from looking online.
That's why we've assembled this list of reviews of the best coping saws of the year. If you still need more information before making your decision, we've also assembled a buyer's guide that will help novices learn what's important to consider when shopping for a coping saw and serves as a nice refresher course for people who haven't bought one in a while.
---
A Quick Look at Our Winners in 2023 –
Rating
Image
Product
Details

Best Overall

Robert Larson Coping Saw

High-quality wood handle
Easy tension adjustment
Accepts standard blades
CHECK PRICE

BAHCO 301 Coping Saw

Accepts standard blades
Nickel-plated steel frame
Sturdy
CHECK PRICE

Best Value

IRWIN ProTouch Coping Saw

Excellent depth
High tooth count
Durable
CHECK PRICE

Olson Saw SF63510 Coping Saws

Wooden handle
360-degree blade rotation
Durable
CHECK PRICE

Knew Concepts Coping-Saw

Very strong – machined from aluminum
6.5" deep throat
Blades never get loose
CHECK PRICE
The 10 Best Coping Saws:
1.

Robert Larson Coping Saw – Best Overall
The Robert Larson 540-2000 features a high-quality wooden handle and a strong metal frame that will stand up to a lot of abuse. You can easily adjust the blade tension by twisting the handle, which will save you a lot of time and frustration. Importantly, this model used standard pin-style coping saw blades, which means you'll always be able to find a replacement when your blade wears out.
Unfortunately, Robert Larson saw blades aren't the best when it comes to longevity. Other brands are going to hold up better and stay sharp for longer. The good thing is that replacement blades are generally pretty cheap, and since it accepts a standard type, you can easily replace it.
All in all, we think that this is the best coping saw of the year.
Pros
High-quality wood handle
Easy tension adjustment
Accepts standard blades
---
2.

BAHCO 301 Coping Saw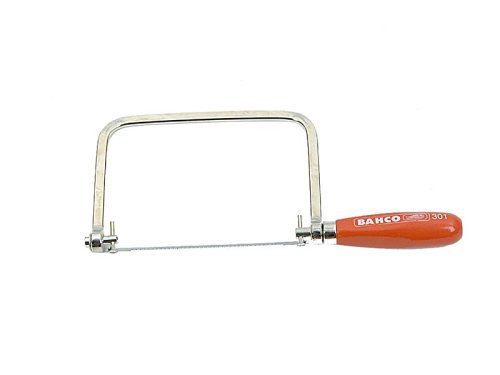 The BAHCO 301 comes with a nickel-plated steel frame, which provides the durability of steel with the rust-resistant properties of nickel. Some varieties of stainless steel cannot be heat treated for maximum strength, so coating a heat-treated steel frame with nickel means you can have the best of both worlds: a tool that is strong and corrosion-resistant.
This fusion is a clear success as the BAHCO 301 is one of the most durable coping saws on the market. Unlike the top entry on our list, it comes with a great blade. The one big problem with this model is the orange plastic handle makes it look like a cheap tool. While performance is more important than looking good, it's always nice when a tool does both well, and this one doesn't.
Pros
Accepts standard blades
Nickel-plated steel frame
Sturdy
---
3.

IRWIN ProTouch Coping Saw – Best Value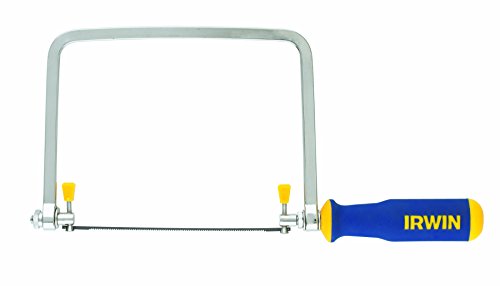 The IRWIN Tools ProTouch 2014400 comes with one of the biggest depths on our list at 5½", or about ¾" deeper than most coping saws. It also comes with a blade with 17 teeth per inch, instead of the standard 14, which means that you'll have faster, easier, more precise cuts. It's also one of the cheapest models on the list, meaning that you get all these features for a much lower price than most of the other models.
It has a durable steel frame, but it's not treated or nickel-plated, so it will eventually corrode. It also comes with an ergonomic plastic handle, which is more comfortable to use, but ultimately less durable. If the handle breaks, you may have to throw the whole saw away, so that is something that you should consider before buying this product. However, the rest of this model is well-built, and it comes with greater cut depth and a better blade than most models, at a lower price, making it the best coping saw for the money.
Pros
Excellent depth
High tooth count
Durable
Ergonomic plastic handle
---
4.

Olson Saw SF63510 Coping Saws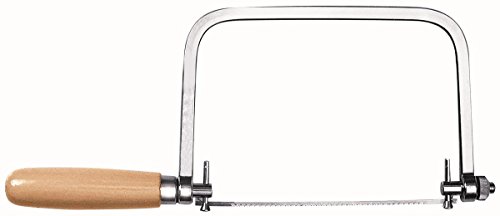 The Olson Saw SF63510 just looks like an expensive coping saw. It features a hardwood handle that should hold up as well as the plastic or rubber handles found on other models. However, it's one of the shallowest coping saws you'll find on the market at just barely 4⅛" deep. That's about half an inch shallower than the next coping saw on our list, and more than a full inch shallower than the deepest model. That means you're going to be somewhat limited in what you can do with this model.
It also comes with a cheap blade that's not going to last very long. Its primary flaw, however, is that it often comes from the factory a bit twisted, which can make it extremely hard to align the first time and when you change out the blade. That means that using this model can be a frustrating experience. There are other models on this list at a similar price point, or a bit more expensive, that provide much better value for the money.
Cons
Shallow
Cheap blade
Hard to align
---
5.

Knew Concepts Coping-Saw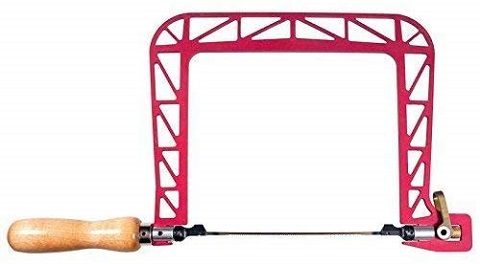 With a body machined from thick 6061-T6 aluminum, this Knew Concepts unit is a very stout and strong coping saw. It's as top-of-the-line as they come, and the price reflects that—16 times more expensive than your standard coping saw. No matter how great it is, we just can't get over the ridiculous price tag! That's why it's relegated to the fifth position on this list.
The 6½-inch deep throat provides tons of space and the blades never get loose. The only real drawback is the insane price, but it's such a major drawback that it really can't be overcome.
Pros
Very strong – machined from aluminum
6.5" deep throat
Blades never get loose
---
6.

GreatNeck Coping Saw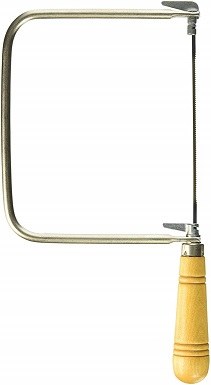 This GreatNeck coping saw features the standard heavy-duty steel frame. What sets this one apart though, is that it also has fully polished plating for improved rust resistance. The finished hardwood handle is very durable, though it's not the most comfortable option.
Similar to most saws in the price range, 360-degree blade adjustment is standard. The 6-inch throat cut is better than some competitors, though not the best available. At 9 ounces, it's not the lightest saw on the market. It's moderately priced, choosing not to overvalue itself like some of its competitors. It's a perfectly adequate saw, there's just nothing exceptional about it.
Cons
Wood handle isn't the most comfortable
Not exceptional
---
7.

Smithline SL-400 Coping Saws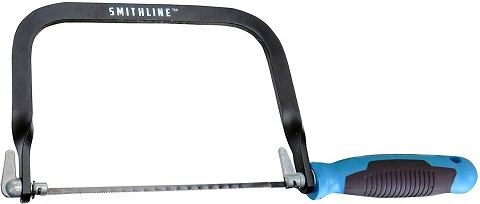 Although this coping saw from Smithline is a bit more expensive than most of its competitors, it doesn't seem to offer too much to justify the extra expense. It does have a quality steel frame that is nice and strong and doesn't flex, but the throat is a shallow 4¾ inches. The rubber handle is comfortable, but it's very weak. You can feel the handle flex and we can easily see it snapping off with regular use. One selling point is that it includes four additional blades, which does somewhat make up for the price difference. Overall though, you'd be better served by a saw with a stronger handle and deeper throat that will last longer.
Pros
Includes four additional blades
Cons
Handle is a weak point
More expensive than competitors
---
8.

Eclipse Steel Frame Coping-Saw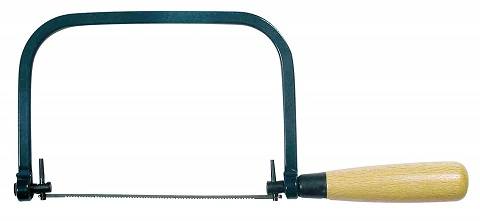 This coping saw from Eclipse is perfectly functional, but nothing special. Like most other coping saws, it has a strong steel frame and the blade can be positioned at any angle. However, the blade tensioners aren't very well thought out and they are quite difficult to adjust. We never seemed to be able to get quite enough blade tension. It's higher priced than many other saws that offer the exact same features, so you could save yourself some money and get a better saw for a little less.
Pros
Blades can be positioned at any angle
Cons
Knobs for blade tension are difficult to adjust
Can't get enough blade tension
---
9.

GreatNeck CP9 Coping Saw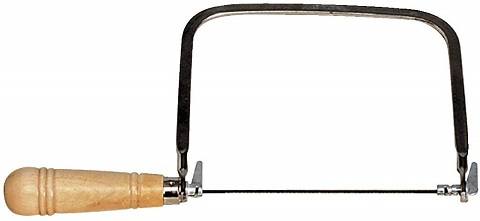 With a small throat depth of just 4¾ inches this GreatNeck saw doesn't offer as much room as many of its similarly-priced competitors. The nickel-plated steel is corrosion resistant and durable. The blade is adjustable a full 360 degrees, the same as most similar coping saws.
This saw does include three blades. The fine blade is for thin woods while the medium blade is for hardwoods and plastics. The coarse blade is for making rough cuts in wood. Unfortunately, changing between blades isn't very smooth and takes quite a while compared to other similar saws. The final drawback is the cheap plastic handle. It's very weak and just doesn't feel good to hold.
Pros
360-degree adjustable blade
Includes three blades
Cons
Shallow 4.75" throat depth
Plastic handle feels cheap
Blade change isn't very smooth
---
10.

Stanley 6¾-Inch Coping Saws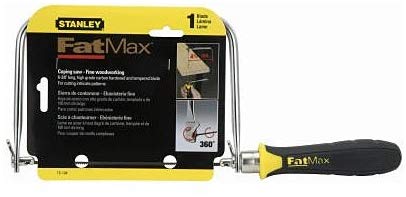 Stanley is a well-known name in tools, and generally, their products are pretty decent. This tool is one exception and just seems to come up short when compared to the other saws on this list. The rubber handle is quite comfortable, which is the lone standout feature about this saw.
The blade that comes in this saw is poorly fit, and during adjustment, it actually shot out from the tension! Needless to say, this is a bit dangerous. Worse yet, the frame is not very strong and did show signs of bending during use. The final straw was the thread tensioner, which stripped out after only a few small jobs. It's still a very capable saw that can get a small job done, but for the same price, there are better options out there.
Cons
Weak frame bends easily
Thread tensioner stripped out
Poorly fit blade shot out
---
Buyer's Guide – Choosing the Best Coping Saw
Still not sure which is the best coping saw for your needs? Check out this buyer's guide, which we've packed full of useful information about the coping saw.
Who needs a coping saw?
Coping saws have a narrow range of applications where it's the best tool for the job. For instance, it's one of the best tools for cutting holes inside a solid piece of wood. Since the blade on a coping saw is easily detachable, you simply drill a hole in the middle of the object, run the blade through it, and then reattach the frame. You can then expand the hole and turn it into a design in the center of the wood. That could mean cutting a design like a heart or a star into the back of a wooden chair.
How to Use A Coping Saw
What is a "cope"? What Does a Coping Saw Do?
While making interior cuts is the most common use of the coping saw today, historically it was used to create "cope" cuts. The cope was a way of compensating for human error in construction. Our walls, for instance, don't always meet at a nice 90-degree angle, which means that if you take a miter saw and cut two 45-degree angles in your molding meant to line up perfectly, well, they won't fit. You'll either have an unsightly gap, or you'll find that the pieces won't fit together at all.
Woodworkers solved this problem in the past by placing one piece of molding against the first wall and then cutting away part of the backside of the second piece of wood at an angle, which allows the two pieces to fit together fleshly, even if the walls aren't quite right.
Two primary uses
So, two kinds of people will make good use of a coping saw. The first is people who want to cut interior holes in a piece, and the second kind is people who are working with molding or other trim where the walls don't meet at a 90-degree angle.
While the coping saw is a saw, it's a more delicate saw, not made for rough trimming or other heavy-duty tasks. If you try to do these with a coping saw, it will go slowly, and you'll wear the blade out relatively quickly.
Frame
When buying a coping saw, the frame is probably the most important part. One of the best ways you can figure out how long a coping saw will last is to consider the frame's construction. Coping saws are under a lot of stress and also need to remain flexible throughout their life to work properly, which means that corrosion that weakens the material or makes it stiff can be a huge deal.
Nickel-plated steel is probably the best material that manufacturers use for coping saws. It combines nickel's natural corrosion-resistant properties with the strength of steel. Stainless steel is another good option, though it's not going to do as well as those made from nickel-plated steel. Bare steel stools exist out there, but you should be cautious when buying them. If they're going to corrode easily, as steel does, then the tool may not have a very long lifetime, especially if you live in a humid climate.

Frame depth is also another thing you should consider. Coping saws usually come with a frame depth somewhere in the 4" to 6" range. The deeper the frame, the deeper into a piece you can cut. While there is some correlation between price and depth, it's not as solid as you would think. You should always double-check that you're getting the frame depth you want before you make a purchase.
Blades
The good news about blades is that you're not stuck with the one that comes with a coping saw. Most coping saws use a standard-sized blade, which means that you can easily and cheaply switch out a blade for one from another company. A general rule of thumb for blade-buying is that blades with more teeth can cut tighter curves but cut more slowly. Those with fewer teeth cut faster but can only cut broader curves.
Conclusion:
The Robert Larson 540-2000 is our top model, and a great all-around coping saw that has durable parts that should last you a long time. The BAHCO 301 is our runner-up, due in large part to its sturdy, nickel-plated steel frame though it does suffer from a cheap look that keeps it out of first. The IRWIN Tools ProTouch 2014400 is the deepest coping saw on our list, is made from durable materials, and comes with one of the best blades that you can hope to get right out of the box, meaning it provides the best value for the money. The Olson Saw SF63510 looks nice but suffers from cheap parts and manufacturing flaws. Finally, the Stanley 15-104 Fatmax is last on our list, due primarily to cheap parts, a short life expectancy, and problems with alignment that make using it difficult.
Hopefully, our reviews and guide have helped you understand what to look for when shopping for the best coping saw. It's not always easy to shop for tools online but armed with the information from this article you should be able to find the model that is right for you.
Some of the new posts from our blog: